1st Part: Wholesale hop pellet machine and hops pellet production line for sale
What's hops and hop pellets how to use?
Hops are an important raw material for brewing beer. It can impart a refreshing bitterness and unique aroma to beer, promote the clarification of beer and wort, and is conducive to beer foam, as a beer preservative. Therefore, hops are an indispensable substance for brewing beer. Among the chemical components of hops, the main components that play an important role in beer brewing are hop resin, hop oil and polyphenols.
Pellet hops made by hop pellet maker are based on hop pollen, adding certain additives to process the hop pollen into hop pellets. This can not only improve the utilization rate of hops, but also prevent the oxidation and loss of active ingredients in hops, achieving two goals with one stone. Therefore, granular hops are currently the most widely used hop products in the world.

How are hop pellets made in complete hops pellet production line/plant/factory?
In order to reduce the volume and facilitate transportation, hop pollen is processed into granules with a hops granulator after adding 20% ​​bentonite. The particle size is 2-8mm and the length is about 15mm. According to different processing methods, pellet hops can be divided into 90-type hops pellet, 75-type hops pellets, 45-type pellet hops and pre-isomerized pellet hops. The most common is 90 type hops 45 type hops (with 45% of debris removed).
01
Complete hop pellet production line for compressed hop bag
The process of pelletizing hops is a purely physical process, which requires uniform mixing, stable quality, and the granulation temperature controlled below 55°C.
Transport the compressed hop packets from the warehouse to the hops pellet plant, enter the hop packet breaking machine via a belt conveyor, break the compressed hop packets, and then transport the compressed hop packets to the mixer via the belt conveyor. After being fully mixed, they will be sent to the hop crusher by the belt conveyor.
After being crushed, the hops materials are quenched and tempered, and then enters the hop granulator machine to granulate. After cooling and screening, the finished hop granules are obtained. After vacuuming and nitrogen injection, they are packaged and stored in cold storage.


02
Complete hop pellet plant for fresh hops pelleting
How to pelletize hops? Hop pellets begin as leaf hops that have been hammer milled into a powder and then have been subsequently passed through a mould to create the hop pellet. Pellet hops concentrate fresh hops, and 1 pound produces only 10 to 12 ounces of dried pellets.
Although dry, they still contain the lupulin material that you will find in fresh hops to provide a slight bitterness to the wort. So how are hop pellets made? This information is useful if you plan on growing hops and you are unsure of what to do with your extra harvest.
The first step in making hop pellets is the drying process. After you harvest the fresh hops, they need to be dried to remove the excess moisture and preserve the lupulin. There are many ways to dry hops, and these include air drying, sun drying or mechanical drying through a hops dryer. When drying the hops, it is vital to have proper air circulation to encourage equal drying.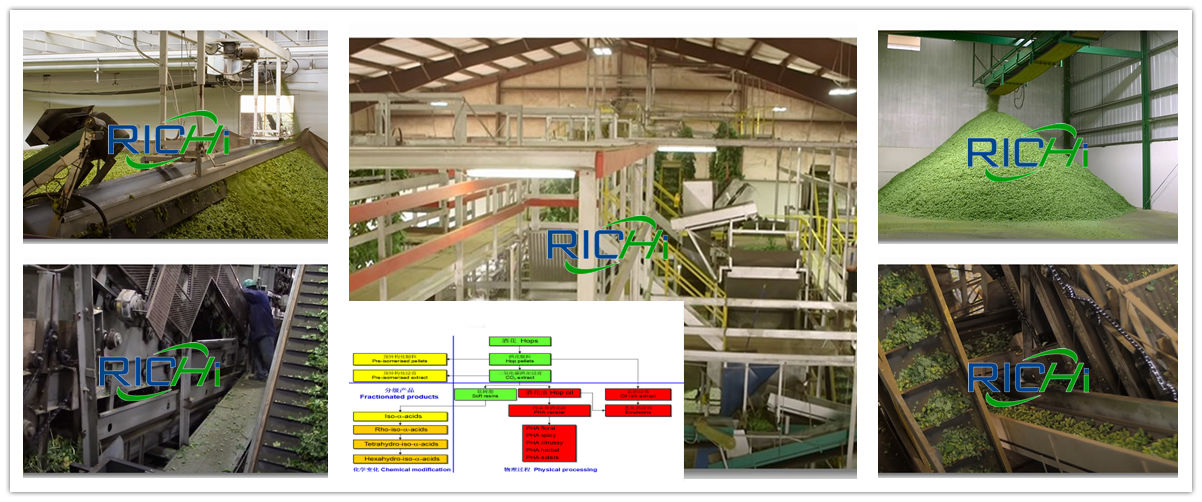 Once dried, a hops hammer mill is needed to crush the hops. The hop hammer mill crusher machine swallows the crushed leaves for further processing. The leaves should be broken but not too much such that they turn into powder. Once crushed, they can be turned into hop pellets using a hops pellet machine that includes both a ring die and roller so that the hops take on uniform sizes.
The hops are then cooled and dried before they are packed. When packing hop pellets, they must be kept in an airtight or vacuum container to avoid oxidation.