Applications Of Straw/Hemp/Hops/Husk Pellet Mill
Straw/hemp/hops/Rice Husk/Fruit Shell Pellet Mill is a rich renewable resource, but straw is a viscoelastic biological material with a small density, which is not conducive to transportation and storage, affecting its further processing or secondary development and utilization. High compression ratio, convenient for transportation and storage, while improving the combustion performance of biomass fuel, and improving the utilization efficiency of straw / hemp / hop resources.
1. Simple structure, wide applicability, small footprint and low noise. Suitable for granulation of light materials with a specific gravity of 0.3-0.6g / cm3.

2. Powdery feed and grass powder can be granulated without the addition of (or a little) liquid. Therefore, the moisture content of pellet feed is basically the moisture content of the material before pelleting, which is more conducive to storage.

3. The granules made by this machine have high hardness, smooth surface, and sufficient internal maturity, which can improve the digestion and absorption of nutrients and kill general pathogenic microorganisms and parasites. It is suitable for raising rabbits, fish, ducks and experimental animals Higher economic benefits than mixed powdered feed.

4.Electric frame: One bolt is fastened with the screw, and the motor is installed on the iron plate. When the screw is turned, the motor moves up and down for adjusting the belt.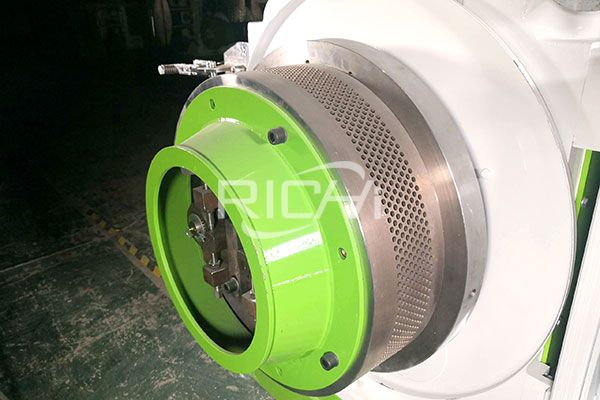 Working Principle Of Straw/Hemp/Hops/Husk Pellet Mill
The template and the pressure roller are made of high-quality alloy steel. After special treatment, the main axis of the feed pellet machine and the flat mold drive the roller to rotate under the friction. It is discharged from the die hole, and the pellet feed is sent out of the machine through the throwing tray. The length of the pellet feed can be controlled by adjusting the angle of the cutter. This product is suitable for farms, feed factories, and individual professional feed processors. It has a small investment and quick results. Risk-free processing machinery. The flat film pellet feeder is specially designed for breeding professional households and small breeding farms. The pellet surface is smooth, the hardness is moderate, and it is convenient for sealed storage.
| | | | | | | |
| --- | --- | --- | --- | --- | --- | --- |
| Model | MZLH320 | MZLH350 | MZLH420 | MZLH520 | MZLH768 | MZLH858 |
| Capacity | 300-400kg/h | 500-700kg/h | 1.0-1.2 t/h | 2.0-2.5 t/h | 2.5-4 t/h | 3-4.5 t/h |
| Power | 37kw | 55kw | 90kw | 110/132kw | 250/280kw | 280kw |
| Final Pellet | 6-12mm | 6-12mm | 6-12mm | 6-12mm | 6-12mm | 6-12mm |