Overview of 10 tons per hour automatic cattle feed plant for sale South Africa
How to start cattle feed plant business in South Africa? The 10 tons feed production project is a full-computer automated cattle feed production line that produces 10 tons per hour of cattle feed. RICHI not only builds the most advanced, reasonable and energy-saving automatic cattle feed plant for customers, but also selects complete sets of cattle feed machine with excellent quality and performance, and arranges construction strictly according to the schedule.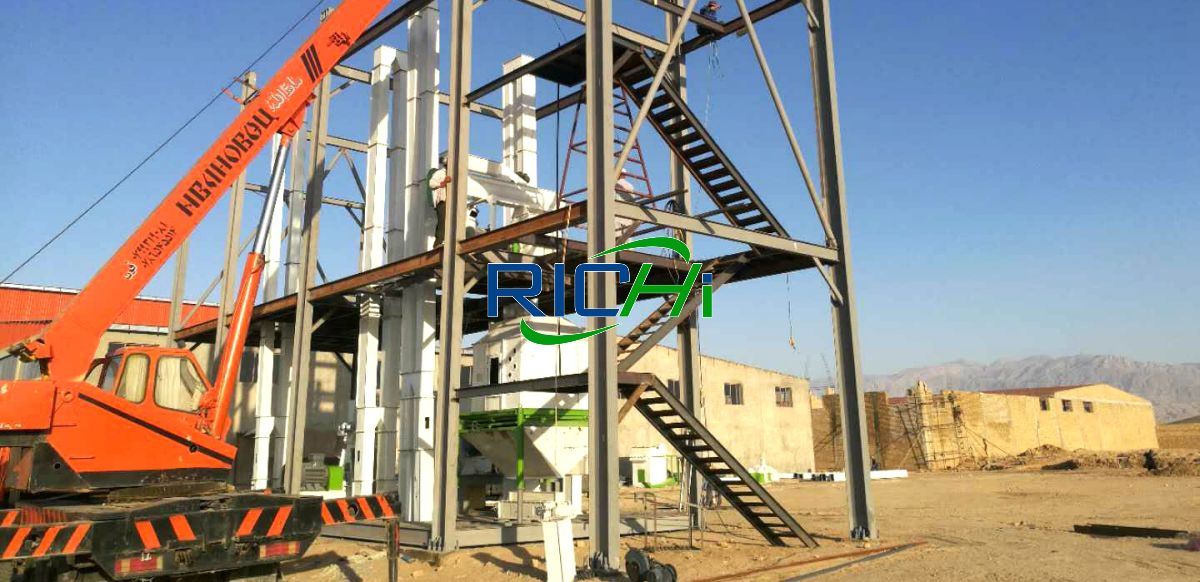 South Africa 10t/h cattle feed plant euqipments delivery
In the construction process of the 10t/h commercial cattle feed plant in South Africa, Richi proceeded from reality to meet the needs of users as a standard, rationally planned and standardized construction, and completed all sections smoothly on the premise of ensuring the quality of the South Africa 10 tons cattle feed factory project. The raw material for cattle feed plant in South Africa is corn, soybean meal, 50% grass and other grain, the main purpose is to process powder, 3 mm pellets, 5 mm pellets, 8 mm pellets.
Before the start of the South Africa 10tph fully automatic cattle feed plant project, Richi Machinery has fully researched and optimized the cattle feed processing plant project plan, using the customer's existing production area (19m*6m*25m) to achieve a compact overall cattle feed plant layout, smooth cattle feed manufacturing process flow, minimize production links, multiple expected effects of cattle feed plant engineering investment, etc.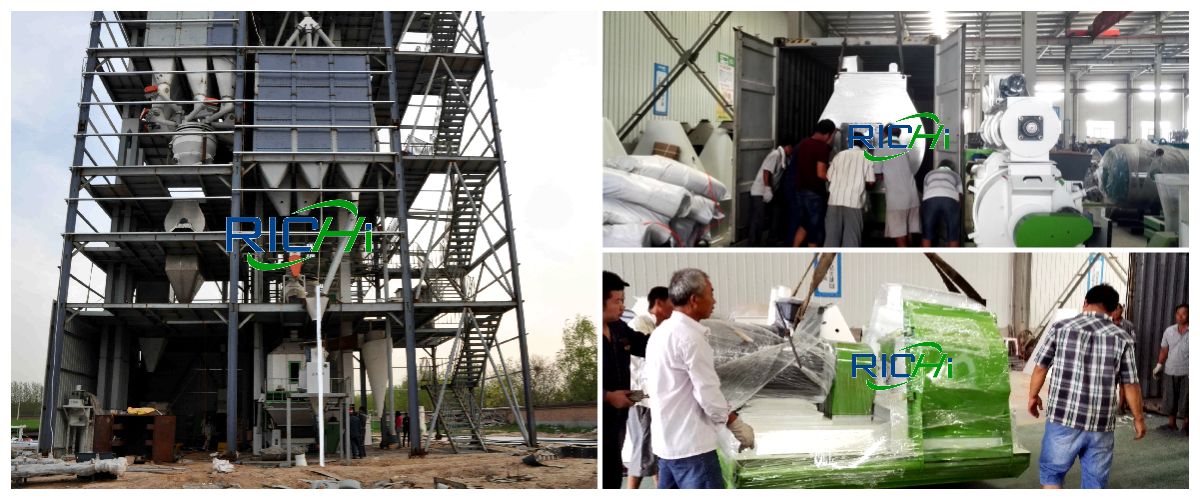 South Africa 10t/h cattle feed plant project site
How to make cattle feed in South Africa with the 10t/h cattle feed plant?
The bulk of raw materials are stored in the silos and the lower volume dense materials are in flat storage on the cattle feed plant floor. The cattle feed pellet manufacturing process is illustrated in chart below. The grains from the silos are transported to the cattle feed grinders in the cattle feed factory where it is grinded to a suitable coarseness depending on the type of feed manufactured.

Thereafter the raw materials that do not require grinding is included as well as the prescribed premixes of vitamins, minerals and medications and they are mixed together. The mixed feed is then incorporated with steam to raise the heat and moisture of the feed. The mixed raw material, vitamins and minerals go through the cattle feed pellet making machine where it is forced through a small opening to form a cattle pellet.

Post pelleting by cattle feed pellet machine, pellets then require to be cooled. The pelleted cattle feed passes through a shaker to get rid of unwanted fines and is now ready to be bagged or loaded in a bulk storage bin.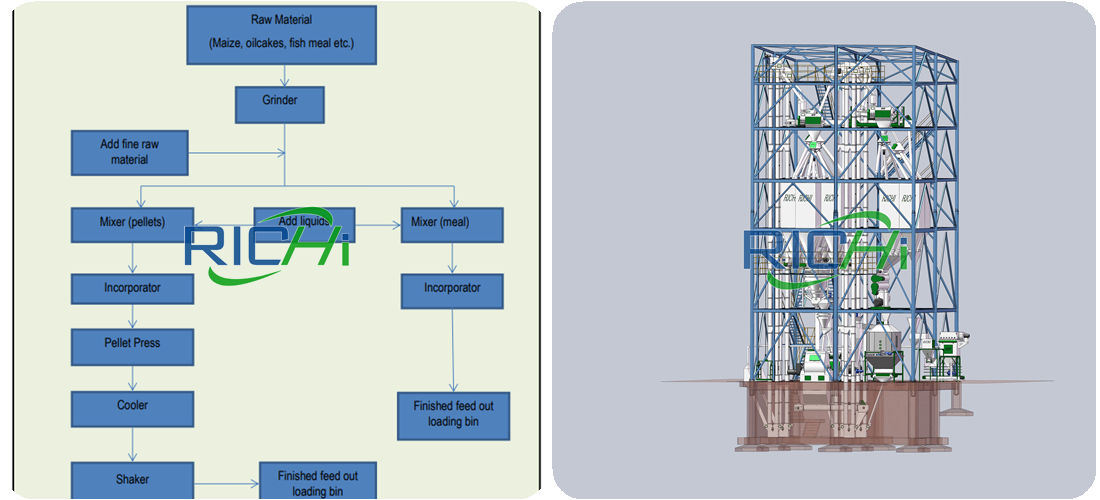 Animal feed milling process in the South Africa 10 tons cattle feed production business
This South Africa 10tph cattle feed manufacturing unit project is currently the most advanced ruminant feed pellet production line in the customer's local area. This complete automatic cattle feed plant project is fully computer-controlled and replaces the customer's previous manual packaging, manual handling, manual baching, and manual operations, allowing customers to experience the efficiency, energy saving, and safety of automated cattle feed production.
At the same time, the 10t/h cattle feed processing plant project uses a first-class cattle feed factory process plan, the rumination process uses the most advanced cattle feed making machine in South Africa, which greatly improves the production efficiency of customers and creates economic value for customers.

South Africa 10t/h cattle feed plant project signing site
Main machines needed to start 10t/h cattle feed pellet plant in South Africa
Cattle feed machine in this cattle feed plant
Cattle feed grinder machine*SFSP66*80
Screw conveyor (air locked)*TLSS25
Cattle feed mixer machine*SLHY2.5L
Powder precleaner*SCQZ60*50*100
Rotary distributor*TFPX6
Batching scale*PLC1.0A
Bucket Elevator*TDTG36/28
Cattle feed pellet machine*SZLH420
Cooling Machine*SKLN20x20
Pellet Crumbler*SSLG15*150
Screening machine*SFJH125*2C
Cattle feed bagging machine*DCS-50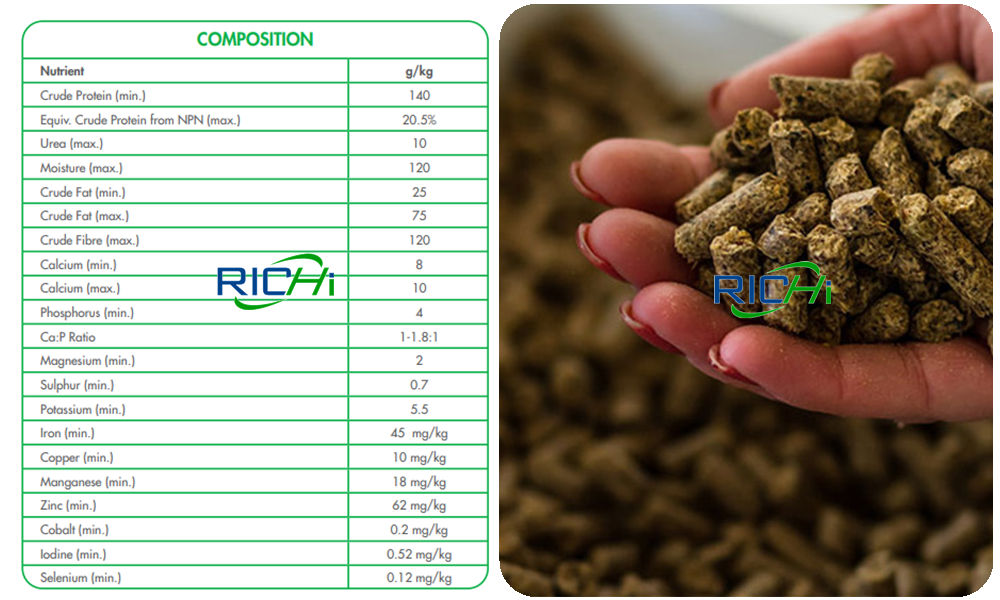 South Africa 10t/h cattle feed plant project pellets product and nutritional composition
It is very worth mentioning that the South African customer who cooperated with Richi this time is a very rigorous person. In addition to repeatedly inspecting the cooperative cattle feed plant manufacturers when the 10t/h cattle feed mill factory project is signed, the customer visits for the second time when the cattle feed machine is shipped and supervises the whole process test and delivery of the entire cattle feed plant machine.
The successful commissioning of this South Africa 10 ton per hour cattle feed plant project will help the customer achieve the integration of large-scale local feed research and development, cattle feed production, breeding and sales, and further increase its market share and competitiveness in the South Africa cattle feed production market.
Cattle feed pellet mill for sale South Africa —— key equipment
The cattle feed pellet machine South Africa is mainly consist of feeding device (screw feeder), hardening and tempering device (conditioner), face plate, press chamber transmission system, overload protection and electrical control system. It can also make feeds for animals such as chicken, cattle, pig, sheep etc, from raw material sorghum, maize, soya meal, rice and wheat etc.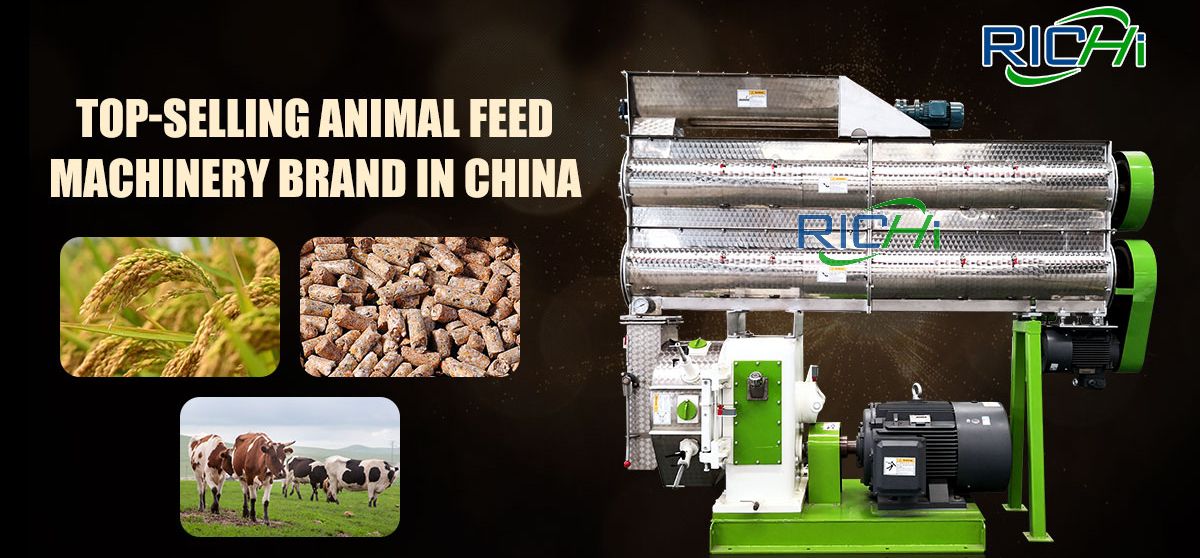 Ring die pellet mill for sale South Africa, is more suitable for larger cattle feed pellet plant production, usually 1~160TPH. For large cattle feed plant, we provide cattle feed making equipment selection, feed plant layout design, estimated cost, etc. (Related case: Indonesia 3-5T/H Ruminant Feed Plant)
Why Choose RICHI Cattle Feed Pellet Machine South Africa?
Low cost, convenient operation and maintenance.
High yield, energy-saving and environmental friendly.
Designed by RICHI research and development team.
Nearly 30 years experience in pellet mill for sale South Africa, and manufacturing, installation, commissioning.
Exported to to more than 130 countries around the world, including United States, UK, Nigeria, Thailand, India, Australia, South Africa, Pakistan, Kuwait, Indonesia, Poland, Netherlands, Japan, Philippines, Portugal, etc.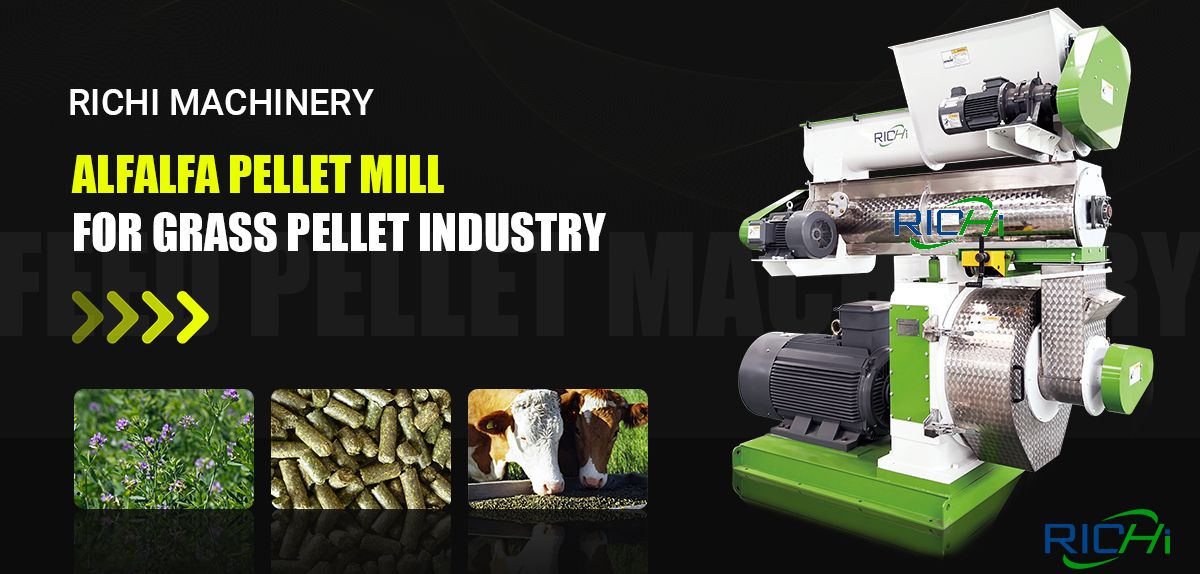 Richi Machinery, as a leading manufacturer of cattle pellet mill for sale South Africa, provides quality cattle feed making machines and professional service to the agricultural and aquacultural industry. Since the establishment, RICHI has been developing year by year. Our products are constantly updated.
With advanced feed pellet machine South africa, exquisite technology, strict inspection and testing system, we strive to our customers the excellent products. And, we are committed to the cause of environmental protection, energy, advocating a healthy environment, healthy life. Our tenet is integrity-based, quality and customer first! (Related case: Hong Kong 3-4T/H Cattle Feed Plant)
Steps to start a complete cattle feed plant in South Africa
01
Get Clear Investment Ideas About Cattle Feed Plant
You should know that your investment in cattle feed production is critical to all aspects. As a successful startup, you need to keep costs low. If you can work from home, then do it.You will save a lot of money and save the pressure of finding a suitable cattke feed plant location. The money you save can be used for marketing or transportation in the future.
02
Choose Right Cattle Feed Plant Machine Supplier
Get the right equipment for your small cattle feed plant. Richi Machinery is a professional cattle feed pellets machinery manufacturer that is dedicated to the research and development of cattle feed processing equipment, ranging from small scale to large scale.We have grown into the leading manufacturer in China due to the high quality equipment, excellent service and good reputation.
03
Manage The Cattle Feed Plant Scientifically
A cattle feed pellet machine may cost you a lot, therefore, requires a lot of care to maintain it performs as intended for its life span. One of the most important things to ensure a pellet feed machine will sustain its life is the way you operate it.


Before using the cattle feed machine, you need to read and fully understand the operation requirements of the system. To start using it, the first thing is to check the operations manual. Then, you need to apply a proper amount of lubricant to the running area.
04
Make Marketing Plan For Your Cattle Feed Plant
Making a feasible marketing plan for the final soya oil is also important to earn profits for your cattle feed plant. Once you have identified a specific group of customers, you can focus on providing them with cattle feed tailored to their needs. (Related post: Saudi Arabia 15-16T/H cattle feed plant)
Cattle feed industry is evolving into an organized sector, and cattle feed manufacturers are increasingly using modern and sophisticated methods to seek to absorb global best practices.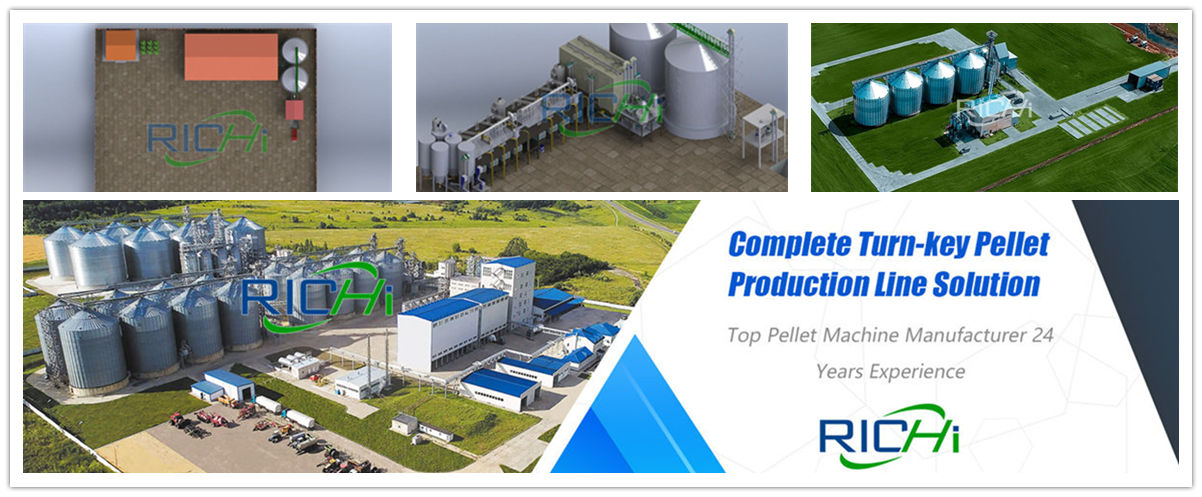 If you are planning to start a commercial cattle feed plant, you can take the following project for reference. It is designed with a ring die cattle feed pellet machine and automatic batching system, so that to ensure high efficiency and low production cost.
All our animal poultry cattle feed plant projects are designed according to our clients' specific needs and requirements, so just feel free to contact us and get a tailor-made cattle feed processing business plan and exact equipment price and construction cost.
Cost Of Setting Up A Cattle Feed Plant
The cost of starting a cattle feed plant is closely related to:
Production output and degree of automation.
Factory layout design and cattle feed plant process flow design.
Cost of raw material and Cattle feed machine.
Cost of labor,etc.
RICHI cattle feed plant for quality cattle cow feed production in South Africa
Superior feed quality ensures you the most profitable operation, health, growth and feed conversion rate for your cattle cow dairy livestock. Richi Machinery provide sturdy cattle feed plant solutions which are financially strong in the long run. (Related post: 3-4T/H Cattle Feed Pellet Machine for sale Colombia )
With years of experience in high-quality engineering of feed mills in numerous countries around the world, RICHI is a reliable partner no matter the scale of the cattle farm or cattle feed plant. Our cow feed mill plant equipment is state-of-the-art equipment for cattle feed milling plants, with our own in-house research and development department ensuring solutions suitable for your specific needs.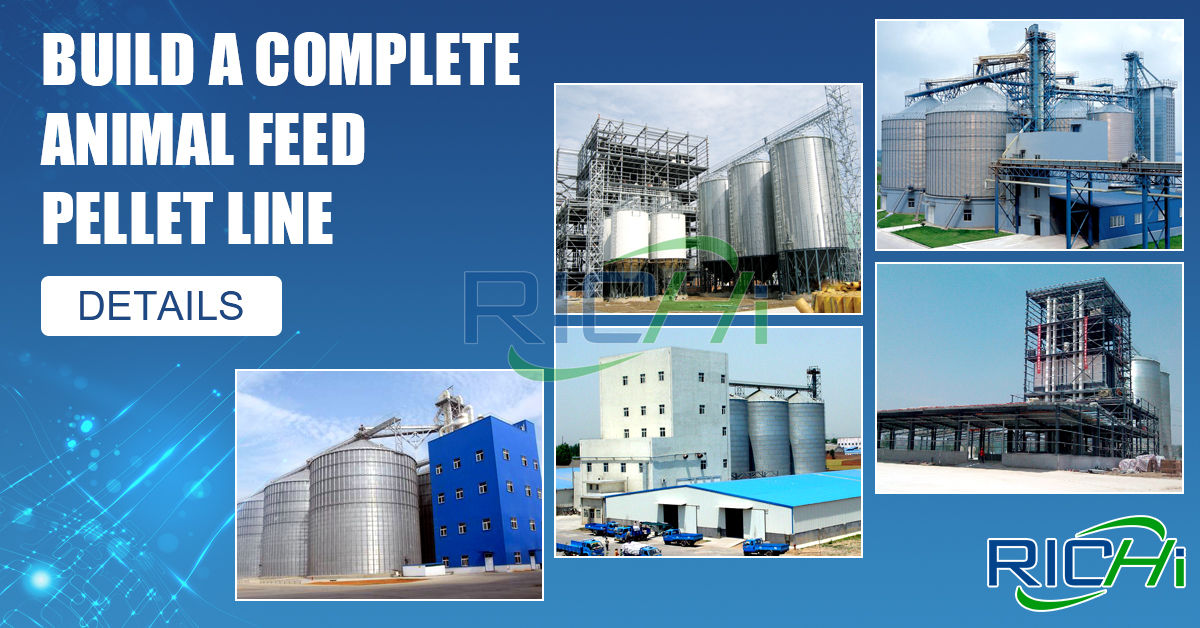 In RICHI you will find a partner with more than 25 years of experience, which means we have the knowledge to find the best possible solution for you.
We create partnerships with our customers and at Richi Machinery no customer is too small – everybody is shown the same thorough attention and service finding the optimal service, cattle feed manufacturing equipment or complete cattle feed plant solution in order to meet the customers requirements and establish long term relationships. And together we create sustainable, futureproof solutions.
Turnkey service cattle feed plant
Richi Machinery has many years of experience with sales and designing of cattle feed plants with capacities ranging from 1t/h to 120 t/h all over the world - from small farm cattle feed plants to large industrial cattle feed plants producing feed for cattle, livestock or ruminant. No matter where in the world and no matter which requirements the client may have to the new cattle feed plant, Richi Machinery has a matching pelletizing solution. (Related post: Uzbekistan 0.8-1.2 T/h Cattle Sheep Feed Pellet Production Line)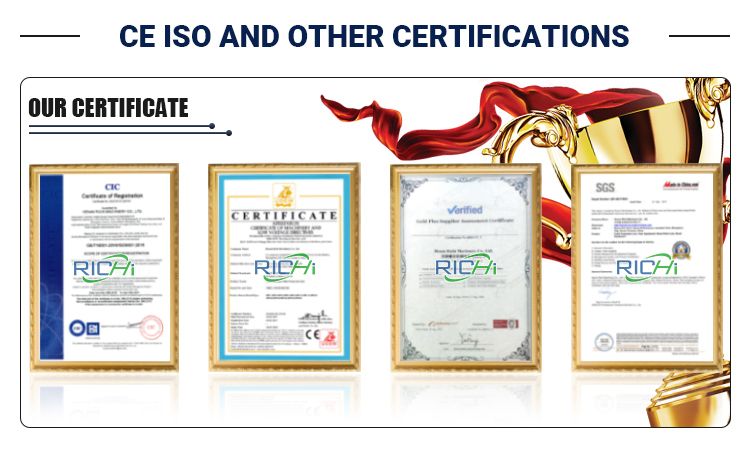 Richi Machinery cattle feed plant equipment provides the opportunity of grinding and proportioning feed for various livestock, such as pigs, poultry, etc. We offer the complete package of equipment and accessories for your cattle cow feed plant. On this page, you will find information on our previous international projects and learn about our cattle feed equipment.
Increasing profitability from field to fork
Richi Machinery works to improve the quality and safety of feed by using efficient and innovative technologies throughout the process resulting in higher profitability in the entire supply chain.
Users of Richi cattle feed mill plant solutions report that livestock show better health due to increased feed quality. Superior feed quality ensures you the most profitable operation, health, growth and feed conversion rate for your livestock.
Design of cattle feed plant
Building a cattle feed plant can be done either vertical or horizontal. The vertical design is made by placing the feed processing equipment in towers, and the horizontal placing as much equipment as possible on the floor.
After building hundreds of cattle feed plant around the world, Richi Machinery primarily choose the horizontal design because it is the most efficient solution for our customers:
The benefits are:
to facilitate accessibility, easier to get around the cattle feed mill factory with trucks and materials;
to increase productivity, as working on one floor is faster than working on several floors;
to save costs for the building, since tall buildings are generally much more expensive.
To obtain capacities higher than that, e.g. 60 t/h, a basic cattle plant of 30 t/h will typically be extended with a second parallel feed production line. Intake/cleaning and possibly dosing will be common, supplying the two production lines with separate mixing, possibly pelleting, and handling of ready feed functions. (Related post: America 10-12 T/H Cattle Feed Plant)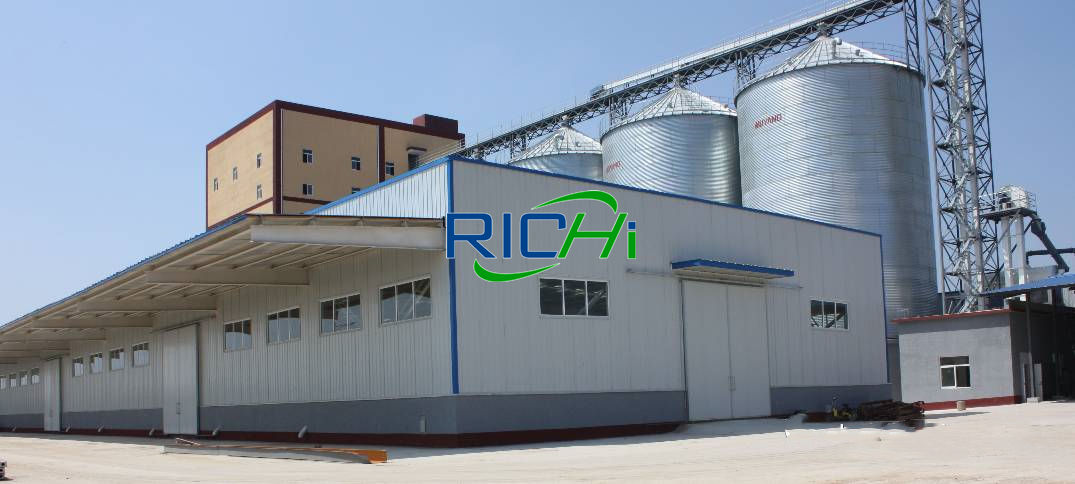 Richi Machinery cattle feed plants are batching plants, usually 1-3 tons per batch up to 5-6 tons per batch, normally with 8-12 batches/h. With a 3 tons batch system, the capacity will be 30 t/h with 10 batches/h. With 4-6 tons/batch, the capacity will be 40-60 t/h.
The tendency goes towards more batches/h – up to 15-20. However, this gives a batch time of only 3-4 min., and this puts high demands on dosing speed, grinding capacity and conveying capacity.
Every function in the cattle feed plant is controlled automatically via the control system. The control system can include traceability. Full traceability requires that the cattle feed processing plant is designed for it. This includes among others a storage system with the possibility of dividing the incoming materials into lots, which are marked with e.g. a number for unique recognition. (Related post: 15T/H Livestock Feed Mill In Oman)
The cattle feed plant must be designed in such a way that it is possible to follow these batches throughout the cattle feed production process, in order for the control system to keep track of the batches.
Development status of animal feed production industry in South Africa
The South African animal feed industry is about 87 years old. The industry came into existence after severe droughts and depression that transpired during the 1930's. The industry produces a variety of feed for various segments including poultry (layer and broiler breeders), dairy, beef and sheep and pigs. The quality standards of South African feeds are high and up to international levels.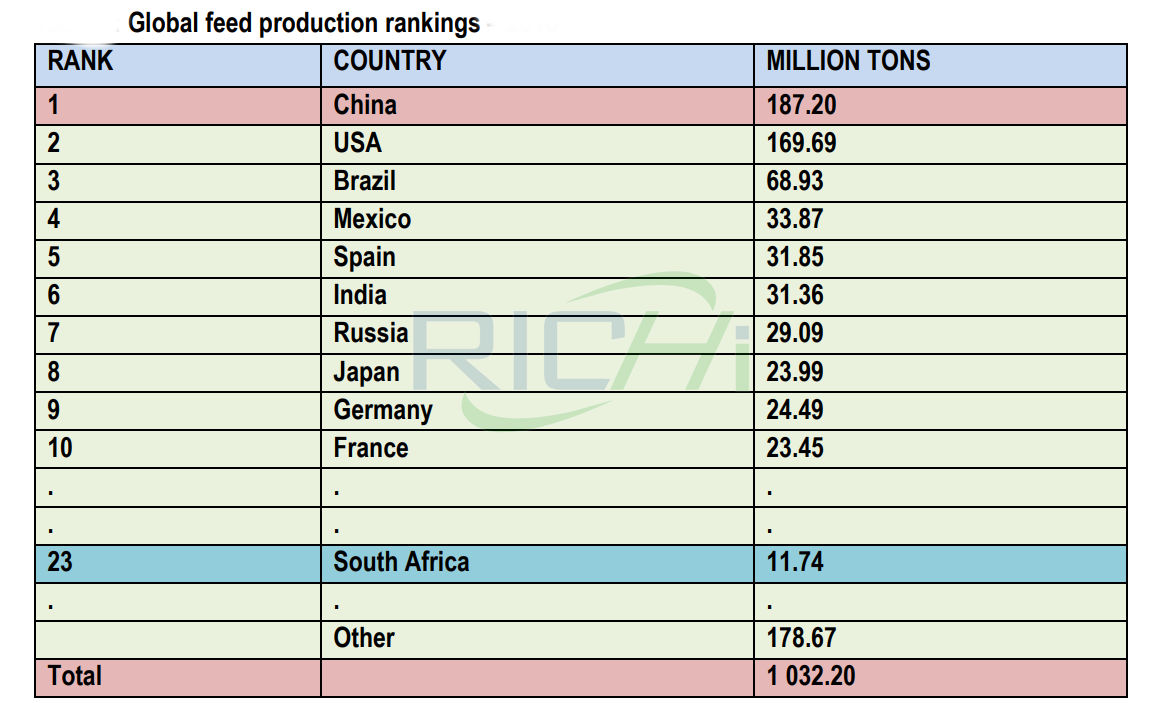 Raw materials for animal feed production to some extent are adequately available in South Africa particularly maize, the major ingredient in many of the manufacture animal feeds. The industry's production on average is about 3.5 million tons per annum. South African animal feed industry is dominated by major role players that mainly use modern computerized animal feed plants and latest animal feed equipment for analytical procedures and least cost formulation and use the latest feed manufacturing technology.
The South African animal feed industry is primarily classified into five major categories (pig, beef and sheep dairy, broilers, and layers) and all the remaining types of animal feeds are considered under the group other. The segmental shares of animal feed production for the year 2020 are presented in Figure below.