Overview of complete line for chicken feed pellets with 1-2 ton per hour production for sale Rwanda
With animal feed accounting for between 60 and 70 percent of total production costs, poultry and livestock farmers in Rwanda are seeking ways to manage their costs. The client of this Rwanda customizable easy to use small animal feed plant project visited in April 2019 and signed the project contract of the chicken feed production line with small production capacity on May 8, 2019. Due to the client's budget problem and confidence in our after-sales guidance service, the Rwanda client chose to install all the chicken feed equipment for this manual pellet machine plant project by themselves.

Customer visit of Rwanda 1-2t/h chicken use food mill animal feed pellet plant
This is a customized animal feed production line project for making 1-2 ton per hour chicken pellet feed. The configuration of this easy to operate animal feed production line is exactly the same as one of our 1-2t/h simple design animal feed pellet plant project in Tanzania, main animal feed production equipment of this 1-2 ton per hour poultry chicken feed pellet making plant project includes: 37KW feed grinder machine, 500kg/batch horizontal feed mixer, 22kw animal feed pelletizer, SKLN11*11 pellet cooling machine, vibrating shifter, etc. This is a small 1-2t/h bulk feed production line without animal feed packing machine.

As shown in the picture, the Rwanda small animal feed pellet line project customer visited in April 2019
There was only half a year between the signing of the two widely used wholesale poultry feed production line projects, but this project only needs one type of ring die, because this customer from Rwanda did not need to produce cattle feed and goat feed, so he only needs to buy the chicken feed pellet milling machine ring die that can produce 2-4mm chicken feed.

Equipment delivery of Rwanda 1-2t/h widely used ring die pellet production line
Due to the limited budget of the Rwanda customer, the automation degree of this poultry farm use feed production line customized for the customer is not high. To a certain extent, it can be said to be a 1-2tph small manual feed production line. However, there is no shortage of personnel on the customer side, and the chicken pellet feed production line is used for its own farms and provides feed for surrounding farms, so the requirements for the automation of the 1-2t/h animal chicken poultry feed production line are not high.
Problem in the during installation of Rwanda 1-2t/h small capacity China supplier animal poulry feed production line:
This customer don't know how the motor should be connected.
Don't know how to welding when they built the steel frame.
Don't know how to install the cyclone.
Put the vibrating screen in the opposite direction.
Our after-sales technical team very positive to guidance them how to install on-line, and help them to solve these problem smoothly.
Our company provides drawing details of the Rwanda 1-2t/h production line for chicken feed pellet:
Why Choose Feed Pellets Rather Than Mash Feed For Chicken Feed Production In Rwanda?
When compared with using chicken mash feed, the followings are some advantages of feeding your chicken with feed pellets produced by chicken pellet machine:
Nutritional Composition: It consists of the proper and required proportion of the nutrients and ensures that the chicken receives the desired nutrients in adequate amount.
Improve Performance: Ensuring balanced diet of the chicken, it improves the bird performance and lessens the wastage of feed.
Feed Safety: As the 1-2t/h small scale chicken feed production line process included high temperature, it ensures, no bacteria gets pass on to the chicken through the feed. The food is sterilized in the chicken feed line process.
Main Grain Used in Manufacturing Feed for Chicken In Rwanda Chicken Feed Production Line
Grain is the main raw material for the ingerdients of animal feed pellets including poultry feed and cattle feed. For chicken feed production line in Rwanda, corn is included as one of the ingredients in the feed. In most chicken feed pellet plant around the world, corn is a common ingredient in the chicken feed, Australia being an exception.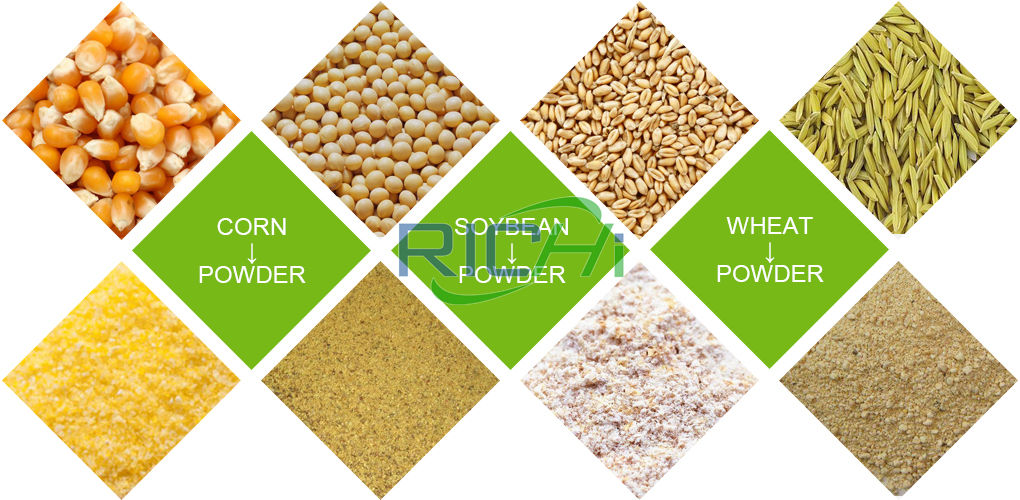 In Australia, fewer areas have the suitable conditions to grow corn; hence the corn feeds are produced really less in Australia. Corn fed chickens tends to have a slight yellow skin color. Due to the less availability of corn, it is usually replaced by wheat and sorghum in the chicken feeds in Australia. Grains used in the chicken feeds largely depend on its local availability. Maybe you are also interested in fish feed production and the related machines.