3-5T/H Commercial Poultry Feed Mill For Sale Malaysia
2021.06.15, Malaysia customers sent a consultation to Richi Machinery:
"Im looking forward to have an inquiry for the capacity of 3-5 ton feed mill poultry feed pellet for commercial use".
On October 29, 2021, the poultry feed mill project was signed.
In the 4 months before the signing of the Malaysia project, we customized the design of Malaysia 3-5t/h poultry feed plant according to the plant area, process requirements and local policies provided by the Malaysian customer; according to the plan provided by the Malaysia customer, Preliminary civil construction preparations were carried out.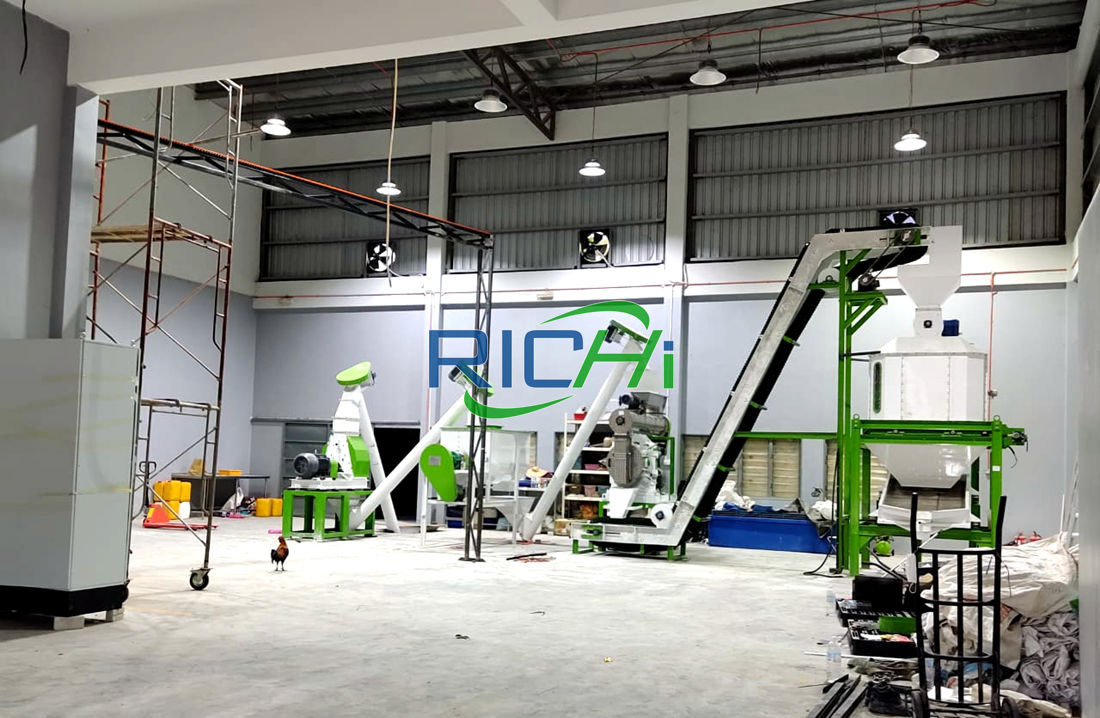 The Malaysia customer planned to set up a feed mill to produce high-quality nutritious poultry feed, and then sell it for profit. In addition, according to the customer's needs, our engineers have reserved a lot of space in the design of the production line for the customer Prepare for future production increases and expansions. (Related post: Malaysia 3-5T/H Poultry Mash Feed Plant)
3-5T/H Malaysia Commercial Poultry Feed Mill Design
The Malaysia 3-5t/h poultry feed mill production requires a series of process and equipment. Some of poultry feed making machines may not be equipped in small scale feed mill in order to save the investment cost. But, large scale poultry feed factory would equip all the neccessary machinery to improve the production efficiency and lower the production cost.
Prepare the Suitable Raw Material

Choose the raw material based on the purpose of poultry feed. The most common raw material includes rice husk, soybean meal, corn, rice, cottonseed cake, etc.

Sieving- Remove Impurities

Now remove the impurities such as dust, rock, etc. from the raw material. It is essential to enhance pellet quality.

Grinding- Grind the Raw Material

The cleaned raw material is then fed into a hammer mill which crushes it into fine-sized particles.

Mixing- Mix Poultry Feed Ingredients

Additional ingredients are added to increase the nutritional value of pellets. They are mixed thoroughly to make sure all pellets have the same contents.

Pelleting- Make Poutry Pellets

The processed raw material is fed into a poultry feed pellet machine. Inside the machine, rollers put pressure on the material due to which they get compressed and come out of the holes present in the dies in the shape of cylindrical pellets. In large commercial poultry feed plant, the ring die feed pellet machine is widely used.

Cooling- Reduce Pellet Temperature for Packing

Pressure applied in the above step increases the temperature of pellets which is reduced with the help of cool air. Pellets are also sieved to separate fine pellets from the broken pellets.

Packaging- Store or Sell Poultry Feed Pellets

To protect pellets from environmental factors, they are stored in durable bags.
A complete poultry feed mill plant setup can be easy if you can find a reliable and trustable poultry feed machine supplier. At the same time, you can save the poultry feed mill cost, energy and time. Anyway, if you are going to enter the industry of animal feed by establish your own poultry feed plant, you should take a lot of factors into consideration to ensure the success!
Why Should You Set Up a Commercial Poultry Feed Mill?
The world population is increasing gradually. Due to this reason, the demand for animal food is increasing continuously. Eggs and white meat are a great source of protein due to which people use them in many dishes. Feeding the poultry birds the right food that is full of essential nutrients is important so that the birds produce a healthy amount of meat and eggs throughout the year. (Related post: New Zealand 3-5T/H Animal Feed Plant For Chicken )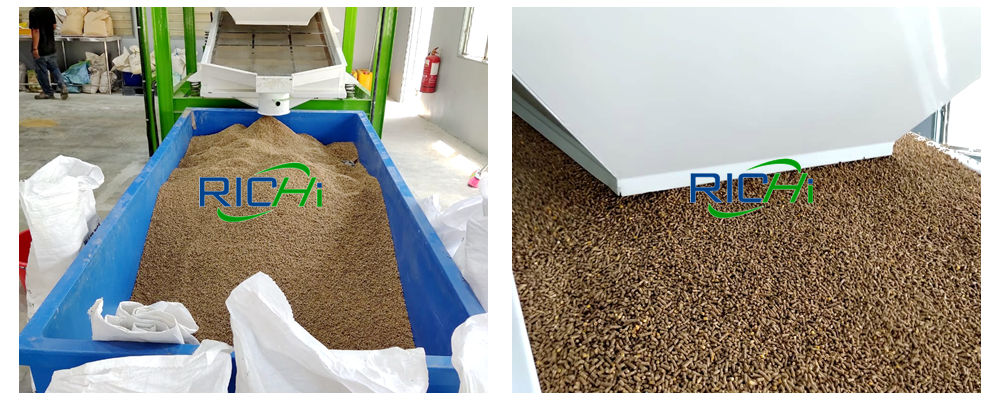 Poultry feed is prepared carefully by keeping in mind the nutrient requirements of the bird. That is why poultry farmers rely on poultry feed a lot. Over the past few years, poultry feed production has increased by many million tons. It reached 1.103 billion metric tons in the year 2021. Its production is expected to increase more in the near future due to the high demand for valuable poultry feed. The high demand for poultry feed is increasing years by years, establishing a commercial poultry feed plant is a great opportunity to earn revenue and make your name in a growing business.
The 3-5t/h commercial poultry feed mill cost varies from the capacity, equipment selected, final feed products and other factors. For detailed feed mill project cost and equipment list, please contact Richi Machinery directly to get the customzied plan!
How to Start Commercial Poultry Feed Mill Project?
To start a poultry feed mill as business successfully, you should know more about the process of making poultry feed at first, then is the cost and poultry feed machine selection.
Poultry Feed Manufacturing Process

As mentioned above, poultry feed is divided into broiler and layer types. you should make sure which kind of poultry feed you are going to produce. and the process can be customized according to your requirement. such as, liquid adding, curing etc.


Local Market Res​earch

Whatever kind of business you plan to start, you should do market research, so does starting a poultry feed plant. Making the research about how many people have poultry feeding industry? How much is one bag of poultry feed? And how many people have the poultry feed mill plant in your local place? And some other questions about starting poultry feed production projects.

Cos​t Analysis

Cost of starting poultry feed mill projects is affected by many factors, including factory building cost, raw material cost, machinery cost, energy consumption cost, labor cost etc., whether you decide to make. (Related post: Uzbekistan 3-5T/H Poultry Feed Plant)

Choose Poultry Feed Mill Manufacturer

When you decide to start a commercial poultry feed mill, the related equipment is a large part of the whole production. Choosing a reliable commercial poultry feed mill manufacturer or supplier is very important. Richi Machinery has been engaged in this industry for over 25 years, possessing a professional R&D team and own manufacturing factory, able to offer you the best service of before-sale, on-sale and after-sale.
What is Complete Formula Feed?
The complete formula feed is formulated according to the prescribed feeding standards. It contains protein, energy, minerals, trace elements, vitamins, etc. It can meet all the nutrition needed by livestock and poultry. It is of the best quality and balanced nutrition. It can feed animals directly without adding any other feed.
This kind of feed is suitable for mechanization, semi-mechanization production. It is not only good choice for free-range farming but also for special households raising chickens, pigs, cattle, fish and precious animals. Its general composition is as follows.
Advantages of Complete Compound Feed from Poultry Feed Mill
Improve production performance and shorten the breeding period of commercial livestock and poultry: Compound feed is produced according to the nutritional needs of livestock and poultry, adopting scientific formula. Therefore, complete feed can ensure all kinds of nutrients and improve the production performance of livestock and poultry.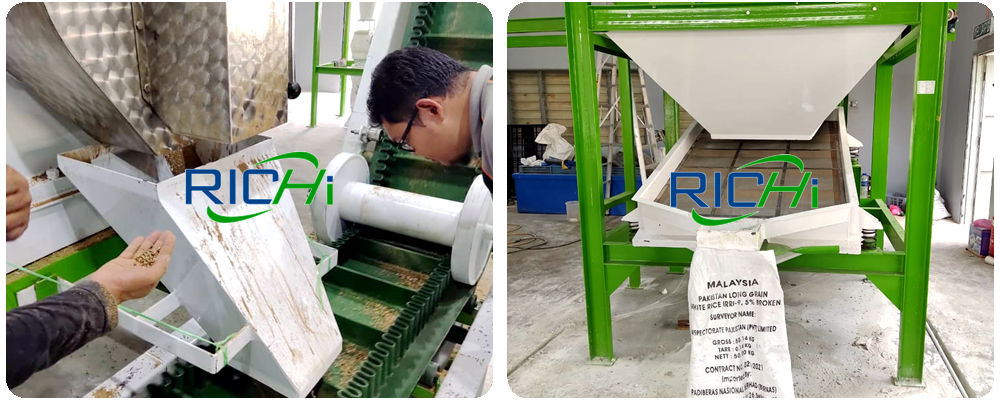 Save grain, make rational use of need resources. Compound feed can not only maximize the use of grain and oil processing, food processing by-products, such as oil cakes, rice bran, blood meal, bone meal, fish meal, distilled grain and so on. Some non-nutritional additives can also be used according to the needs of livestock and poultry to reduce feed production cost and increase economic benefit.
Easy to use: The compound feed can be fed directly. Therefore the labor and batching equipment can be saved.
Convenient for industrialized feeding production and can be widely applied for large-scale poultry farm.
More health, more safety.
Setup Your Own Poultry Feed Mill Plant with Richi Machinery
Richi Machinery is one of the professional poultry feed mill machine manufacturers and suppliers, and has been engaging in this industry for several decades. In addition to possessing the independent R&D team with experienced engineers. We are focusing on helping our customers to set up a highly efficient poultry feed mill plant as a business at limited cost.

We can not only offer the feed equipment manufacturing, but also provide the service of poultry feed mill building and design, machinery installation and debugging and other technical support services. If you have plans to start the poultry feed mill plant as a business, you are welcome to contact us for more information, and you can't go wrong when you choose Richi Machinery!