Overview of turn-key 3-5 t/h full animal pallet and mash feed mill in Tanzania
This is a turnkey animal feed plant project we established in Tanzania-automatic 4-5t/h commercial mash feed plant and 3-4t/h pellet feed plant for livestock and poultry feed production(layer, broiler, pig, cattle, goat).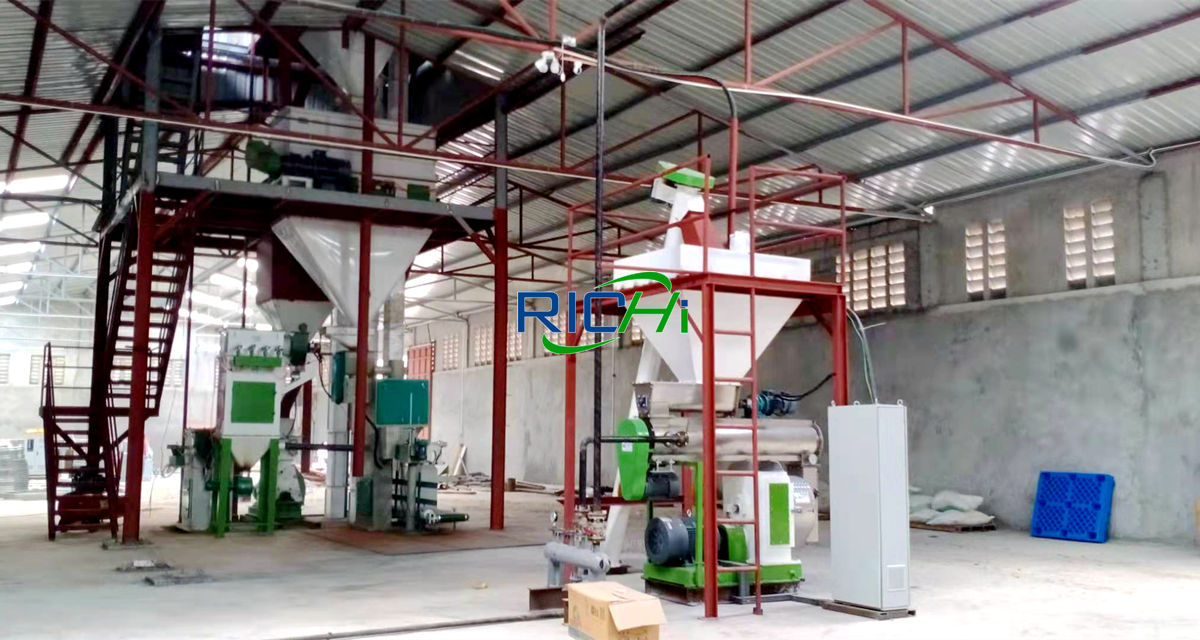 Site Of Tanzania Animal Livestock Poultry Pellet And Mash Feed Mill Project 3-5TPH
The transaction time of this 3-5t/h animal mash and pellet feed production line project is March 2019 On the 21st. The entire animal feed mill plant project equipment covers an area of ​​6*6*14 meters, and the total power consumption of the 2-5t/h feed production project is 90KW per hour.
| Projects | Capacity | Product |
| --- | --- | --- |
| Animal mash feed automatic line | 4-5t/h mash feed line | Mash feed : 2.0-8.0mm |
| Simple animal pellet feed line | 3-4t/h pellet feed line | Pellet feed : 2.0-12.0mm |
Since Tanzania customer have requirements for the production of a variety of feed types, this 3-5t/h animal poultry cattle feed mill we configured is suitable for various poultry feed production and livestock feed production.
Of course, if the customer change the type of feed during the animal poultry cattle feed mill production process, you must pay attention to a lot of situations. Regarding this issue, we have conducted comprehensive training and guidance to our Tanzania customer.

Site Of 3-5TPH Automatic Animal Livestock Poultry Pellet And Mash Feed Mill Turnkey Project Tanzania
This Tanzania 3-5 tons per hour animal feed mash plant and pellet plant is mainly used to make mash feed, so it is a automatic mash feed line. But this Tanzania customer also want to develop pellet feed business, so beside the mash feed, there is a another simple animal feed pellet plant with 3-4t/h.
The raw materials used in this Tanzania animal feed mill equipment plant project are corn, soybean meal, oil, premix, etc. Because customers need to process more types of feed, and the feed sizes are different, so the Tanzania customer also ordered a large number of main accessories such as pellet machine ring dies while purchasing the main animal feed mill machinery.

Photos of RICHI engineers and Tanzania customer at the animal poultry cattle feed mill plant line project site
During the installation process of this Tanzania factory price animal poultry livestock feed mill project, we sent two engineers to the site. After 50 days of work, the automatic animal poultry cattle feed plant project successfully completed the installation and commissioning work.
Video of 3-5 ton per hour animal mash and pellet feed production line in Tanzania
Animal livestock poultry chicken powder manufacturing process of the 3-5 t/h poultry livestock feed mill in Tanzania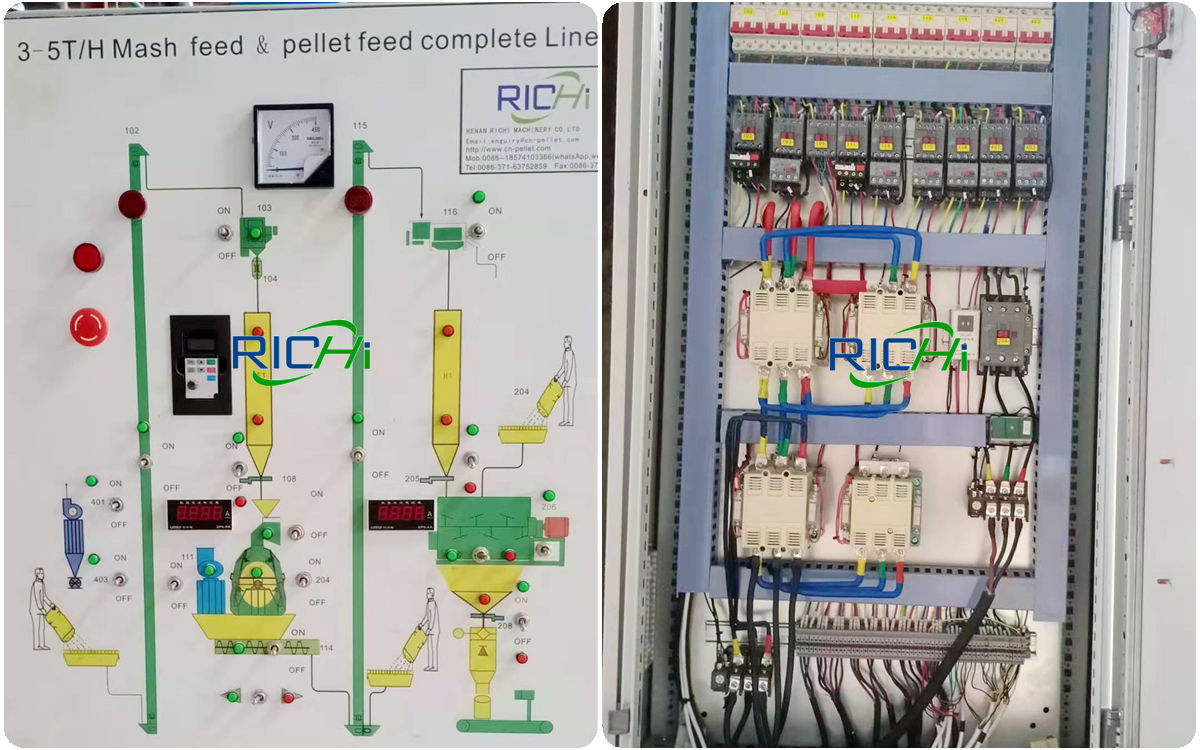 Best price complete 3-5 t/h feed mill machinery and equipment for sale Tanzania
| Animal feed processing machine | Feed device description |
| --- | --- |
| Screw conveyor*TLSS20 | Specially designed to deliver powder material |
| Iron removing device*Z-Type | Strong separation of magetic metal inclusions in raw materials. |
| Animal feed grinding machine*SFSP.56*40 | Crush room with drop-shaped structure divided into two parallel grinding chamber and shear device,the lower the drop-shaped room with another smash to improve the hammer blow to the efficiency of materials; |
| Animal feed mixing machine | Capacity: 1000kg/batch, siemens motor, SKF bearings. |
| Pulse dust collector*TBLMa.8A | Bag quantity:8; Pressure of bag cleaning: 0.5~0.7 MPa; |
| Buffer bin*2m³ | Plate thickness 3mm, 2m³ |
| Animal pellet making machine*SZLH320 | This machine can be equipped with an elongated single,double or twin differential quenching and tempering device,according t the requirements of different quality feed. |
| Cooling Machine*SKLN14×14 | The cooling aer and reverse motion of grain marerials ensures the gradual cooling of materials upwards,and aetter cooling result than other products. |
| Bucket Elevator*TDTG36/18 | The head wheel is covered with rubber to increase friction,and ensure steady running |
| Rotary screener*SFJH800*2C | Combining the characteristics of circular motion, ellipse motion and to-and-fro linear motion, high sieving efficiency and low energy consumption. |
| MCC Control Center ;Mimic control panel | (power range from 22 kw for star triangle start, main electric components are delixi brand) |
| 300KG/HOUR gas type boiler | / |
List of animal feed plants and animal feed making machines we have exported to Tanzania
RICHI animal feed plant and animal feed manufacturing machines in Tanzania