How wood pellets are made? Use a wood pellet maker or build a complete wood pellet plant. This case is another best solution biomass wood pellet line for rubber wood waste project from Richi Machinery, and the customer is one of the well-known local wood pellet companies. As a wood pellet machine manufacturer in China, customers have chosen RICHI among many wood pellet line manufacturers.
Of course, the most important reason is the result of strict selection of partners. We can also confidently say that we are very professional about wood pellet manufacturing.

Overview of the 3-5 t/h completely wood pellet production line for rubber wood pellets in China
The client's wood pellet factory was established in October 2012. It is one of the private wood pellet companies engaged in biological extraction, processing and sales; biological extract technology promotion services. The wood pellet production company is currently mainly engaged in biofuel wood pellet making business.
In July 2018, the 3-5 tons per hour biomass wood pellet production line relocated as a whole to the new agricultural science and technology park, invested 1.7 million US dollars in a new high quality 3-5tph rubber wood pellet production line from wood waste.


Site of the automatic wood pellet line 3-5tph
01
Product plan of 3-5 t/h pellet production line for fuels energy plant
Adopt and introduce the most advanced domestic wood pellet manufacturing equipment and wood pellet production technology to pre-treat and process woody residues (waste) such as forest trees, and solidify them into high-density pellet fuel.
02
How to make wood pellet in the 3-5 tph completely wood pellet production line?
Wood pellet production process: Rubber wood and other residual raw materials → chipping → crushing → impurity removal → fine powder → screening → mixing → pelleting → drying → cooling → packing→storing→delivery.


03
Wood pellet manufacturing equipment needed in the 3-5 t/h automatic completely biomass wood pellet production line
What is needed to start a wood pellet plant 3-5 tons per hour? In terms of 3-5 ton per hour wood fuel pellet plant equipment selection, follow the principle of "advanced, applicable, mature, and energy-saving", based on domestic procurement of wood pellet making equipment, taking into account convenient maintenance, main wood pellet line equipment and auxiliary wood pellet plant equipment:
| Serial number | Equipment name | QTY |
| --- | --- | --- |
| 1 | Wood pellet making machine | 4 |
| 2 | Hot sale 3-5 ton per hour industrial wood chipper | 1 |
| 3 | Hammer mill for wood pellets | 4 |
| 4 | Wood pellet rotary dryer for pellet plant | 1 |
| 5 | Conveyors | 2 |
| 6 | Double material filling silo for assembly line unit | 2 |
| 7 | Low-voltage start, power distribution operation cabinet | 2 |
| 8 | Hot gas cooling tower | 2 |
| 9 | Bucket elevator | 2 |
| 10 | Vacuum cooling, dust removal, screening and filling system | 2 |
| 11 | Automatic conveying, measuring, filling, seam and bagging scale | 2 |
| 12 | Automatic numerical control moisture meter | 2 |
| 13 | Distribution pellet fuel cooking stove | 2 |
| 14 | Heating stove series | 10 |
| 15 | Forklift and other tool vehicles | 12 |
The 3-5 t/h biomass wood pellet line price and profit
01
Estimated 3-5 t/h rubber wood pellet plant system project investment cost
The total cost to set up 3-5t/h wood pellet plant is 1.7 million U.S. dollars, which is composed of construction investment and working capital. Among them: the construction investment is 113,000USD, and the main apportionment projects are: the project land investment is 140,000 US d ollars, the civil engineering and supporting engineering investment is 590,000 US dollars; the whole set wood pellet production equipment (including auxiliary equipment) investment is 680,000 US dollars; the circulating fund is 290,000 US dollars.
Fund source: The total cost to set up wood biomass pellet plant project is 1.79 million US dollars, which is raised by the enterprise itself.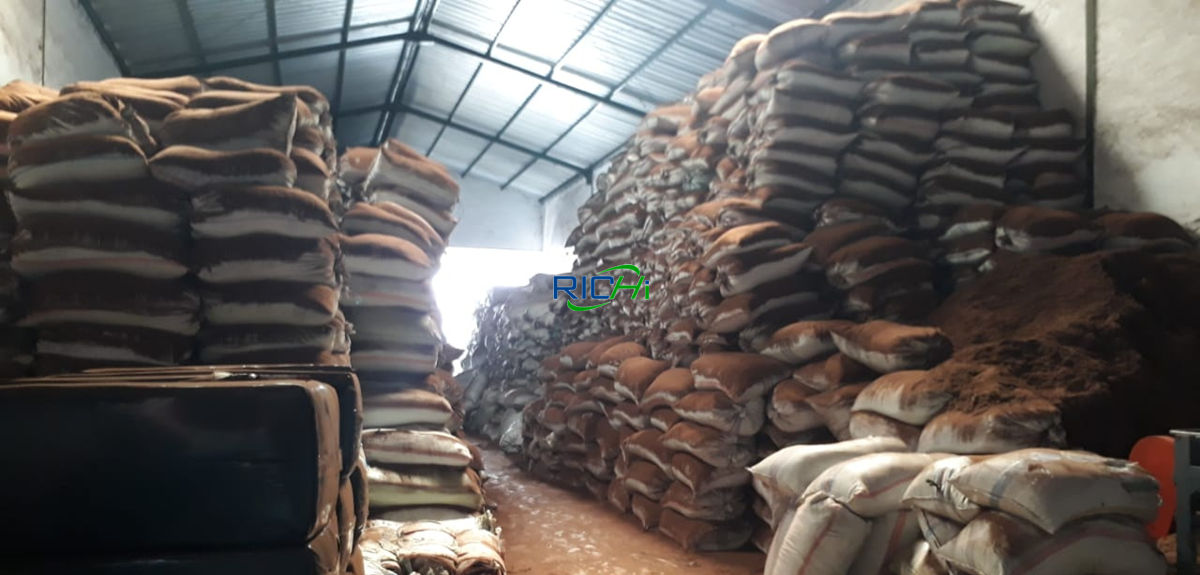 Storehouse of the 3-5t/h automatic wood pellet production line
02
Benefits of the 3-5 t/h high quality wood pellet plant in China
Economic benefits: After the 3-5t/h biomass pellet production line project is completed and put into production, the wood pellet company will increase its annual income by 600,000 US dollars, and its annual profit will be 400,000 US dollars.
Social benefits: The 3-5 tonnes per hour rubber wood pellet plant project directly provides 30 jobs, with an average annual income increase of more than 20,000 yuan per capita, and can indirectly drive more than 500 farmers to participate in the industry's income generation.
Environmental benefits: Comprehensive utilization of large amounts wood waste in the wood pellet production process of 3-5 ton per hour complete wood pellet plant, greatly eliminating secondary pollution caused by garbage, and obvious environmental benefits.