Overview of 500-700 kg/h small scale wood pellet production in Ukraine
The 500-700 kg/h small capacity biomass wood pellet plant for beech wood was built in Ukraine,project order time is mid-2018 and successfuly completed in 2019. The raw material was the beech wood. The required production capacity was 500kg/h-700kg/h. The best moisture of such mixture should be 12%. The wood pellet production process of this project included crushing, mixing, pelletizing, cooling, elevating and packing. The packages were divided into 15kg per bag and 1ton per bag to meet different market demands.
| Capacity | 500-700kg/h |
| --- | --- |
| Diameter of Final Wood Pellets | 6mm |
| Pellet Density | 1.2-1.3g/cm3 |
| Raw Material Moisture | 12-15% |
| Pellet Rate | ≥95% |
| Size of workshop | 16*13*6M |
Main Machine Needed Of 500-700KG/H Small Wood Pellet Plant In Ukraine
| Wood pellet line equipments | Model | Quantity |
| --- | --- | --- |
| Wood shredder chipper | JLBX-215 | 1 |
| Wood sawdust hammer mill | SFSP66*60 | 1 |
| Biomass wood chips rotary dryer | ф1200*120000 | 1 |
| Wood pellet maker | MZLH350 | 1 |
| Vibrating screener | TDZS63 | 1 |
| Packing machine | DCS-50 | 1 |
| MCC Control Center ;Mimic control panel | / | 1 |
Wood Pellet Manufacturing Process Of The 500-700KG/H Small Wood Pellet Plant
500-700KG/H small scale wood pellet plant process: Raw material-chipping-screening-crushing-drying-pelleting-packaging


Small Wood Pellet Production Line Layout Design
The Ukraine 500-700kg/h wood pellet processing plant project design fully considers the layout of the facilities and the status quo of the factory building, and strives to close the facilities. Generally, the functional divisions such as the crushing area, the drying area and the finished product area are clear, the wood pellet plant layout is reasonable, the connection is convenient, the entire small wood pellet production process is smooth, and the production workshop is a semi-enclosed steel structure plant.


Features of The 500KG/H Small Scale Complete Beech Wood Pellet Plant For Fuel Pellets In Ukraine
Small capacity;
Lower wood pellet production investment;
Welcomed by most customers;
Large raw material range: Sawdust, groundnut shell, sugarcane biogases, caster shells/stalk, coffee husk saw dust, paddy straw, sunflower stalk, cotton stalk, tobacco waste, mustard stalk, jute waste, bamboo dust, tea waste, wheat straw, palm husk, soybeans husk, leaves, grass, coir pitch barks/straws, rice husks, forestry wastes, wood chips and other kind of agro wastes.
If you are also interested in setting up a ce completely wood pellet production line for European market to process biomass fuel pellets, just get in touch with us to get detailed technical paramaters and wood pellet production line price list!
How To Start A Beech Wood Pellet Manufacturing Bussiness For Commercial Purpose In Ukraine?
Beech, the scientific name Fagus. Widely distributed in Asia, Europe, and North America, it is also one of the main species of temperate broad-leaved deciduous forests. Its fruit is also food for some small mammals. If you live around there is a lot of beechwood or other wood that is very suitable as fuel, such as oak, ash, etc.
Then RICHI suggest that you can build a small wood pellet plant or commercial wood pellet factory. The wood pellets are not only convenient for transportation, but also for storage. The demand for biomass fuel in the world is still enthusiastic. It is a profitable thing to build a biomass pellet factory for beech wood pellet manufacturing. So how to build a wood pellet production and processing plant for business purposes?
| | |
| --- | --- |
| Intensity | The beechwood strength is medium |
| Durability | The corrosion resistance of beech wood is weak or medium |
| Process characteristics | Beech Wood is easy to cut, with a silver-white pattern on the diameter, good gloss after painting, and easy to glue |
In addition to the characteristics of small elasticity, high hardness, strong abrasion resistance, toughness, and high bearing capacity, beechwood dries slowly. It is prone to cracking, splitting, and warping during drying. Therefore, This wood is very suitable as a raw material for biomass fuel.
How to Make Beech Wood Pellets for Fuel in Wood Pellet Making Plant?
Crush the beech wood or other raw materials used in the pellet manufacturing process into wood chips. Then through the funnel-shaped die, the raw material will be forced out of the small hole of the die plate according to a fixed diameter, and finally, it will be compressed into dense particles.
The heat generated from compression and friction in this process can melt the lignin in the wood. As the pellet passes through the other end of the mold, it will slowly cool down. As the lignin cools, it can cement all the raw materials, resulting in hard and strong pellets.
Most of the pellets are produced in large wood pellet companies, wood pellet mills and wood pellet factories, but in recent years, small wood pellet manufacturers have become more and more popular with households. If you are considering producing pellets by yourself, the following is how to make wood pellets, and at the same time better teach you how to choose a high-quality wood fuel pellet making machine.
Beech Wood Pellet Fuel Manufacturing Process
The main wood pellet manufacturing equipment of the beech sawdust pellet production line is the wood sawdust crusher-wood hammer mill-rotary dryer-beech wood sawdust pellet making machine-pellet cooler-sawdust pellet bagging machine.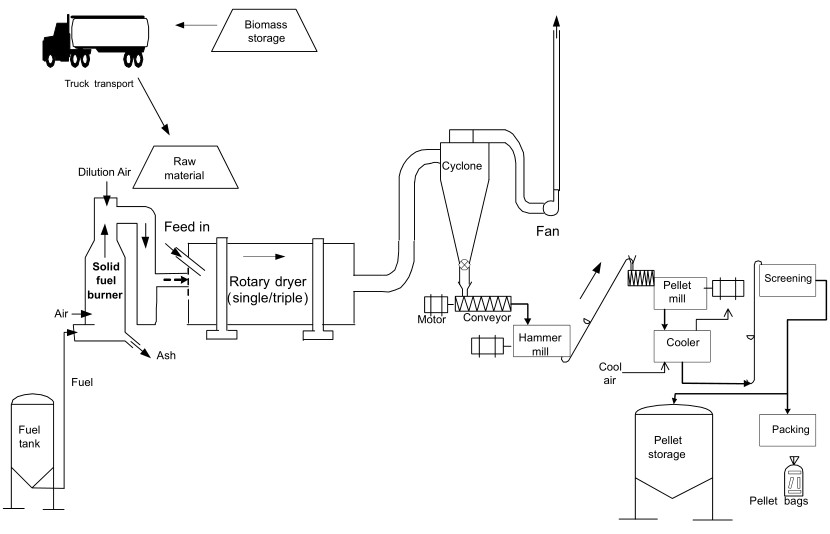 Wood Chipping Secton (Wood Chipping Machine) cuts beech wood into wood chips for easy grinding and crushing.
Grinding section (beech wood sawdust hammer mill) crushes wood chips into sawdust/powder.
The drying section (rotary dryer) dries the raw materials to suitable moisture to produce high-grade pellets. Finished product moisture: 10-15%
Granulation section (wood pelletizer machine) This step is the most critical step. The crushed and dried beech wood sawdust is pressed into beech wood pellets. Here is a detailed introduction to the steps of the wood pellet production line, please understand.
Finished wood pellets: 4-12mm. (Asian market standard: 8mm; European market standard: 6mm)
Cooling section (pellet cooler) Cool the high temperature pellets before packaging. The finished pellets are very hot (60-80ºC) and release moisture when they leave the beech wood pellet maker machine.
Packing section (bagging machine for sawdust pellets) Pack the pellets into 20-50kg/bag or 1 ton bag. Easy to transfer to the end user's site.
RICHI Machinery is one of the world's most well-known wood pellet machine manufacturer and wood pellet plant supplier . We specialize in the production of biomass pellet production lines in China. Our products have been sold to different countries, including USA, Germany, Austria, Australia, Canada, Indonesia, Thailand, Malaysia, Poland, Iceland, etc.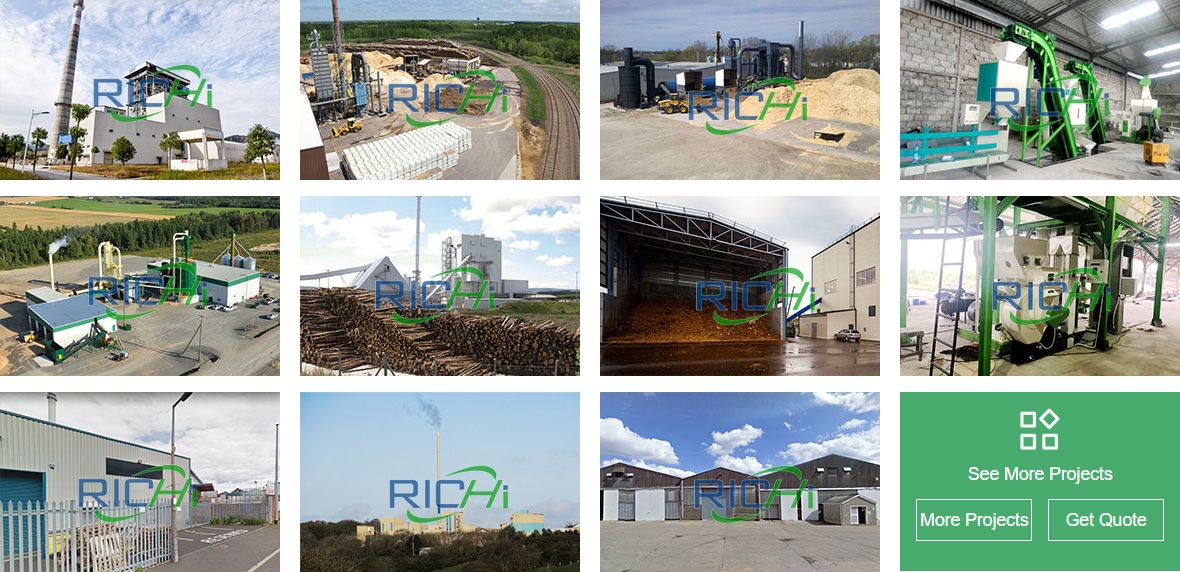 Richi Machinery can provide a complete wood pellet machine production line of biomass materials, including cutting, grinding, drying, pelletizing, cooling, and packaging, according to the different requirements of customers. We also provide industry risk assessment and provide suitable solutions according to different beech wood pelleting plant workshops. If you are interested in setting up your own beech wood pelletizing plant, please do not hesitate to contact us!
Advantages of using beech wood as raw material for wood pellet plant for sale Ukraine
Beech wood waste pellets are the biofuels that are manufactured from sawdust or similar wood residues that can be easily obtained from the different industries. Depending on the purpose of use, wood pellets are used on the commercial as well as on a personal level.
People have been using beech wood for many purposes for years. Some of the common uses of beech wood include furniture production, flooring, cabinetry, boat production, etc. It is usually found in the cream color but sometimes has a pinkish or brownish shade as well. In the world, this wood is more common in European regions. Its surface is coarse as compared to other woods and you may notice small pores on it as well.


As mentioned above, beech wood is used in the production of many useful products. The sawdust obtained during the processing of this beech/oak wood is used to make beech wood pellets which are a great renewable energy resource. Beech wood has 12% moisture content which is considered normal for wood pellet manufacturing so you will not have to spend your time drying it for a longer period.
Drying the wood is also very easy as it is its nature to shrink rapidly. Choosing beech wood as the raw material of wood pellet production business also saves investment cost. That is why using it in the wood pellet manufacturing is a great choice for our this Ukraine client .