Overview Of The Heavy Duty 22-23T/H Industrial Straw Wood Pelleting Plant In China
This is a large-scale heavy duty straw wood pelleting plant turnkey project that was put into production in 2019. All wood pelleting plant equipment and civil works are provided by RICHI. This is the second cooperation with the customer (China's Guizhou Lantian Biomass Energy Co., Ltd.) of this indutrial wood pellet plant for straw and wood shavings wood sawdust fuel pellets.
The first biomass pellet production line project that we cooperated with our customers was put into construction in 2014. The raw materials are bamboo sawdust and peanut shell, with an output of 5t/h and an annual output of 12,000 tons of biomass pellets. At present, this 5 ton per hour agriculture waste biomass wood pellet line is still in stable operation, and the products are mainly exported to Japan and South Korea.


First cooperation project: 5 tons corn stalk bamboo pellet production line
Under the current biomass energy policy and market background, the development prospects of large capacity heavy duty wood pellet line projects are very broad. Therefore, on March 6, 2018, 4 years later, the customer contacted us again, wanting to build a large scale biomass pellet production line with an annual output of 54,000 tons in the same area. The raw materials will be straw, wood shavings and wood sawdust.
It is worth mentioning that in the negotiation of the entire customized biomass straw wood pelleting plant project, no competitors appeared. According to the customer's response, based on the efficient operation of the first biomass pellet production line and the subsequent profits, he directly chose us as his second straw wood pelleting plant equipment manufacturer.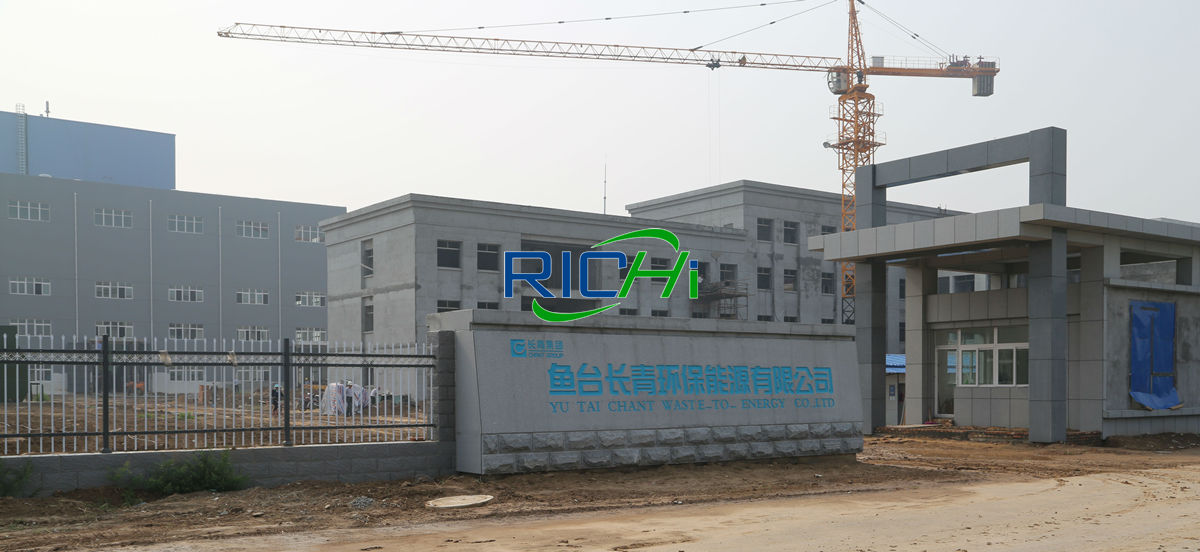 This 22-23t/h wood pellet plant site
In April 2019, after the customer approved our customized 54,000 tons straw and wood pelleting plant plan, we and the customer successfully signed the contract for this turnkey biomass peller processing project. For customers' 100% trust, our return is consistent high quality and low investment high return wood pellet manufacturing equipment. At present, this turnkey biomass straw wood pelleting line has been in stable operation.
According to the sales manager's feedback, the this heavy duty biomass wood pellet plant's products have obtained ENPlus Certification, and the sales area is expanding, and they have been exported to the European application markets such as Germany and the United Kingdom.


The industrial wood pellet plant project covers an area of ​​6710m², with a total construction area of ​​about 4,089.10m². The total investment of the wood pellet manufacturing plant project is 34 million yuan (about 5.32 million US dollars), of which the wood pellet producing equipment price is about 2.3 million US dollars. After the construction is completed and put into production, it will form an annual output of 54,000 tons of biomass pellet fuel production capacity.
The new build large capacity 54000 tons per year staw and wood pelleting plant has 15 employees working 8 hours a day, 300 days a year, and 2400 hours a year. The output of the pellet production line can be calculated to be 22.5 tons per hour, 180 tons per day, and 4500 tons per month.
Construction scale and content of the 22-23 t/h biomass fuel straw wood pelleting plant
01
Main economic and technical indicators
| Name | Metrics |
| --- | --- |
| Planned land area | 6710㎡ |
| Building area | 4089.1㎡ |
| Factory building area | 3003㎡ |
| Construction area of ​​complex building | 1086.1㎡ |
| Building area | 3550.1㎡ |
| Green space rate | 20% |
| Floor area ratio | 0.61 |
| Building density | 52.90% |
| Plan a parking space | 26/td> |
| Car parking space | 22 pcs |
| Truck parking space | 4 pcs |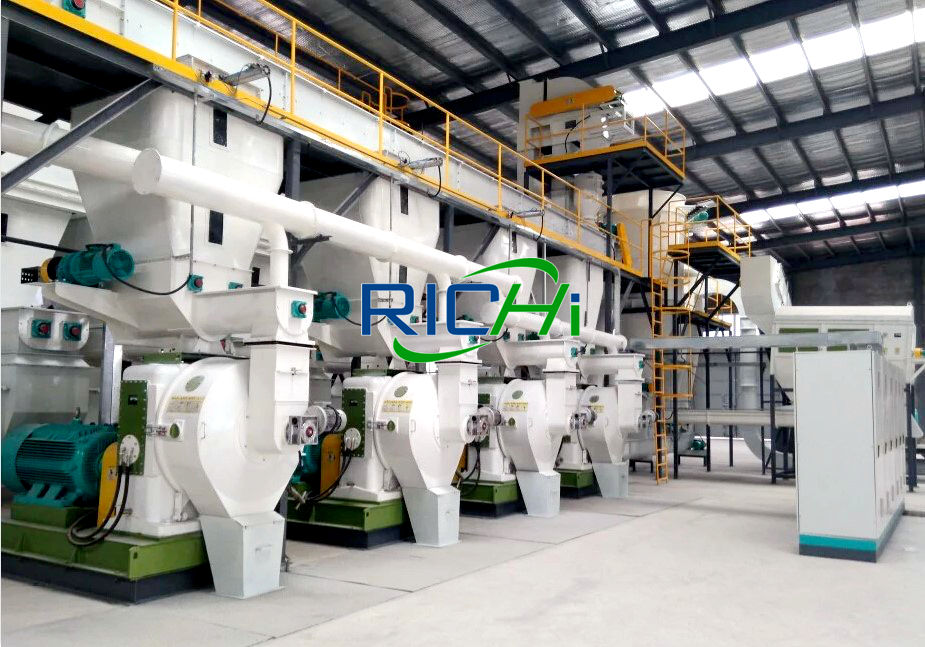 Wood pellet plant workshop
02
Engineering composition
Category
Building name
Design ability
Remarks
Main project
Factory building area
3003 m2
/
Construction area of ​​complex building
1086.1 m2
/
Utilities
Water supply
1.82t/d
Provided by the local water pipe network
Drainage
0.96t/d
After treatment in the septic tank, enter the local sewage treatment plant for further treatment
Power supply
200,000 kWh/a
Provided by the regional substation, with a power distribution room in the wood pellet factory
Greening
1342m2
Greening rate 20%
Environmental protection project
Exhaust gas treatment (combustion exhaust gas)
5000m3/h
After being treated by a bag filter, it is discharged through a 15m high exhaust cylinder
(drying dust)
3000m3/h
After being treated by a bag filter, it is discharged through a 15m high exhaust cylinder
(Processing dust)
20000m3/h
Negative pressure collection, pulse bag filter treatment, exhaust gas discharged through 15m high exhaust cylinder
Wastewater treatment
5m3 septic tank
After treatment in the septic tank, it will be discharged into the sewage pipe network of the park and sent to the local sewage plant for further treatment
Noise processing
/
Vibration reduction and sound insulation
Solid waste treatment
/
Set up solid waste collection points
Product plan and quality standards of the 22-23 t/hstraw wood pelleting plant project
The large capacity straw wood pelleting plant project produces 54,000 t/a wood chips and straw biomass boiler fuel. The product quality parameters are shown in the table below.
| Serial number | Metrics | Parameters |
| --- | --- | --- |
| 1 | Heat value (Kcai/kg) | 3800-4800 |
| 2 | Density (kg/m3) | 800-1300 |
| 3 | Specifications (㎜) | φ12×(12~80) |
| 4 | Moisture (H2O) | ≤7% |
| 5 | ash content | ≤11% |
| 6 | Sulfur (S) | 0.09% |
| 7 | Potassium Oxide (K2O) | 9.93% |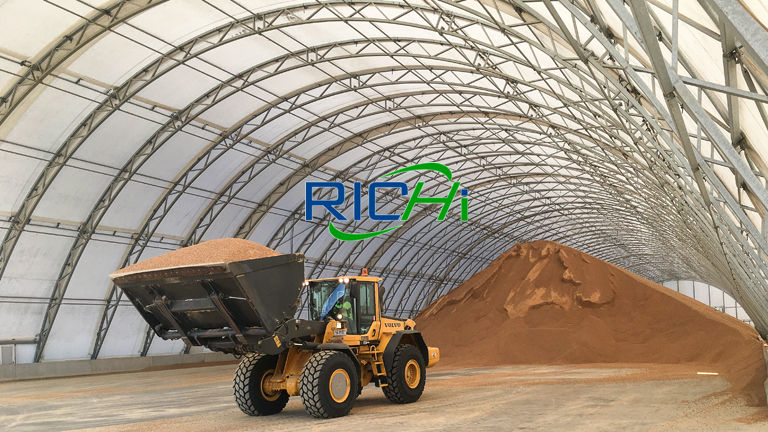 Sawdust raw material warehouse
Raw materials and annual consumption of the wood pellet plant with 22-23 tons production capacity
The raw materials of this turn-key wood biomass pellet plant project are mainly wood chips and straw. The wood shavings and straw, sawdust, mainly come from the waste scraps produced by the wood processing enterprises in the park. The straw sources are the straws of the surrounding agricultural enterprises to pack battlements.
After the raw materials are purchased, they are stored in the raw material warehouse and processed directly, and there is no environmental pollution in the link of collection and storage.
| Serial number | Name | Consumption |
| --- | --- | --- |
| 1 | Sawdust | 52948.60 t/a |
| 2 | Straw | 10589.72 t/a |
| 3 | Water | 546 t/a |
| 4 | Electricity | 50 (ten thousand degrees per year) |
| 5 | Biomass shaped particles | 360t/a |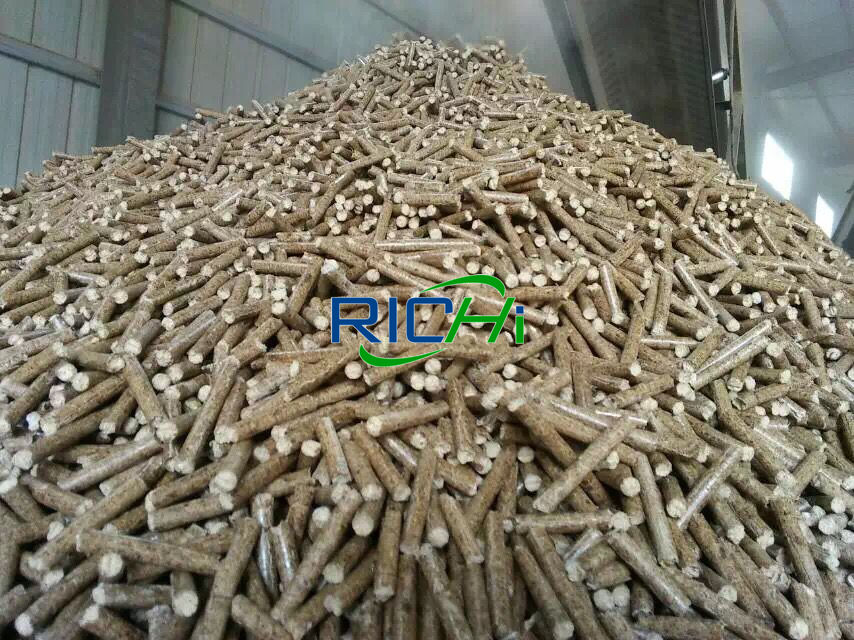 Finished pellets from the wood pellet plant
Main machine needed to make wood pellets in the 22-23 t/h industrial straw wood pelleting plant
The main biomass straw wood pellet manufacturing machines are shown in the table below.
| Straw wood fuel pellet making machine name | Model | Quantity |
| --- | --- | --- |
| Wood chipper heavy machiner(Slicing machine) | JLBX-2113 | 1 |
| Straw wooden crusher machine | SFSP-Y60132Q1 | 4 |
| Industrial rotary dryer for biomass | ф2400*100000*3 Layer | 3 |
| Wood pellet machine | MZLH-520 | 10 |
| Vibrating screener | TQLZ150x200 | 2 |
| Straw wood pellet bagging machine(Belt and sewing machine) | DCS-MTB | 2 |
| Storage bin | 4m³ | 2 |
| Pulse dust collector | FZMC6*12 | 4 |
| Screw conveyor (air locked) | TLSS40 | 4 |
| Well shape frame | 2.0*2.0*20m | 2 |
| Cone Silos | φ6.4m*7C Volume 270m³ | 2 |
| Belt conveyor | PDS-500 | 2 |
| Bucket elevator | TDTG36/28 | 2 |
| Cooling machine | SKLN24*24 | 2 |
| MCC Control Center; Mimic control panel | / | 1 |
Process flow of 22-23 t/h automatic industrial pelleting plant for wood and straw pellets
Preparation of raw materials for wood pelleting plant process

The project's raw material straws are transported to the wood pelleting plant area using a sealed device, and the transport vehicles are covered with cloth. The raw materials are large in shape and contain a certain amount of moisture. The raw materials are stacked in a closed workshop.

Chipping section

Use a super heavy duty wood chipper shredder machine to break the incoming straw into small pieces.


Crushing section

Use a wood straw crusher (wooden scrape crusher) to crush the broken straw into small particles that meet the requirements of the heavy duty.

Drying section

The straw of this large wood pelleting plant project enters the straw wood powder rotary dryer from the warehouse and is carried out in a sealed transmission channel, and only the particles whose humidity does not meet the requirements are dried.

The average water content of the raw materials purchased in this large scale straw wood pelletizing plant project is about 20%, and it needs to be dried to a water content of 5% before production.

The straw and wood biomass waste dryer of this 22-23t/h heavy duty straw biomass wood pelleting plant project is equipped with a biomass hot air stove and fuel is a biofuel pellet, and the temperature of the industrial biomass waste rotary dryer is controlled at 150-250°C. The high heat efficiency large rotary drum sawdust dryer of this turnkey biomass straw wood pelleting plant project is provided by the supporting biomass pellet hot blast stove, which burns 360t of biomass fuel per year.

Pelletization section

The dried pellets are transported to the pelleting systems for straw wood machine through a conveyor for pelletization, and are formed into finished products by extrusion molding. The extrusion process of the heavy duty biomass pelletizer is a physical process without any adhesive and no chemical reaction.


Inspection section

The unformed or unqualified wood straw pellets are screened out by the screening machine, and this part of the particles enters the heavy duty crushing electric shredder for reuse.

Packing and warehousing section

The products that have passed the inspection are packed by wood pellets bagging machine and put into the warehouse.


Finished product warehouse( the customer use ton package scale)
The large automatic 22-23 t/h heavy duty straw wood pellet plant layout
The total construction area of ​​this industrial straw fuel wood pelleting plant project is 4,089.10m². The main entrance is located on the south side. The south side of the land is located on the side of the park road and a comprehensive office building. The north is the production area. The main buildings of the production area are a production plant, a raw material warehouse, a product warehouse.
About the ash utilization
The burning ash of this large scale full automatic biofuel pellet plant for making straw and woood pellets project is calculated based on 20% of the fuel, and the output is about 72t/a. After being collected, it is sold as ash fertilizer.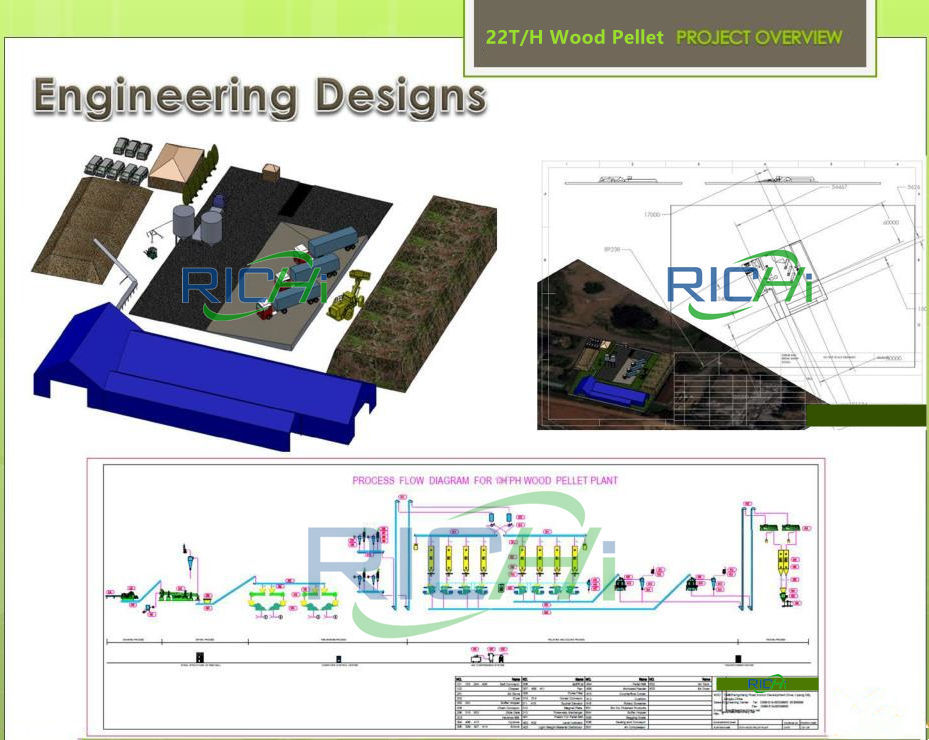 01
The feasibility of using biomass ash as ash fertilizer:
For most biomass fuels, in addition to organic matter composed of carbon, hydrogen, oxygen, etc., they contain a certain amount of inorganic elements, including K, Cl, Si, Ca, Mg, Na, P, S and other major elements , And Fe, Mn, Cu, Zn, Co, Mo, As, Ni, Cr, Pb, Cd, Hg and other trace or trace elements. In the biomass combustion process, the residue formed after the inorganic components undergo a complex physical and chemical process is called ash.


Theoretically, the best solution for sustainable utilization of biomass ash is its application in agriculture, forestry, vegetation or soil. It can be directly recycled back to forests or used as fertilizer, which can not only reduce the application of artificial fertilizers, but also maintain the soil nutrient balance or increased soil nutrients can also reduce the loss of minerals, realize the recycling of nutrients and the true sustainable use of biomass energy.
02
The application of biomass ash in agriculture and forestry can be roughly divided into two aspects:
Used directly or indirectly in agriculture and forestry vegetation or soil;

Used for soil remediation to improve soil activity. Combustion ash of herbaceous biomass such as straw contains a large amount of K, and also contains nutrients required for plant growth such as Ca and Mg. It is a high-quality material for the production of compound fertilizers.

Compared with the burning ash of herbaceous biomass or agricultural waste, the burning ash of trees and bark is rich in Ca and almost free of N. Wood ash is often used directly or combined with nitrogen fertilizer in forest soil to slow the consumption of nutrients and soil. Acidification and increase the nutritional activity of K and P.
To sum up, the direct recycling of biomass ash in this 22-23t/h big capacity industrial complete set straw and wood pelleting plant project to return to farmland or use it as fertilizer has economic benefits.