Overview of 2-2.5t/h complete wood pellet plant project in Australia
2020.03.23, the customer from Australia sent this inquiry to Richi Machinery:
"Hi,I'm interested in your product Professional Manufacturer RICHI Wood Pellet Making Machine, I would like some more details.We are interested in complete wood pellet production lines including drying system, we are wanting to convert Australian hardwood from wood off cuts, wood chip and sawdust different types of wood sizes. Our moisture content would about 38+ and needs to be below 10% before it becomes a pellet."
Testing video of Australia wood pellet plant equipment before delivery
In 2021.01.21, this ce high quality 2-2.5t/h customized wood pellet line project was signed. The customer of this 2-2.5 ton per hour wood pellet factory project has just entered the biomass wood pellets industry. During the negotiation process, we learned that the customer had negotiated with 12 whole wood pellet production line manufacturers.
RICHI was the last one to enter his list of cooperation, but eventually became the most trusted China biomass wood pellet production line manufacturer by customers. Customers choose RICHI for many reasons. In addition to the quality of RICHI's products and brand awareness in many regions, customers value our full consideration for him.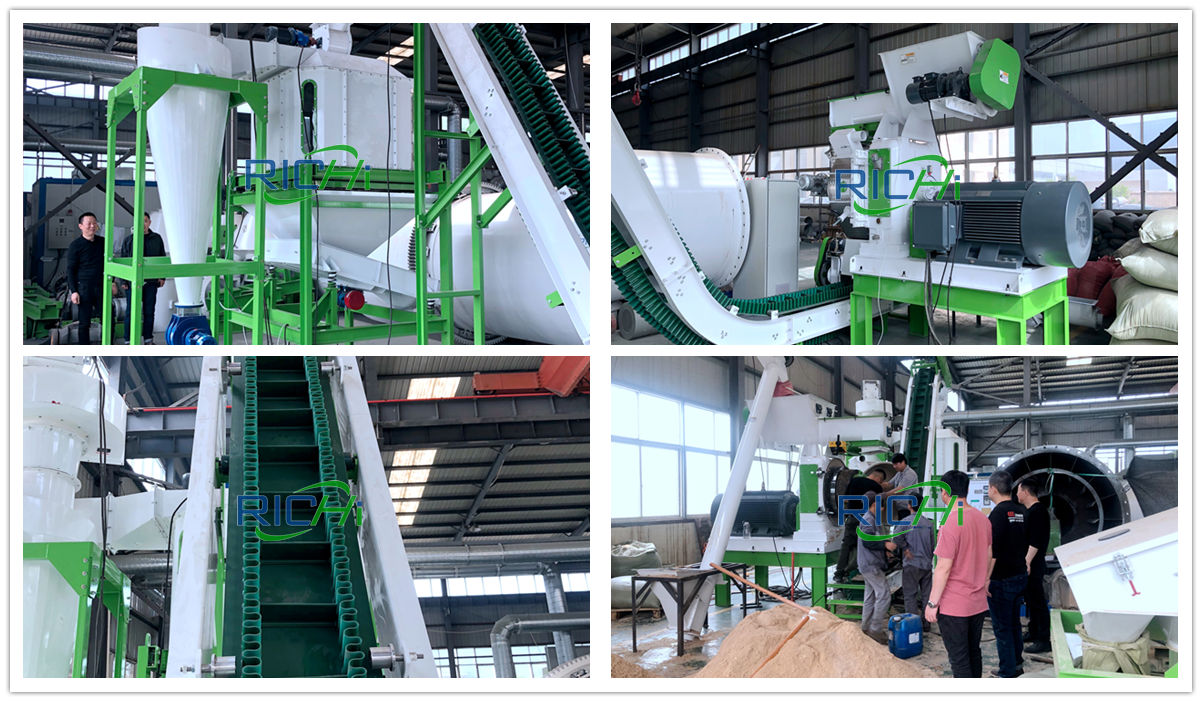 Australia biomass fuel pellet production line testing site 1
In addition, due to the limited budget of the customer, but in order to ensure the quality and service life of the equipment configuration of the entire wood fuel pelelt plant, for the pre-treatment stage of wood, the customer purchases second-hand equipment in nearby areas, such as (Wood peeling equipment, Wood splite).
Wood pellet making process of 2-2.5t/h new biomass wood pellet production line in Australia

Wood pellet manufacturing machines needed in 2-2.5t/h wood pellet manufacturing plant for sale Australia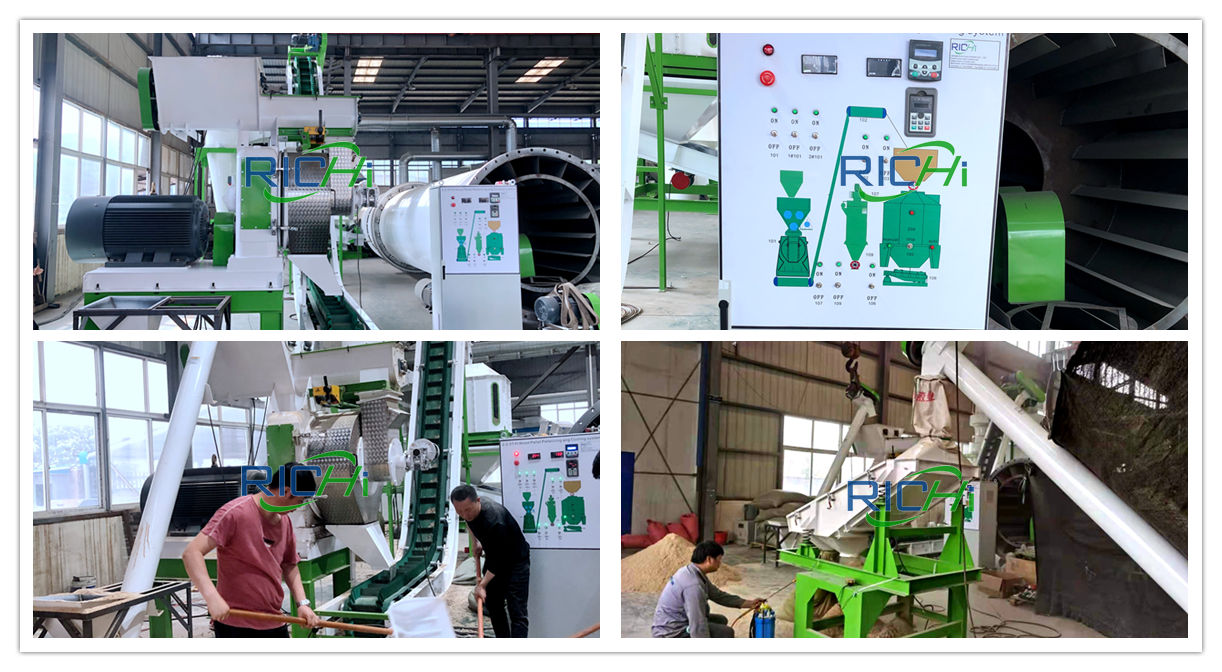 Characteristic of wood fue pellets product in this 2-2.5tph wood sawdust pellet plant in Australia
| Amount of heating generation (lower limit) | 4.7 kWh/kg = about4,000 kcal/kg |
| --- | --- |
| Kerosene conversion value | pellet:kerosene = about2.1tons:1m3 |
| Volume weight | 650 kg/m3 |
| Hydrous rate | 8-13% |
| Ash | wood except bark: under 0.5%, bark: over 2.5% |
Besides, the electric circuit of this 2-2.5 tons per hour wood sawdust pellet production line strictly obeyed Australia/New Zealand electric standard. The wood pellet making plant was also equipped with emergency stop system and independent power switch for every single piece of wood pellet processing equipment to assure operating safety.
Overview of Australia's potential for Biomass supply for wood pellets industry
Here to share with you a local Australian news published on 07 August 2020:
The country exported around 56,000t of wood pellets in the first half, up from 9,000t in January-June 2019. Wood pellet exports also reached a new high for any quarter in April-June this year, with Australia shipping 29,000t, compared with 479t exported in the second quarter of 2019.
The average fob Australia wood pellet price was A$207.20/t ($148.74/t) in the first half of 2020, up by 4.5pc on the year from A$198.21/t in January-June 2019.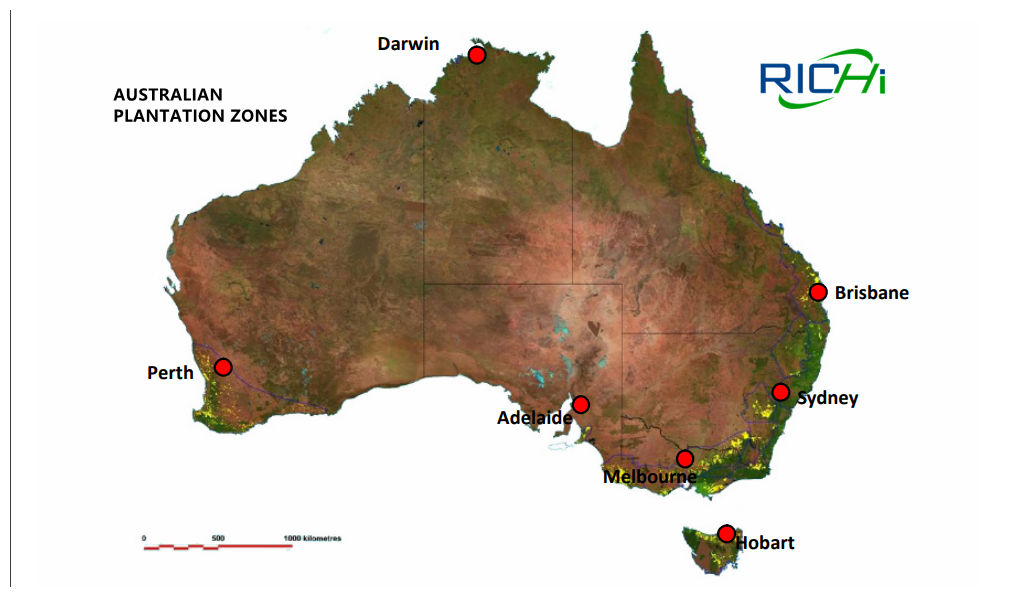 Australia is rich in wood resources, which is very suitable for leading the entry into the wood pellets industry market. According to Australian Pinnacle Timber Researchers, the use of wood pellets in pulverized coal power stations can play an important role in reducing carbon dioxide, and wood pellet production is an export growth point for Australia. Although wood chip exports dominate, the export volume of wood pellets is increasing, and the future prospects are promising.
Australian wood pellet manufacturing still in its infancy – 125,000 t/pa at present;
A further 850,000 t/pa of wood pellet production being assessed;
Currently minimal domestic pellet demand with wood pellet manufacturing focused on export;
Potential for European/Asian purchasers to deal directly with large plantation owners;
Large potential for dedicated biomass plantation development.
Future development of wood pellet manufacturing in Australia
The essay published by Queensland University of Technology reviews that Australia will benefit a lot from biomass fuel and chemical industry, owing to its large biomass resources. Another research shows that the potential accessible biomass energy is 78 million tons, which will reach up to 100 million tons by 2030, and 114 million tons by 2050.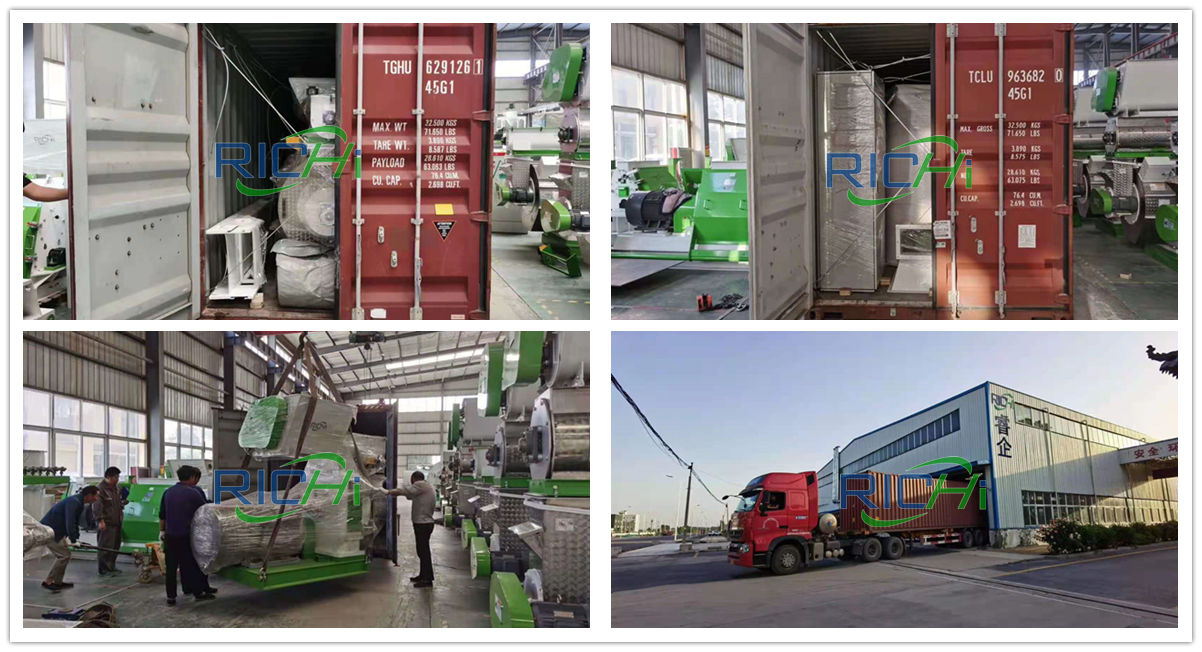 Government investment and policy support is essential for the development of biomass wood pellet manufacturing in Australia. Queensland University of Technology advocates the government take measures to drive the development of biomass energy. The biomass business will provide a new growth point for Australia economy, achieve environmental and economical benefits, and create more jobs in rural areas.