Overview of 10 ton per hour biomass fuel sawdust wood pellet plant project in United States
This wood pelletizing project is a large industrial turnkey new design 10 tons/hour wood pellet production line. The customer's main production raw materials are some waste wood, which is relatively large and contains iron nails and other impurities. Therefore, if you want to make wood pellets, you must first slice and crush. We have specially customized the cleaning section for customers, which can screen out iron nails, and then directly slice and crush the waste wood, and then use a wood sawdust hammer mill to crush again to meet the wood pellet plant granulation requirements.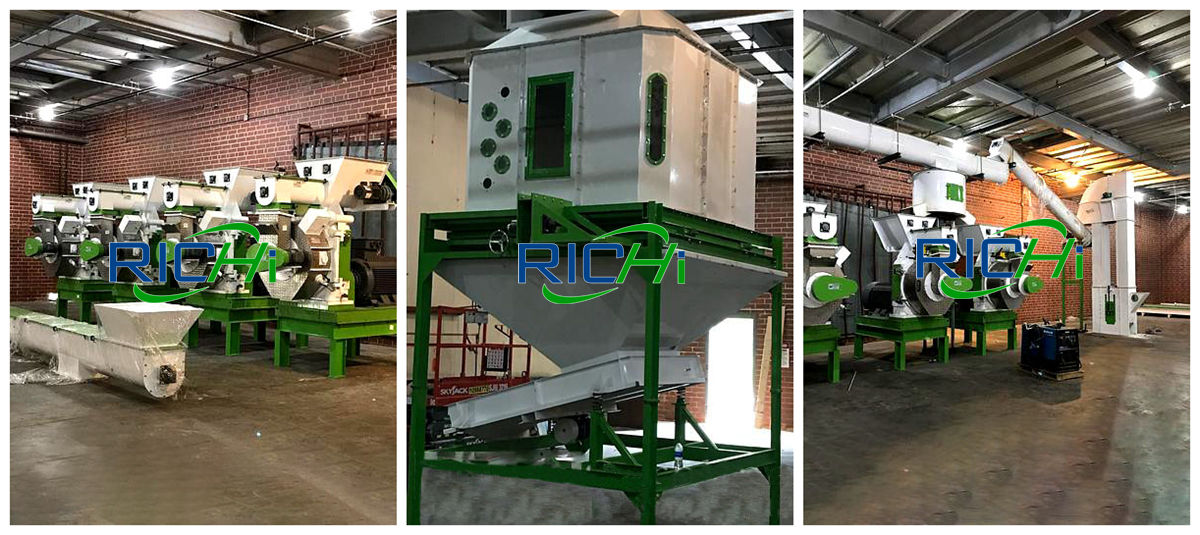 The core wood pellet equipment of this 10 tons per hour wood pellet making plant is 3 sets of MZLH768 ring die electric pellet mill for wood biomass, with a single output of about 2.5-4 tons per hour and a power of 250kw. It is our high performance pelletizing equipment, and it is also a wood pelleting equipment that is affirmed by our customers worldwide.
The core wood pellet equipment of this 10 tons per hour wood pellet making plant is 3 sets of MZLH768 ring die electric pellet mill for wood biomass, with a single output of about 2.5-4 tons per hour and a power of 250kw. It is our high performance pelletizing equipment, and it is also a wood pelleting equipment that is affirmed by our customers worldwide.
Wood pellet making process design of 10tph China factory offered industrial wood pellet plant project in USA
Complete wood pellet plant production process: The leftovers are cut into small wood chips by a slicer, the size of the wood chips is 20-30mm, and the thickness is about 5-10mm; then they are pulverized by a pulverizer, and the pulverization fineness is 3-4mm.
Drying to about 15%, the wet sawdust can be directly dried in the wood dryer without being crushed, and finally granulated by wood pellet mill machine. The diameter of the processed finished product is 6-10mm. The sachet packing scale is packaged into 20-50kg/bag, which is convenient for transportation and sale.

This USA Large Industrial Wood Pellet Plant project is a wood scrap pelletizing production line with an output of 10 tons per hour. The total power of the equipment is about 1848kw. The workshop covers an area of ​​3600 square meters, including raw material warehouse and finished product warehouse. The whole wood pelleting line is compact in design, reasonable in structure, and meets environmental protection requirements. The client requested a directional design.
Slicing section (only some leftovers need to be sliced): Process the leftovers into wood chips with a size of 20-30mm and a thickness of about 5-10mm, and then enter the subsequent processing section.
Crushing section: There is no dust emission in this section. After crushing by the crusher, the material is conveyed and discharged by the negative pressure suction of the fan. The pulverizer is a water drop structure, and the pulverizing rotor can be operated in both positive and negative directions to improve the service life of the hammer.

The motor is directly connected to the transmission mode. The output of crushing equipment is 6-8T/H (raw material moisture 40%). The designed output of cleaning equipment: 5-8T/unit, which are used to clean the wet wood chips before entering the dryer and the wood chips of two different tree species before pelleting;
Drying section: three-layer tumble dryer, the moisture content of wood chips after drying is about 15%. The diameter of the drum is 3.45m, the length is 11.6m, the power is 19kw, and the designed output is 5T per hour (40% moisture content of the raw material).
Mixing section: The raw materials such as sawdust or shavings of different tree species are mixed by the mixer, and then enter the granulator for granulation.
Pelletizing section: The diameter of biomass pellets is 6-10mm optional. Biomass pellets have the characteristics of high calorific value, no pollution, and low ash content. They can be widely used in biomass power plants, biomass steam boilers, household fireplaces, and drying furnaces. and biomass gasifiers. Cooling equipment (2 sets): MKLB4, the cooling chamber volume is 4m³, and the designed output is 5-7T.
Warehousing section: Design a 5,000-ton finished pellet storage silo. The finished pellets can be temporarily stored in the finished steel silo and shipped out in bulk.
Packing section: according to the customer's local sales needs, the appropriate packing scale can be selected to facilitate the customer to sell products. Usually, there are two specifications of small bags and ton bags. The packaging specifications of small bag packaging scales are: 20-50kg/bag, and the packaging specifications of ton bag scales For: 500-1000kg/bag.
The design highlights and optimizations of the United States 10T/H Wood Pellet Plant scheme:
This United States 10tph wood pellet plant scheme adopts the method of separating the raw material pretreatment workshop and the granulation finished product workshop. Dust pollution in the raw material pretreatment workshop will not affect the granulated product workshop;
In order to meet the customer's requirement of reducing the floor space, the main workshop of the United States 10tph wood pellet plant is designed with a high height, and the user can increase the size of the workshop area according to the actual demand, thereby reducing the height of the main workshop;
In this United States 10tph wood pellet plant scheme, the customer requires that there are mainly two kinds of wood chips of different tree species, which need to be mixed in a certain proportion before pelletizing. If there is no such requirement, the mixing section before the pelletizing section can be removed;
Users can choose the storage and packaging form of finished products according to the actual needs of the market, and can choose various forms such as small packaging, ton packaging, silo storage, and bulk distribution.
Machinery needed for making wood pellets in 10t/h complete biomass pellet plant United States
List of main production equipments in this large industrial turnkey new design 10 tons/hour wood pellet plant project:
| | | | |
| --- | --- | --- | --- |
| Name | Model | QTY | Power(KW) |
| Wood chipper crusher | JLBX218 | 2 | 220 |
| Best selling hammer mill for wood sawdust | SFSP66*60 | 6 | 450 |
| Pulse dust collector | TBLMa.36b | 6 | / |
| Widely used wood sawdust rotary dryer | ф1800*180000 | 2 | 37 |
| Wood pellet mill | MZLH768 | 3 | 750 |
| Pellet cooling machine | SKLN17*17 | 2 | 3 |
| Screener machine | TDZS80 | 2 | 0.36 |
| Automatic packing machine | / | 2 | / |
| Sewing machine | / | 2 | 1.1 |
| MCC Control Center ;Mimic control panel | / | 2 | / |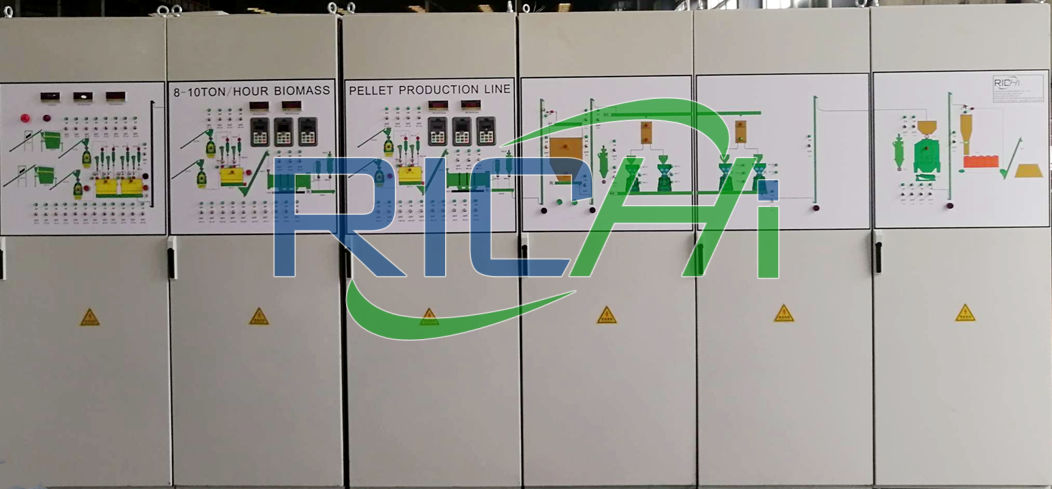 Electric control cabinet for wood pellet plant 10tph in USA
U.S. Wood Pellet Exports
The first development of wood pellet fuel was due to energy shortages in the United States in the 1870s. The raw materials mainly come from wood waste from furniture factories, paper mills and other factories. Just like propane or natural gas, the energy obtained from burning wood pellets can replace electricity, fuels for fireplaces or stoves, and fossil fuels. At the same time, stove appliances supporting biomass pellets are also diverse.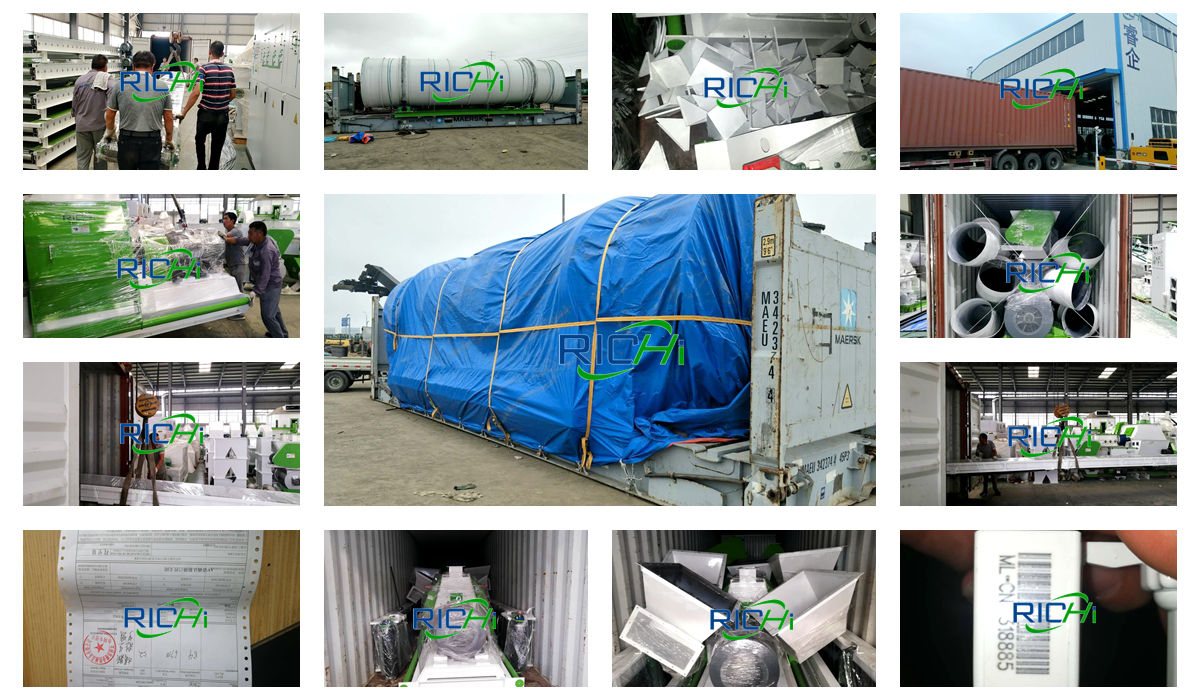 First shipment of wood pellet plant equipment
In the United States, small trees cleared from forests, non-commercially valuable wood, trees that do not meet the requirements of lumber, decayed wood, recycled waste wood, etc., felling residues, trees that died from pests and diseases, processing residues, construction sites The waste wood from above can be used in the wood pellet manufacturing.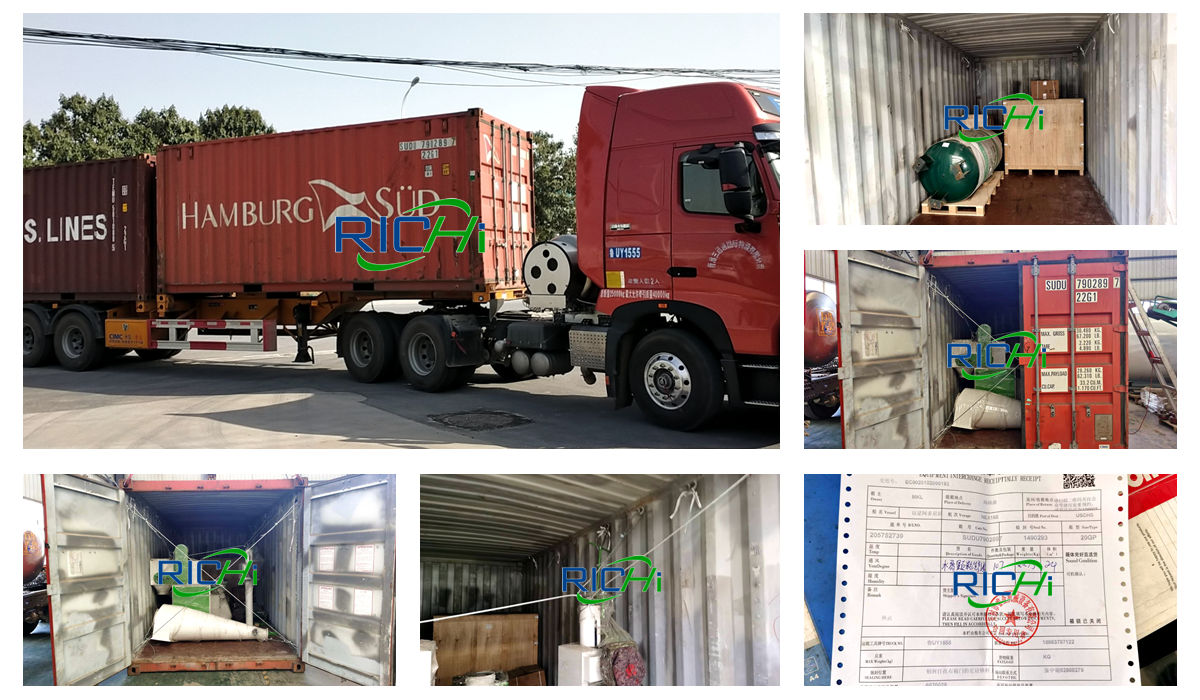 Second delivery of wood pellet line machine
In order to save natural gas and oil, and reduce carbon dioxide and sulfur dioxide emissions, the United States vigorously advocates the use of wood pellet fuel. This model has been promoted throughout the country. Power generation and heating are gradually replaced by wood pellet fuel. Ten years ago, the U.S. wood pellets were only for domestic use. Today, countries such as the United States and Canada have become the countries that export the most wood pellets.
The UK remained the largest importer of U.S. wood pellets through August 2020. The 3.8 million metric tons imported, representing 79% of total U.S. volumes, was a 9.3% year-over-year increase. Export volumes to the UK are expected to continue to rise with the completion of MGT Power's 299 MW CHP facility though construction has been delayed as a result of the coronavirus pandemic.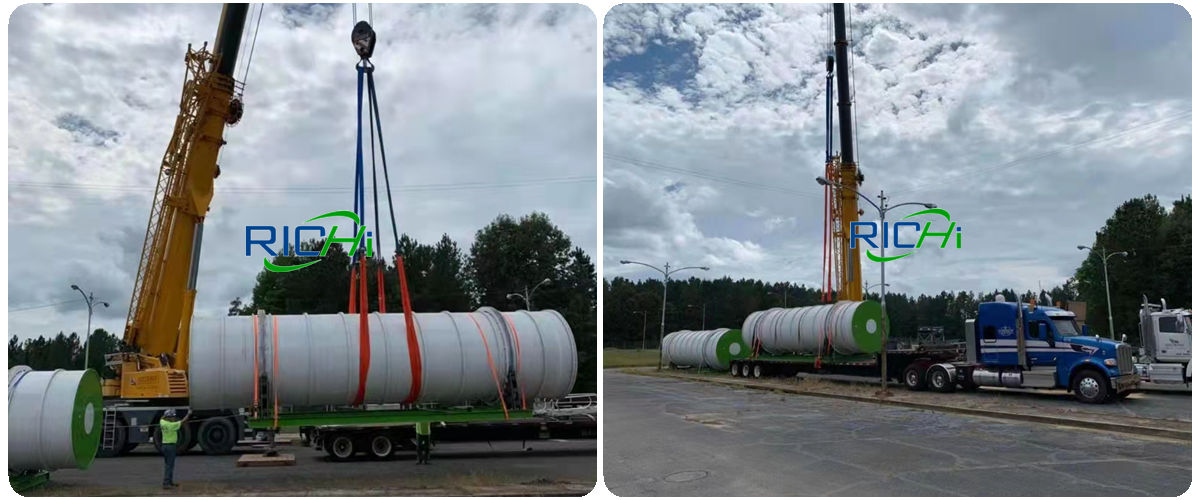 The equipment arrives at the U.S. industrial wood pellet manufacturing plant site
U.S. export volumes to the Netherlands continued to increase; year-over-year volume more than tripled, reaching 381 thousand metric tons through August. For the year, the Netherlands was the third largest importer of U.S. wood pellets with 7.9% market share. As noted, the future of the Dutch market is in question as the government pledged to further reduce emissions, which may eliminate co-firing.

Wood pellet manufacturing technology belongs to the category of renewable energy. In recent years wood fuel pelletizing plant and wood fuel pellet factory is becoming a hot promising investment project. Referring to the cost of customized biomass wood pellet plant projects, it is affected by a number of factors.

Richi Machinery is one of the best biomass wood pellets plant manufacturers and suppliers with its own wood pellet equipment processing factory, all the wood pellet machines and complete wood pellet production line are on sale at factory price. There are different prices for different wood pellet production machines, if you want to know more about the wood pellet plant equipment price, please contact Richi Machinery.
What's The Profit Of Making Wood Pellets For Biofuel?
When we talk about the cost of making wood pellets, we have to talk about the profits of starting biomass wood pellets production. Here , we analyzed the wood pellets price and profit in the US market.
In the US market, the retail price of small package wood pellets is about $170/ton. The retail price of a large package is about $135/ton. In Sweden the delivery price is around $150/ton. For loose-packed wood pellets, the FOB in Amsterdam is about $80/ton. The production cost of biomass pelletization is about $48.78/ton. So there is no doubt that biomass pelletization has great international market competitiveness. Investing in this green energy market is very promising.


The equipment Equipment arrives at the U.S. 10tph wood pelletizing plant site
A complete wood pellet plant includes wood pellet manufacturing equipment of slicing, drying, crushing, pelleting, dedusting, cooling, screening, storage and packaging. The output can be 300kg/h-40t/h. As China wood pellet line supplier, our latest technology wood pellet line can process all kinds of wooden materials, such as forest felling, fuel wood, wood processing residues, furniture production wastes, etc.
It can also deal with crops straw, such as corn stalk, rapeseed, cotton stalk, etc. More information about biomass wood pellet plant price in your country? Contact Richi Machinery now!