Brazil 1-2t/h whole wood pellet production line project overview
The Brazil project customer purchased a factory price wood sawdust hammer mill from Richi, which is the second wood pellet plant equipment purchased from RICHI. Since the first purchased wood pelletizer is stable and always maintains a high output, the customer directly contacted Richi Machinery when initially preparing to replace the biomass wood pellet production plant, and reached a cooperation with us directly through the Alibaba B2B platform.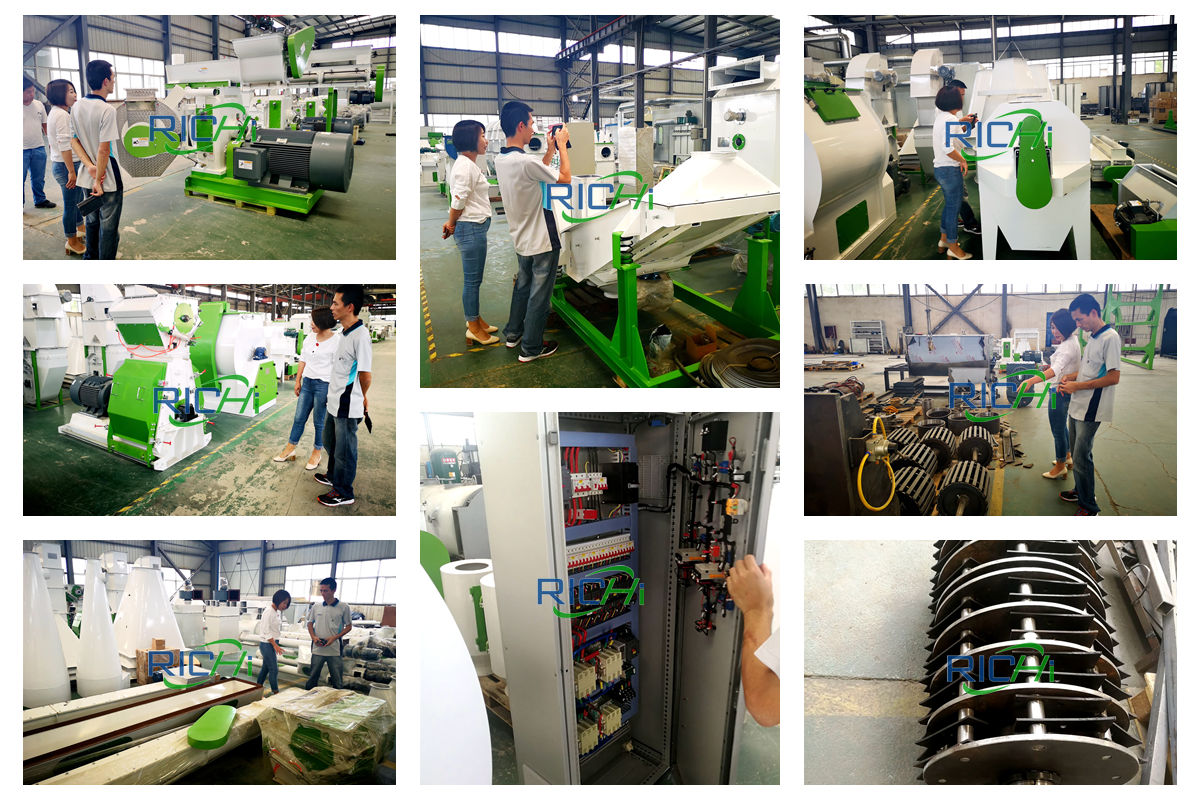 Brazilian customer visit RICHI factory
High efficient wood crusher hammer mill machine for 1-2 tons best price high efficiency biomass wood pellet production line is mainly used to produce wood fuel pellets or other biomass pellets. The pellets used in power plants or home combustion, have higher combustion values and are easy to store and transport. Although charcoal is a traditional energy source in Brazil, due to the high deforestation rate, it will be phased out; for solid biofuels(direct combustion and pellet), Brazil uses solid shape fuel to increase combustion efficiency and actively cooperate with other countries.
Brazil 1-2 ton per hour wood pellet plant design
This 1-2t/h full biomass wood pellet making plant is highly recommend for small scale wood pellet production or when the raw materials and budget are limited.
Power of Brazil pellet production line for biomass wood pellets
127.5KW (with wood sawdust dryer); 109.5KW (without wood powder dryer); 200KW (with wood crusher and biomass rotary dryer)(There may be changes according to the actual situation of the customer)

1-2TPH wood pellet line wood pellet making process
Capacity of Brazil renewable energy wood pellet plant 1-2 ton
1-2 T/H biofuel pellets (depending on the type of raw material)
Wood pellet manufacturing machine in 2t/h wood pellet manufacturing plant Brazil
Commercial drum wood chipper/ high quality wood hammer mill to grinding wood chips→ conveyor → sieve → small sawdust dryer (not necessary when the moisture content is low) → screw feeder → MZLH420 ce good stability wood pellet mill→ conveyor → cooling machine → bagging machine
Features of Brazil 1-2tph wood pellet production line for biomass pellets
The complete biomass pellet plant has simple structure, one ring die good selling wood pellet machinery is stalled.
Small space required (800-1500㎡), ash control is easy.
The small pellet plant is easy operation and labor saving.
Easy maintenance.

Why use wood pellets in Brazil?
Wood pellets are the most common type of pellet fuel and are generally made from compacted sawdust. They can be used as fuels for power generation, commercial or residential heating, and cooking. Pellets are produced by compressing the wood material which has first passed through a efficient hammer mill for wood sawdust to provide a uniform dough-like mass.This mass is fed to a wood pellet maker, where it is squeezed through a die having holes of the size required (normally 6-8 mm diameter).
The high pressure of the wood pellet pressing machine causes the temperature of the wood to increase greatly, and the lignin plasticizes slightly, forming a natural "glue" that holds the pellet together as it cools.

Environmentally friendly
Emissions released from combustion using wood pellets are classified as other fuels.
Renewable
Basic material of wood pellets is wood, therefore wood pellets are renewable resources.
Efficient
Wood pellets contain very low levels of moisture and ash, with calories 4,200 - 4,800 kCal/kg.
Cost Effective
Wood pellets can be used to meet the needs of home and industrial scale fuel at a fairly affordable cost.
High Energy
The energy produced from wood pellets is almost equivalent to coal (caloric value 4.7 KWh / Kg)
Easy storage
Wood pellets can be used and carried anywhere with little free space.