Overview of 5 ton per hour complete biomass pellet line project
Project name: turn-key biomass pellet plant with 5 tons per hour production capacity
Project location: Fujian, China
Construction site: Jishan Park, Jiangle Economic Development Zone
Total project investment: 62 million yuan (9554200 USD)( Among them, the investment in biomass pellet production line equipment is about 3 million yuan(462300USD) )
Construction nature: new construction
Factory area: 1000 square meters.
Production scale: annual production of 15,000 tons of biomass pellets
Labor quota: 25 people, of which 20 people live in the biomass pellet factory and 5 people do not live in the fuel pellet factory.
Working system: 300 working days per year, 10-hour working system, single-shift system.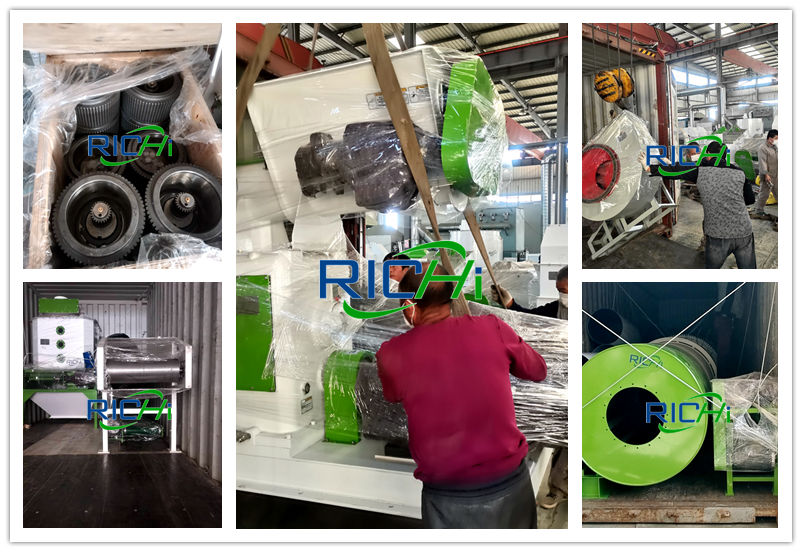 Equipment was shipped in November 2018
The development of biomass pellets is restricted by factors such as raw materials, climate, and production costs. The government's efforts to encourage its development are not strong enough, and the development speed has not been fast. However, as the environment continues to deteriorate, people's awareness of environmental protection continues to increase, as well as the non-renewability of natural resources.
"Environmental protection" biomass pellet fuel is increasingly popular. Especially biomass pellet fuel, with its simple pellet production process, product density, high calorific value, high combustion efficiency, environmental protection and other characteristics, make people's eyes for energy demand are further on the biofuel pellets.
Customer in this 5tph biomass pellet line project
The customer of this factory supply 5 ton per hour customized biomass pellet line project is a manufacturer of lignin series functional materials. The company mainly uses local abundant bamboo resources as raw materials to extract lignin and produce modified and efficient lignin coal water slurry additives, dispersants, viscosity reducers, etc. kinds of products. The company's production process will produce raw wood scrap powder, lignin powder and other solid wastes, which can be sold to manufacturers that use biomass scraps as raw materials.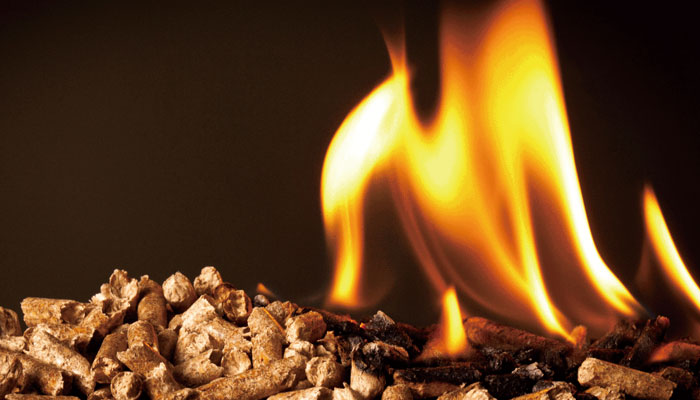 During product development, customers found that after a reasonable ratio of wood scrap powder, straw powder, and lignin as raw materials, the high-efficiency biomass pellet fuel produced has higher combustion efficiency and is more environmentally friendly.
Therefore, the client company decided to invest in the construction of a biomass pellet fuel pellet manufacturing plant project with an annual output of 15,000 tons through research, so that the production of this biomass pellet fuel can be industrialized, scaled, and standardized as soon as possible, and quickly promoted to industrial production, service areas, and civilian use.
Products and raw materials in good quality 5 ton per hour biomass pellet production line project
Main product
Main raw material name
Estimated total consumption of main raw materials
Biomass fuel pellets
Wood leftover powder
Straw powder
Lignin powder
9600 tons/year
3400 tons/year
2000 tons/year

Main engineerings of low investment high return biomass pellet production plant project
Project name
Main content
1
Structural work
Biomass sawdust pellet plant
1.1
Production workshop
Land area 1000 m²
2
Public and auxiliary projects
2.1
Water supply
Municipal water supply in the park
2.2
Power supply
Supplied by the park's power supply network
3
Environmental protection projects
3.1
Wastewater treatment
① Domestic sewage enters the park's sewage treatment plant after being treated by the company's sewage treatment facility;②The waste water of the boiler is recycled, and a circulating pool is set up, which only needs to add a small amount of evaporation.
3.2
Exhaust gas treatment
① Process dust is treated by a set of bag filter and discharged through a 15m high exhaust tube; ② The boiler exhaust gas is discharged through a 35m high chimney after being treated with a set of cloth bags for dust removal.
3.3
Noise control
Sound insulation of the plant and vibration reduction of the equipment foundation.
3.4
Solid waste treatment
① Set up domestic garbage bins in the factory area, and after unified collection, entrust the sanitation department to clean and transport them daily; ② Production scraps and collected dust production are collected and reused for production.
4
Storage and Transportation Engineering
4.1
Finished product yard
Set up a finished product stacking area in the production workshop, covering an area of ​​200 m².
4.2
Raw material storage yard
Set up a raw material storage area in the production workshop, covering an area of ​​200 m².
About the 5t/h biomass fuel pellet production line layout
The 5 tons biomass complete wood pellet production line area is composed of finished product warehouse, production workshop, boiler room, waste gas treatment facility bag filter, etc. The direction of the factory production workshop from northwest to southeast is raw material storage yard, pelletizing workshop, waste gas treatment facility bag filter, and finished product warehouse. ,Boiler Room. The overall layout of the plant is compact, the process flow is smooth, and the pellet plant layout is relatively reasonable.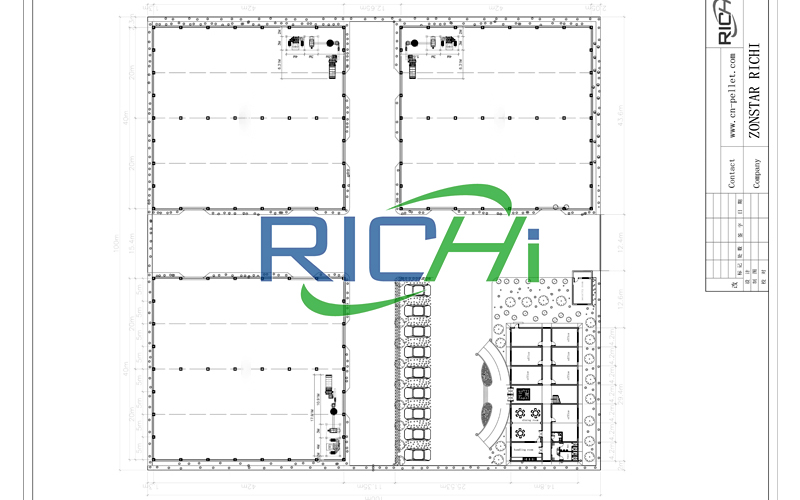 Main pellet plant machinery of the 5t/h turnkey biomass pellet line project
| No. | Machine name | QTY |
| --- | --- | --- |
| 1 | biomass wood pellet machine for biomass | 11 |
| 2 | sawdust dryer in pellet production line | 1 |
| 3 | Belt conveyor | 2 |
| 4 | Screw conveyor | 1 |
| 5 | bin | 1 |
| 6 | Finished product warehouse | 1 |
| 7 | Electric control cabinet | 1 |
| 8 | Bag filter | 2 |
| 9 | Biomass boiler | 1 |
Main consumption of the 5tph turn-key biomass pellet plant project
01
Use of raw and auxiliary materials
This 5t/h biomass wood pellet plant project makes full use of the leftover wood scrap powder, straw powder, and lignin powder produced by surrounding enterprises to process biomass molding fuels (pellets). The project will produce 15,000 tons of biomass molding fuels annually. The material waste is about 15,000 tons.
Biomass pellets: It uses pressure rollers and ring molds to perform cold compact molding of crushed biomass, forestry wastes and other raw materials at room temperature. The density of the raw material is generally 0.1-0.13t/m3, and the density of the formed particles is 1.1-1.3t/m3, which is convenient for storage and transportation, and greatly improves the combustion performance of biomass.
02
Energy and water consumption
| No. | Name | Estimated total usage |
| --- | --- | --- |
| 1 | Water(t/a) | 1526 |
| 2 | Power(kwh/a) | 270,000 |
Process design of complete biomass pellet plant 5 tons per hour project
How to make biomass pellets from sawdust in this fuel biomass pellet plant? Wood scrap powder, straw powder, and lignin powder are mixed and dried and fed into the feeding bin, and then conveyed by a screw conveyor into the biomass pelletizer to be compressed and pelletized. Finally, the finished pellets are packaged in packaging bags and stored.
Drying: Raw wood scrap powder, straw powder, lignin powder, etc. will be dried by rotary dryer for biomass sawdust pellet plant, and using a 4t/h biomass test boiler to provide steam after entering the biomass pellet mill plant;
Feeding: mix the purchased raw materials wood scrap powder, straw powder, and lignin powder into the feed bin;
Granulation: The mixed raw materials are sent to the biomass pellet mill through the screw conveyor, and the finished product is formed by extrusion molding. The extrusion process is a physical process without adding any adhesive, no chemical reaction, except for the connection of the screw conveyor and the outlet, the biomass energy sawdust pellet machine and the material conveying process are all sealed.
Sub-packaging: the biomass pellet products after granulation by the biofuel pellet machine are sub-packed, packaged and put into storage.

Note: This sawdust pellet production line project builds a 4t/h biomass test boiler, whose main function is to provide steam for the drying process of the project, and the excess energy is used for the production of gas for lignin extraction and concentration.