Today, USA and Canada are the world's largest pellet exporters, and North America is also the second largest consumer of biomass fuel pellets in the world. Because North American biofuel pellets have a better reputation in the world, as a member of North America, Mexico has this inherent advantage. The Mexican customer's 10t/h wood sawdust pellet plant project is the customer's investment attempt to seize the opportunity to expand the wood pellet manufacturing scale.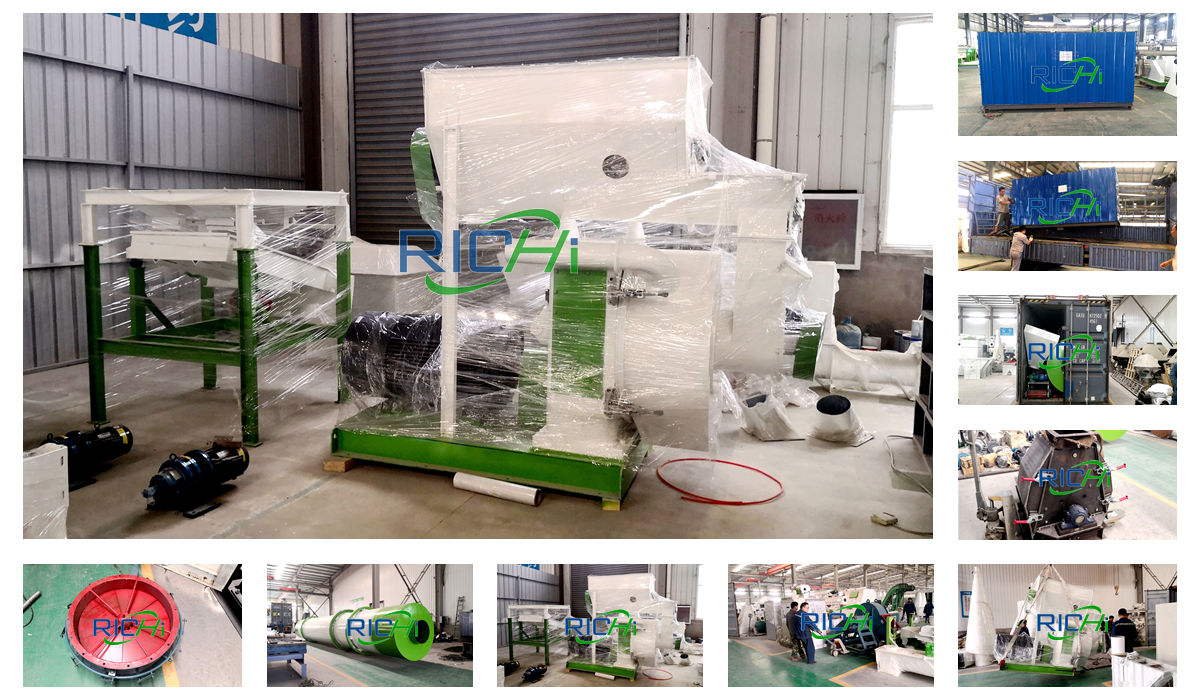 Delivery site of Mexico 10tph wood pellet production line for energy pellets
Overview of new design biomass fuel sawdust pellet production line for sale Mexico
The customer has previously cooperated with other manufacturers on a small wood pellet processing line. Since it has been in wood pellet production for more than a year, the quality of the wood pellet manufacturing equipment and the quality of the finished pellets are far from the customer's requirements, and machine failures often occur in production. This time Mexican customer chose to cooperate with Richi Machinery, which is the trust and hope that our customers have after visiting Richi wood pellet equipment and understanding the achievements of Richi in the field of wood pellet manufacturing.


The raw material for the Mexico large scale 10 tons per hour wood pellet manufacturing plant project customized for the customer is mainly Leftover material, sawdust or wood shavings etc. small sized wood., and the pellet size requirement is 8mm. This biomass fuel wood pellet production line is large in scale, innovative in design, highly automated,and adopt the turnkey service promoted by Richi in recent years. From pellet plant design, construction to installation and trial operation, Richi contracted whole renewable energy wood pellet plant construction work.
Wood pellet production process design of new technology 10 tons per hour sawdust pellet plant in Mexico
This complete sawdust wood pellet plant has advantages of high automation, compact design and elaborate control. It is equipped with a computer simulation system.
The wood pellet line crushing process is carried out for 2 times, so that the raw materials are easy to get pelletized.
The ring die wood pellet making machine adopts gear drive system, which features stable performance and high safety factor.
The 10t/h wood pellet line cooler and back-fed cyclone are connected together. This design can reduce the pollution.
The cooler and vibrating sifter are integrated as a whole, so they can save a lot of floor place.
The wood pellet factory electronic packing scale works together with thermo-hemming machine so improve the efficiency of weighting and sealing packages.
Machinery for making wood pellets in 10tph Mexico industrial wood pellet plant for wood shavings and sawdust
| Wood pellet factory equpment | Details |
| --- | --- |
| Good quality wood crusher | SFSP68*120, power 200kw, capacity: 6-8T/H( raw material moisture 40%) |
| Cleaning equipment | MCY160*300, power 3kw, designed output 5-8T/H/set |
| Industrial sawdust rotary dryer | LYHG50, drum diameter 3.0m, length 11.6m, power 19kw, design yield 5T, (before drying raw material moisture is 40%). |
| Mixing machine | SLHY5, host power 30KW, continuous ribbon mixer. |
| New wood pellet press | MZLH420, main motor power: 90kw, power of forced feeder: 0.75kw, design with 0.8-1.2T output. |
| Wood pellet cooler | MKLB4, cooling volume : 4m3, design with 5-7t/h output. |
| Automatic bagging machine | MDBLY-K,bag size20-50kg/bag,packing speed: 3-5bag/min. |
Potential for biomass wood pellet manufacturing in Mexico
Biofuel pellets have received increasing international attention lately because of their potential as clean, affordable and renewable energy sources, particularly when produced from agricultural and forest residues. However, knowl- edge about feedstock availability, costs, and potential users of biomass pellets is scarce in Mexico.


We estimate that the market energy potential for pellets from currently available agricultural and forest residues in Mexico is between 131 and 233 PJ/yr, with total costs ranging from 6.3 to 12.8 USD/GJ. Sawdust pellets have the lowest cost and could compete with chips and sawdust for supply distances greater than 400 km and 480 km, depending on the wood pellet production cost. At current fossil fuel prices, sawdust pellets could compete with LPG, fuel oil and residential natural gas.
Potentially, wood fuel pellets could completely replace natural gas demand and 73% of LPG demand for residential and commercial heating. To compete with coal and petroleum coke used in the industrial and power sectors, pellets would need an incentive of 30 and 50 USD per non-emitted CO2 over and above their selling price. Wood fuel pellets may potentially mitigate up to 18% of GHG emissions from electricity production in Mexico.