This 1-1.5t/h wood pellet plant in Japan is our first wood pellet equipment project exported to Japan, and the project was signed on 2022.01.14. The output of this project is 1-1.5 ton per hour, and all the pellets produced by this project will be used for sale.
The project covers an area of 989.5m² and a construction area of 989.5m². The biomass pellet production line project rents the built factory buildings, including a one-story production workshop and a two-story office building. The total investment is 190,000 US dollars. After complete action, It will produce 3600 tons of biomass wood pellets annually.
Construction content
| Engineering Type | Engineering | Size & Function |
| --- | --- | --- |
| Main Engineering | Production area | Covers an area of 529.5m², 1-storey factory building, including crushers, pulverizers, wood pelletizers and other equipment. |
| Storage & Transportation Engineering | Material area | Located in the production workshop, covering an area of 400m², used to store scraps from furniture factories |
| Auxiliary Engineering | Office | 70m² on 2 floors |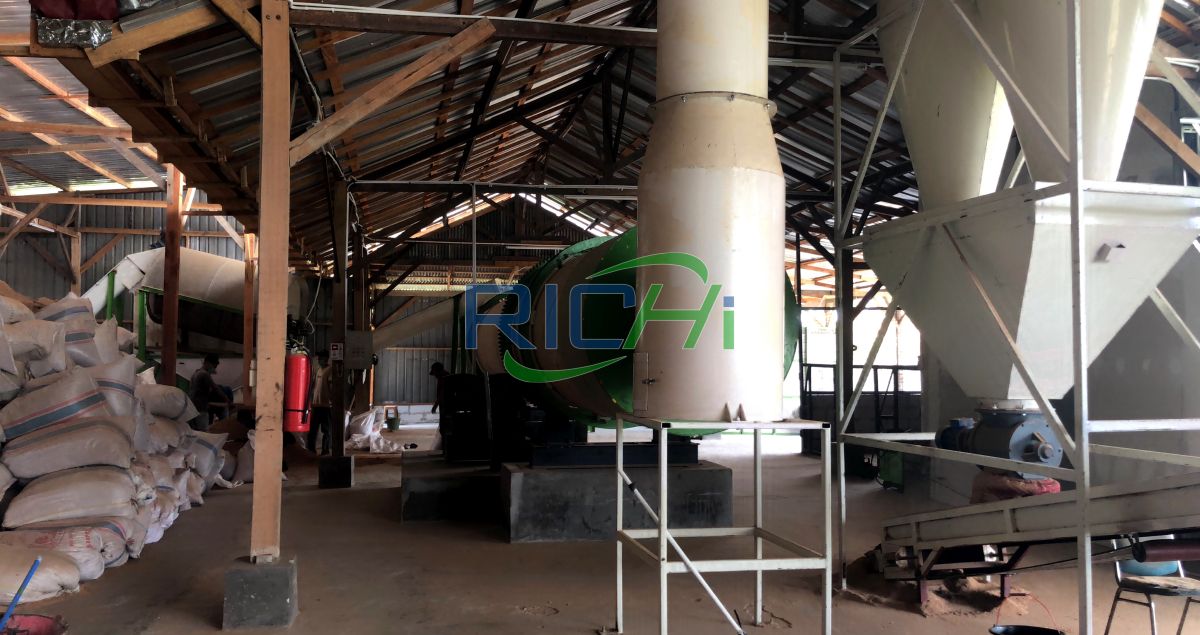 Main products of 1-1.5 t/h wood pellet plant in Japan
| Product name | Design capacity (annual output) | Yearly run hours |
| --- | --- | --- |
| Biomass wood pellets | 3600t/a | 2400h |
Work system and labor quota
The labor quota for this 1-1.5t/h wood bioomass pellet plant in Japan project is 7 people, all of whom do not have board and lodging in the factory. They work about 8 hours and work 300 days a year.
Main Raw and Auxiliary Materials
The main raw material of this 1-1.5t/h wood pellet plant in Japan project is wood, which comes from wood log and wood scraps produced by surrounding furniture factories and wood factories. The log and scraps do not contain hazardous waste such as paint and plastic.
| Name | Annual usage (t) | Maximum storage capacity (t) | Storage method |
| --- | --- | --- | --- |
| Wood | 2500 | 100 | Stacked in the raw material area of the workshop |
Energy consumption
| Name | Consumption |
| --- | --- |
| Water (domestic water) | 100 t/a |
| Electricity | 350,000 kw·h |
Equipment for 1-1.5 t/h wood pellet plant in Japan
| Device Name | Model/Specification | QTY |
| --- | --- | --- |
| Wood Chipper | JLBX-215 | 1 |
| Wood Crusher | SFSP 66*60 | 1 |
| Cyclone | ф1000 | 1 |
| U-Screw Conveyor | TLSSU30 | 1 |
| Wood Drying Machine | ф1200*120000 | 1 |
| Bucket Elevator | TDTG40/23 | 1 |
| Wood Pellet Mill | MZLH420 | 1 |
| Cooling Machine | SKLN11*11 | 1 |
| Vibrating Screen | TDZS63 | 1 |
| Packing Machine | DCS-50 | 1 |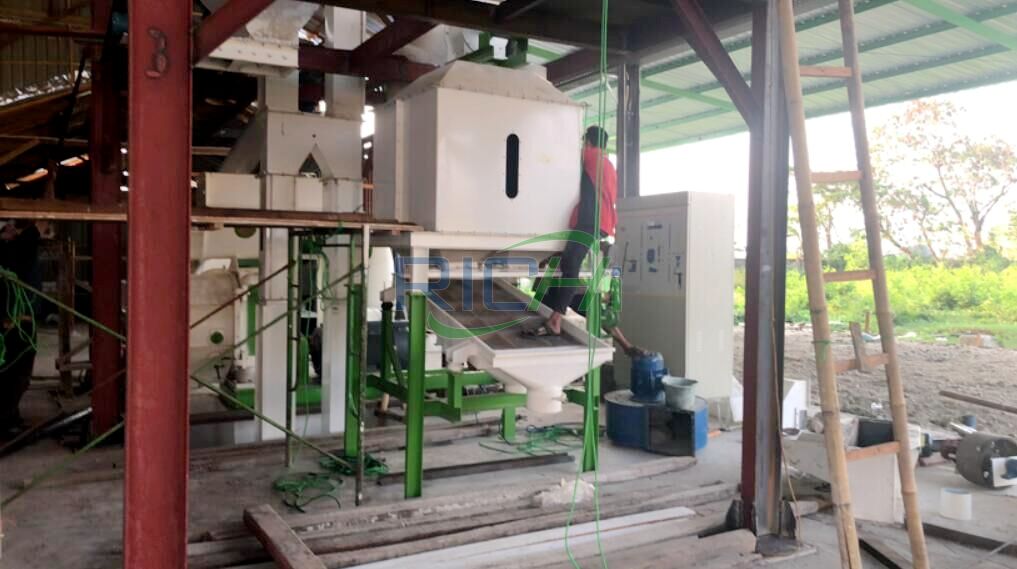 Wood Pellet Production Process Design
Chipping: The wood waste purchased for the 1-1.5t/h wood pellet plant in Japan project is crushed by a wood chipper machine and becomes wood chaff.
Crushing: The wood chaff after the wood is crushed by the crusher is then crushed into finer sawdust by the wood hammer mill crusher.
Drying: Due to the high moisture content of raw materials, it is not conducive to granulation, so the moisture needs to be removed by a dryer.
Pelleting & Cooling: The dried wood sawdust are transported to the storage tank of the press machine through the automatic conveyor belt. The wood chips in the storage tank enter the wood sawdust pellet press machine to make wood pellets, and then the wood pellets are cooled in the pellet cooler machine.
Screening & Packaging: After cooling section, the finished pellets will be screened. And then the biomass wood pellets will be packaged according to the specifications required by the customer, and can be shipped after packaging. Note: The project does not have cooking, soaking wood, painting and other processes.
Pelletizing principle: This process needs to consume a lot of energy. During the process of wood pellet pressing, the pressure reaches 50~100MPa, the raw material deforms and heats up under high pressure, and the temperature can reach 80°C~90°C . The drive of the motor consumes a lot of electric energy .
Layout of 1-1.5 t/h wood pellet plant in Japan
The main entrance of the factory area is located on the south side of the factory area, and the workshop entrances and offices are arranged on the south side of the factory area; the production workshop is located on the north side of the factory area.
Roads in the factory area are smooth, the traffic flow lines are clear, and cross interference is reduced. The site selection of this project uses the built industrial plant, so there is basically no civil engineering during the construction period.
Why build a wood pellet plant in Japan?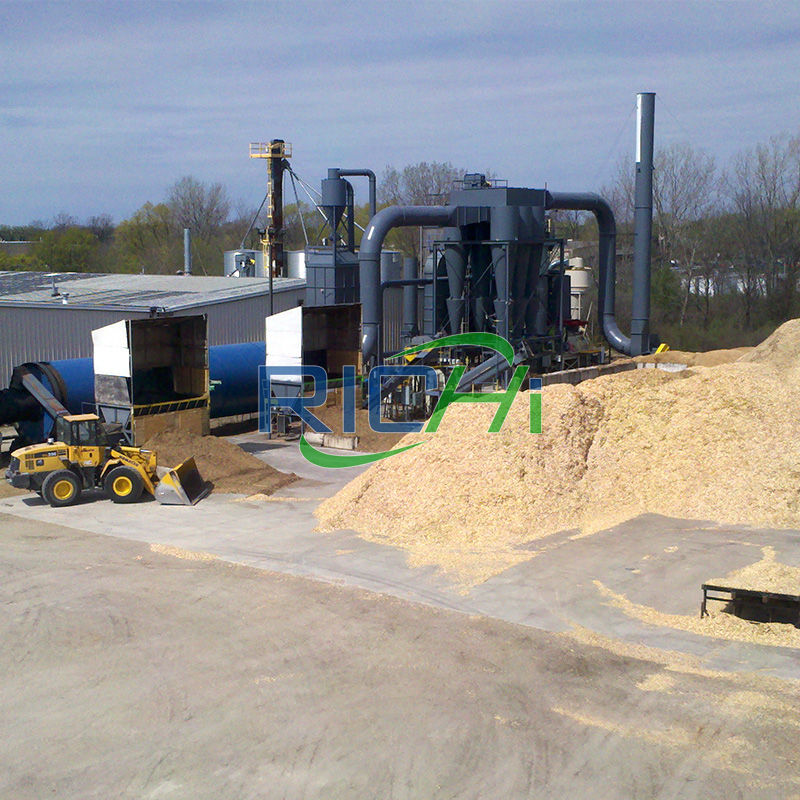 Worldwide trade of wood pellets remained practically unchanged y-o-y at about 29 million tons in 2022. Despite the minimal global volume change, there were some noteworthy shifts in trade flows on a country-level basis in 2022. Asia, re presented by Japan and South Korea, has continued to grow import volumes, up from only 18% five years ago.
Demand for biomass, including wood pellets, has increased remarkably quickly in Japan, from 1.0 million tons in 2018 to 4.4 million tons in 2022. The upward trend is expected to continue, and Japan will be the fastest-growing market in the world in the next 5-10 years.
In 2022, Japan's imports of wood pellets expanded 42% year-on-year to 4.4 million tons. The value of imports jumped 60% to $895 million. The average price of wood pellets grew 13% to $203 per tonne.
Vietnam is currently the primary pellet supplier to Japan, followed by Canada and the US. With Japanese power companies writing long-term offtake agreements with larger suppliers in North America, the most considerable pellet supply expansion in the coming years will likely be in the us and Canada.
Japanese buyers value the ability of the producer to offer contract longevity and security of certified sustainable supply.
However, in addition to importing wood pellets, at present, more and more Japanese companies have begun to invest in new wood pellet processing projects. Compared with imported pellets, the cost of their own processing is lower, and they can import cheap agricultural and forestry waste from some resource-rich countries.
It can be seen from the above that The Japanese industrial wood pellet market has a high likelihood of developing significant demand over the next decade.
If you want to build a 1-1.5t/h wood pellet plant in Japan, feed free to contact Richi Machinery for details.