Overview of 5 t/h good completely biomass wood pellet factory with ce in Austria
In the process of setting up this 5 tons per hour ce Austria wood pellet factory project, the customer requested the assembly to be completed as soon as possible to achieve wood pellet production. Therefore, the time from wood pellet production line construction to wood pellet manufacturing was very short, but we still successfully completed the 5tph automatic wood pellet plant project with a tight schedule and passed the one-time acceptance.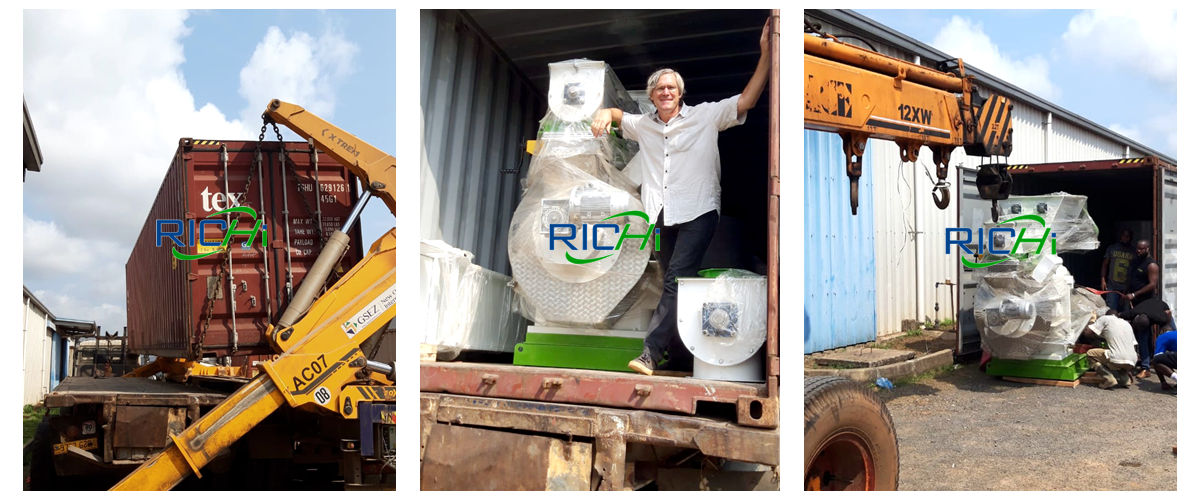 Austria wood pellet production factory equipment arrived
At present, the wood pellet production equipment of this Austria 5t/h biomass wood pellet factory has been running smoothly, and all data have met the contract requirements. From design, construction, civil engineering, motors to wood pellet making machine are all contracted by RICHI. Based on the integrated solution, the 5t/h wood pellet production line for wood pellet plant project construction efficiency is high, the construction period is short and the wood pellet production is fast.

Austria wood pellet factory civil construction
Secondly, customers need less effort and only need to put forward requirements and control and acceptance links, and all specific wood pellet factory project construction links are entrusted to Richi Machienry. We use our professional knowledge and extensive turnkey wood pellet manufacturing plant experience to achieve customer expectations.
Wood pellet production process flow of 5 t/h wood pellet factory in Austria
Process flow of ce 5t/h wood pellet factory in Austria:
Raw material → chipping → crushing → impurity removal → screening → dying→ pelletizing → cooling → packaging → storage → delivery
Various forms of forest waste enter the slicing machine to be cut into small wood chips, the size of the wood chips is 20-30mm, and the thickness is about 5-10mm; Then, the raw material with a moisture content of 40% is dried to about 15% by a three-layer drum dryer, and finally granulated. The diameter of the processed finished product is 6-10mm. After the granulation by wood pellet mill, then cooled, it is packaged by a small bag packaging scale 20-50kg/bag, easy to transport and sell.

This project is a wood pellet factory with an hourly output of 5t/h. The total power of the equipment is about 1250kw. The workshop covers an area of ​​3000 square meters, including raw material warehouse and finished product warehouse. The whole wood biomass pellet plant production system is compact in design, reasonable in structure, and meets environmental protection requirements.
Slicing section: The logs are processed into wood chips, the size is 20-30mm, and the thickness is about 5-10mm, and then enters the processing in the subsequent section. The main power of the slicing equipment is 132kw, the power of the feeding roller is 4kw, and the power of the oil pump is 0.55kw.
Crushing section: There is no dust emission in this section. After crushing by the crusher, the material is conveyed and discharged by the negative pressure suction of the fan. The pulverizer is a water drop structure, and the pulverizing rotor can be operated in both positive and negative directions to improve the service life of the hammer. The motor is directly connected to the transmission mode. The output of crushing equipment is 6-8T/H (raw material moisture 40%).
Drying section: three-layer drum dryer, the moisture content of wood chips after drying is about 13-18%. The diameter of the drum is 3.45m, the length is 11.6m, the power is 22kw, and the designed output is 6T per hour (40% moisture content of the raw material).
Pelletizing section: The diameter of biomass pellets is 6-10mm optional. Biomass pellets have the characteristics of high calorific value, no pollution, and low ash content. They can be widely used in biomass power plants, biomass steam boilers, household fireplaces, and drying furnaces. and biomass gasifiers. The model of the wood biomass pellet mill machine is MZLH420, the power of the host is 90kw, and the power of the forced feeder is 0.75kw.
Cooling and packing section: It is used to reduce the temperature of the pellets and the moisture of the pellets. The temperature of the particles after cooling is generally not higher than room temperature 5℃, the moisture of the pellets after cooling is about 8-10%, and the bulk density of the pellets is 650-750kg/m³.

Packaging can be based on the customer's local sales needs, choose a suitable packaging scale to facilitate customers to sell products, usually there are two specifications of small bags and ton bags, the packaging specifications of small bag packaging scales are: 20-50kg/bag, and the packaging specifications of ton bag scales are: 500 -1000kg/bag.
According to the needs of different customers, the solution can optimize the configuration:
If there is a need, a buffer silo can be added between each section to replace the storage yard. The advantage is that it can improve the automation of the production line and reduce the dust pollution in the workshop; the disadvantage is that it will increase the construction cost of the 5t/h wood pellet production line, and the The bulk density of the material is very light, and it is easy to be arched in the warehouse without cutting the material.
The packaging equipment of the 5t/h wood pellet factory can be adjusted according to the customer's requirements for the packaging of finished products. It can also be stored in bulk or in steel silos.
Machine to make wood pellets in a 5 tons per hour professional complete ce wood pellet factory in Austria
What is needed to start a wood pellet plant 5 tons per hour in Austria? The followings are euqipment list of 5 ton per hour wood pellet production line.
| Main wood pellet factory equipments | Model | Quantity |
| --- | --- | --- |
| Tree branch wood chipper machine | JLBX-218 | 1 |
| Wood sawdust crusher machine | SFSP66*80 | 2 |
| Wood sawdust rotary dryer | ф2400*100000 *3 Layer | 1 |
| Wood pellet maker machine | MZLH-520 | 2 |
| Cooling machine | SKLN17*17 | 1 |
| Vibrating screener | TDZS80 | 1 |
| Packing machine | DCS-50 | 1 |
| Bucket elevator | TDTG40/23 | 1 |
| Belt conveyors | PDS650 | 2 |
Development of wood pellet manufacturing in Austria
Here is one of the most environmentally friendly countries in the world——Austria. In addition to a high waste recovery rate of 98.5%, biomass pellets are the second largest factor in Austria's inclusion in the list of the world's most environmentally friendly countries. The Austrian government adopts energy and environmental protection adjustment taxes to make the use cost of wood pellet end users lower than that of conventional energy sources. Therefore, the application of wood pellets in Austria is quite common.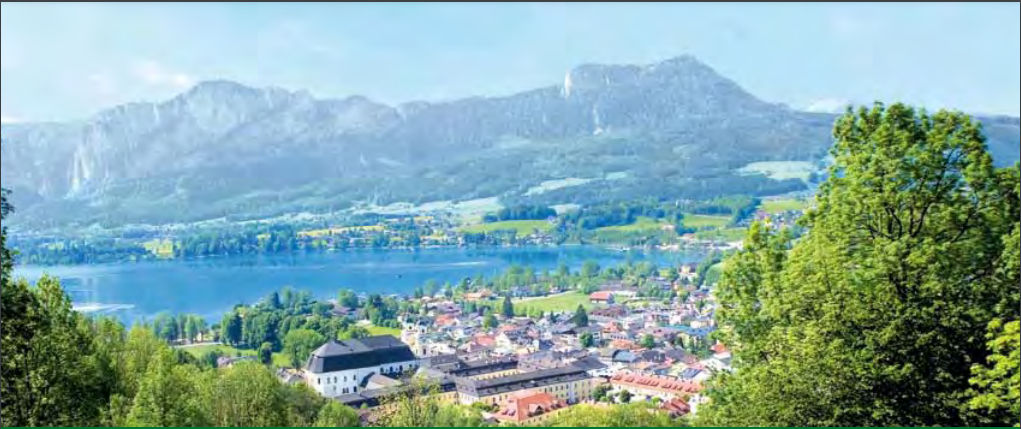 Austria is one of the 11 largest consumer countries of wood pellets in the EU and one of the nine largest producers of pellets in the EU. The wood pellet market in this country is relatively isolated, relying mainly on its own wood pellet production for self-sufficiency.The 5 tons per hour biomass wood pellet factory project in cooperation with Austrian customers is to process 8 mm wood chip pellets, which is mainly used for heating small-scale private residential and medium-sized industrial boilers in Austria.
Problems that should be paid attention to in the construction of wood pellet factory in Austria
In Austria, pellets are mainly used for heating small-scale private houses and medium-sized industrial boilers, and biomass house heating is subject to federal and local government subsidies or tax reductions. However, government subsidies are limited. Market logistics and economics indicate that the United States, Canada, and Russia will become major suppliers if EU and other EU countries do not increase biomass pellet production.

Over the years, the growing demand for biomass pellets in Austria and other EU countries will inevitably further increase its domestic wood pellet manufacturing. Therefore, it is a very wise choice to target the biomass wood pellet market with great economic potential.
The Austrian Federal Ministry of Environment sets standards for special environments for biomass fuels. Only natural wood raw materials (sawdust, wood shavings, etc.) for best design wood pellet production line for energy pellets are allowed. The use of packaging, coatings, adhesives, cardboard or fiberboard residues is prohibited.
Why wood pellet manufacturing is popular in Austria?
Austria is one of EU members. EU has high standard for environment protection. Conventional fossil fuels produce much smoke and ash during combustion, which can do harm to the environment. Wood pellets are very good biofuel and produce less smoke and ash when burning.
After being pretreated, corn stalk, cotton stalk, groundnut shell, soybean husk, bagasse and other agricultural waste can be raw materials for biofue pellets. Trees can also be used as raw material for biomass pellet production line. These materials are easily available.
Process being environment friendly is the third reason. The wood pellet processing in wood pellet mills is just a mechanical movement. Raw materials go into the wood pelletizer machine, then wood pellets are formed by pressing raw materials through small holes in the die. No harmful byproduct produced. This confirms to the concept of building a green world.
How Much Does It Cost To Build A Wood Pellet Factory?
Numerous environment friendly sources of energy have been developed today. Most of them are also cheaper than traditional energy sources. Wood pellets are one of the favorite alternative sources of energy today. Not only are they safer for the environment but they are also much cheaper than gas, coal and oil. If you have an entrepreneurial mind this is obviously a business opportunity you should take advantage of. First of all, you need to figure out the cost of building a latest technology high quality wood pellet factory.

Estimating What It Will Cost To Start Wood Pelletizing Business
To come up with a good estimate you need to put the following factors into consideration when you are planning for start your own wood pellet factory business of making wood pellets:
01
Wood Pellet Manufacturing Equipment
This will depend on the raw material you plan to use. This is because wood pellet making machines differ depending on the type of feedstock you wish to use. Softwood, for example, needs a higher compression ratio than hardwood. For that reason each of the types of wood requires different types of wood pellet processing equipment.

You should also consider the size of wood pellet factory raw material you plan to use. If you plan to use logs you should purchase a wood sawdust hammer mill since an ordinary mill cannot process that size of material. Another factor is the amount of wood pellet factory raw material you would like to process at ago. If you plan to produce large amounts of wood pellet then you should buy larger and more advanced wood pellet manufacturing equipment.
Once you have decided on the wood pellet factory equipment you must also calculate the cost of biomass raw materials you will need to get your business started. The wood pellet factory raw materials cost here is determined by the type of feedstock you plan to use. Decide on whether you will be using wood as your material or virgin fiber. Virgin fiber is substantially more expensive with a ton going for $70 to $80. Wood on the other hand goes for $55 to $ 65 per ton.

You should also consider the wood pellet factory processing cost when estimating the raw material cost. Raw materials for wood pellet factory have differing production costs depending on their moisture content. Feedstock usually has 40 to 60% moisture in them. The higher the moisture composition the higher the wood pellet factory production costs since they need much more time and energy to dry. Wood has a much lower percentage of moisture than virgin fiber and hence is much cheaper to process.
This is another factor to be considered for start your own wood pellet manufacturing business. It costs about $10 to process one ton of feedstock. This, however, varies depending on location of your wood pellet factory. Energy costs will be higher in European countries than in the USA and Canada.

04
Wood Pelllet Factory Machine Repairs and Maintenance
This is another important figure to include in your estimate for building your wood pellet factory. You will incur about $5 worth of maintenance costs for every ton your wood pellet factory process.
05
Loading and Shipping Costs
In addition there are several other Wood Pelllet Factory costs that are determined by your wood pellet manufacturing plant's capacity. These are:These vary depending on your wood pellet manufacturig business' location and working model. Before you get started you must have budgeted for this as well or else you will not be able to make your deliveries. It costs roughly $2.5 to load a ton of wood pellets on to rail for shipping. You should also consider the cost of rail road infrastructure when you make plans for transportation.

The Cost of Grinding On Wood Pelllet Factory Site
Cost of Wood Pelllet Factory Storage
Wood Pelllet Factory Labor Costs
These are can be reduced using economies of scale for example if your wood pellet factory produce 150000 tons of wood pellets per year your labor costs will be $10 for each ton. If your wood pellet production factory output is 100000 tons the cost of labor will be $15 per ton.
06
Wood Pelllet Factory Construction Cost
Last but certainly not least is the total cost of building your professional factory directly offered wood pellet plant. This is an important cost and it should also be factored in when pricing your wood pellet factory products.
This list should get you started on your journey to profitable wood pellet production and selling. You should also consult an expert in the industry. They will not only explain the points above in greater detail but also give you to insider information about the industry. we hope that this information will help you on your wood pellet business plan and wood pellet factory project proposal! Feel free to contact Richi Machinery!