Overview of 4-5 t/h wood pellet plant in Argentina
On September 13, 2021, customers sent us inquiries:
"Hi I wonder if you could quote me 2 wood pellet press model MZLH768, CFR. Could be Buenos Aires port, Resistencia Chaco Port or Corrientes Port, all of them in Argentina. Please quote both 2 and 3 T/H."
On May 11, 2022, the project was successfully signed. The final transaction project is not just the 2-3t/h wood pellet machine that the customer consulted, but a complete 4-5t/h wood pellet production line.
The total investment of the 4-5 t/h wood pellet plant in Argentina project is nearly 400,000 US dollars, and the construction area is 1600m².
The project will build a wood biomass pellet production line, including 2 wood biomass pellet machines, 1 wood drying machine, 1 wood pellet hammer mill, etc. After the project is completed, the annual production of biomass pellet fuel will be 10,000 tons.
Product plan
| Type | Pellet Size | Capacity |
| --- | --- | --- |
| Biomass pellet fuel | 8mm | 10000 T/A |
Structural work of 4-5 t/h wood pellet plant in Argentina
Production area: The total construction area is about 1,600 square meters. It is a fully enclosed workshop with a biomass pellet fuel production line installed, including 2 wood pellet mill machines, 1 crusher, 2 wood hammer mill, etc.
Raw material storage yard: located on the west side of the workshop, with an area of about 400 ㎡, used for raw material storage, etc.
Finished product storage yard: located on the northeast side of the workshop, with an area of about 1000㎡, used for finished product storage, etc.
Transportation system: The transportation of raw materials and products in the factory area mainly uses forklifts for transfer, and the transportation outside the factory relies on social vehicles, etc.
Air compression system: set up an air compressor to provide compressed air to the wood pellet making equipment of this project, etc.
General solid waste area: Located on the north side of the production workshop, with an area of about 10m², it is used for temporary storage of general solid waste.
Labor quota and work system
Labor quota: the total number of employees is 10 people, no canteen, no accommodation
Work system: 250 days a year, 1 shift, 8 hours per shift
Main Equipment for 4-5 t/h wood pellet plant in Argentina
| Equipment | Model |
| --- | --- |
| Wood crusher | SFSP66*80 |
| Pulse dust collector | TBLMa.36b |
| U-screw conveyor | TLSSU32 |
| Drum dryer | ф2400*100000*3 Layer |
| Biomass pellet mill | MZLH520 |
| Belt conveyor | PDS-500 |
| Cooling machine | SKLN17*17 |
| Vibrating screener | TDZS63 |
| Packing machine | DCS-50 |
Raw and auxiliary materials
| Name | Annual consumption (t/a) |
| --- | --- |
| Pure solid wood (do not buy wood scraps containing glue and paint) | 10000 |
Production process design of 4-5 t/h wood pellet plant in Argentina
Crushing: The waste wood scraps are conveyed to the crusher through the belt to be crushed into sawdust (particle size ≤14mm), and the crushed sawdust is transported to the hopper (1m*2m) by using the negative pressure of the fan. The materials that do not need to be crushed will directly enter the dryer after being cleaned of impurities.
Drying: The crushed raw materials are transported to the drying cylinder by the scraper conveyor for drying. After drying, it is stacked in the open space and waits for the transport vehicle to transport it to the granulation section.
Granulation: The pulverized raw materials are sent to the feeding port of the granulation system by a transport vehicle, and then transported to the wood sawdust pellet press by a conveyor, and then extruded to make a finished product with a pellet size of 8mm. The extrusion process is a physical process, without adding any adhesives and without chemical reactions.
Cooling & screening & packaging: the granulated products are sent to the cooling machine through the conveyor, and then enter the screening machine for product screening after cooling, and the qualified products after screening are transported to the packaging system. After the product is packaged, it will be stored in the finished product warehouse.
Pollution Prevention Measures
The dust in this 4-5 t/h wood pellet plant in Argentina project is mainly the particulate matter generated during the crushing and granulation process. After being collected, it will be treated by a bag filter or a cyclone dust collector, and then discharged from a 15m exhaust pipe.
The exhaust gas of the project is discharged up to the standard after being effectively treated, and the impact of the exhaust gas emitted by the project on the atmospheric environment is acceptable.
This project is mainly due to equipment operation noise, all adopt low-noise equipment, and the noise source intensity is generally below 85dB(A). We have selected low-noise equipment for our customers.
After measures such as building sound insulation, foundation vibration reduction, and reasonable layout, the noise emission at the factory boundary has reached the standard, and the impact on the surrounding environment is acceptable.
Keep equipment running in good condition and reduce noise;
High-noise equipment is arranged in the middle of the production plant, in the production workshop;
Make full use of the sound insulation effect of the main structure of the plant and surrounding buildings to reduce the impact of noise on the surrounding environment;
Strengthen the maintenance and management of machines to prevent abnormal production noise caused by equipment failure, eliminate high noise phenomena caused by abnormal operation of equipment.

And at the same time ensure that various environmental protection measures play the best and effective functions and reduce the impact of noise on the factory boundary Impact.
The solid waste generated by this 4-5 t/h wood pellet plant in Argentina project mainly includes general solid waste and domestic waste.
General solid waste (dust collected by the dust collector, waste molds, and scrap iron nails) is collected by classification and temporarily stored in the general industrial solid waste room, in which the waste molds and scrap iron nails are sold; the dust collected by the dust collector is reused in production.
Domestic garbage: The domestic garbage collected by employees is handed over to the local sanitation department for collection, transportation and disposal.
The construction of this biomass pellet plant project conforms to the relevant industrial policies, environmental protection policies and project environmental access regulations of the Argentine state, and the current situation of the regional environmental quality is relatively good.
The 4-5 t/h wood pellet plant in Argentina project adopts advanced production technology and technical equipment. Under the condition of strictly implementing environmental protection measures, pollutants can be discharged up to the standard, with little impact on the environment and will not change the regional environmental function.
Why build wood pellet plant in Argentina?
At this moment Argentina's annual production is still around 50.000 tons of wood pellets, of which most is being exported. The sawmill industry in Argentina can offer enormous possibilities for the country, at the condition that some waste management is being developed.
This sector produces about 2,8 million tons of waste per year (60% of the raw materials included). Of this amount about 50% can still be used in pulp, plates, etcetera. Until now unfortunately the other 50% is completely wasted.


This biofuel is slowly gaining property worldwide, because not only can it be stored and transported easily without the use of special techniques, but its consumption causes less CO2 emissions too compared to fossil fuels.
Besides that the production costs of let's say a boiler consuming wood pellets can be two or three times less compared to one using diesel and LPG. For Argentina a revaluation of the wood and forest industry's biomass waste and a reduction of the negative impact on the environment by correctly managing waste, can give the economy a boost: creation of employment by exploiting this sector.
How to Start Wood Pellet Plant in Argentina?
To setup a high efficient wood pellet mill plant in Argentina, it is necessary to know about many things which includes the local market of wood pellets, local or peripheral raw material resources, recent wood pelletizing technology, the wood pellet plant setup cost and how to make a customized business plan based on your own needs and situation.
Here RICHI will give you some tips for those who plan to start wood pellet production business. Any questions or problems on establishing a complete wood pellet plant in Argentina, feel free to contact Richi Machinery for help!
01
Get Sufficient Raw Materials for Making Wood Pellets
If you are starting a 4-5 t/h wood pellet plant in Argentina, make sure your biomass or woody materials are in abundance. Wood pellets business is usually run by people who have a large amount of wood waste such as sawdust, wood shavings, or biomass wastes such as peanut shells, cotton stalks or other kinds of agricultural residues.
If you want to produce a large amount of wood pellets, you will need to buy the raw materials to keep the quality intact. But if you have decided to keep this business as a side business, then waste materials of wood products and furniture are good to be used.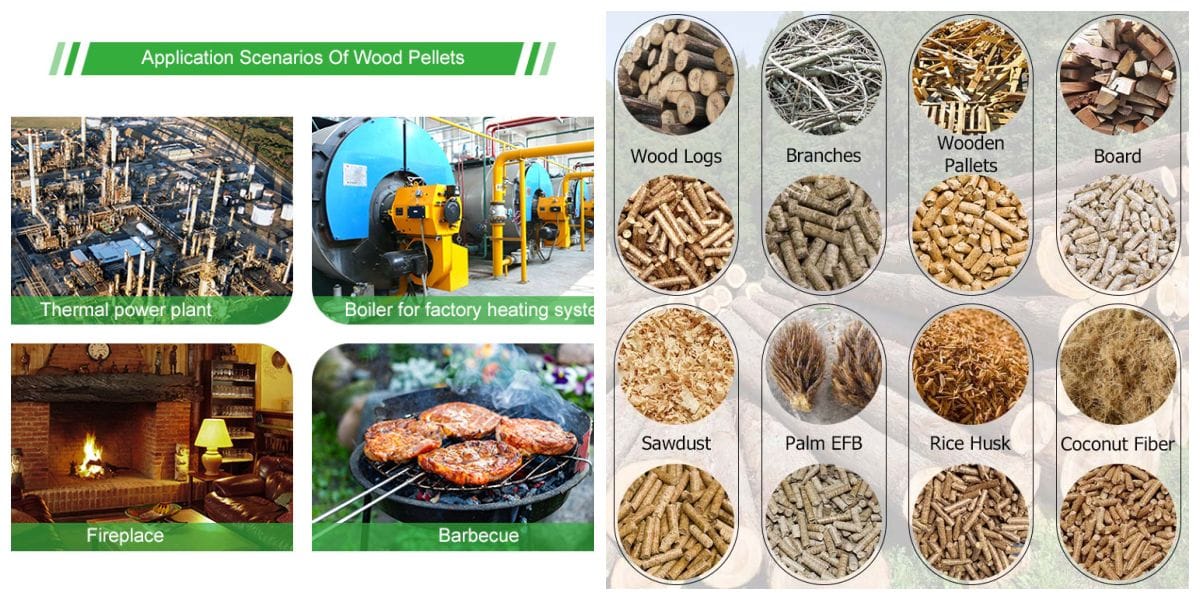 The raw materials should have the least amount of moisture i.e. less than 15%. The quality of raw materials determines the quality of the wood pellets. Therefore, if you don't have good raw materials, starting a wood pellets business is useless.
02
Understand the Wood Pellet Production Process
Wood pellets are made in a plant, where all the wood pellet production machines are organized together. It is necessary to know what steps are included in the wood pellet production so that you can hire the labor accordingly.
The raw materials are cut by a hammer equipment into small sizes.
These small pieces are passed by a wood dryer machine.
They are pelletized in the wood pellet plant.
The pellets are cooled down and packed to be sold.
03
The wood pellet plant location
If you have a small space, choose a small wood pellet plant. Don't put large wood pelleting plants in small spaces and make everything suffocated. Make sure that your location is near to the raw materials so that you can be saved from the cost of transportation.
04
Choosing Reliable Wood Pellet Equipment
Buying the best type of wood pellet making equipment is important. Don't buy wood pelleting equipment only because it is cheap. When it comes to wood pellet production, you need durable and quality equipment.


Buy a pellet plant which is effective, produces tons of wood pellets in least amount of time and has a good working efficiency. It should have less fuel consumption as well. Good wood pellet is made with clean and bark free sawdust and it has low moisture content. So, buy the wood pellet plant machinery which can provide you with all of these qualities.
If you want know more information about "Starting Wood Pellet Plant in Argentina", feel free to contact Richi Machinery!