Overview of best price small capacity 1-1.5 ton per hour industry wood pellet production line project in Indonesia
Wood pellet raw material resources in INDONESIA: small diameter log (forest concession/community/plantation) and Industrial waste. The Indonesia customer in this 1-1.5tph professional complete wood pellet production line has a abundant of source of wooden waster material.
Day after day, how to dispose with these material in a more profitable way becomes a burning issue. So he invested his first wood biomass pellet production line with 1-1.5tph capacity in Indonesia in 2017. The good selling in Indonesia completely wood pellet manufacturing plant price was around 400000USD.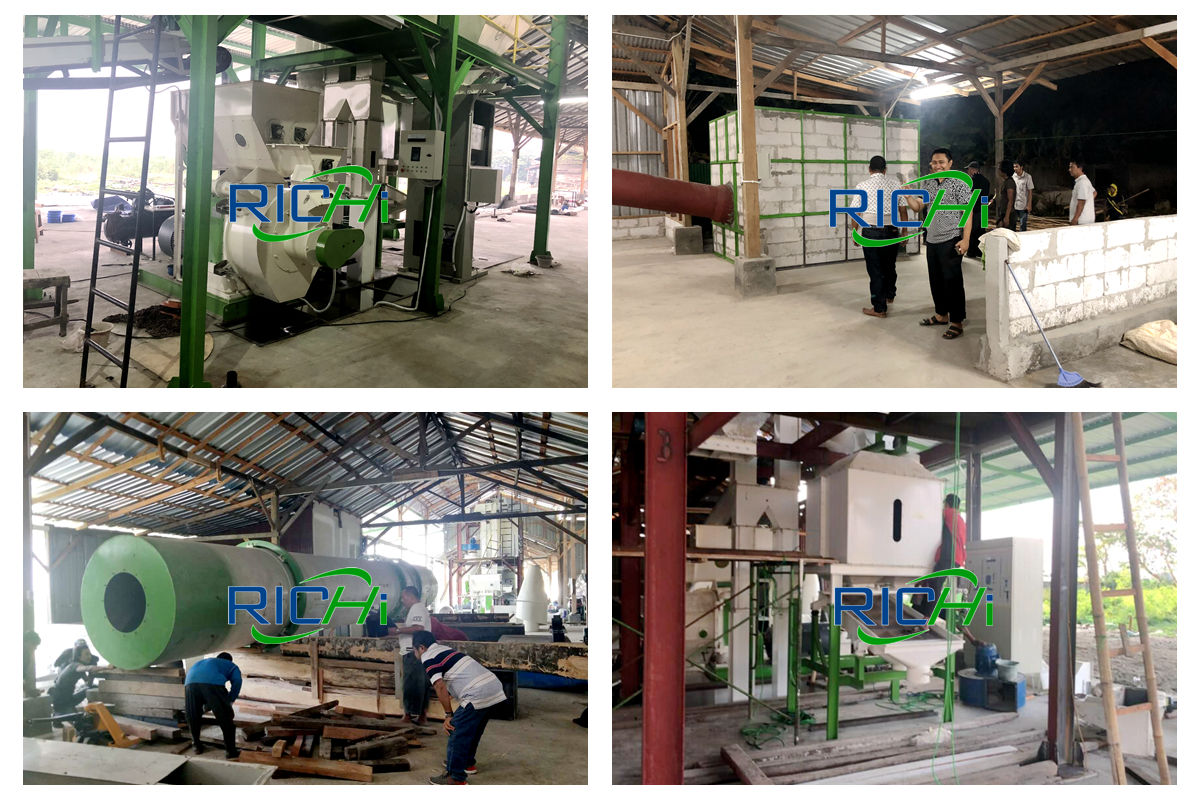 Indonesia low investment high return wood pellet line project installation site
In his 1-2 ton per hour Indonesia wood pellet line, logs and wood chips from forest harvest, offcuts and saw dust from furniture factory are used as feedstock for making wood pellets. The moisture of wood logs is about 60%, and 18% for offcuts. The 6-8mm wood pellets are sold to local pellets retailers. By and large, pellets are finally used for heating system.
Machinery needed to start a wood pellet plant with 1-1.5t/h production capacity in Indonesia
| Wood pellet line machine | Model | QTY |
| --- | --- | --- |
| Industrial wood chipper shredder | JLBX-215 | 1 |
| Industrial wood hammer mill | SFSP 66*60 | 1 |
| Buffer bin | 2m³ | 1 |
| Cyclone | ф1000 | 1 |
| Pulse dust collector | TBLMa.36b | 1 |
| U-Screw conveyor | TLSSU30 | 1 |
| Rotary dryer for sawdust drying | ф1200*120000 | 1 |
| Bucket elevator | TDTG40/23 | 1 |
| Wood pelletizer | MZLH420 | 1 |
| Pellet cooler | SKLN11*11 | 1 |
| Vibrating screener | TDZS63 | 1 |
| Packing machine | DCS-50 | 1 |
| Belt and sewing machine | DCS-50 | 1 |
| MCC Control Center ;Mimic control panel | / | 1 |
Site video of Indonesia tropical wood pellet line project
Specifications of 6-8mm wood pellets in this 1-1.5 tons per hour Indonesia wood pellet plant in Indonesia
| Diameter | 6MM WOOD PELLETS | 8MM WOOD PELLETS |
| --- | --- | --- |
| Density | 0.7 gr/cc | 0.7 gr/cc |
| Shape | Stick | Stick |
| Length | 3 – 5 cm | 3 – 5 cm |
| Calory /kg | 4450 K | 4450 K |
| Moisture (%) | 8 | 8 |
| Ash Content (%) | 0.8 | 0.8 |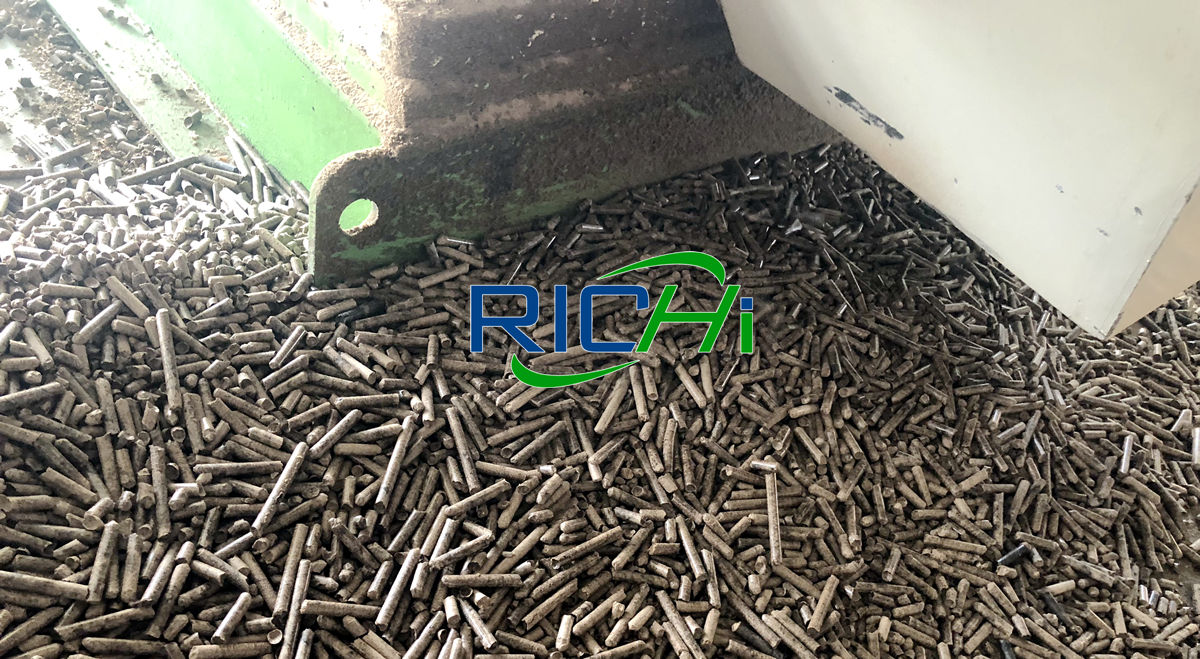 Pilot production of wood pellets on the Indonesian 6-8mm wood pellet line
Prospects for wood pellet manufacturing in Indonesia
Indonesia's potential is good enough to become one of the world's major player of wood pellets. With a tropical climate, high rainfall, fertile soil, geographical location is quite close to Japan, South Korea and China and the area of ​​good plantation industry (HTI) which covers about 80 million hectares, polyculture with oil palm plantations, marginal that can be used for energy plantations. Why use energy plantations to supply woody raw materials for wood pellet production?
This is because with the energy plantation the supply of raw materials for wood pellet manufacturing can be large and stable for a long period of time.
Indonesia is also known as the largest producer of CPO or crude palm oil with production of 23 million tons/year, but with monoculture in large plantations the plantation will be susceptible to disease and its production is not optimal, for that polyculture with energy plantation is the best solution. Forests of industrial crops that also millions of hectares can also be optimized with energy plantations. Meanwhile, to design wood pellet production from energy plantation.

Indonesia has a great chance to become a major player of wood pellet both as producer and user as well. It is supported by a number of natural conditions, land area and geographic position. But since there is no clear policy for the use of fuel or wood pellet energy sources for power generation and national energy policy under Presidential Regulation no 5 of 2006 only targets 5% for biomass energy in renewable energy mix so that the role of wood pellet producers with the majority of their products for export market is more a priority.
Energy development with wood pellet production derived from wood in the trees in the energy plantations are also in line with the instructions of theQur'an.
Policies of wood pellet manufacturing in Indonesia
Presidential Regulation No.5 Year 2006 on the national energy policy put a target of 5 % contribution of new and renewable energy by 2025, which includes biomass.
Promote the development of renewable energy such as wood pellets industry as a means to combat climate change which has become the focus task of the Senior Advisor of the Minister of Forestry on the Environment and Climate Change.
Support forestry industry, which utilizes timber from plantation forest and timber waste as raw material for wood pellet manufacturing. This is demonstrated one of which with the issuance wood pellets industry permit (production capacity 30,000 ton/year) to the state-owned company PT INHUTANI III in cooperation with a consortium of Korean companies. It is expected that this cooperation can be implemented to support plantation forest development and its timber utilization for wood pellets industry.
Prepare government regulation to develop wood pellet manufacturing in support of the government program, ie. pro-poor, pro-job, pro-growth, and proenvironment.
Research program on opportunity, challenge and the technology to utilize timber from plantation forest and timber waste to produce wood pellet.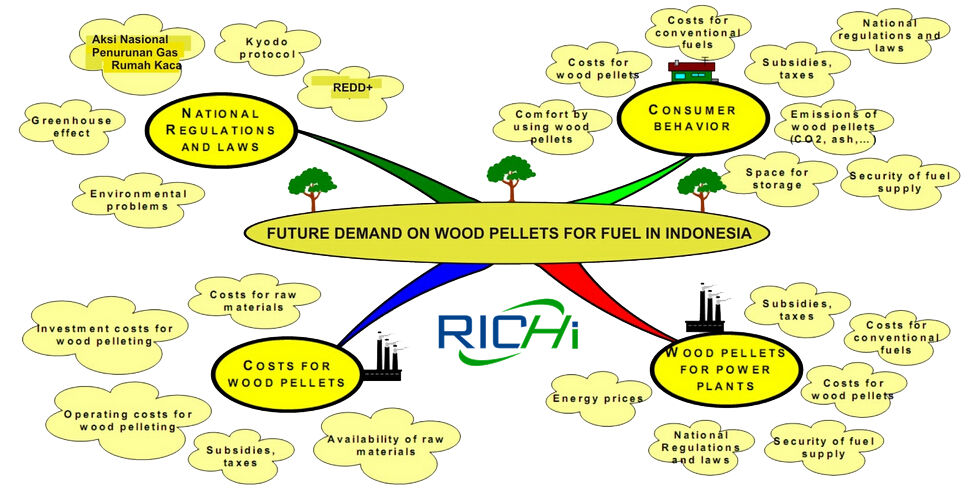 Benefit of wood pellets industry development in INDONESIA
Reduce environmental pollution with the utilization of industrial waste;
Fuel energy alternative to generate power;
Promote plantation forest development;
Improve local revenue;
Transfer of technology in the wood pellet production;
Improve the awareness and understanding on energy saving;
Promote partnership with local community in terms of raw material supply from community plantation forest;
Labor opportunity.