Overview of 1-2 t/h customized biomass wood pellet line project in Taiwan
This 1-2 ton per hour China complete biomass pellet production line project is a small wood pellet manufacturing business investment, and the client is from Taiwan, China. The customer visited the RICHI factory in March 28th, 2017 and signed a contract on the same day. The 1-2t/h high quality wood pellet production plant project installation started on December 30, 2017.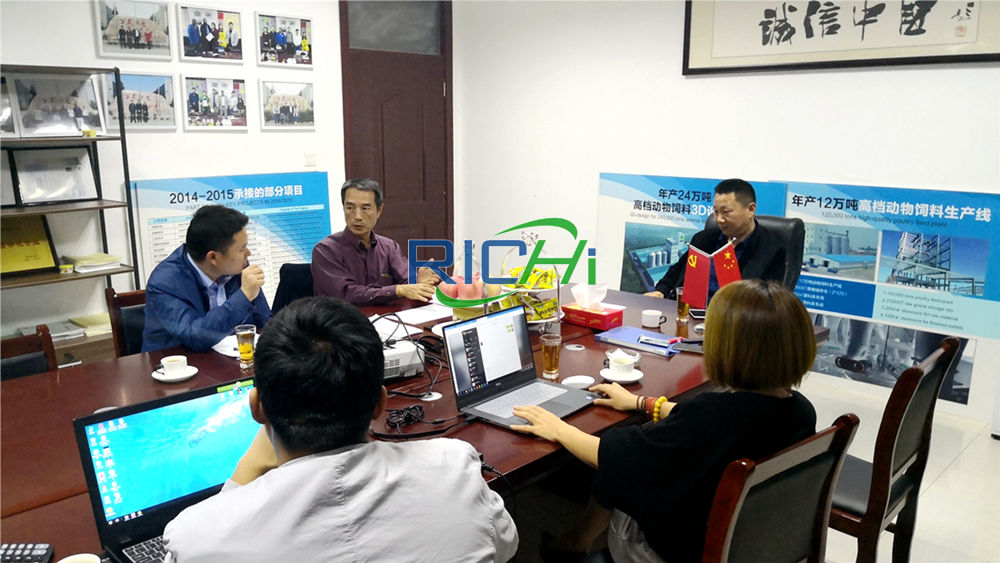 Taiwan wood pellet line 1-2 tph project customer visit RICHI
According to the contract, RICHI dispatched an engineer to guide the installation on site. The 1-2tph complete biomass wood pellet production line project was put into operation in February 2018.


Wood pellet production process design of Taiwan 1-2 t/h biomass wodo pellet line for plate waste
Make the material into sawdust with 3-4mm by wood sawdust hammer mill, then emove the massive impurity from the dry sawdust which moisture is 13-18% through drum precleaner(choose screen with 20*20mm square hole), them make wood pellet with optional 6-12mm diameter.
This is customized small wood pellet factory design, the materials is very special, very light and long. So for raw materals crushing section, we need to use special type wood hammer mill to reach the wood pellet plant 1-2tph production capacity.
After pelleting by wood pellet making machine and cooling by pellet cooler, it is packed into 20-50kg/ bag by small bag packing scale for convenient transportation and sale. This project is for 1-2t/h wood sawdust pellet production line, the total power is 200kw, the workshop is about 12*8*8 meters , the whole wood pellet line is characterized by compact design and reasonable structure, and satisfied by environment protection requirements, meanwhile it can be directed to customers' design.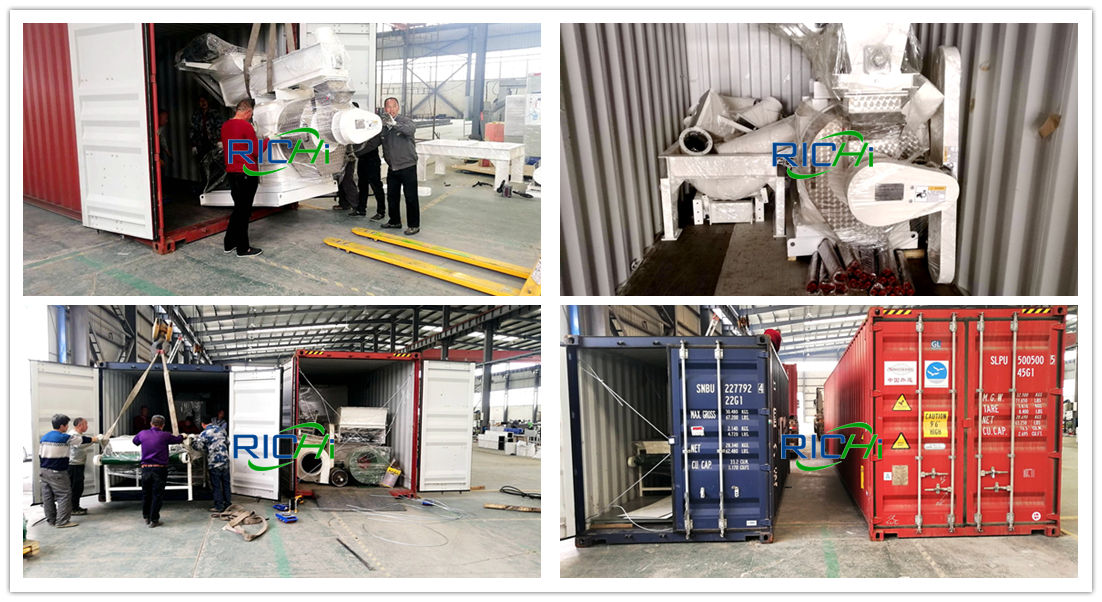 Delivery site of Taiwan automatic wood pellet mill line project
Machinery needed for making wood pellets in wood plate pellet manufacturing plant for sale Taiwan
| Name | Model | QTY |
| --- | --- | --- |
| Wood hammer mill for sawdust | SFSP 66*80 | 1 |
| Cyclone | ф1000 | 1 |
| Pulse dust collector | TBLMa.36b | 1 |
| U-Screw conveyor | TLSSU30 | 4 |
| Good quality cylindrical dryer for sawdust | ф1500*150000 | 1 |
| Bucket elevator | TDTG40/23 | 3 |
| Electric pellet mill for wood biomass | MZLH520 | 1 |
| Cooling machine | SKLN14*14 | 1 |
| Vibrating screener | TDZS63 | 1 |
| Packing machine / Belt and sewing machine | DCS-50 | 1 |
| MCC Control Center ;Mimic control panel | / | 1 |

Pellet plant process design of Taiwan best price wood pellet mill plant project
Drawings of 1-2 t/h small capacity sawdust pellet line we provide to customers
Layout of wood pellet line in workshop
Installation drawings of wood pellet manufacturing equipment
Installation drawing of wood pellet plant steel support
Cooperate with Experienced And Professional Wood Pellet Plant Manufacturer In China
After half a year's production, they replace the old ring die of wood biomass pellet mill with new ones. But after the replacement, the pelletizing result of the wood pellet press machine became bad. Once we were informed of the news, new wood pellet plant engineers were sent to Taiwan right away to help them solve their problem.
After cross-checking the ring die wood pelletizer machine carefully onsite, along with detailed communication with the operators, we found that the problem is that the gap between the roller and wood pellet mill ring die is not adjusted right, and the eccentric shaft of the wood pellet machine press roller is also not mounted in the right place.


During the adjusting process of the wood pellet manufacturing machine, our engineers gave the customer a demonstration of ring die replacement once again and repeated on the matters need attention when adjusting the gap between the wood pellet machine roller and ring die, until the wood pellet machine operator understand.
After adjustment, the wood pellet making machine pelletizing process runs very well and our client is very satisfied with the final wood pellets produced. "That's so great! " our client said. "Feel free to get in touch with us if you have other questions or problems, we will do our best help solve it using the shortest time possible." Our engineer said. When our engineer return back, the boss of the wood pellet plant held the hands of our engineer, said "thank you so much for your help, your technique and experiences really do me a wonderful kindness."
How to start your own wood pellet production line with best wood pellet business plan?
If you are planning to set up your own wood pellet production line or biomass wood pellets making factory, RICHI Machinery should be your best choice! Tell us your biomass raw material type, biomass pellet plant situation, wood pellet plant cost budget and other requirements, we will help you make the most suitable wood pellet plant business plan for you!
Since wood pellets fuel are green, renewable biomass energy, wood pellet production enjoys national policy subsidy in many countries. So it is exactly a profitable and promising project item to invest in. Richi Machinery is your reliable guidance and can provide you free consultation, help you start and promote your wood pellets manufacturing business.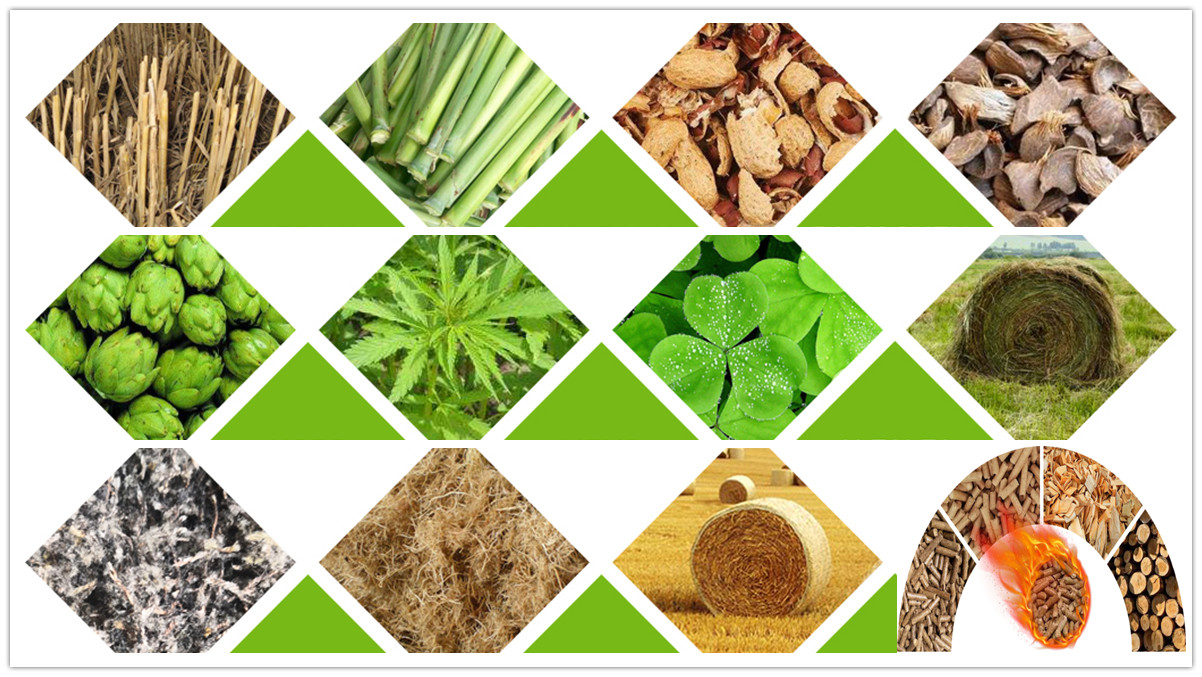 With the demand for biomass pellets ever increasing, many people have entered into this wood pellet industry with the hope of making some profits. This has resulted in increase in biomass pellets production, but one of the most commonly asked question which is unknown to most is, how much wood pellets can you produce from a ton of biomass raw materials?
The following are 3 key factors that can affect the wood pellet factory or wood pellet company production output:
The cleanliness of your biomass wood fuel pellet plant materials;
The moisture content of your biomass wood pellet plant material;
The quality of wood pellet making machine you choose.


If you are planning for setting up a complete wood pellet production line for biomass fuel making pellet, our best price wood pellet mill plant maybe what you will be interested in – ring die wood pelletizing unit.
Don't hesitate to contact us if you are looking for customized 1-40t/h ton per hour biomass fuel sawdust pellet production line for sale, welcome contact us and get more details of our wood pellet plant machine and wood biomass pellet plant machine pelletizing solution.