The customer of this 15 tons per hour feed plant for poultry and livestock project is Pingyi County Hekangyuan Feed Co., Ltd., located in Linyi City, Shandong Province, China. This customer commissioned RICHI in 2009 to build a new animal feed mill with an annual output of 120,000 tons of pellet compound feed. In 2019, based on the good market prospects, the client animal feed company plans to expand an animal feed pellet production line with an annual output of 36,000 tons on the basis of a 36000 tons/year animal pellet making plant, that is, a 15t/h feed pellet production line.
Main raw materials and products of the 15 t/h complete feed pellet line project
This 15t/h feed pellet production line is mainly used for the processing of pig feed and chicken feed. The main raw materials include corn, soybean meal, rice bran, bran, distiller's grains, flour, stone powder, soybean oil, etc.
| Production name | Capacity(t/a) |
| --- | --- |
| Pig feed | Chicken feed |
| 16800 | 19200 |
Animal feed manufacturing process(including the original pellet production line process)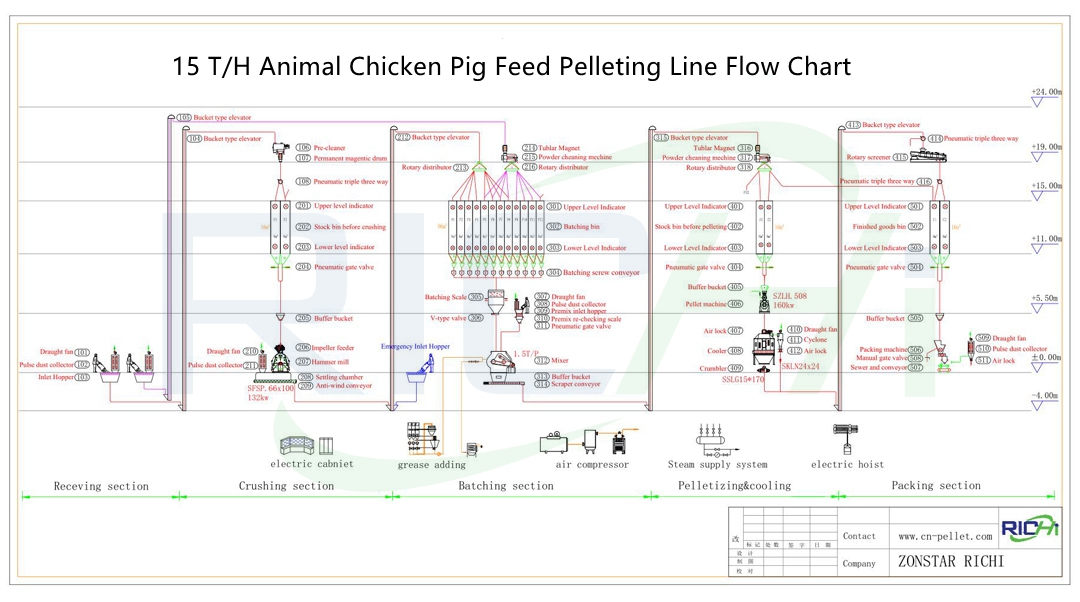 Feed manufacturing process of pellet raw materials
Granular raw materials-cleaning-vertical silo-magnetic separation-crushing-secondary crushing-batching, weighing, mixing-granulating-cooling-crushing-screening-packaging
Feed production process of powdered raw materials
Powdered raw materials-cleaning-magnetic separation-crushing-secondary crushing-batching, weighing, mixing-granulating-cooling-crushing-sieving-packaging
Main feed equipment of the 15 t/h poultry livestock pellet feed line project (including the original animal feed machine)
| Animal feed machinery name | QTY | Model |
| --- | --- | --- |
| Pulse bag dust collector | 1 | TBLMA9 |
| Scraper conveyor | 1 | GST350 |
| Cylinder initial cleaning screen | 1 | LQS80 |
| Permanent magnet cylinder | 1 | TCXT25 |
| High-efficiency feed grinder | 1 | SFP-Y |
| Pulse Dust Filter | 1 | TBLMa9 |
| Rotary distributor | 1 | DHF-8 |
| Computer batching scale | 1 | SCS-2000 |
| Biaxial paddle type high-efficiency feed mixer machine | 1 | SLHSJ4 |
| Bucket elevator | 1 | DTGK40/28 |
| Animal feed pellet making machine | 1 | SZLH508 |
| Counter-flow cooler | 1 | SFLN16 |
| Roller pellet crumbler | 1 | SXPG24 |
| Grading sieve | 1 | SFJH130 |
| Quantitative packaging scale | 1 | DCS-50 |
View detailed animal feed business plan for 15t/h pig chicken feed pelletizing production line project