Cattle farming status in U.S.
The United States mainly uses large-scale industrial chains to raise cattle. In terms of feed, most of the feed for cattle is their own crops, such as silage, corn, alfalfa, and wheat straw, which saves a lot of feed cost. At the same time, a large number of mechanized operations in the United States completely solved the planting problem.
Among the cost of animal breeding in the United States, feed, equipment & plant and labor are the top three costs. Feed costs account for about 50%, and short-term fluctuations are large. Machine workshop costs account for about 20% and labor costs account for 15%. Both are relatively stable.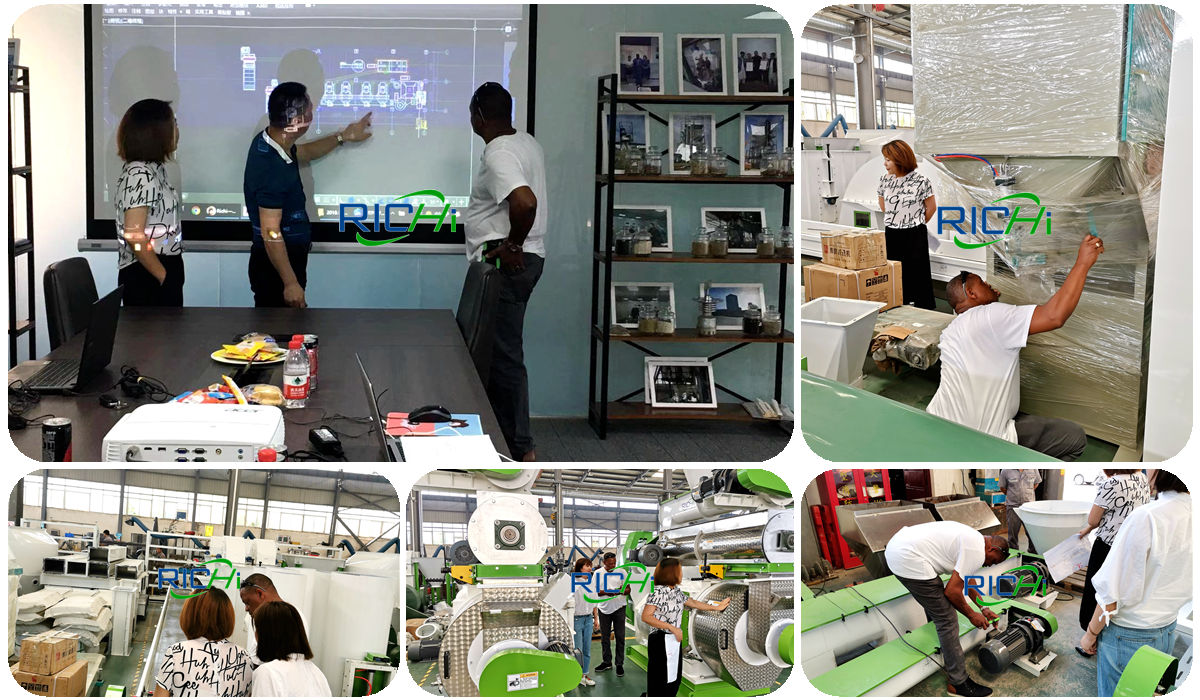 USA cattle feed plant project customer visit RICHI factory
In other respects, management costs are gradually decreasing, and medical epidemic prevention costs are gradually increasing. Today, as the scale of farming grows larger, the cost of feed in the United States as a percentage of total cost has continued to decline for two decades.
Why USA customer choose RICHI as his cattle feed machinery manufacturer?
Against such a promising background, investing in cattle feed mill plant in the United States is a very high-return option. However, it is obvious that the purchase conditions of cattle feed making machine by American customers must be very strict, but this time the entire cattle feed palnt design and cattle feed manufacturing machine of this US 11-12 tons/hour automatic cattle feed plant are supplied by Richi Machinery.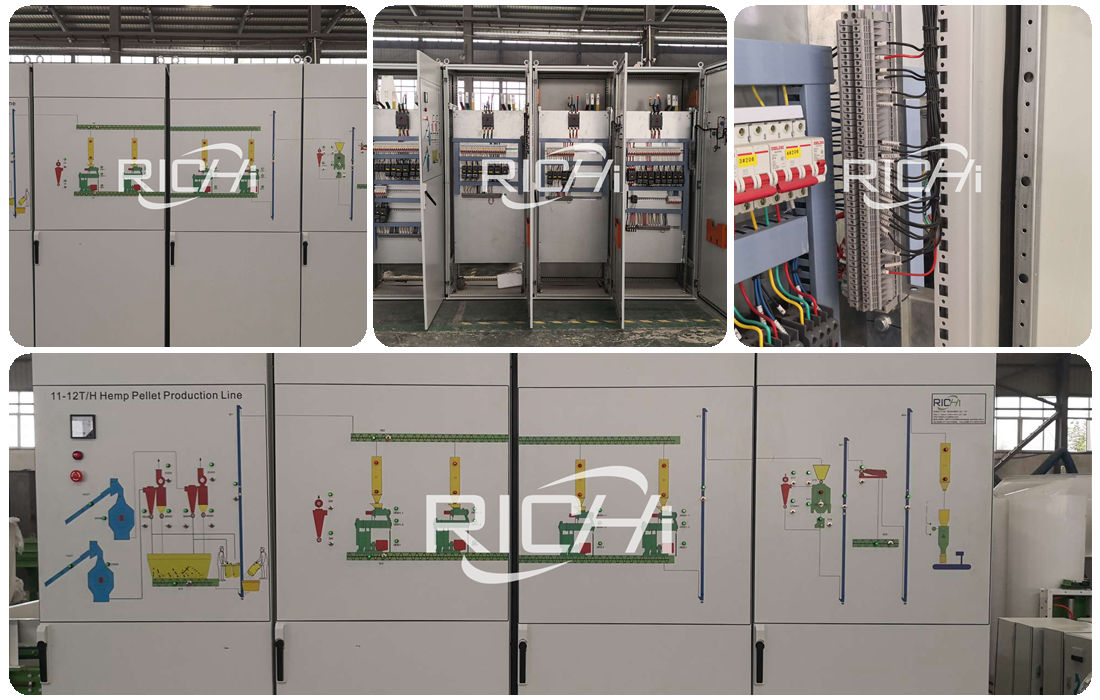 Electric control cabinet for this large scale cattle feed plant project
When we confirmed to our customers why we chose Richi's cattle feed business plan and cattle feed machine, American customers very sincerely said:
"Cattle feed plant process design and cattle feed plant machinery directly affect the output and quality of feed. We were very cautious when choosing the cattle feed mill equipment. We ran several enterprises in China and made a comparison and selection. In the end, we chose Richi Machinery. The reason is very simple: we value the advanced cattle feed production unit technology and reliable cattle feed making machine performance."
Raw materials for cattle feed production in 11-12 t/h cattle feed plant for sale United States
The customer of this large cattle feed plant project is a cattle famer and uses the largest part of its feed production for its own cattle farms. The raw material required for cattle feed in thie cattle feed manufacturing plant are grass, corn, wheat bran, soybean meal, and require processing of 4-8mm pellets. The special point of the 11-12t/h automatic cattle feed plant project is that it contains hemp in its raw materials.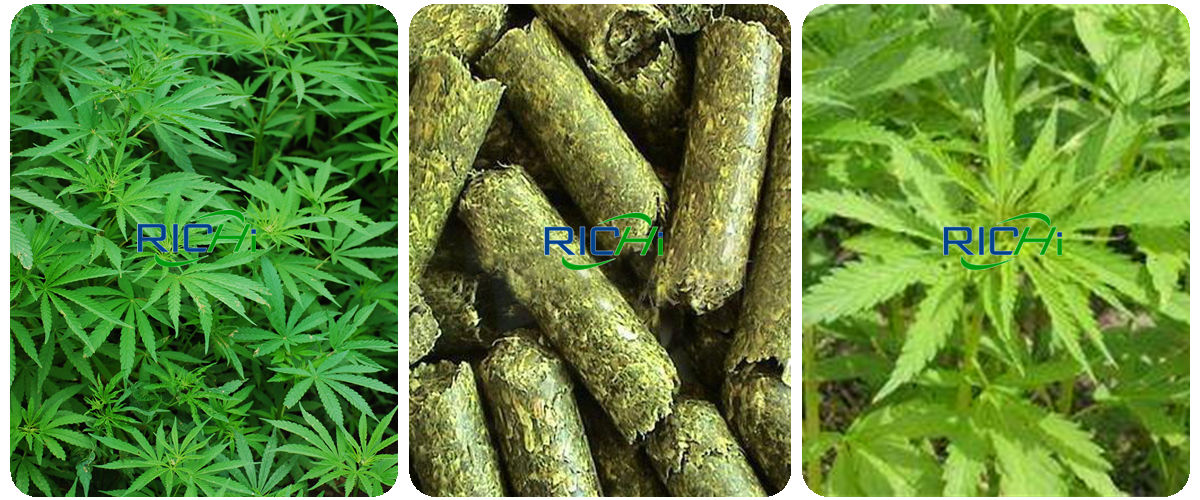 Hemp is a kind of forage grass, but also a kind of biomass. Hemp has a wide range of uses, from cannabis coagulum, plastics, CBD oil, hemp protein, to animal feed. Many people think that biomass is used as energy, which is true, but biomass pellets such as alfalfa and hemp can be used not only as biomass fuel but also as animal feed. Hemp protein is very easy to digest, so it can be used in most domestic animals.
Many people have doubts about hemp pellet feed, but in fact, hemp plants must be certified by the laboratory before they can be harvested. The THC content of the cannabis plant must not be higher than 0.3%, otherwise it must be destroyed. Therefore, the cannabis actually used in feed has been scientifically processed and can be fed to animals.
Complete cattle feed production process of cattle feed manufacturing plant in United States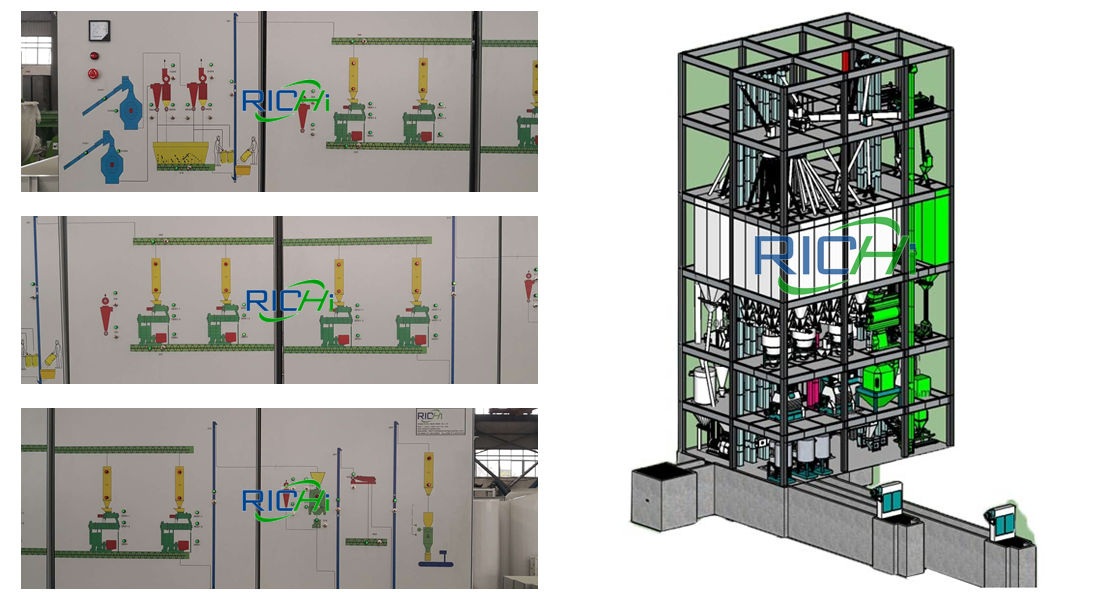 The cattle feed manufacturing process is printed on the electric control cabinet to be shipped
Whole set of cattle feed equipment needed in the 11-12 tph cattle feed plant USA
| Cattle feed machine details | Model | QTY |
| --- | --- | --- |
| Pulse dust collector | TBLMa.36b | 2 |
| Storage bin | 2m³ | 2 |
| U-Screw conveyor | TLSSU40 | 2 |
| Cyclone | SK1000 | 2 |
| Cattle feed mixing machine | SLHY5.0L | 2 |
| Scraper conveyor | TGSU32 | 1 |
| Cattle feed pellet making machine | SZLH420 | 4 |
| Stainless steel conditioner | TZ42*300 | 4 |
| Cooling Machine | SKLN20*20 | 1 |

Advanced cattle feed pellet machine for making feed pellets for cattle in this hemp feed production project in United States
It is worth mentioning that due to the particularity of the customer's raw materials, Richi was asked to equip the cattle feed plant with an advanced pelletizing technology system. This cattle feed pellet making machine is used to produce animal feed in pellet form, and combines the latest sanitation and compacting technology with the most up-to-date safety standards.
An individually-selectable hygiene mode ensures optimum sanitation and product quality, and in combination with the dirt-resistant surfaces and cleaning automation ensures quick and easy cleaning and maintenance. This and other advantages convinced customer to equip his automatic cattle feed plant with Richi cattle feed machinry.
These hemp cattle feed pellet machine were developed for top throughput capacities in compound feed pelleting, and can process even difficult-to-press raw materials which have a high fat or fiber content.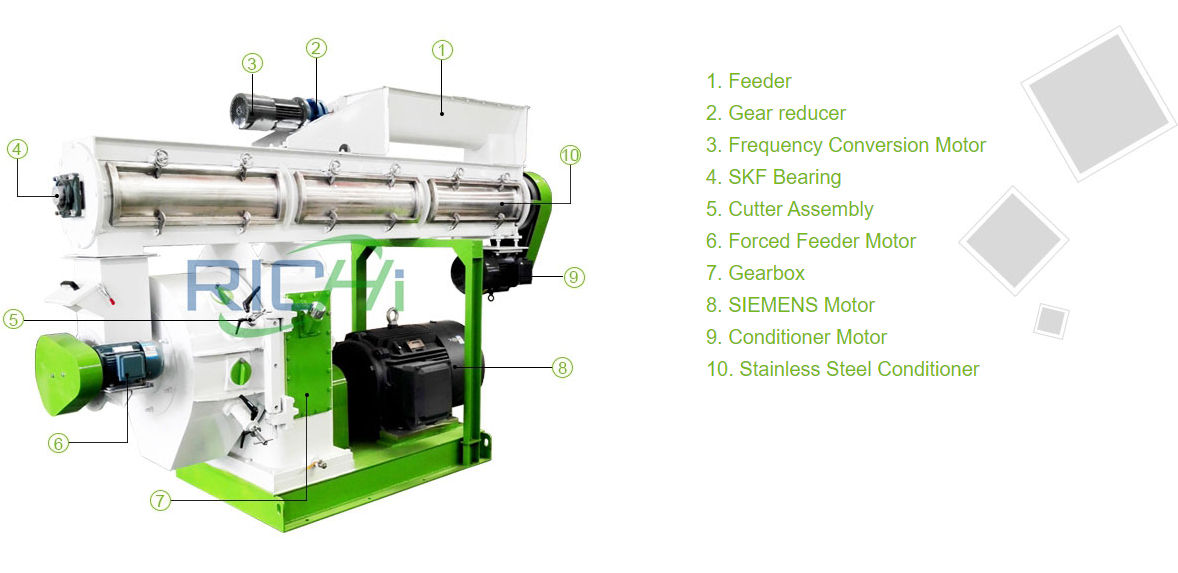 Cattle feed pellet machine used in this USA hemp feed pellet plant for cattle farm
The cattle feed pellet plant machine sets new standards in terms of efficiency and performance: substantially lower energy consumption in comparison to conventional cattle feed pellet mills, production capacities of up to 20t/h, motor ratings of 220 or 260 kw and a customer-oriented design are just some of the advantages of this Richi cattle feed equipment.
However, thanks to the extremely compact design, the cattle feed pelleting machine takes up very little space(workshop size:16m*7m*7.5m)– it delivers twice as much capacity with the same footprint as conventional cattle feed pelletizer. It's not just Richi's top quality cattle feed pellet machines, but also the excellent customer service that are responsible for ensuring customer satisfaction.