Indonesia 3-5 t/h goat cattle feed manufacturing plant project report
Indonesia's animal feed industry has contributed considerably to development of livestock farms in the country. Feeds account for 70% of the total production cost of livestock farming. In general, animal feed industry has good prospects in the country.
In October 2017, the Indonesia customer of this cattle feed plant project sent us a message:
"I am representing our company from Indonesia. I am interested about a 3-5 t/h goat and cattle feed pellet line production. I would like to know more information about the ruminant feed line price and tehnical parameters of this cattle and sheep feed line. Thank you and I hope than we will colaborate in near future."


Indonesia 3-5t/h cattle feed pellet plant project customer visit
This is a customized sheep cattle feed production unit project for making sheep and cattle pellets, because the raw materials for cattle feed production in this Indonesia cattle feed production plant include crude fiber materials such alfalfa, husk, straw, the percentage is different for cattle/goat in different ages.
In other words, this 3-5t/h complete ruminant cattle feed mill plant can produce dairy feed pellets, cow feed pellets, lamb pellets, ram lamb and ewe pellets, etc. It can also be said that this is a feed production line that produces alfalfa pellets, because alfalfa has the highest content in the raw materials.
Manufacturing process of complete Indonesia livestock feed plant with 3-5 tons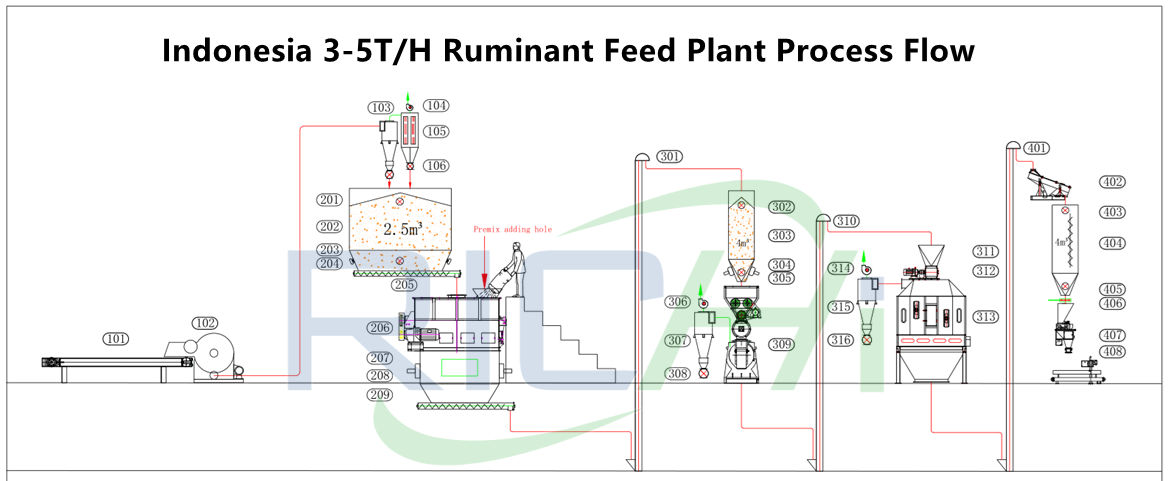 Cattle feed production process of Indonesia 3-5t/h ruminant feed mill
Sheep and cattle feed machine needed in the high quality cattle feed manufacturing plant in Indonesia
| Ruminant sheep cattle feed plant machinery | Model | QTY |
| --- | --- | --- |
| Cow grass cutting machine | 9FQ56-120 | 1 |
| Pulse dust collector | TBLMa.36b | 1 |
| Screw conveyor | TLSU30 | 1 |
| Cattle feed mixer machine | SLHY2.5L | 1 |
| Bucket elevator | TDTG36/28 | 1 |
| Storage bin | 4m³ | 1 |
| Cattle feed pellet machine | MZLH.520 | 1 |
| Stainless steel Feeder of cattle feed pellet making machine | WLQ32 | 1 |
| Force feeder of cattle feed pellet mill | M-42 | 1 |
| Stainless steel conditioner of cattle feed pelletizer | TZ42*300 | 1 |
| Cooling machine | SKLN20*20 | 1 |
| Vibrating screener | TDZS100 | 1 |
| Packing machine | DCS-50 | 1 |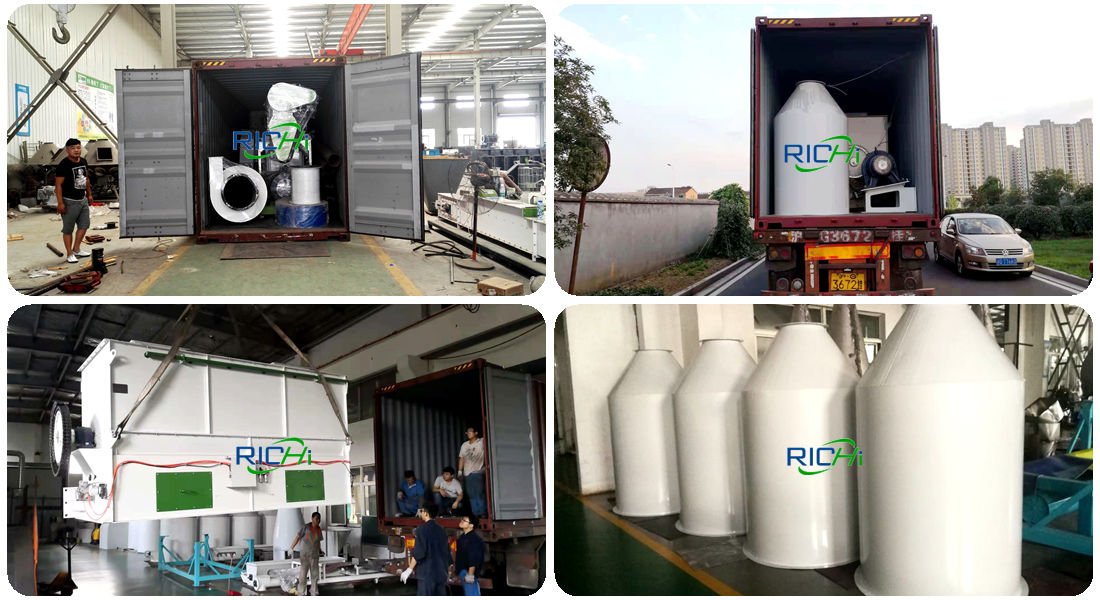 Indonesia 3-5t/h cattle and sheep feed plant machinery delivery
Indonesia 3-5t/h fully automatic cattle feed plant drawings we provide to the customer
Layout of the sheep and cattle feed production line;
Installation drawing of sheep cattle grass feed mill steel structure;
Installation drawing of cattle feed mill equipment.

Indonesia 3-5t/h customized cattle feed plant site
How to Increase the Profitability of Ruminant Sheep Cattle Feed Plant In Indonesia?
Everyone aims at increasing profits towards the cattle feed business they are involved in. Suppose you want ensure the profitability of your cattle feed production business, how will you deal with it? The first thing you will think of are ways to increase cattle feed factory machines productivity.
To get more significant benefits, you need to know the position that you are in and how you can improve it. You must have a starting point for more significant improvements. How you can increase the profits of the ruminant feed plant for cattle and sheep pellets?


01
Reducing Sheep Cattle Feed Processing Input Cost
This may be considered as the best way for many people. When you reduce the cost of ingredients involved in ruminant animal feed production line, high profits will come up. It is better to look for other ways before lowering input costs.
02
Increasing Sheep Cattle Feed Production Rate
In long term, you may want to save money and have to cater for damages the cattle feed equipment involved, and yet you could have solved it earlier. Increasing the productivity of the cattle feed machine would be practical and achievable way by producing more consideration tons of cattle and sheep pellets in less time, which further can expanding the profitability.


03
Ensure High Quality Sheep And Cattle Pellets
To ensure the productivity is at its best, you need to have a great balance between sheep and cattle feed production rate and feed pellet quality. Good quality sheep and cattle pellets represent a high return on the ruminant feed factory investment, while low quality sheep and cattle pellets are certainly not going to be profitable in the long run.
04
A Proper Energy Savings Plan For The Cattle Feed Manufacturing Plant In Indonesia
Investing in motors that save energy can save the cattle feed plant costs that may be brought by broken steam lines. This also has effects on the environment that the cattle feed plant mill is in and the people around it. The energy that is environment friendly and better for workability would be great.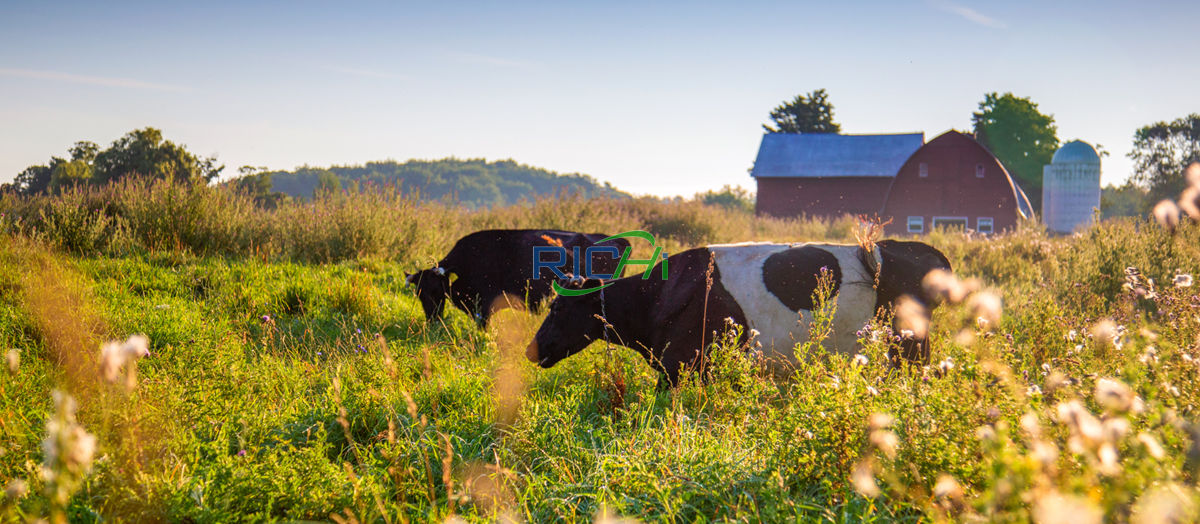 05
Good Housekeeping For The Cattle Feed Manufacturing Plant In Indonesia
To increase cattle feed plant productivity, it is better to have a good housekeeping program, which will ensure the ruminant animal feed factory where employees are working is clean. It should also be in the lookout for rodents and pests that may come to destroy the machines being involved at work.
06
Good Data Collection For The Cattle Feed Plant In Indonesia
It may seem like something that is not be considered in this case, but the truth is it is very vital. It is essential to pay attention to the quality of the ingredients being involved. Track both the inputs and outputs to have proper records, and it will show when the cattle feed mill factory production is increasing or decreasing.