Potential livestock feed production in Mauritania
Mauritania has potential to be one of the top livestock industries in the region with traditional export practices of live animals to most neighboring countries in West Africa. In order to establish a red meat export initiative to fulfill its potential to be one of the top livestock industries, the Government of Mauritania learned from Zambia's experience. Lessons from the study tour resulted in policy changes; some were integrated into a feasibility study. Mauritania is being positioned to attract external funding and investment for this project.


Under the "Belt and Road" initiative, Richi Machinery has achieved outstanding results in modern animal feed production projects established in Southeast Asia and African countries. In early 2018, Mauritania's 10t/h livestock feed production line project was officially put into operation, which once again confirmed the pace of Richi Machinery's accelerated implementation of the "internationalization" strategy.
Overview of 10 t/h livestock feed plant for animal feed in Mauritania
The customer is from northwestern Africa and has been engaged in the local breeding industry for many years, is one of livestock feed manufacturers in Mauritania. He is also an old customer of RICHI. The relationship between RICHI and this customer started with an animal feed pellet machine.

Mauritania 10t/h livestock feed manufacturing plant custmer visit
At the end of 2015, the customer consulted us about the animal feed pelleting machine on the official website of Richi Machinery. After analyzing the customer's needs, we recommended him the ring die pellet machine for making animal feed pellets. In this animal feed mill machine project cooperation, RICHI's high quality animal feed machine quality and service level also left a deep impression on customers.
In November 2017, the Mauritania customer contacted RICHI again and indicated that he wanted to expand animal feed production by investing in a 10T/H semi-automatic livestock feed mill for mash and pellet feed.
With crude fiber materials with 30-50% percentage;
Livestock feed plant height is controlled in 15 meters;
Livestock feed raw materials are strawhusk, corn, soybean meal, oil, premix;
Need 0.8-12mm different size pellet feed and mash feed.
These 4 points are the Mauritania customer's request for the 10t/h livestock feed manufacturing plant project. Feeling the trust of the customer, RICHI immediately drafted a livestock feed business plan for the customer and sent a 10 tons per hour livestock feed mill quotation to the customer in a short time.


Mauritania 10t/h livestock feed plant machinry delivery site
At the same time, in order to fully understand the actual situation of the customer, the sales manager, technical staff and engineers of RICHI also visited the customer site. In the end, the commercial feed mill equipment and steel structure of this 10 tons livestock feed factory project were built by RICHI.
How to make livestock feed with the 10 t/h low cost livestock feed mill in Mauritania?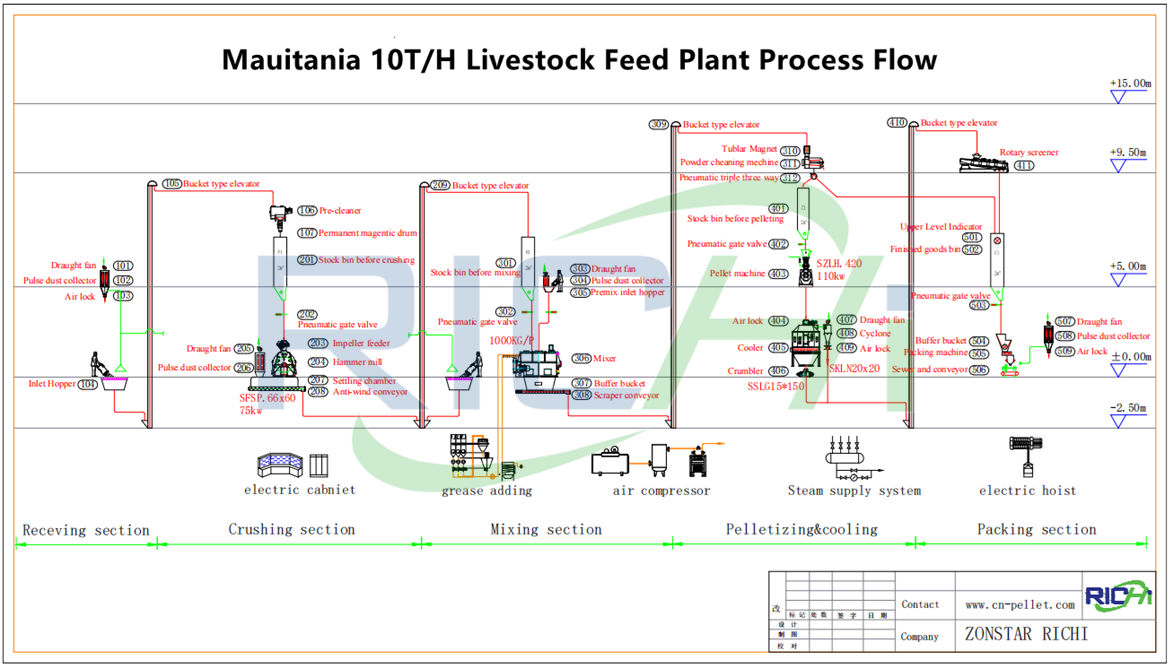 The powdered feed is directly received manually after mixing
Mauritania 10tph livestock feed mill equipment
Livestock feed grinder machine*110KW
Livestock feed mixing machine*1000kg/batch
Livestock feed pellet machine*110kw
Livestock pellet cooling machine*SKLN20*20
Livestock pellet crumbler*SSLG15*150
Screener machine
Automatic packing machine
Diesel boiler*1t/h
Other auxiliary equipment
The Mauritania 10 tons per hour livestock cattle feed plant design is adapted to local conditions, the entire 10 tons livestock feed production plant site layout is compact and reasonable, and the whole 10t/h livestock feed production line is smooth and simple.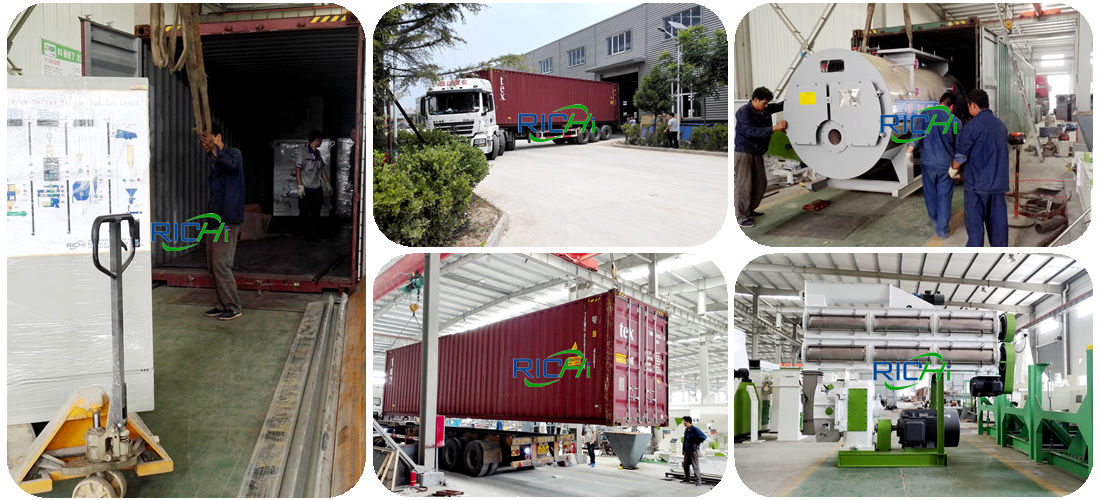 Mauritania 10t/h livestock feed mill machinry delivery
Discovering customer needs and meeting them is the reason why RICHI gains customer trust. We are not simply selling products, but helping customers to run a livestock cattle feed mill project, come up with attitude and strength, and naturally return!