NEWS
RiChi News
Follow Richi Machinery trends, collect industry information, and discuss market focus.
[New order] 5T/H Cattle Feed Alfalfa Pellet Plant For Sale Argentina
Date: 2021-12-09 17:50:40
From: www.pellet-richi.com
Clicks:
---
Recently, we signed a new project with an Argentine customer——5 tons per hour alfalfa pellet plant for ruminant cattle feed production. The Argentine customer will use 100% alfalfa to process grass pellets to feed cattles, dairy cows. This 5 tons per hour grass alfalfa pellet production line mainly includes alfalfa pelet machine, alfalfa grass crusher, cattle feed mixture machine, cattle feed grinder machine, etc.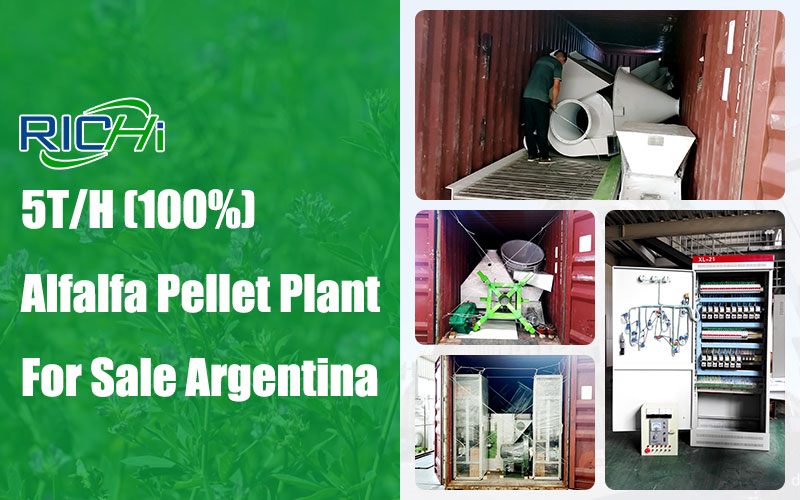 (If you want to know how to pelletize alfalfa or how much is a commercial alfalfa pellets making machine, please contact us directly)
Alfalfa forage fodder, as a very important and beneficial ruminant cattle feed for reducing costs, its feed has been highly valued by practitioners.
Richi Machinery, as a pioneer and leader in forage feed, has been deeply involved in this field for many years and has provided cattle alfalfa pellet mill equipment, full automatic cattle feed plant engineering and technical support to 25% of forage feed customers in the market.
RICHI has the most professional and complete series of alfalfa pellet making machine in the industry, point "grass" into the hard power of gold.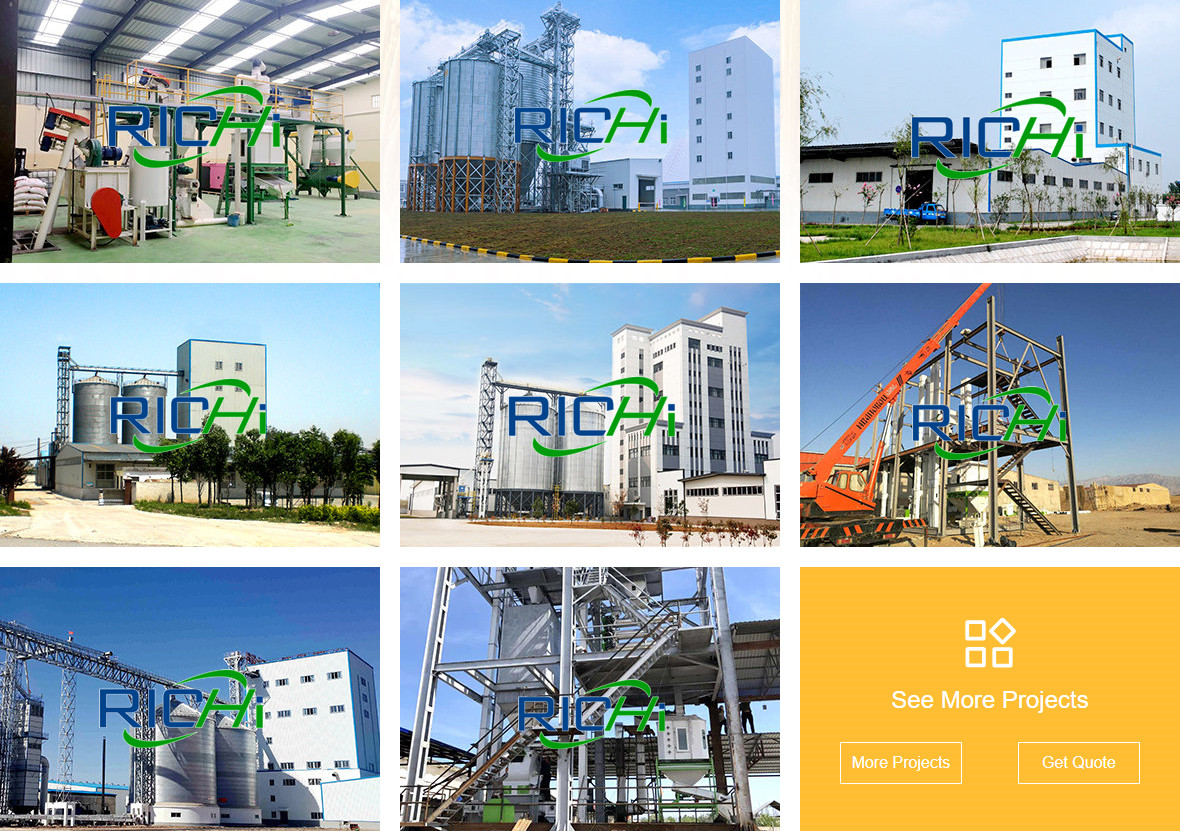 How does RICHI MACHINERY turn "alfalfa grass" into gold? How to turn ordinary pasture into nutrient-rich feed? How to make cattle and sheep eat luxurious and nutritious "feast"?
The Cattle Industry in Argentina
Argentina has an area of ​​2.78 million square kilometers and a population of more than 40 million, ranking 31st in the world's population. However, the number of cattle here has reached more than 50 million, which is about 1.3 times the population of the country, which is equivalent to saying , The country has 1.3 cows per capita.
As a big beef country, Argentina, whether it is export economy or domestic consumption, beef accounts for a lot of weight, especially domestic consumers.
Argentines are the world's most voracious beef eaters, consuming nearly 154 pounds (70 kg) a year. Local beef prices are a hot-button political issue, and the government has curbed beef exports to tamp down prices while at the same searching for ways increase supply.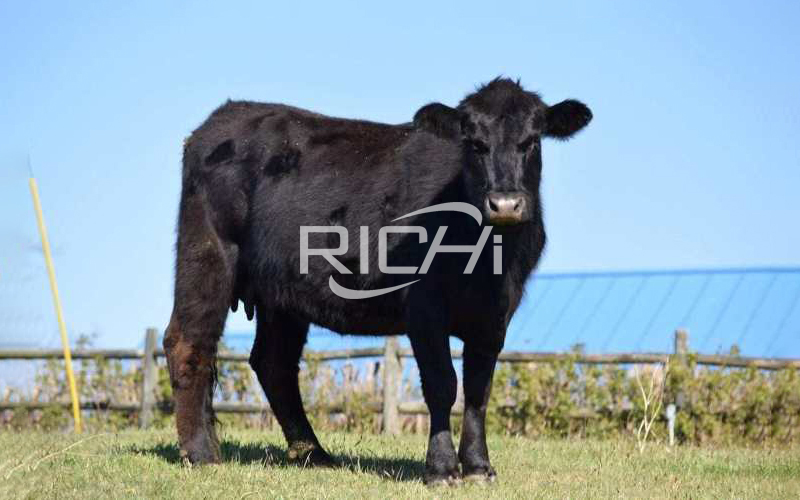 Cows grazing freely on the vast Pampas have long been part of Argentine tradition. Now that view is changing as ranchers herd their cattle into feedlots. Breaking with a history of cattle roaming the plains, feeding on grass and herded by gauchos, many farmers are looking to increase efficiency and free up land for the profits of grains.
Therefore, many cattle farmers are changing their feeding methods, and scientific and nutritious pellet feed has become their first choice. Especially alfalfa pellets that are most suitable for feeding cattle.
Leading alfalfa pelletizing technology advantage for cattle alfalfa feed pellet plant
RICHI's leading technology perfectly realizes the ability of one production line to produce multiple types of feed, which can produce pure grass granular coarse fiber feed, a variety of forage mixtures, pure concentrate formula animal ruminant feed, and crude fiber plus concentrated feed multi-proportion compound feed.
The 5 tons per hour alfalfa pelet machine plant process can also be perfectly combined with different crude fiber forage bundling forms (or grass powder incoming materials) according to the customer's different raw material formulations.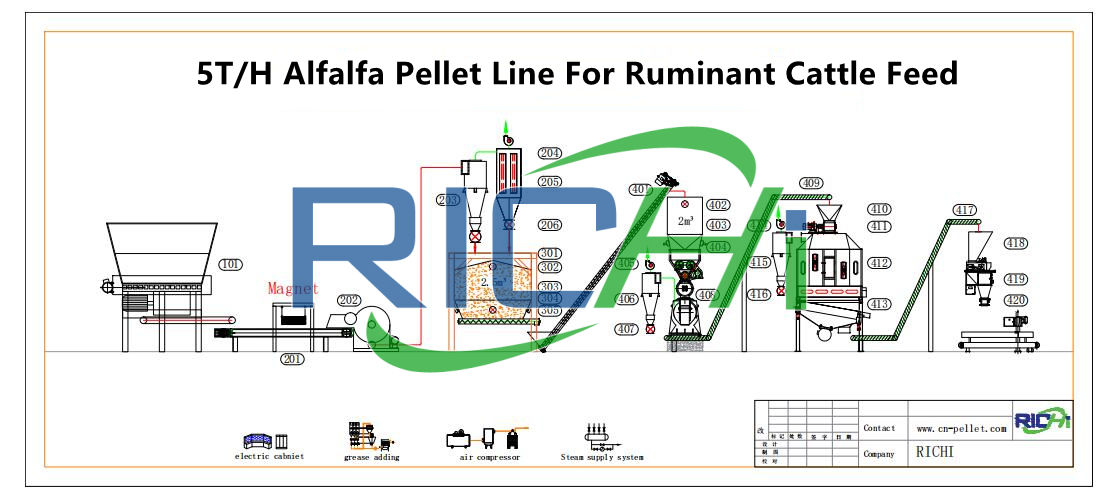 Alfalfa grass crusher(Coarse crush)
Scope of application: Used for large-scale coarse crushing of forage raw materials such as alfalfa, licorice, rye grass, straw and so on for square bales.
Side full width feeding, with conveyor, high degree of automation;
Built-in widened particles, thickened wear-resistant hammers, uniform crushing particle size;
Tire-type coupling, with large transmission torque and significant vibration reduction effect;
Quick-opening inspection door, convenient and quick to change the screen and clean up;
Select high-quality imported SKF bearings with long life.

SFSP alfalfa crusher (Finely crush)
Scope of application: It is used for large-scale and fine crushing of forage materials such as alfalfa, hemp, , licorice, ryegrass, straw and so on.
The widened feed inlet, the material enters more smoothly and evenly;
Built-in widened rotor, thickened wear-resistant hammer, uniform crushing particle size;
Snake-shaped spring coupling, with large transmission torque and remarkable vibration reduction effect;
Quick-opening inspection door, convenient and quick to change the screen and clean up;
Select high-quality imported SKF bearings with long life.

MZLH Alfalfa Pellet Mill
RICHI patented full ration (forage grass powder) alfalfa cubes pellet mill, innovative feeding mechanism, uniform and reliable feeding, specially designed for forage, ruminant addition, peanut seedlings, straw and other materials with lighter bulk density;
The alfalfa hay pellet machine uses high-precision gear transmission, quick-release hoop-type ring die, the output is about 20% higher than that of belt-driven type;
The transmission part of the whole alfalfa pellet mill machine adopts high-quality bearings from Sweden and Japan to ensure high-efficiency, stable and reliable transmission;
The alloy steel ring die of the pellet mills for alfalfa manufactured by international advanced equipment and technology has long service life, smooth discharge and high quality;
The alfalfa pellets mill ring die is made of international advanced steel, imported automatic gun drilling, and quenched in a vacuum heat treatment furnace. The hardness of the working surface is HRC62 -65, and the service life is more than 500 hours;
The alfalfa pelletizer machines adopts international advanced level of compensation type serpentine spring coupling, with novel structure, compactness, safety, low noise, low failure and other excellent performance.

Richi Machinery has always been committed to solving the difficult problems of the cattle ruminant industry. On the basis of introducing international advanced alfalfa grass pelletizing plant technology and environmental protection and biomass energy management experience, relying on foreign advanced alfalfal pelleting technology and its own strong scientific research and development, as well as hundreds of ruminant complete sets of alfalfal pellet plant engineering design experience, continuously create profit and value for global customers.
The above is the article for you: [New order] 5T/H Cattle Feed Alfalfa Pellet Plant For Sale Argentina.
If you are interested in our products or project solutions, please contact us. We will give you the best product quality and the best price. Email: enquiry@pellet-richi.com
---