Animal feed mill plant and animal feed machine for sale Botswana
The animal feed processing plant project to be introduced here is our first feed production project in Botswana. After that, we have also done fish feed production line projects and poultry feed plant projects in Botswana. The following is a list of our Botswana feed mill plant and feed making machine projects:


| | |
| --- | --- |
| 200-300kg/h small poultry feed making plant | 2019.12.24 |
| 150kg/h small fish feed plant | 2018.11.27 |
| 1-2TPH small scale livestock cattle feed pellet processing plant machinery project (This project) | 2018.10.27 |
| Farm animal pellet mill machine chicken duck feed pellet mill machine 380v 3kw | 2019.05.28 |
Background of starting livestock feed plant and livestock feed manufacturing business in Botswana
Botswana has an over $5 billion livestock industry, with all its international markets and their strict veterinary requirements. According to the data from the Food and Agricultural Organisation (FAO), Botswana's herd is put at 2.1 million. Over the past five years, livestock contribution to its economy amounted to $2.9 million according to data from the Trade Map.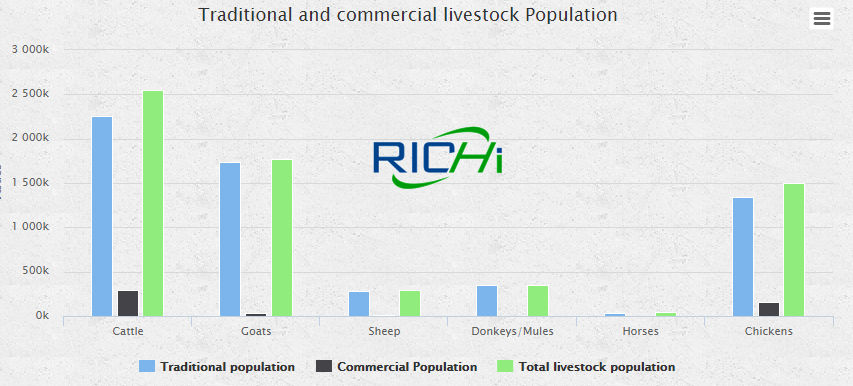 One of Botswana's greatest assets is rangelands. There are various facilities to help farmers export livestock. For instance, the ranches have feedlots and abattoirs. Botswana has a very advanced livestock industry. They converted the Kalahari Desert to a conducive place to breed cattle. They have also domesticated buffalos for the production of beef and milk.
| Livestock Type | Traditional Population | Commercial Population | Total Livestock Population |
| --- | --- | --- | --- |
| Cattle | 1,596,605 | - | 1,596,605 |
| Goats | 1,605,642 | - | 1,605,642 |
| Sheep | 227,247 | - | 227,247 |
| Horse | 26,827 | - | 26,827 |
| Donkeys/Mules | 227,200 | - | 227,200 |
| Chickens | 1,017,444 | - | 1,017,444 |
The Botswana government has banned the importation of dairy products completely and subsidised the production of fodder and other related products needed by the livestock industry. They are presently Africa's major exporter of beef to Europe.
Overview of establishing livestock feed processing plant 1-2t/h in Botswana
As can be seen from the above content, Botswana's livestock industry is very developed, which provides a good industry prospect for livestock farmers. Based on this background, the Botswana customer of this 1-2 ton small scale livestock animal feed plant project intends to invest in the construction of his own intensive livestock feed production system to process 2-6mm pellets to supply the needs of his livestock farm.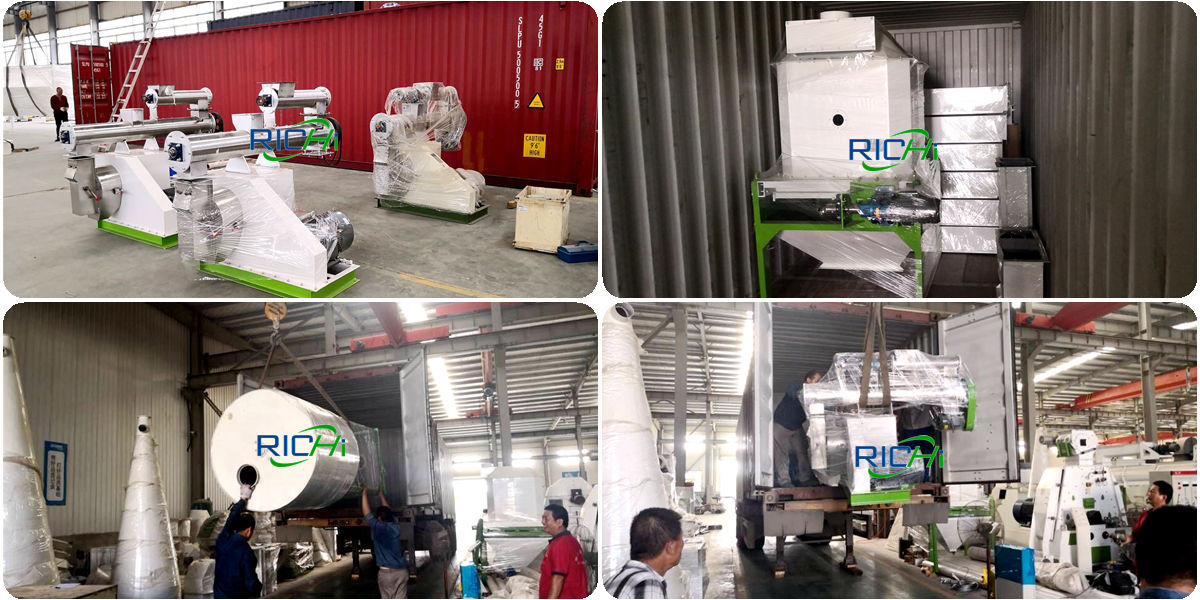 Equipment delivery for 1-2T/H cmmercial scale livestock feed production line equipment for sale Botswana
This simple farm use home use livestock feed pellet making line machine project was completed on October 27, 2018. The Botswana customer established this livestock feed production line mainly for the production of cattle feed pellets, goat feed pellets, etc. This small livestock feed producing line project is built on the his farm.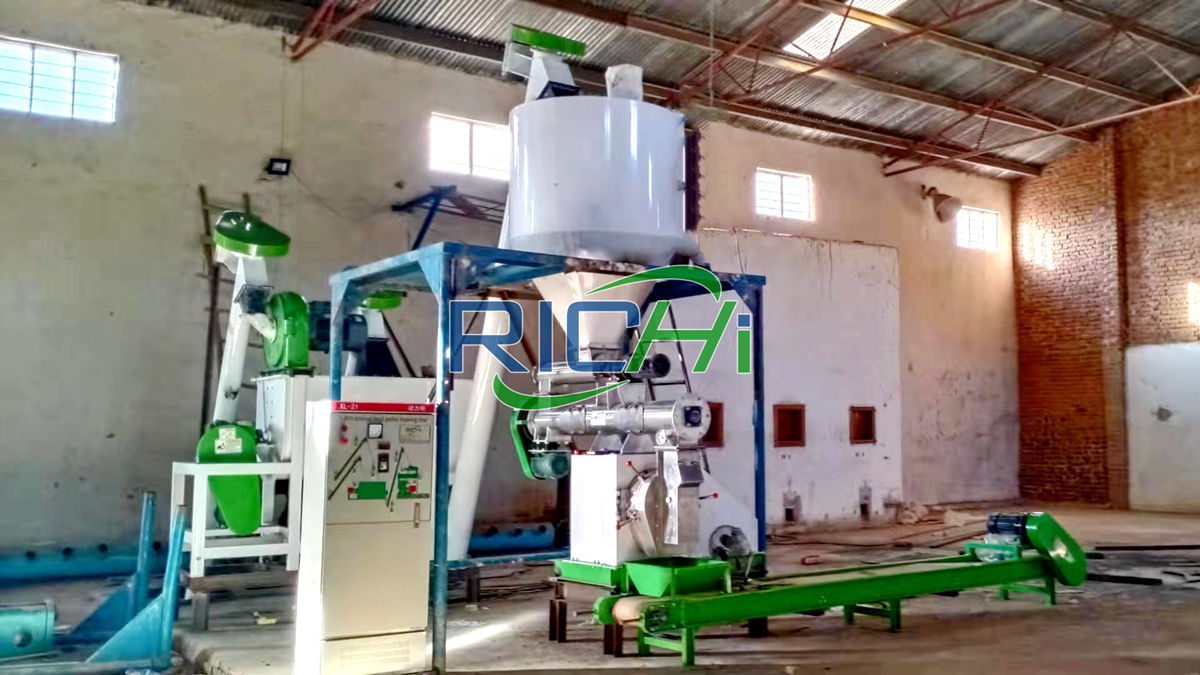 Site of 1-2t/h ton per hour livestock animal feed processing plant for sale Botswana
Due to the limitation of the site area, the small scale animal feed plant we designed for the Botswana customer only needs to cover an area of ​​6*3*7 meters, and the electricity consumption of the 1-2tph livestock feed plant machinery project is around 50kg/hour. We have equipped the Botswana customer with major livestock feed equipment such as livestock feed grinder, livestock feed mixer, and farm animal feed pellet mill.

Site of 1-2t/h ton per hour livestock feed making plant for sale Botswana
Since this small farm feed machinery plant will be used to process a variety of livestock feeds, we also equip customers with various types of ring molds according to the needs of different animal species. In addition, the customer did not configure the boiler, because the customer intends to purchase second-hand boilers in its surrounding areas, which can reduce a lot of equipment costs.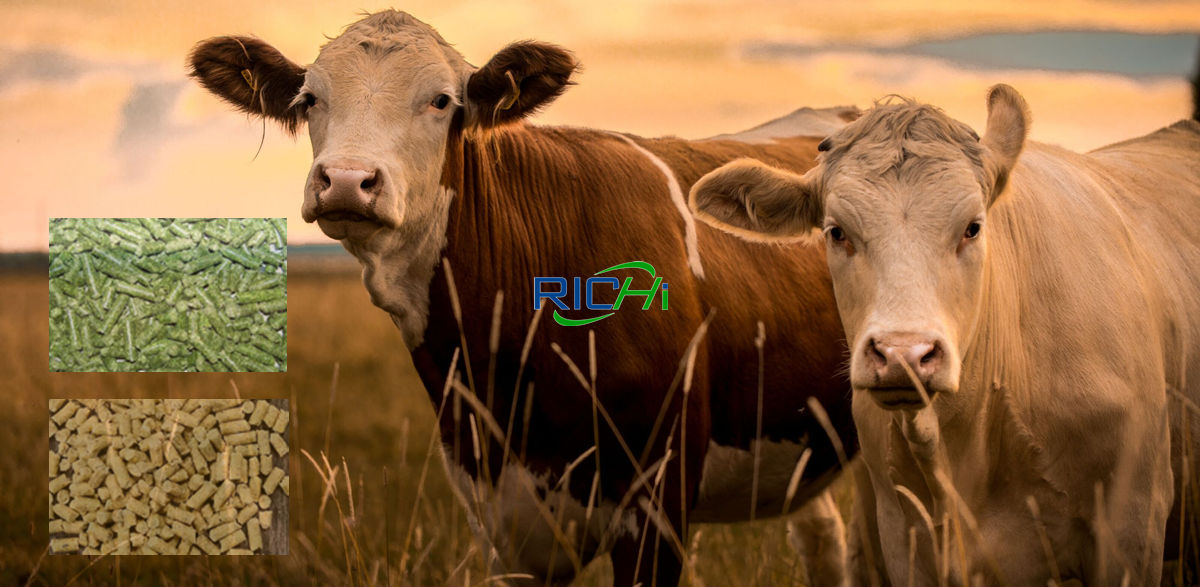 The Botswana customer's installation of this livestock feed pellet production line took 15 days. All the installation work was completed by local workers hired by the customer. Our service engineers provided full online guidance. Three days after the livestock cattle feed manufacturing plant installation was completed, the livestock pellet feed plant was put into operation. According to customer needs, this 1-2t/h customized livestock feed pellet plant arranged 3 workers to operate.
List of livestock feed manufacturing facility in this 1-2 t/h good quality livestock feed mill for sale Botswana
Livestock feed making machines for 1-2 ton per hour livestock pellet feed plant
Small livestock cattle cow sheep feed grinding machine*15-1000
Livestock feed mixer*RI-1000
Pellet maker for livestock*SZLH250
Screw conveyor*TLSS20
Feeder*WLQ16
Livestock pellet machine condtioner*TZQ22*180
Winnowing cyclone*SK60
Vibrating sifter*ZDS60*1
MCC Control Center ;Mimic Control Panel
Livestock feed manufacturing process of 1-2 ton per hour small livestock feed mill for sale Botswana
Process of making livestock feed in the Botswana small livestock feed pellet manufacturing plant for animal feed: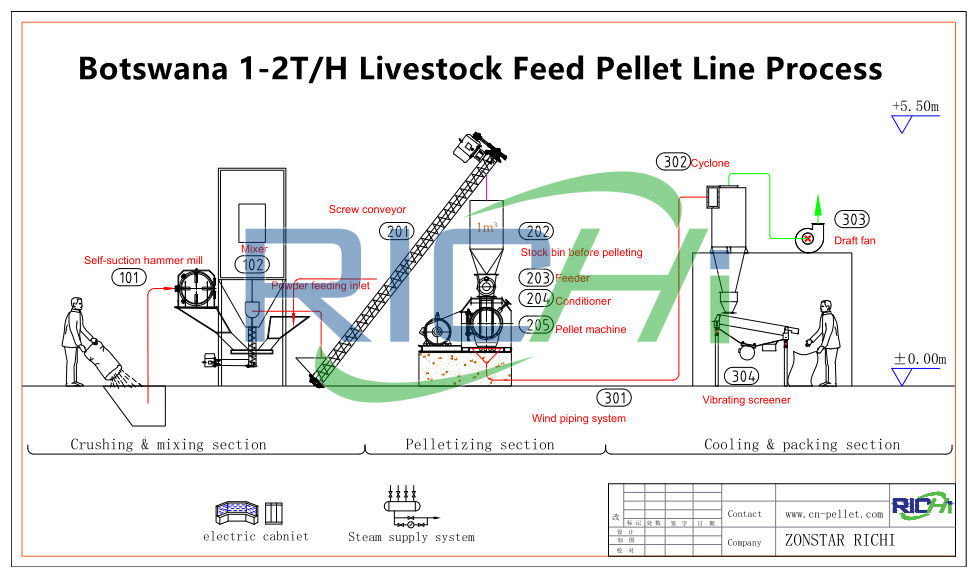 Process of making livestock feed in this 1-2t livestock feed making line Botswana
01
Livestock feed raw materials weighing and dosing section
The quality of your recipe essentially depends on the accuracy of the dosing and weighing of the ingredients in your mixed feed. Our solutions are designed to feed and proportion each ingredient with the high precision you need.
With our versatile grinding portfolio, consisting of horizontal and vertical hammer mills as well as roller mills, we can cover all of your size reduction needs. We can offer you solutions for pre- and post-grinding, coarse and fine grinding, as well as for creating crumbles of various sizes.
Livestock feed processing machine in this step: feed grinders for livestock / livestock feed crushing machine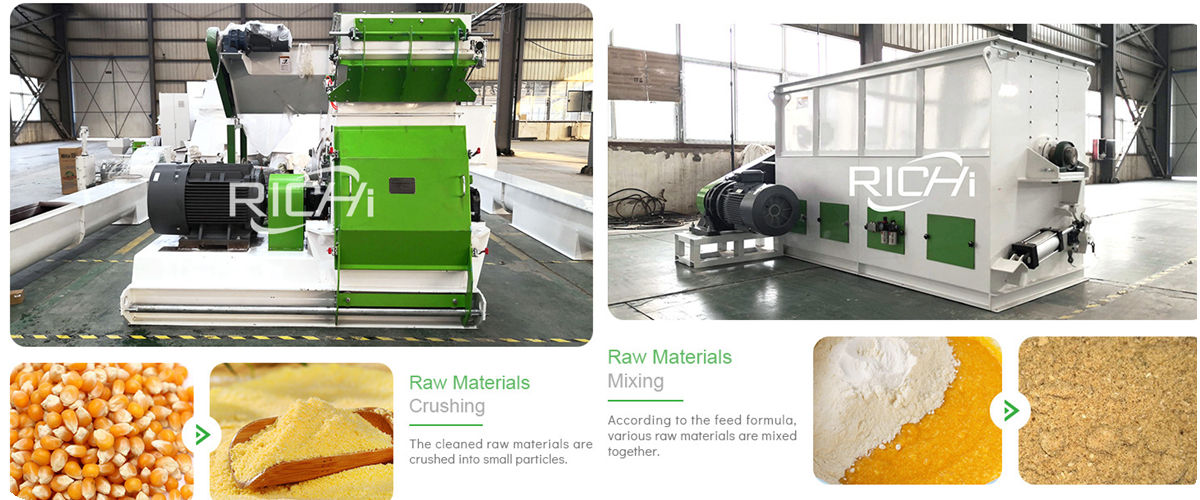 Mixing plays a key role in the processing of your feed. Our batch mixers with different holding capacities and smart paddle design offer you a quick and precise mixing cycle. Optional liquids-addition equipment can deliver the right liquidity too.
Livestock feed mill equipment in this step:livestock feed mixers for small farms
04
Conditioning and hygienization section
This modular system combines modern conditioning and hygienizing technology, which can be adapted to your animal livestock feed pellet mill pellet press pelleting process. High feed hygiene, reduction of start-up time and productivity increase are just some of the many advantages.
Farm commercial livestock feeds equipment in this step:livestock feed pellet mill conditioner


We know how to pellet a wide range of materials, including conditioning and hygienization of hulls. Our expertise focuses not only on creating pellets from China livestock food pellet machine. In partnership with you, we continually aim for a process that improves the quality of your end products.
Livestock feed machine in this step:livestock feed pellet machine/feed pellet machine pelletizer for livestock feed/mills that make pellet livestock
The cooling of your hot pellets is essential for further handling and proper storage. Our extensive range of countercurrent coolers provides you with efficient, hygienic and homogeneous cooling processes. Various discharge systems ensure gentle handling with minimal fines.
Livestock feed equipment in this step:livestock pellet cooler machine
07
Coating and post pelleting section (This project is not configured)
Coating your feed pellets with fats and oils, colorants and flavorings, vitamins and enzymes enables you to offer your products in a higher quality grade – at higher prices. Our coating and post pelleting application solutions can add this capability to your livestock feed processing line. This section is not necessary for many customers' pellet plant for livestock feed, it is determined according to the actual livestock feed production process.
Livestock feed maker machine in this step:Spraying machine
08
Bagging section(This project is not configured)
As a comprehensive solution provider, we can offer you a range of customized concepts for bagging your finished mixed feed, ready for dispatch. This section is not necessary for non-commercial livestock feed production plants.
Animal feed production equipment for livestock in this step:Automatic livestock feed bagging machine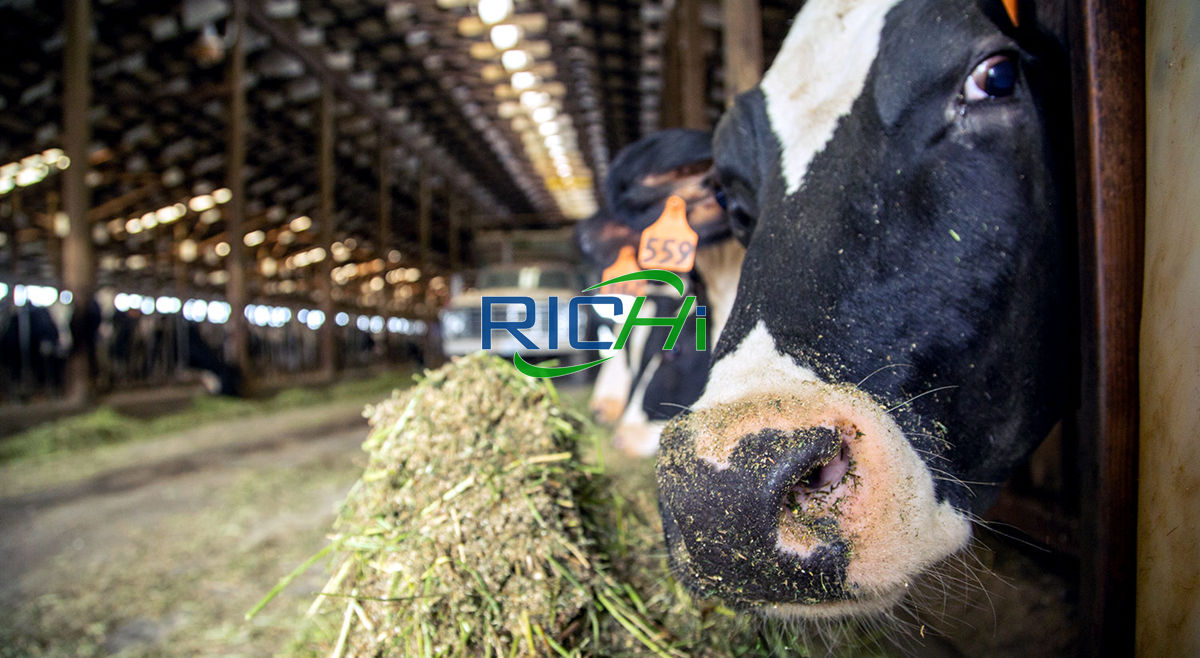 Why pelletize livestock feed by livestock feed production lines in Botswana?
Livestock feed pellets made by livestock feed plant are a balanced combination of various kinds of nutrition, and crucial for the enhanced growth of cattle, goat, horse, etc. Livestock feed manufacturing machine which converts fodder raw mateirals into standard pellets fit for animal consumption, effectively making the feed easy to digest and palatable as well. And more and more farmers and business man spend times and moneys to start animal feed pellet production or animal feed production business plan due to the huge market.


The raw materials for livestock feed pellets making include corn, wheat, soybeans, nutshells and other biodegradable materials such as grass, straw, and bagasse (sugarcane dregs). The livestock feed pellets require an additional component of moisture, which is achieved by introducing steam or molasses to the mixture.
Given that cattle, buffalos, cows and bulls all have diverse nutrition requirements, feed composition will contrast based on the type of livestock animal. The only constant is that the livestock feed must be rich in energy, protein, and fiber. Setting up a production line for livestock feed pellet can complete make high quality feed pellets for livestock animal growth.
Customized Livestock Feed Pellet Plants For Sale
Our mixed livestock feed milling plants are customized to your needs. Our deep technical and technological process knowledge and innovative technology will help you efficiently and sustainably produce safe feed to the highest hygiene standards. We offer livestock feed mill process solutions and consulting to transform a wide range of feed ingredients to safe, healthy and nutritious animal feed in order to reach the highest animal welfare and feed conversion rate, be it in the form of pellets, crumbles or mash.


The livestock feed mill technology underlying our animal livestock feed processing plant installations and the sound livestock feed mill process expertise of our engineers help you produce livestock feed to the most rigorous hygiene requirements, while mitigating cross-contamination.
If you feel interested in building a similar animal feed milling line or livestock feed processing plant, and need detailed livestock feeds equipment list and livestock feed equipment price, don't hesitate to contact Richi Machinery!