Saudi Arabia animal feed production potential market
The Saudi Arabia animal feed market was valued at US$2,482.521 million in 2019 and is anticipated to grow at a CAGR of 5.64% to reach US$3,450.535 million by 2025. Saudi Arabia is one of the fastest growing animal feed production markets in the middle east region, increasing consumption of raw and processed meat along with the rising health consciousness among consumers are driving the demand for animal feed manufacturing market in the country.
Poultry feed segment is dominating the animal feed production market since 2018 and is expected to be one of the fastest growing segment during the forecast period. This is primarily due to the restriction of the consumption of other livestock. Livestock products are considered as one of the foremost components in the local diet pattern, and its share in the food expenditure is increasing over recent years. The COVID-19 pandemic has disrupted the consumption of meat products as consumers are refraining from dining in restaurants.


The country mostly depends on imports of raw material, and with the restriction in global trade, the animal feed industry in the country is expected to witness challenges in the short term. However, the strict restriction in the country has boosted the demand for meat and other products across the household sector that helped the wholesale price of feed to remain steady. Besides, the government is also taking the initiative to reduce the impact pandemic on the animal feed production market in the form of a support program.
Overview of 15-16 t/h feed processing plant for cattle & poultry in Saudi Arabia
Due to the very large development space of the Saudi feed industry, this time the client is very determined to invest in the establishment of a large 15-16tph compound animal poultry cattle feed processing plant machinery and equipment producing both mash and pellets. The main raw materials of the Saudi poultry and cattle feed plant project are grass, lucerne, corn, soybean meal, etc.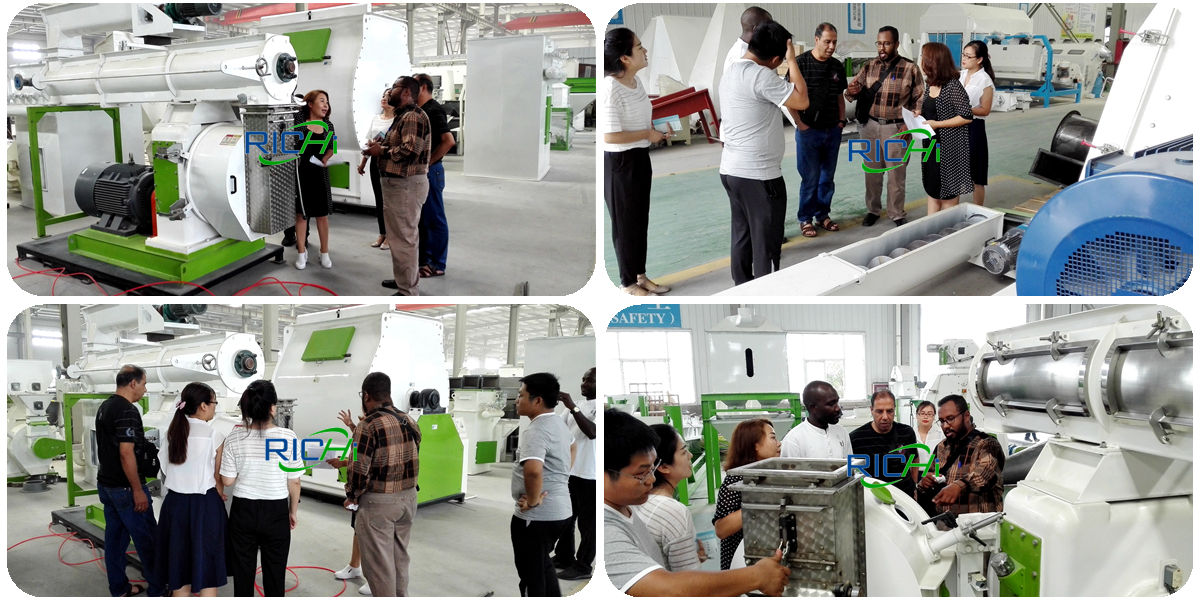 Saudi Arabia poultry and cattle feed plant project customer visit(1)
Among them, lucerne accounts for 33% of the customer's feed formula, lucerne pellet is rich in protein and a variety of trace elements, These nutrients can make livestock and purtry grow better, and the lucerne has a good palatability, and all kinds of livestock and poultry are fond of food. It can be seen that customers are very familiar with the current scientific and popular animal feed ratio.
The Saudi Arabia client of this 15-16t/h cattle & poultry feed processing plant project visited China in early 2018, spent half a month in China, visited more than 10 feed machine manufacturers, and finally signed with this customized fully automatic feed mill for poultry and cattle with 15-16 tons per hour production capacity. The feed processing plant for cattle & poultry is planned to be divided into two parts. One part is for cattle feed production (5-6t/h), and the other part is for chicken feed production(10t/h).
The Saudi Arabia 15-16t/h automatic cattle & poultry feed processing plant designed for customers adopts a totally enclosed design. The machine for making feed for chicken or cattle has advanced technology and is equipped with a dust removal system to effectively control dust pollution.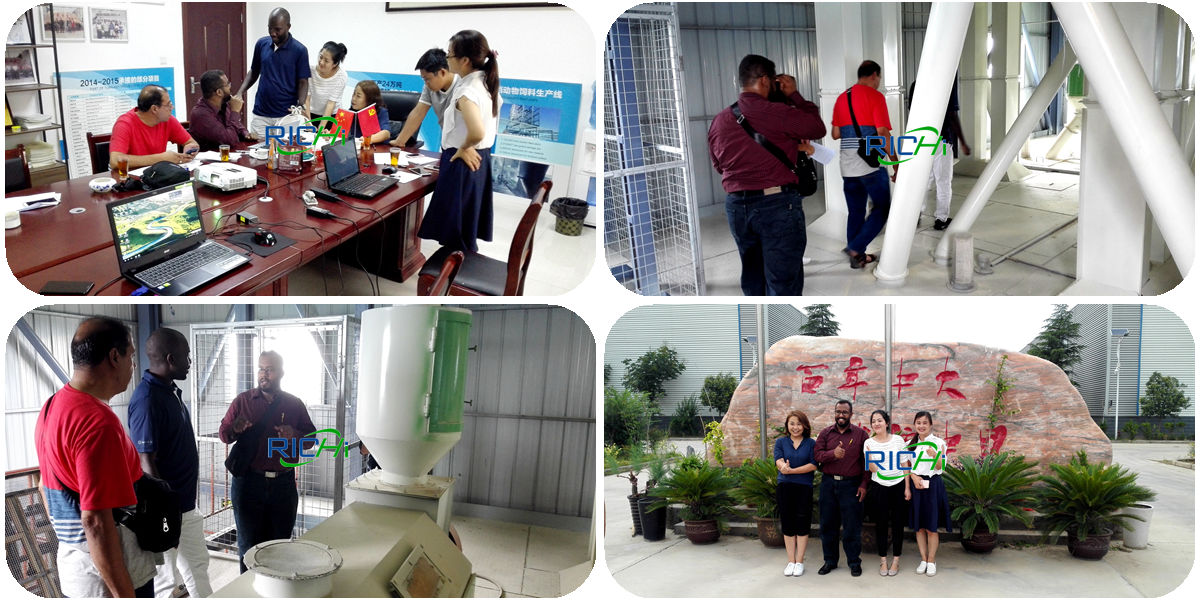 Saudi Arabia poultry and cattle feed manufacturing plant project customer visit(2)
This Saudi Arabia large capacity animal food processing plant is used to process pellets of 1-8mm for chickens and cattles, the poultry and cattle feed manufacturing plant is equipped with poultry feed hammer mill machine & hammer mill feed grinder for cattle, feed mixer machine, cattle feed pellet mill machine, broiler chicken pellet making machine, pellet crumbler machine, screening machine, automatic packing machine and other poultry feed machine and cattle feed machine.
Details of machine for making cow feed and poultry in the Saudi Arabia cattle and poultry feed plant
| Feed mill machine | Model | QTY |
| --- | --- | --- |
| Drum type precleaner | SCY63 | 1 |
| Bucket elevator | TDTG36/28 | 1 |
| Permanent magnetic sleeve | TCXT20 | 1 |
| Cattle feed grinder | SFSP66*60a | 1 |
| Chicken feed grinder | SFSP66*80 | 1 |
| Feed mixer cattle | SLHY2.5L | 1 |
| Chicken feed mixer | SLHY2.5L | 1 |
| Batching scale | PLC1.0A | 1 |
| Chicken feed pellet machine | SZLH420 | 1 |
| Cattle feed pellet machine(Lucerne pellet machine) | SZLH.520M | 1 |
| Poultry feed crumbles machine | SSLG15*150 | 1 |
| Rotary screener | SFJH125*2C | 1 |
| Automatic Packing machine | DCS-50 | 1 |
| Heating oil storage tank | SYTZ100 | 1 |
| Boiler system | 1.0T,0.7Mpa | 1 |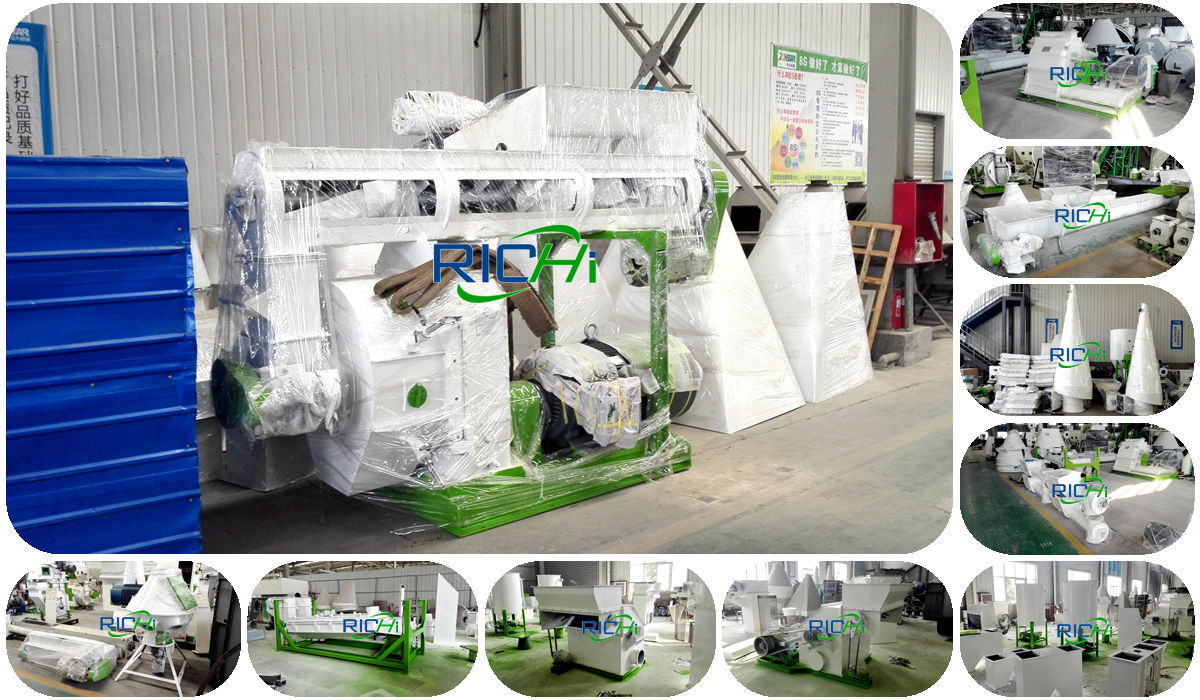 Saudi Arabia poultry and cattle feed mill project equipment display before shipment
In addition, according to the needs of customers and local actual conditions, we have configured fuel boilers as steam sources for customers. The installation of the entire 15-16tph poultry cattle feed mill factory project took 60 days, and the four technical engineers we dispatched successfully completed the cattle poultry feed mill installation assistance work.
In order to meet the Saudi Arabia customer's 16m*8m*12m (L*W*H) animal feed factory requirements, the technical staff of RICHI carried out a regional modular design, centralized placement of cattle poultry feed factory machine, segment management, reasonable layout of each feed plant machinery, to ensure that each feed making equipment's maintenance space.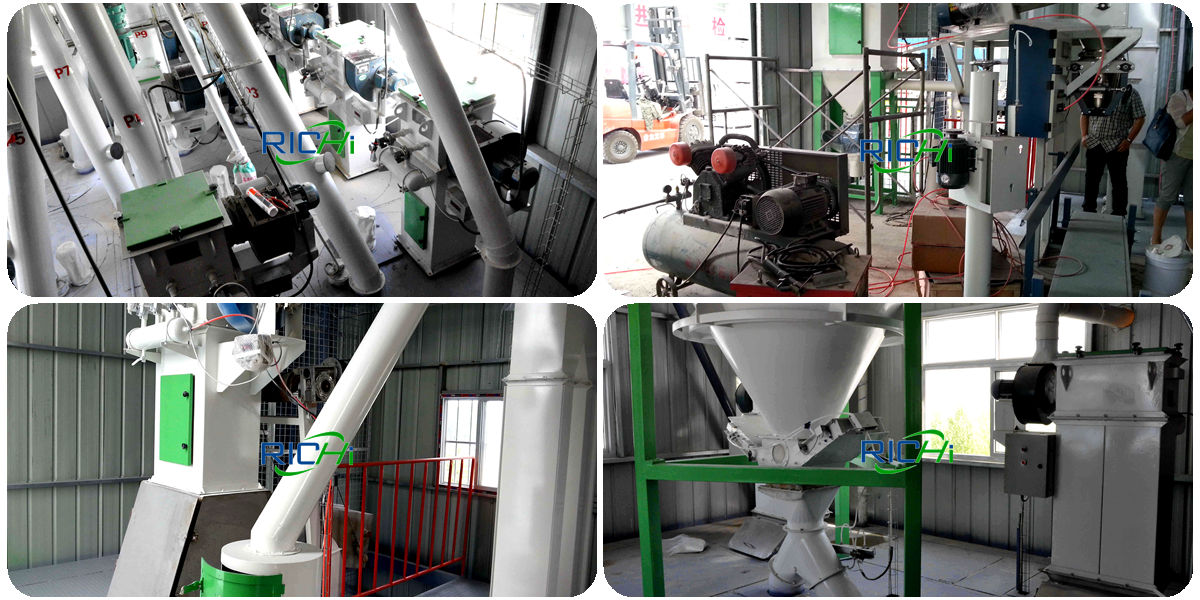 Saudi Arabia poultry and cattle feed plant site
The design of the Saudi Arabia cattle poultry feed processing plant adapted to local conditions is not only conducive to taking materials locally, but also solving the customer's poultry feed mill plant process requirements. In the end, we successfully helped our customers to further expand their local influence.