RICHI animal feed plant and animal feed making machine for sale Sudan
By the end of 2020, RICHI has done 4 animal feed processing projects in Sudan, including three complete animal feed production plants. What I want to share with you here is our first animal feed production line in Sudan-1-2t/h complete poultry feed plant for poultry farm.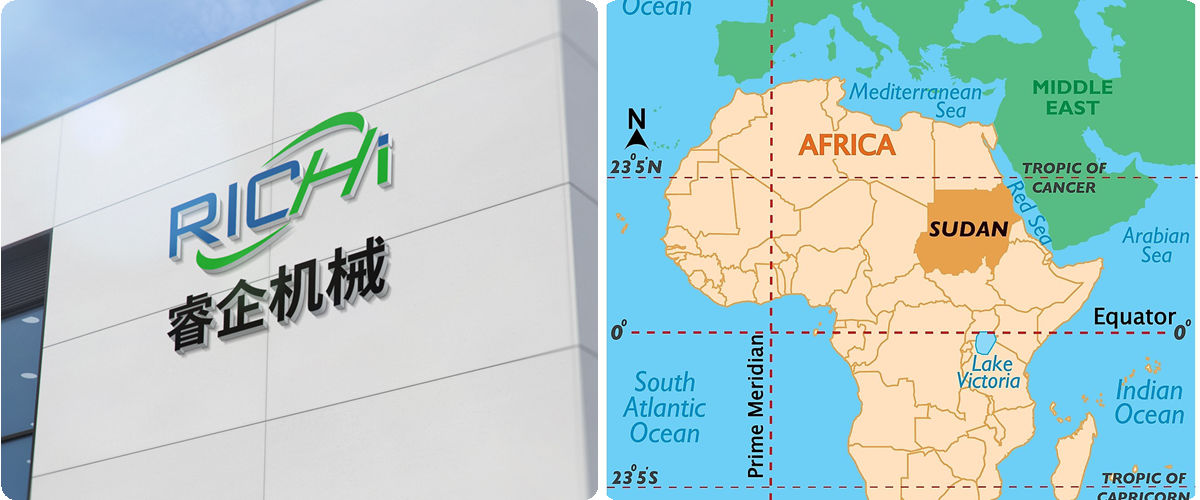 | Animal feed plant and animal feed machine for sale Sudan | Order date |
| --- | --- |
| Turnkey Poject 1-2T/H Chicken Feed Manufacturing Plant | 2019.02.22 |
| 1-5T/H Animal Livestock Poultry Feed Pellet Plant | 2020..11.05 |
| Conventional Small Feed Mill Plant 1-2 Ton Per Hour 250 Feed Mill (this project) | 2018.11.18 |
| 500-600KG/H flat plate drive mechanism of feed pellet making machine for small farm | 2021.4.12 |
Prospects of poultry farming in Sudan
Sudan has always had great potential in the poultry and agriculture sectors in general. It is recognized as one of the countries in the region with the potential to produce competitively priced poultry for export. Although the country is far from achieving this stage due to low productivity caused by diseases and sector mismanagement, there is room for many improvements.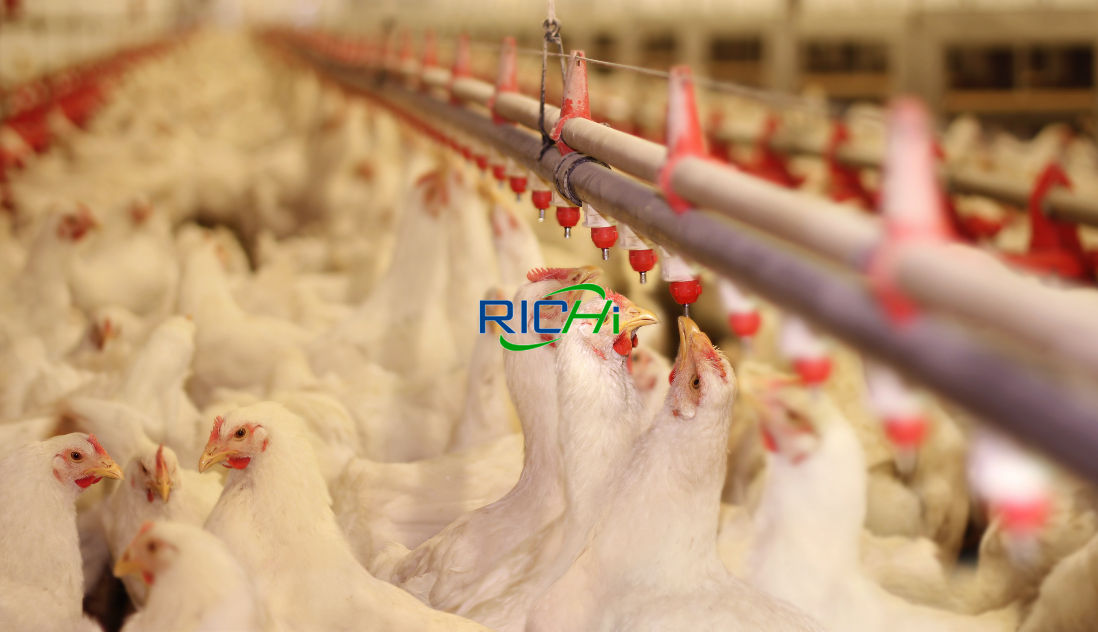 The poultry industry in Sudan saw considerable development only in the last 10 years, with production increasing from 5 million broilers in 2006 to close to 90 million in 2017. While several factors contributed to this increase, the two most important were the government decision to stop imports of frozen poultry in 2006 and the increase in red meat prices. Other factors that contribute to increase of poultry meat consumption are, urbanization, change in food habits, rising income and population growth.
More than 60% of the broiler production is produced in integrations. Farmers produce the remaining 40%, with farms ranging in size from 10,000 birds to 100,000 birds.
Overview of 1-2t/h poultry farm use small feed mill plant for sale Sudan
The Sudanese client of this simple design 1-2 ton per hour poultry chicken feed mill plant project has its own poultry farm and a Semi-Closed System for poultry breeding. This system is with open sided window and curtains. Best practices put the maximum density at 14 birds per m2.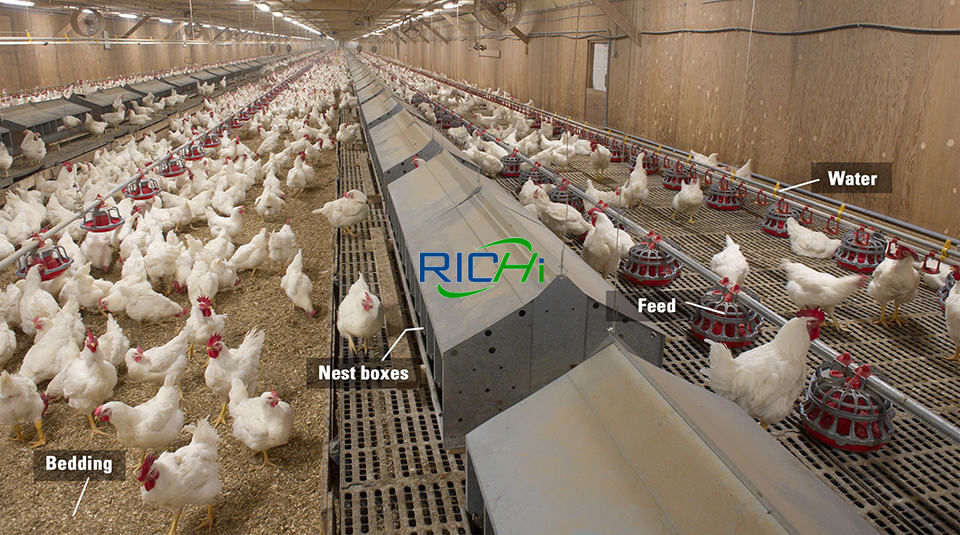 In order to provide feed to his chicken farm, this customer bought a compact 1-2 ton chicken poultry feed manufacturing plant for broiler feed production, which is relatively simple, because there is no poultry animal feed equipment such as crumbler and packaging. The poultry feed machines of this best price complete 1-2t/h poultry animal feed plant project occupies an area of ​​8m*4m*6m, the total power of the good selling new design poultry feed pellets machine line project is 47.8KW, and the local electricity is: 380V, 50HZ, 3 phases.

1-2T/H poultry farming feed production machine project customer visit
Since our best selling ce complete 1-2 ton poultry feed production line is very easy to install and provides a full set of drawings (poultry feed plant flow chart, install drawings, pit drawings, etc), this Sudan customer choose to install it by himself, and we don't need to send engineers to the site. According to Sudan customer feedback, the installation and commissioning of this low consumption small poultry feed mill plant project took a total of 20 days.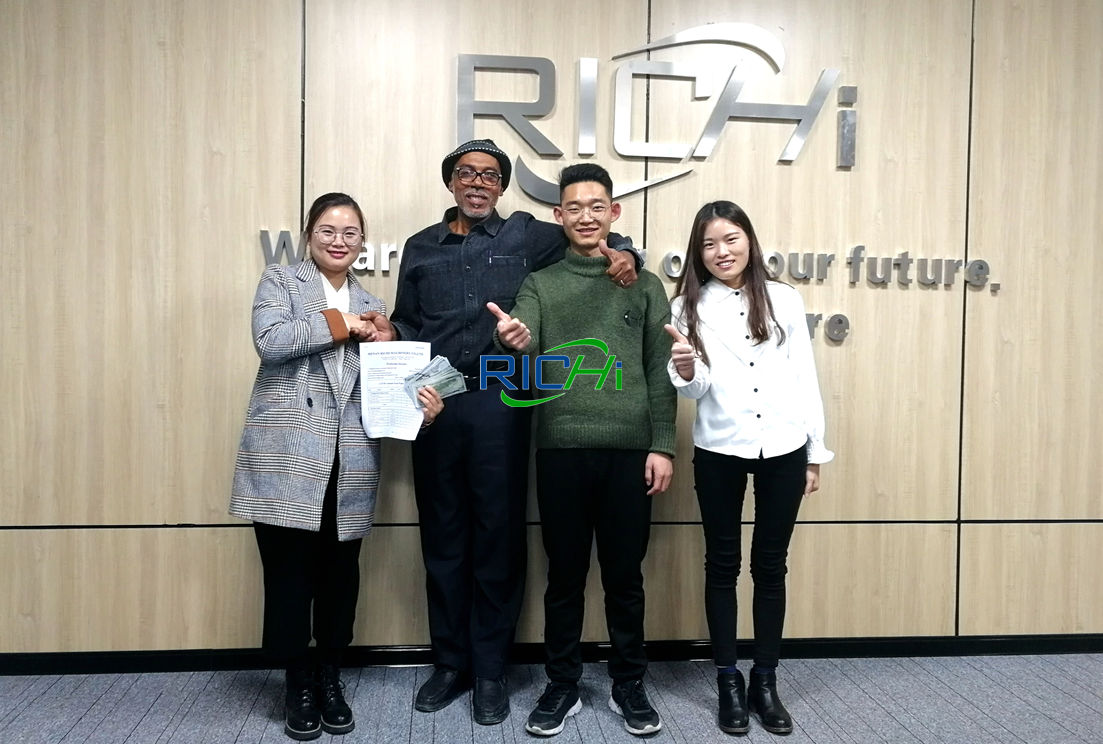 It is worth mentioning that because this Sudan customer is more cautious, we are required to test the main poultry feed manufacturing equipment such as poultry feed grinder, poultry feed mixer, poultry feed pellet machine, and pellet cooler before shipment. For this, we are very happy to meet customer needs. Because RICHI has always provided free trial service, as long as customers have demand, we will definitely try our best to satisfy customers.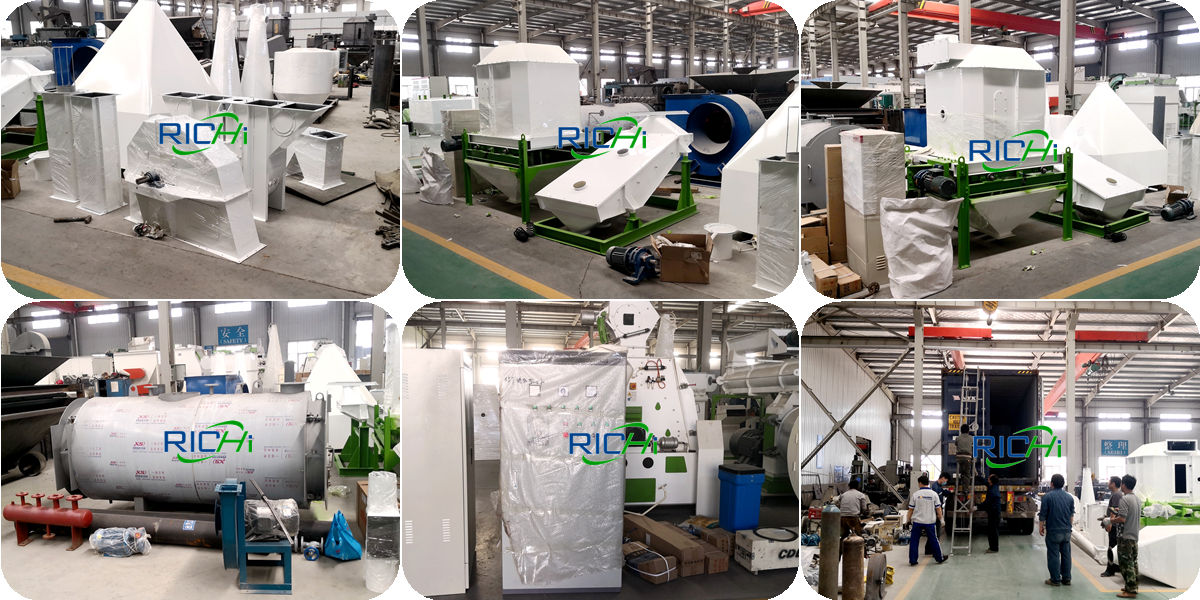 Delivery of 1-2t/h compact small poultry feed pellets line for sale Sudan
Even if it is a test machine for biomass fule pellet plant projects, as long as the customer needs it, we will purchase the corresponding biofuel raw materials to test the biomass pellet plant machine for the customer. Some people may think that this is just a small project and doesn't need to be so troublesome. Yes, this is "just" a small output feed production plant project. In comparison, 60t/h, 70t/h, 80t/h large scale animal chicken feed factory turnkey project we have done.

Testing site of the 1-2t/h high quality poultry feed mill equipment for sale Sudan
However, even if the output of this pellet plant project is not large, it is still a considerable investment for customers in some regions. Therefore, ensuring the quality of pellet plant equipment is our greatest respect for our customers and ourselves as a responsible China feed equipment company.
Small machine for making poultry feed in Sudan 1-2 ton per hour poultry farm feed mill
| Poultry feed making machines | Model | QTY |
| --- | --- | --- |
| Poultry feed hammer mill | 15-1000 | 1 |
| Equipment for mixing poultry feeds | RI-1000 | 1 |
| Screw conveyor | TLSS20 | 1 |
| Storage bin for making pellet | 1m³ | 1 |
| Stainless steel condtioner | TZQ22*180 | 1 |
| Poultry feed pellet machine | SZLH-250 | 1 |
| Winnowing cyclone | SK60 | 1 |
| Vibrating sifter | ZDS60 | 1 |
| MCC Control Center ;Mimic Control Panel | / | 1 |
Status Of Poultry Feed Production In Sudan
Cost of feed is low in Sudan compared to other African and Middle Eastern countries because Sudan does not import protein and energy. Protein is derived by locally produced peanut cake, while energy is by sorghum and peanut oil. One of the key observations made during the consultant's visits to Sudan is the evident and general lack of knowledge in animal nutrition. Nutritionists and company managers are typically focused on the cost of feed and not its resulting efficiency.
Testing video of Sudan 1-2T/H poultry feed mill processing plant machinery before delivery
In so doing, they are neglecting the underlying productivity of the bird and the cost of Kg of meat. This results in a feed that does not cover the full nutritional value needs of the birds, which in turn lowers their productivity. Moreover, the farmers and poultry integrators do not measure the feed conversion at the end of the production cycle at the farm level; instead they do so only after slaughtering. This leads to mistakes and inaccurate performance measurement.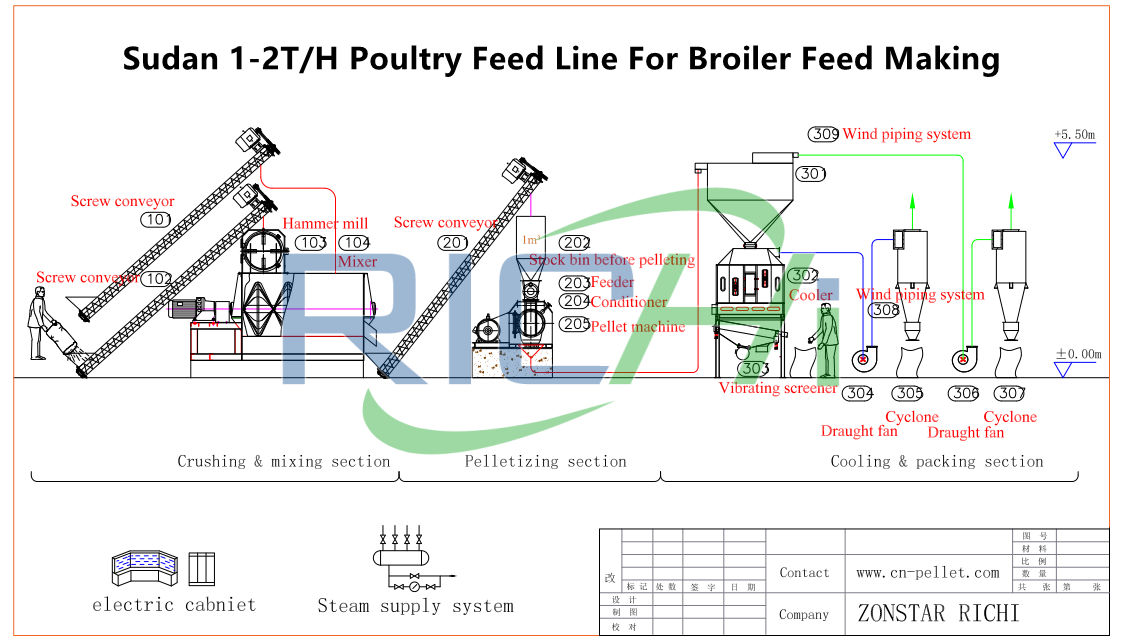 Production process of poultry feed in Sudan small capacity poultry feed production plant
The Feed Conversion Ratio (FCR) is the ratio of inputs to outputs. It is the amount of feed ingested by the chicken that can be converted to one kilo of live weight. It is the key factor to determining how much a chicken is converting feed to live weight. Without this measurement a poultry grower would not be able to determine how well his flock is performing.


Most of the larger poultry integrators in Sudan have good standard feed factories that produce pelleted feed. Smaller farmers (especially in East Sudan) still rely on old fashion feed mixers. Unfortunately, it was also observed that even the state of the art factories are ill maintained and have lost their efficiencies and productivities over the years.
Setup Your Own Poultry Chicken Feed Processing Plant For Compound Feed Pellets In Sudan
RICHI Machinery is one of the professional poultry feed making machinery manufacturers and 1-100t/h full poultry feed mill plant suppliers from China, and has been engaging in this industry for several decades. In addition to possessing the independent R&D team with experienced engineers. We are focusing on helping our global customers to set up a highly efficient poultry feed mill plant as a business at limited cost.


We can not only offer the feed machine for poultry chicken feed plant, but also provide the service of poultry feed plant building and design, poultry feed machines installation and debugging and other technical support services. If you have plans to start the animal poultry feed processing plant as a business, you are welcome to contact Richi Machinery for more information, and you won't go wrong when you choose us !
What is Complete Formula Feed Made By Small Capacity 1-2Ton Poultry Feed Plant Project In Sudan?
The complete poultry formula feed made easy to handle 1-2 TPH stable performance poultry feed production line by is formulated according to the prescribed feeding standards. It contains protein, energy, minerals, trace elements, vitamins, etc. It can meet all the nutrition needed by poultry. It is of the best quality and balanced nutrition. It can feed animals directly without adding any other feed. This kind of poultry feed is suitable for mechanization, semi-mechanization production.


Complete animal feed is not only good choice for free-range farming but also for special households raising chickens, pigs, cattle, fish and precious animals. Its general composition is as follows.
Proportion of Complete Feed with Meat and Without Meat (For Reference)
| Formula Type | Complete Feed with Meat | Complete Feed without Meat |
| --- | --- | --- |
| Energy Feed | 60%-70% | 55%-65% |
| Plant Protein Feed | 15%-20% | 25%-30% |
| Meat Diet | 2%-8% | 5%-8% |
| Mineral Feed | 3%-8% | 3%-5% |
| Feed Additive (premix) | 1%-2% | 1%-3% |
The table above tells the proportion of the complete feed with meat and the feed without meat. Whether you plan to process which kind of feed, our leading poultry feed plant can help you to realize it. If you have any questions about processing animal feed pellets by poultry animal feed making machinery, please contact Richi Machinery for more information!
Processing Compound Feed Pellet by Poultry Feed Mill Plant In Sudan
Poultry pellet feed is compressed from powdered compound feed by using poultry feed pellet mill. Compared to poultry powder feed or poultry mash feed, pelletiz poultry feed has high density and it is more convenient for transportation and storage. It can also help avoiding fussy animals, reducing feed waste, shortening the feed intake time, stimulating secretion of digestive juices, and improving feed utilization efficiency. The feeding effect is better than mash feed.


Advantages of Complete Compound Feed through Poultry Feed Mill In Sudan
Improve production performance and shorten the breeding period of commercial poultry: Compound feed is produced according to the nutritional needs of poultry, adopting scientific formula. Therefore, complete feed can ensure all kinds of nutrients and improve the production performance of poultry.
Save grain, make rational use of need resources. Compound feed can not only maximize the use of grain and oil processing, food processing by-products, such as oil cakes, rice bran, blood meal, bone meal, fish meal, distilled grain and so on. Some non-nutritional additives can also be used according to the needs of poultry to reduce poultry feed mill feed production cost and increase economic benefit.
Easy to use: The compound feed can be fed directly. Therefore the labor and batching equipment can be saved.
Convenient for industrialized feeding production and can be widely applied for large-scale poultry farm.
More health, more safety.
Local Raw Material For Poultry Feed Production In Sudan
Local raw materials such as sorghum and peanut cake are used in the feed ratios of poultry. The poultry industry in Sudan imports concentrates that are the base to be mixed with the raw materials, with approximately 90% of these concentrates being imported from The Netherlands. Sudan has sufficient raw material available locally to feed all its animal production. The two main raw materials used for poultry feed in Sudan are Sorghum and Peanut cake. They are both available year round at relatively low prices. However, they both carry limiting factors for the productivity of animal production.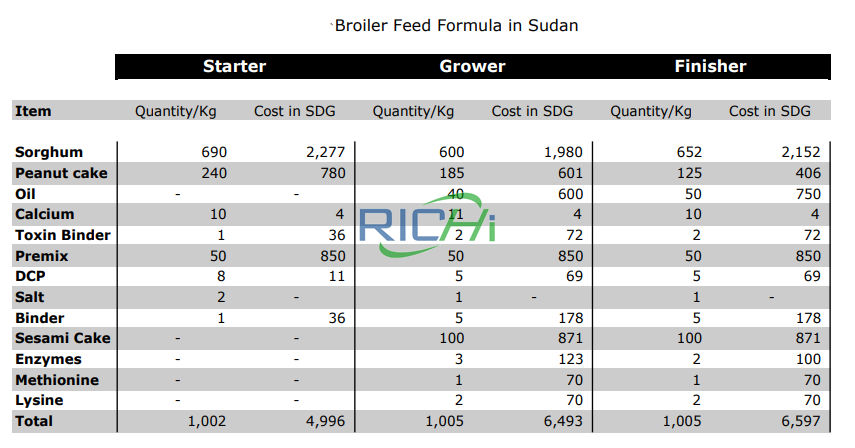 To ensure optimum performance of the "genetic" potential of poultry, the raw material used in feed should be free of any nutritional limitations or toxins. In order to pave the way for Sudan to become a poultry exporter, the government of Sudan should issue national directives to agribusiness investors to plant more suitable cereals for the animal feed industry. There is currently some production of yellow corn and sunflower currently in Sudan, however, yearly production figures are not available. A few trials were launched on soya production albeit, with inconclusive results.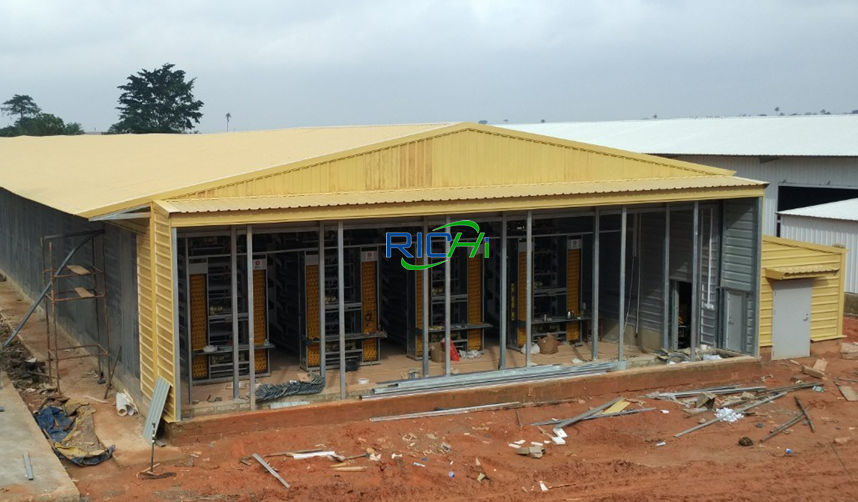 Sorghum has tannins that can interfere with the metabolism and absorption of nutrients. As a rule of thumb, we can say that the nutrient value of sorghum is 10% less than corn due to the tannins presence. Plant breeders are improving new varieties of sorghum without tannins. It is very difficult to determine at this time what type of variety of sorghum is being used in Sudan. The availability of yellow corn in the future could help overcome this nutritional limitation by increasing poultry productivity while lowering their cost.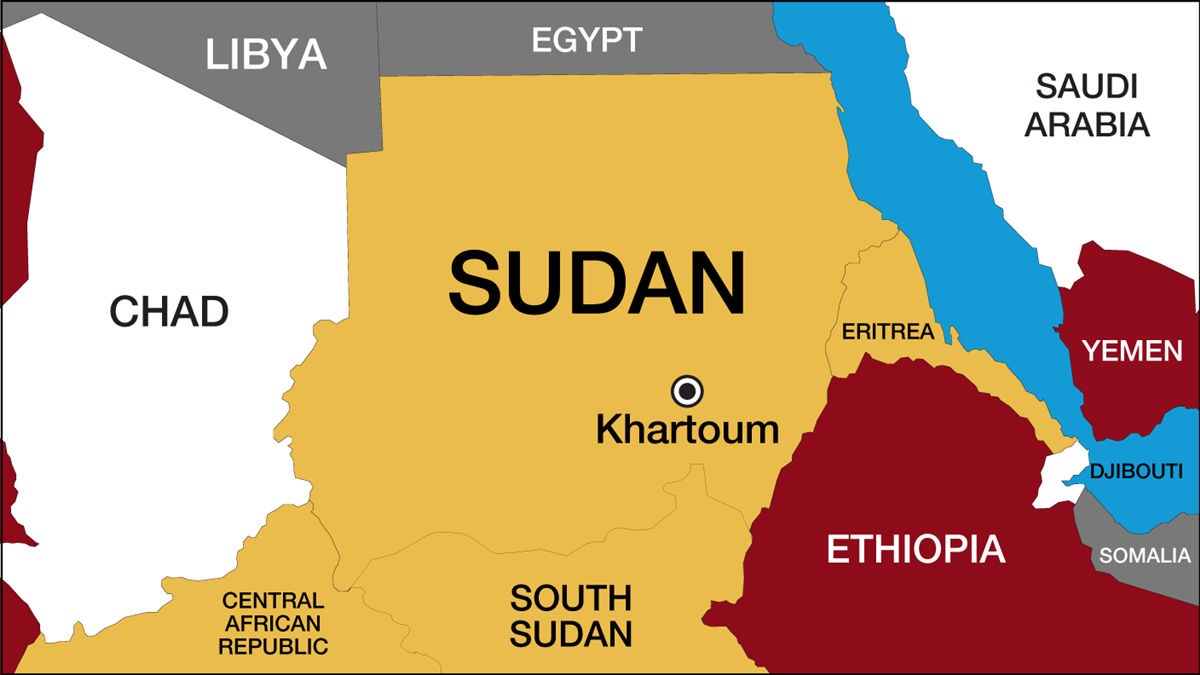 Peanut cake has a protein value of 52% but with very high levels of aflatoxins. Poultry is considered the most susceptible animal species to aflatoxins. Aflatoxins affect the liver and the immune system.