In the face of increasingly fierce market competition, Uzbekistan's customer plans to build a 3-5 tons/hour poultry chicken feed pellet processing plant to produce chicken feed. The customer previously bought a small flat die chicken food machine in Richi, and he trusted Richi's product quality and after-sales service. The customer found us again to reach a cooperation. The Uzbekistan 3-5t/h chicken feed mill project was signed on July 6, 2020 and has been put into production in the August 2021.


Customer visit of animal feed pellets plant for chicken feed production in Uzbekistan
Before the 3-5 tons chicken feed pellet plant project started, we provided the customer with a comprehensive design program from the overall planning, layout design, process design, chicken feed mill equipment personalization, installation and commissioning, electrical control, to production technology, etc.
The chicken feed manufacturing process of 3-5t/h chicken feed plant in Uzbekistan
At the beginning, the raw materials or the feed components, like soybean meal, corn, wheat, vegetables and other materials which are needed for animals is crushed into powders through the chicken feed grinder.
Then, in the chicken feed mixing machine, the multiple crushed raw material powders are mixed completely for later chicken feed production process. In this chicken feed making process, the additive agents like vitamin, powder, bone and other necessary trace element can be added.
Next, the mixed raw materials enter the chicken feed pelletizer through the conveyor. Under the high temperature and high pressure inside the machine, the loose materials is pressed into high density solid pellet with uniform size and shape.
After that, the finished chicken pellet feed is cooled in the cooling machine for later packing and storing.
Finally, through cooling and screening, the pellet feed can be directly packed into bags for storing.
Chicken feed production machine in this 3-5 ton chicken feed mill for sale Uzbekistan
01
37KW chicken feed grinder
Reach perfect balance between fineness and production. It is suitable for the pulverization of poultry feed, livestock feed, ruminant feed, and raw materials for small animals in large and medium-sized chicken feed factory.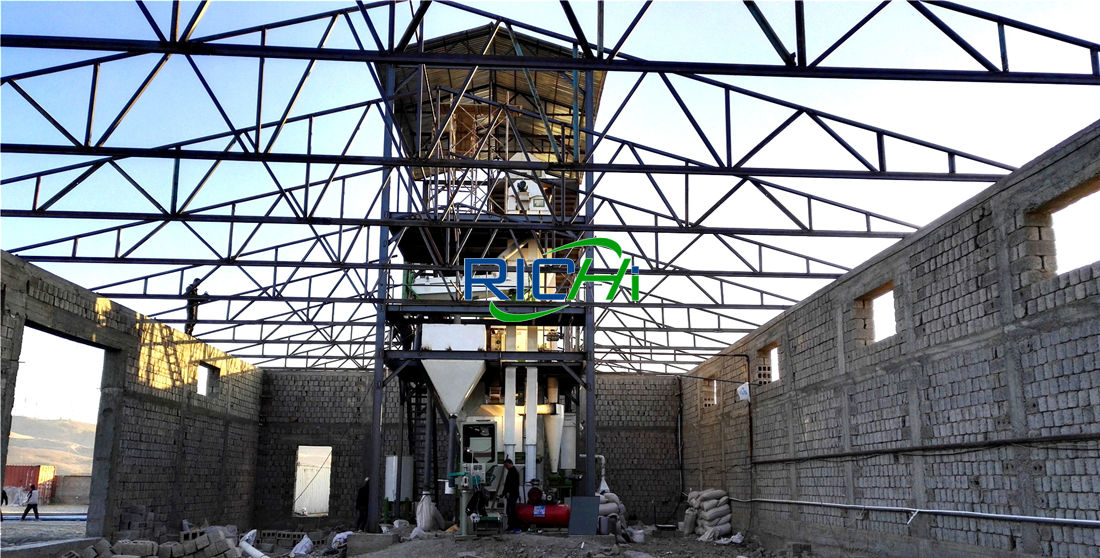 Site of this factory price animal feed mill for sale Uzbekistan
02
Good quality 500kg/batch chicken feed mixer In Uzbekistan Chicken Feed Plant
High mixing uniformity (Cv≤2.5%), can add a variety of liquids.The full-length door structure and door locking structure can stop the leakage of material.
03
37KW ring die chicken feed pellet making machine
THe chicken pellet making machine has scientific structure, balance operation. High production capacity, low energy consumption and long service life.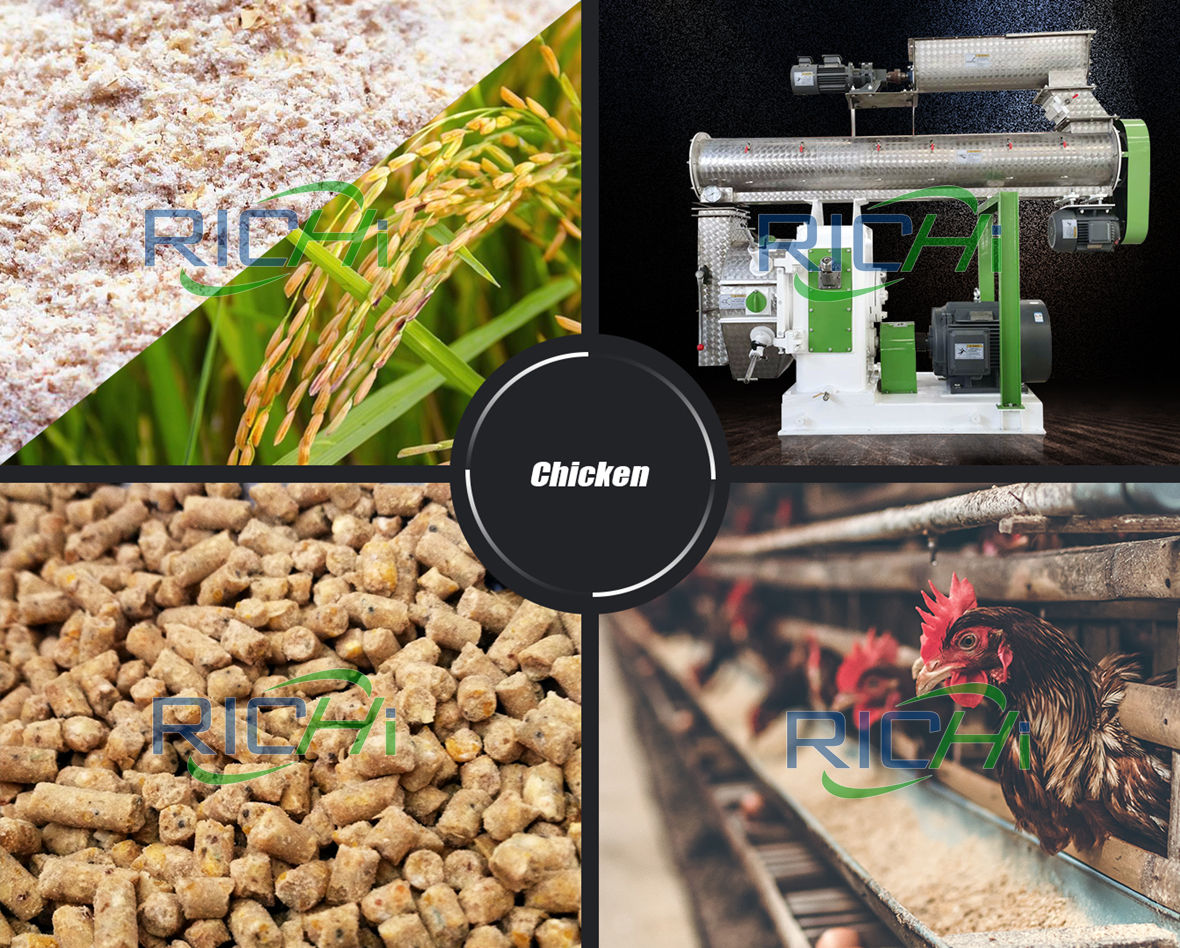 04
SSLG15*80 chicken feed pellet crumbler machine
It uses the differential speed principle of rollers to extrude and shear the materials, which breaks the large particles into irregular small particles. Roll protection device makes the roll automatically avoid collision when encountering hard foreign bodies, and protects the roll from damage.
05
SKLN14*14 Counter-flow Cooler In Uzbekistan Chicken Feed Plant
Use counter-flow cooling principle, full and uniform cooling.Use special slide valve discharging mechanism to discharge.The discharging mechanism runs smoothly and reliably, the discharging is smooth.Use mechanical leveling device, the discharging is accurate and sensitive.
06
DCS Automatic Packing Machine In Uzbekistan Chicken Feed Plant
The reasonable feeding structure ensures smooth flowing of materials. All parameters can be input by the panel.Automatic control of fast/slow feeding, bag clamping and loosening.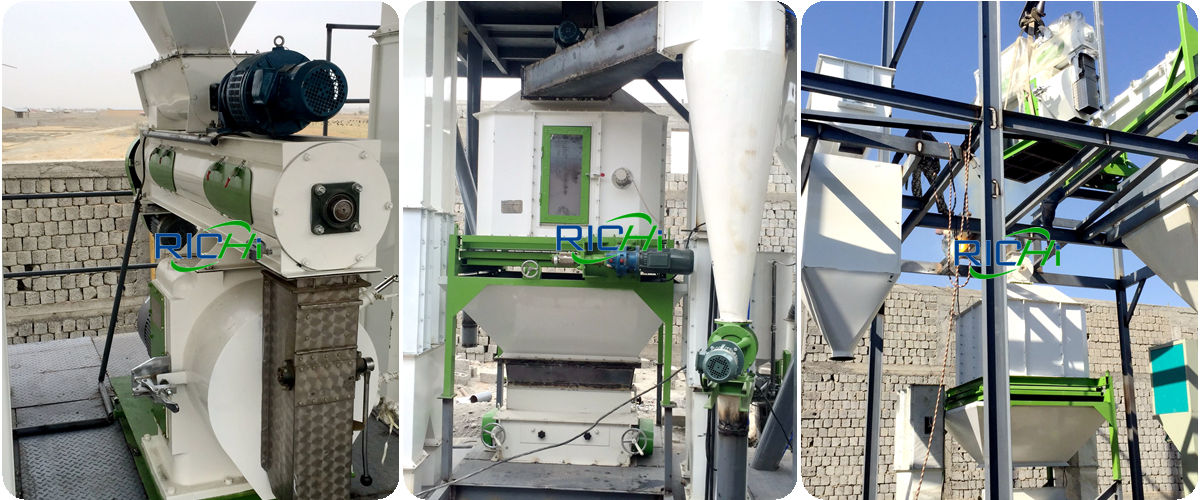 Site of 3-5t/h chicken poultry feed line for pellet in Uzbekistan
For the various problems during the commissioning phase, our engineers timely took appropriate measures to optimize the entire process system, ensuring stable, safe and efficient chicken feed production.
"Focus, Stability, Credibility, Innovation, Harmony with Heart, Value & Result-Oriented"--- these centennial business mottos have always infused us with vitality. Richi Machinery will strive to create greater value for customers, keep innovating, and build truly valuable chicken feed mills for customers.
RICHI feed mill plant and feed machine for sale Uzbekistan
As of the end of 2020, we have established 24 feed plant and feed machine projects in Uzbekistan, including 18 complete animal feed production lines and 6 single feed mill machine projects. The products sold cover chicken feed production, cattle feed production, laying hen feed production, broiler feed production, stock feed production, fowl feed production, fish feed production, etc.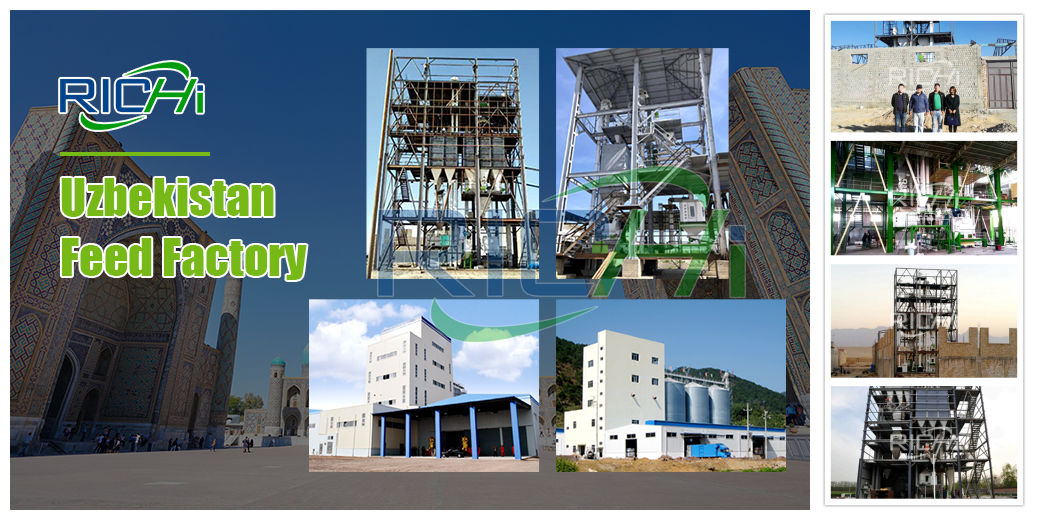 The following is a list of all our current feed production projects in Uzbekistan, all the information is true. (Currently, only some Uzbekistan feed production cases have been updated on the website. Because some cases are ongoing or lack relevant pictures, there is no specific detail page. You can directly contact our sales staff for more case information)