low cost high quality poultry meat feed plant for sale Senegal
As one of the most stable and promising countries in West Africa for economic expansion, Senegal has had strong economic growth over the past five years. However, there still remains enormous untapped agricultural potential.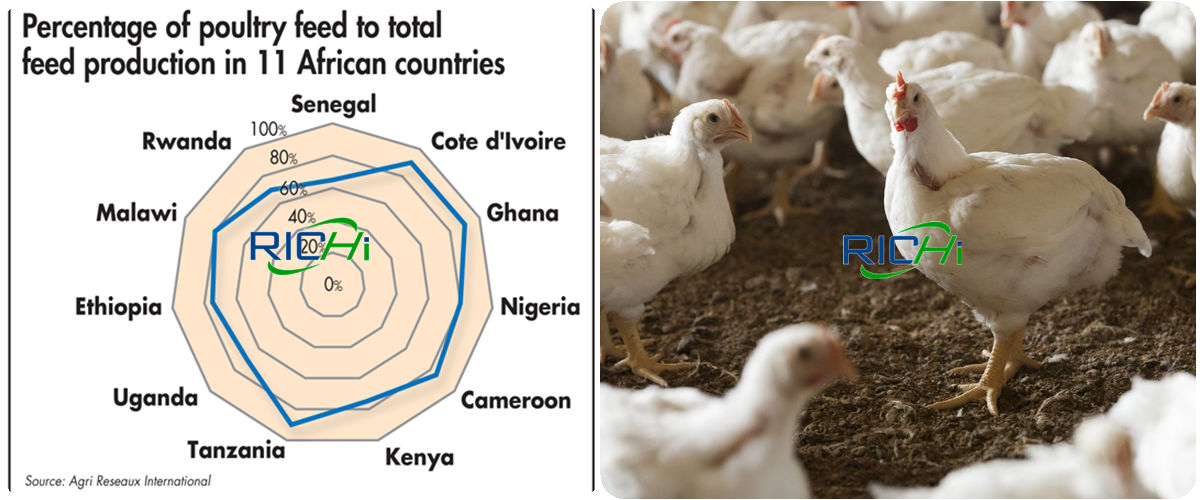 The Government of Senegal's growing investment in agriculture — surpassing its goal of 10 percent of annual public spending since 2014 — has opened the door for progress. Feed the Future works in partnership with the Government of Senegal and its people to increase food security and agriculture-led growth while boosting nutrition and reducing poverty.
Overview of simple design 1-2 t/h poutry feed plant mill in Senegal
This 1-2 ton per hour complete line feeds for poultry was purchased by a customer in Senegal who has a large scale poultry farm. The feed pellets produced by the 1-2 ton small poultry feed plant is for producing own feed to poultry in his broiler farm and for sale.

Equipment delivery of 1-2 ton per hour small bird feed production line for sale Senegal
This poultry farming feed plant project was concluded on November 4, 2016, uses common poultry feed making raw materials such as corn and soybean meal to process broiler feed pellets, the size of which is 3.5mm. The Senegal customer's poultry animal feed plant project site covers an area of ​​13m*4m*8m (Length*width*height), and the poultry feed manufacturing plant project electricity is 380V, 50HZ, 3 phases.

Equipment delivery of 1-2 ton per hour automatic poultry pellet feed plant for sale Senegal
This Senegal 1-2t/h feed mill plant for poultry project is not equipped with a package name, nor is it equipped with a boiler. Regarding the steam source of the poultry feed pellet mill, according to the Senegal customer's needs, the customer purchases a second-hand steam boiler to connect to the 1-2 ton per hour capacity poultry feed production line.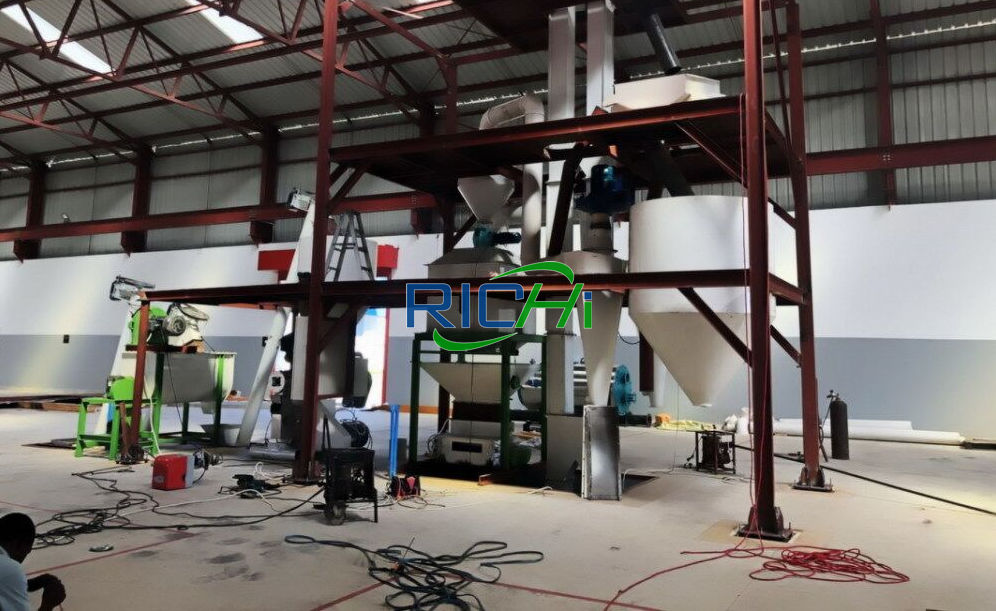 Site of customizable easy to use small poultry feed plant for sale Senegal
Main poultry broiler feed making machines in this complete China 1-2tph poultry pellet feed production line for sale Senegal
Mill for grinding poultry feeds*11KW
Transmision : Directly driving type with hammers.
Poultry feed mixing equipment*SLHY0.5A
High uniform,patent the ribbon design enhanced material flow,shear,mixing,mixing uniformity very good, CV≦5%; Mixing period: 180s.
Poultry animal feed pellet machine*22kw
This pelletizer machine model is available in a variety of aperture betweenΦ2.0-Φ8.0ring mold,the user can arbitrarily chosen according to different needs,in order to obtain the best technical and economic benefits.Poultry feed production process of 1-2tph poultry feed plant for sale Senegal
Cooling machine on poultry feed production
Widely used for cooling of various materials such as the pelleting feed,extruding feedmmash material and so on,Especially using for the extruding feed.
Poultry feed crumbler machine
Siemens motor. Used for crumbling 1.8-5.0mm diameter pellet ; After crumbling, the pellets size are about 1.0-1.5mm.
Poultry feed screening machine
Combining the characteristics of circular motion, ellipse motion and to-and-fro linear motion, high sieving efficiency and low energy consumption.
Other poultry food making machine
(Screw conveyor*TLSS16, Storage bin for making pellet*1m³, Feeder*WLQ16, Stainless steel condtioner*TZQ273*180, Winnowing elevate box *0.5m³, Bucket elevator*TDTG36/18, etc.
As we all know, feeding poultry feed pellets can greatly improve the health and growth of poultry animals. And, more and more farmers has noticed it and are seeking to buy high quality poultry feed pellets. It is also a great way to produce the poultry chicken feed pellets by setting up your own poultry animal chicken feed plant, which not only can meet your own poultry feed pellet demands, but also allow you to sell the poultry feed pellets to other farmers for more profits. It is definitely a business that is worth of investing.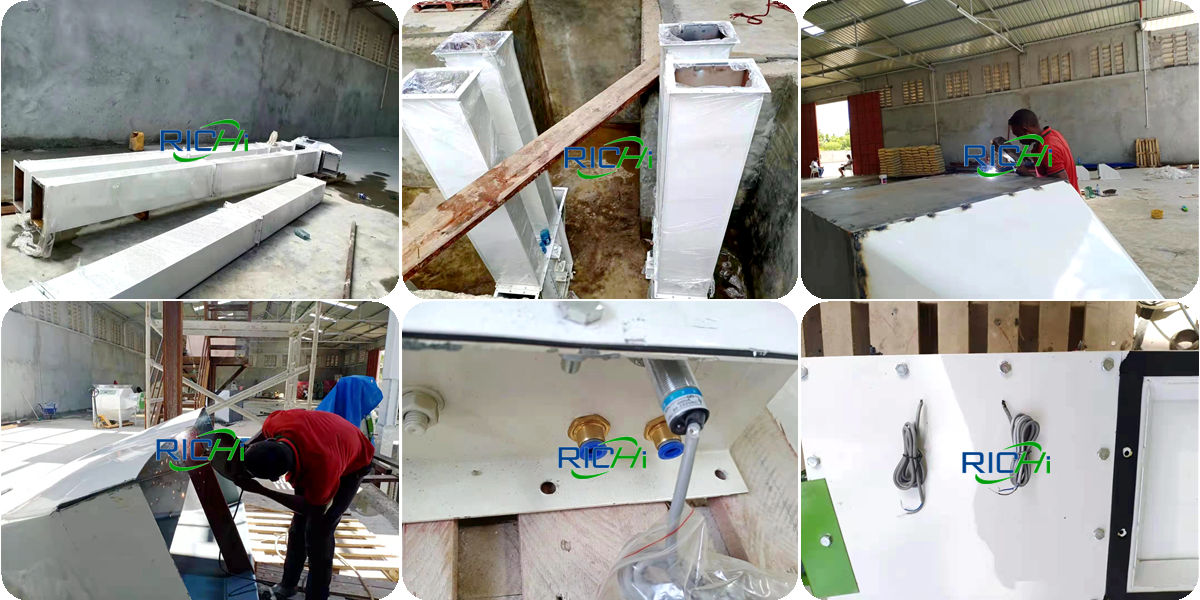 Installation site of 1-2t/h animal poulry feed production line project Senegal
If you have any questions on making broiler chicken feed or selecting poultry feed processing equipment for your poultry chicken feed plant, don't hesitate to contact Richi Machienry for help! We are alwasy glad to help you! You are also welcome to inquire about the 1-100t/h poultry feed plant project cost! This is not the first time that we have exported animal feed equipment to Senegal. The key projects we have done in Senegal are as follows:
| Project name | Order time |
| --- | --- |
| 3-5T/H Animal Feed Pellet Processing Plant | Mar 13th,2017 |
| 500kg/batch mixer for animal feed | July 17th, 2016 |
| 1T/H floating fish feed plant | April 20, 2021 |
| 1-2T/H Animal Feed Pellet Plant | Nov 4th, 2016 |
classification of chicken broiler feed for poultry feed production line with small production capacity in Senegal
During the growing days, chickens require proper nutrition and that's the reason there should be a proper chicken feed plans for them. Now talking about the chicken feed consumption, it differs in the egg-producing chickens and meat producing chickens.
The broiler feed should contain a properly balanced nutritional ratio that will prevent slow growth and leg problems in the chicken. The poultry feed production team needs to analyze the requirements of the chicken to prepare a proper feed for them.


Richi machinery is specialize in designing broiler chicken feed manufacturing process, installation, commissioning and maintaining complete poultry feed mill plant. We also provide customized solutions on feed processing for chicken, cattle, fish, and other livestock animals. We have a vast market for our animal feed processing machines which includes the continents of both Latin and North America, Asia, and Europe.
Before starting your business of poultry feed processing, you must have a clear understanding of poultry feed. Here let's get into the classification of chicken feed. Chicken feed can be broadly classified into five categories: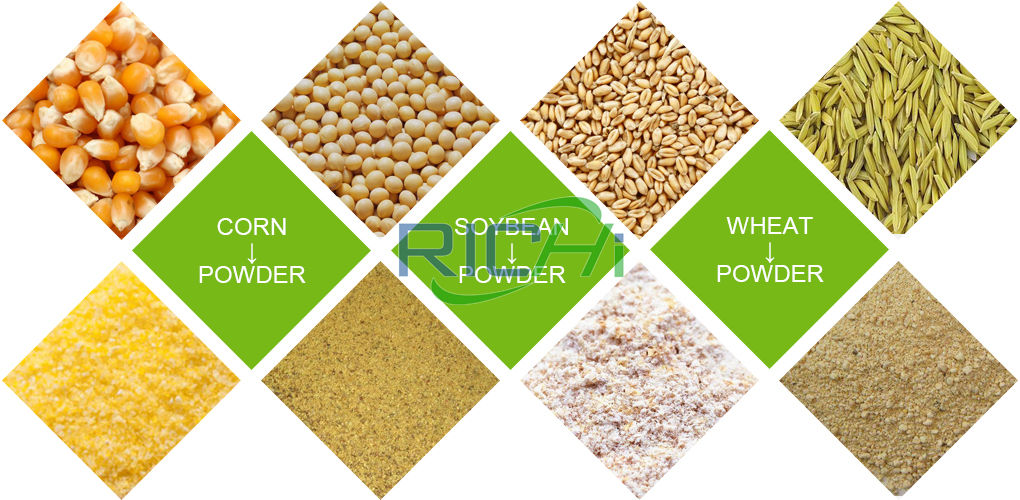 Energy Feed
Grain, such as wheat, sorghum, corn, millet, etc.
Bran, such as rice bran, sorghum chaff, wheat bran, etc.
Oil and fats, such as vegetable oils and animal oils.
Protein Feed
Animal Protein Feed: fish meal, blood meal, etc.
Vegetable Protein Feed: bean cake, peanut cake, etc.
Mineral Feed
Such as salt, shell powder, stone powder, bone meal, etc.
Vitamin Feed
Such as vegetables, carrots, etc.
Feed Additives
Nutrient Additives: trace element additives, amino acid additives, etc.
Non-nutritive Additives: such as antibiotic additives, insect repellent and anti-mildew agents, etc.
01
0~4 Weeks old chicken feed formula for Senegal simple design feed manufacturing plant for poultry
(The followings are some broiler feed formula examples for broiler of 0~4 weeks)
Poultry Feed Formula 1
Corn 56.01%, soybean meal 30-19%, vegetable oil 4.75%, cottonseed meal 3.00%, rapeseed meal 2.00%, stone powder 1.43%, calcium phosphate calcium 1.39%, salt 0.37%, additive 0.36%, lysine 0.30%, 0.19% methionine, and 0.01% threonine.
Poultry Feed Formula 2
Corn 55.75%, soybean meal 32.4%, fish powder 4.0%, lime acid slag 4.0%, shell powder 1.1%, calcium phosphate 1.3%. Fat 0.25%, salt 0.2%, premix 1.0%. (This is for 0~2 weeks old broilers)
Poultry Feed Formula 3
Corn 54.5%, soybean meal 33.4%, fish meal 3.0%, lemon acid residue 4.0%, shell powder 1.1%, calcium hydrogen phosphate 1.3%, fat 0.25%, salt 0.25%, premix 1.0%.
02
Complete poultry feed formula for 0~8 weeks oil broilers for Senegal feed lines 1-2 ton pellet for poultry
(The followings are broiler feed formula examples for broiler of 0~8 weeks)
0~2 Weeks: Corn 58%, soybean cake 28.0%, fish meal 12.0%, shell powder 0.75%, bone meal 1.0%, salt 0.25%.
3~4 Weeks: 10.0% of corn and 90% of "0~2 weeks feed formula".
5~6 Weeks: 20% of corn and 80% of "0~2 weeks feed formula".
7~8 Weeks: 30% of corn and 70% of "0~2 weeks feed formula".
Overiew of poultry feed production in Senegal
Feed is by far the biggest cost in modern poultry farming and within the feed it is the protein component that is most expensive. Getting a good control on feed quality and costs are thus essential ingredients of a modern, competitive chicken industry.
The feed system in Senegal is well developed. Starter mash, grower and finisher for both broilers and layer chickens are available from agricultural input dealers across the country. The good feed conversion rates amongst large commercial operations suggest that the quality of the feed is good. The feed is also priced in line with producers in the Ivory Coast and Ghana.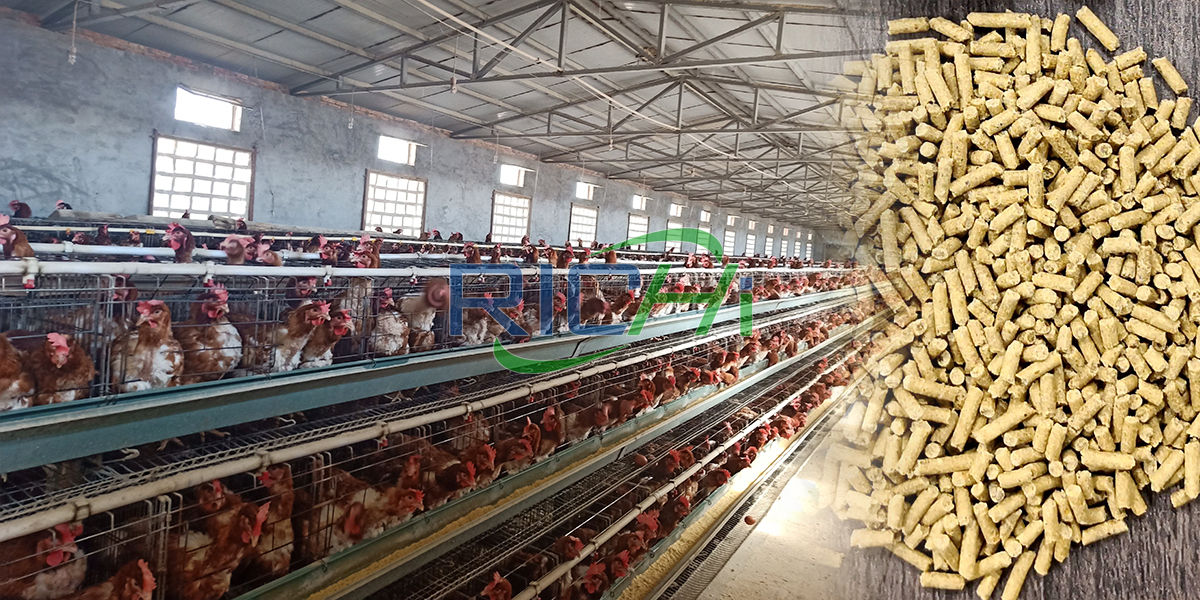 Interestingly, it seems that Senegalese layers reach a higher weight than those in Ghana and Ivory coast at the end of the production cycle. After 42-49 days chickens in Ivory Coast are approximately 1.7 kg.1 compared to 2.4kg in Senegal before plucking (final weight 2 kg). This suggests a difference in the quality of the available feed as well as growing conditions, but would need to be verified.