Overview of 10-15 t/h animal feed factory for sale Uzbekistan
With the development of Uzbekistan's feed processing industry, more and more local customers are optimistic about the prospects of the animal feed market. The customer in this turn-key animal feed mill factory for poultry feed case is from Urgench, Uzbekistan, who has been engaged in the animal feed industry for a long time and previously had his own small animal feed mill of 1-2 tons per hour capacity.
Since the profitability is very good and based on the confidence in the prospects of the feed industry, this time he plans to expand the feed mill production scale, eliminate the original animal feed milling machine, and build a 10-15t/h animal feed factory, also a commercial poultry feed factory.

Site of automatic animal feed processing plant project in Uzbekistan
Based on the reputation of RICHI in Uzbekistan, the customer found RICHI for the first time. It is worth mentioning that this is a turnkey animal feed factory project, all sections of the entire 10-15 tons per hour animal feed production line project are contracted by RICHI.
There are also some well-known animal feed mill factories, poultry feed manufacturers, poultry feed company, chicken feeds suppliers, animal feed manufacturers, and animal feed suppliers in the local area, so it means great challenge. How to seize market advantages has become the biggest problem for this Uzbekistan customer. Therefore, it has put forward higher requirements for the output and animal food processing machine quality of the animal feed factory.


However, RICHI MACHINERY is professional, and RICHI is the confidence of customer. In the course of many smooth negotiations, the customer directly signed a project with us for a 10-15 ton per hour commercial animal feed factory with 500 ton galvanized silo system for poultry feed production. (Related post: 15T/H Livestock Feed Mill In Oman)
In the early stage of this 10-15 tons per hour capacity super quality turnkey animal feed company project, RICHI appointed a large number of first-class installation and construction engineers, and made full communication with Uzbekistan customer for many times.
In terms of animal feed processing machine installation and animal feed factory layout, with the professional quality and unremitting efforts, RICHI team successfully completed the early planning of animal feed processing plant for the commercial animal feed company project with an annual output of 36000 tons within a very short time period.

Site of automatic animal feed manufacturing plant project in Uzbekistan
The high quality of this 10-15t/h poultry feed company is not only reflected in the exquisite animal feed mill factory design layout and animal feed mill installation techniques, but in the high quality and efficiency of RICHI's animal feed equipment.
This is a customized 10-15 ton per hour automatic poultry feed factory, used to produce mash feed and 2-6mm chicken feed pellets, the raw materials are corn, wheat, soybean meal, sunflower seed meal, oil, premix.
Equipment needed to start 10-15t/h animal feed factory for sale Uzbekistan
Main animal feed making machine used in this 10t/h animal feed manufacturing factory include galvanized silo*500T, animal feed crusher machine, batching scale, animal feed mixing machine, animal feed pelleting machine, animal feed pellet cooling machine, poultry feed pellet crumbler, screening machine and animal feed bagging machine, etc. (Related post: 9-10 T/H Animal Feed Processing Plant)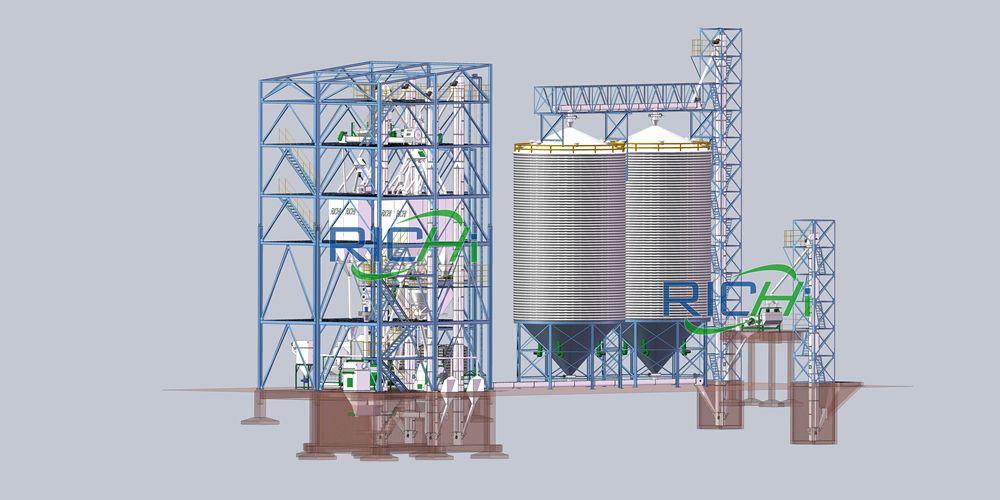 3D design of Uzbekistan automatic animal feed mill plant project
| Feed production systems | Animal feed making machines |
| --- | --- |
| 1.Materials receiving& pre-cleaning system | Bucket elevator*TDTG36/28, Drum type precleaner*SCY63, Permanent magnetic sleeve*TCXT20, Pneumatic two-way*YSTZ22A |
| 2.Crushing system | Variable frequency feeder*SWLY20X80, Animal feed shredder machine*SFSP66*80, Pulse dust collector*TBLMa.36A, Screw conveyor (air locked)*TLSS25, Bucket Elevator*TDTG36/28, Rotary distributor*TFPX8, Permanent magnetic sleeve*TCXT20, Powder precleaner*SCQZ60*50*100, Rotary distributor*TFPX6 |
| 3. Batching & SEC-mixing system | Outlet Screw conveyor*PLSS25/20/16, Batching scale*PLC1.0A, Pneumatic gate valve*TZMQS60A*2, Small material checking balance*PLC0.1B, Single-shaft animal feed mixer*SLHJ2A, Buffer bin*2.5m³, Scraper conveyor*TGSU20, Powder precleaner*SCQZ60*50*100, Rotary distributor*TFPX4 |
| 4. Pelletizing& cooling& screening system | 1-Layer Conditioner*TZ42*300, Animal feed pellet making machine*SZLH420, Cooling Machine*SKLN20x20, Crumbler*SSLG15*150, Cyclone*SK1000, Rotary screener*SFJH125*2C |
| 5. Packing& dust collecting system | Automatic Packing machine*DCS-50, Sewing machine,belt conveyor, Pulse dust collector*TBLMa.24B |
| 6. Oil adding system | Heating oil storage tank*SYTZ100, Add oil line, Weight oil system |
| 7. Eelectronic control system | "MCC Control Center ;Mimic control panel, Batching System: fully automatic, controled by computer |
Process features of the 10-15t/h animal feed factory for sale Uzbekistan
The drawings of the 10-15t/h commercial animal feed mill factory we provide to our customer include: animal feed factory foundation drawings, animal feed factory installation drawings of steel structure, installation drawings of animal feed mill equipment.
This 10-15 tons large scale high standard animal feed factory project occupies an area of 35*20*25 meters, power consumption is 520kw/hour, installation time is 120 days, and there are 7 recognized assistance installations throughout the process.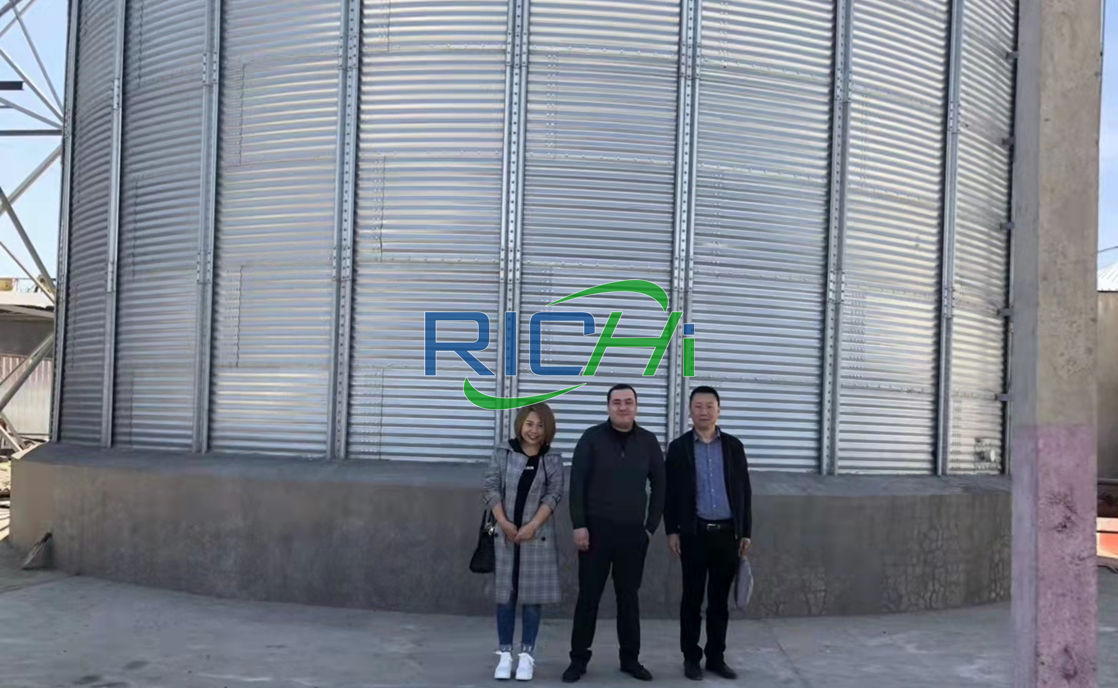 Food safety is of utmost importance, and the process of pelleting the feed can reduce the incidence of salmonella and mycotoxins. Along with grinding, conditioning with good quality steam is one of the most important conditions for obtaining a good physical quality of the feed.
Conditioning creates thermal, chemical and mechanical energy. This disrupts the structure of the starch in the feed and leads to gelatinization, plasticizes proteins, and softens fibres. (Related post: Thailand 10T/H Poultry Premix And Powder Feed Production Line)
The new animal feed pelleting line is a high-end 10-15 t/h solution, with a conditioner that heats the feed to 85°C, followed by a sanitizer which pasteurizes the feed before it enters the animal feed pellet machine.
The animal feed pellet making machine can produce 2mm, 3.5mm and 5mm pellets. The hot pellets are cooled in counter flow cooler, and a crumbler makes it possible to subsequently crumble the pellets into granulate when producing starter feed.
At the end of the feed production process, the pellets are gently mixed with a protective oil coating, which is sprayed onto the pellets for even distribution. It is also possible to add vitamins to the coating.
The animal feed making process is controlled by a fully automatic computer system. The systems allow for automatic, remote start and stop of the pelleting line, and for continuous optimization of temperature and throughput.
Apart from investing in the animal feed pelleting line, Agromar has also refurbished the existing feed factory with new advanced machinery. The existing feed hammer mill has been replaced by a RICHI water drop hammer mill grinder.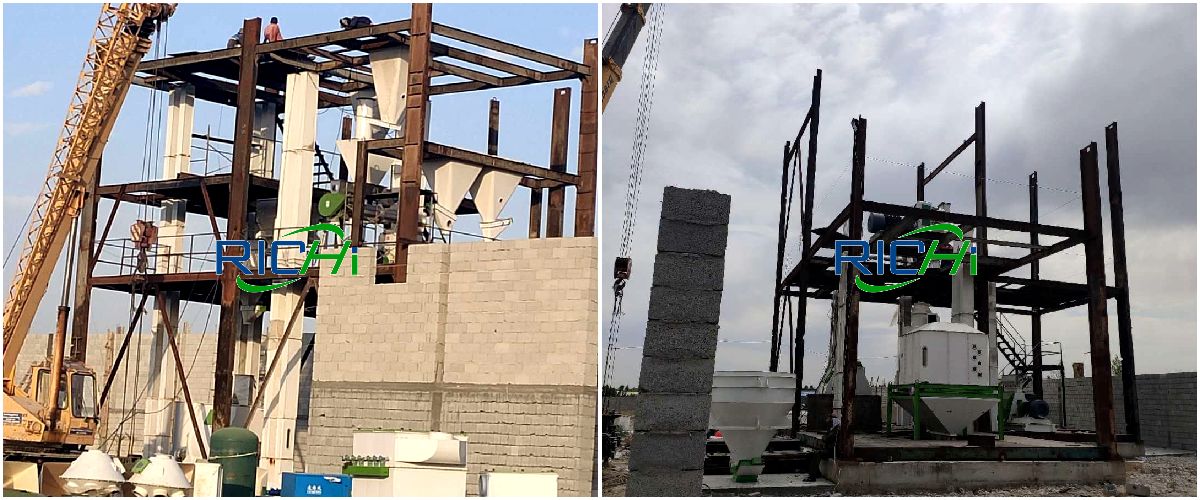 One of the advantages of the RICHI water drop hammer mill grinder is that it is possible to vary the grinding degree during operation, and thereby optimize the feed structure for different products.
Other advantages are the very low noise level during operation, an exceptionally long durability of wear parts, and high capacity with low power consumption.
The high capacity RICHI cleaner has also been added to the feed process equipment. The rotary classifier is a cleaning and grading machine with screen drums that rotate in a planetary movement and gently rub and polish each individual grain, which significantly reduces the content of fungi, bacteria and mycotoxins.
"We have chosen RICHI MACHINERY because their products are of high quality, which means that I can produce without break-downs. This will allow me to plan the productions and deliveries. We have seen the products at another feed factory in China– ZhongHe – and we realized that high-quality machinery is the key to increased production efficiency", says Mr. Dilmurod, managing director and owner of the feed factory.


"Food safety, animal health and efficient production are of immense importance to us, and we were particularly impressed with the RICHI cleaner and its stunning results. Another reason for choosing RICHI was their long presence in Uzbekistan, and the fact that the company is highly recognized as a leading actor in the agro-industry here in Uzbekistan", Mr Dilmurod concludes.
Do you want to start an animal feed factory in Uzbekistan?
Recently, feed pellet has become the most popular animal food in the feed industry. People usually use the rice husk, straw, grass, cereal as animal feed pellet.
For different materials, the pelleting processing is different, for the material with big particles, only a feed pellet machine cannot finish the processing, the crushing machine is also needed. Then a feed mill plant or animal feed factory has been formed.
The animal feed factory is also called feed pellet plant, feed mill plant, feed production line. Generally, a animal feed factory consists of electric control system, drying system, crushing system, mixing system, pelleting system, cooling system and packing system.


And according to the pellet processing, the animal feed factory is divided into two types, small scale animal feed factory and large scale animal feed factory, each one can be used in farm or feed factory, that decided by the raw material you have.
For different purpose, the scale of the animal feed factory are different, if you want make feed pellet for your poultry or livestock, the small scale animal feed factory is proper, because with the small and simple machines, the small scale is easy to install and operate; if you want to invest the feed pellet for getting profit, the large scale pellet production is suggested for more complete production processing.
Advantages of setting up animal feed factory
For the animal feed factory, it can make more raw material corn, wheat bran, soybean meal, paddy rice, sorghum into pellet as animal feed. It can solve the problem of uneven nutrients distribution for the livestock by mixing kinds of materials. Also it can reduce production costs including capital and operating stuff. Last, using pellet production, the waste can be reduced to the least and the production can be increased more.
For small scale animal feed factory, it can be used on the farm whether the farmer want to make pellet for the livestock or deal with thse agricultural waste. And, it takes less areas for its small machines. Also, if you make feed pellets for different poultry livestock, what you need to do is only replace the die of the flat die pellet machine or the ring die pellet machine with the proper die.

For example, if you are going to make pellets for the cattle or horse, the die with diameter of 8 mm is proper; the die with 6 mm diameter is more suitable for pig; the chicken prefer the pellets in a diameter of 5 mm. Last, this small scale animal feed factory costs less.
For large scale animal feed factory, it is usually used for the feed factory, fodder factory or the manufacturer who want to invest the feed pellet industry. Because the large scale feed production line can make pellet with better quality. Also, the large animal feed factory has high output. Its output can be10t/h to 160t/h with the ring die equipped in the feed pelleting system.
How To Start Animal Feed Production Business?
Setting up an animal feed factory can take advantages of this trend to make money easily. It doesn't require a huge budget. There are two most important things should take into consideration when setting up an animal feed production company or starting animal feed manufacturing factory, one is the ingredients, you best have the unique formula for animal feed prodcution, the other is the advanced animal feed processing machine and animal feed factory technology.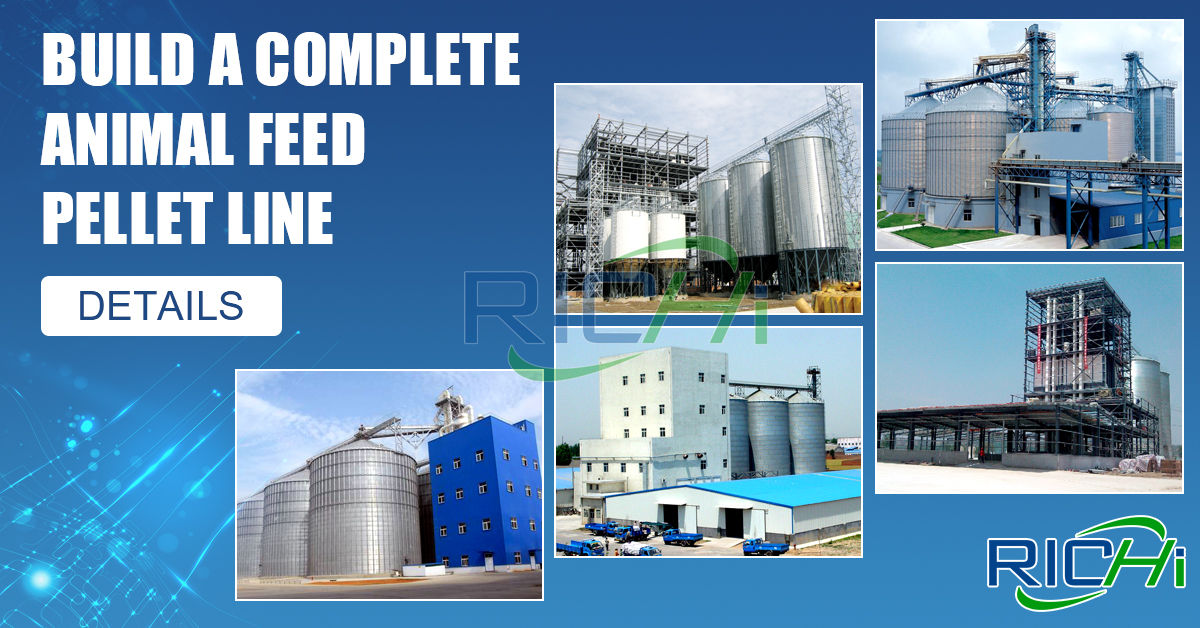 01
Get the Good Feed Formula for Your Commercial Animal Feed Factory 10T/H
It is very important to come up with a good feed formula to mix ingredients by doing market research. Obviously, animal feed formula is different from the poultry and fish feed. Determine what nutrients a specific animal the farmers keep needs so as to grow, gain weight and stay healthy. (Related post: Afghanistan 10-15T/H Chicken Feed Mill)
Come up with a breakdown of animal feed formulation based on livestock poultry aqua variety and additives, such as vitamins, amino acids, enzymes, minerals, then decide what to produce, for instance, if it is cattle feed, will it be beef cattle feed or dairy feed? If it is poultry, will it be broiler or layer hens?
So before building a pellet production, you must decide what kind of material you want to make pellet. The material you choose decides the machines and the scale of the feed production line. For making feed pellet for the livestock on the farm, the small scale animal feed factory is suitable; for making feed pellet to get profit, with your enough budget, the large scale production is suggested.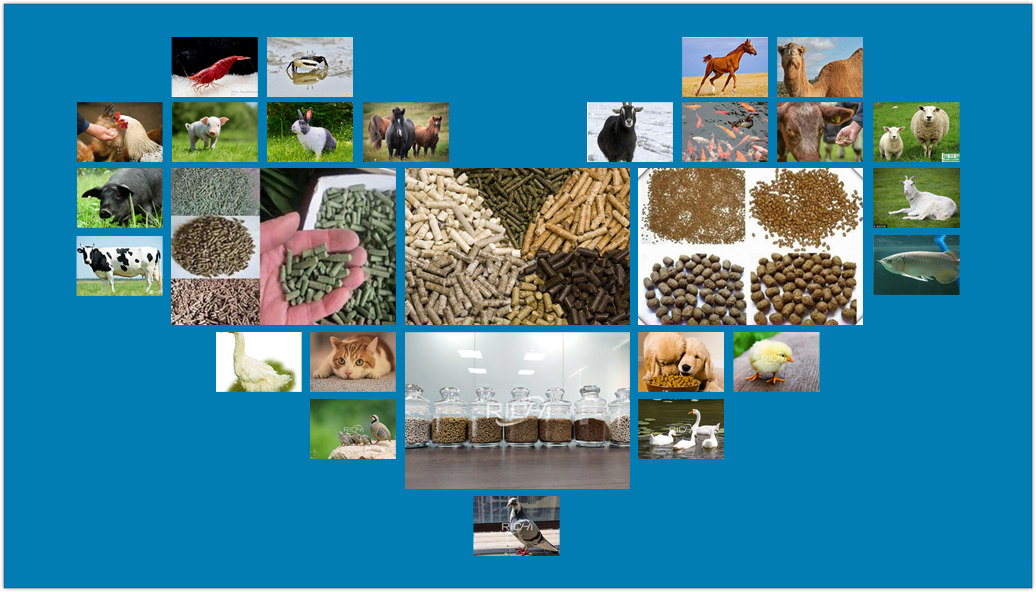 02
Purchase the Ingredients for Animal Feed Factory Processing
Based on the feed formula you have decided to use, go ahead and get the ingredients.
Buy Animal Food Processing Equipment for Your Animal Feed Mill Factory Business
The animal feed milling machinery you need are determined by the feed you want to produce. Feed grinder, feed mixer, animal feed pellet maker machine, freezer, sifter, weight scale, packaging bags and more are some of the necessary animal feed processing equipment for a starting a complete animal feed factory, or animal feed company, or animal feed plant.
Due to the features of the animal feed factory, many factors will influence the production efficiency. The most important factor is the material. The moisture content, size, and temperature of the material will affect the feed processing line. (Related post: America 10-12 T/H Cattle Feed Plant)
And each step in the animal feed factory may affect the production. The electric control system, the power, the pelleting, the crushing, the drying etc., will affect the production too. So, for these influenced factors, you had better be familiar to them and know how to avoid the problems.
03
Marketing of Your Animal Feed
This is the challenging part, especially for beginners of animal feed manufacturers. How do you get your pelleted feed or mash feed or powder feed product out there? There are many ways you can adopt.
Supply stores: introduce your feed to livestock poultry supply stores and let them act as middleman.
Direct sales representatives: search for the sale representatives for your feed product.
Establish your own distribution outlet.
Sell Online.
Establish an animal feed processing plant or animal feed company and start your own feed making business can be huge potential to get profits. For example, in many African families, animals are the most valuable property, from which they get dairy products, plough power among others. This traditional way of life offers big opportunity for animal feed production mill since there are increasing demands for the high quality feeds for farmers and farms.
If you want to know more about the animal feed factory, please contact to us, our professionals will offer more information about technology.
RICHI animal feed mill plant and animal feed machine for sale Uzbekistan
As of the end of 2020, we have established 24 feed plant and feed machine projects in Uzbekistan, including 18 complete animal feed production lines and 6 single feed machine projects. The products sold cover chicken feed production, cattle feed production, laying hen feed production, broiler feed production, stock feed production, fowl feed production, fish feed production, etc.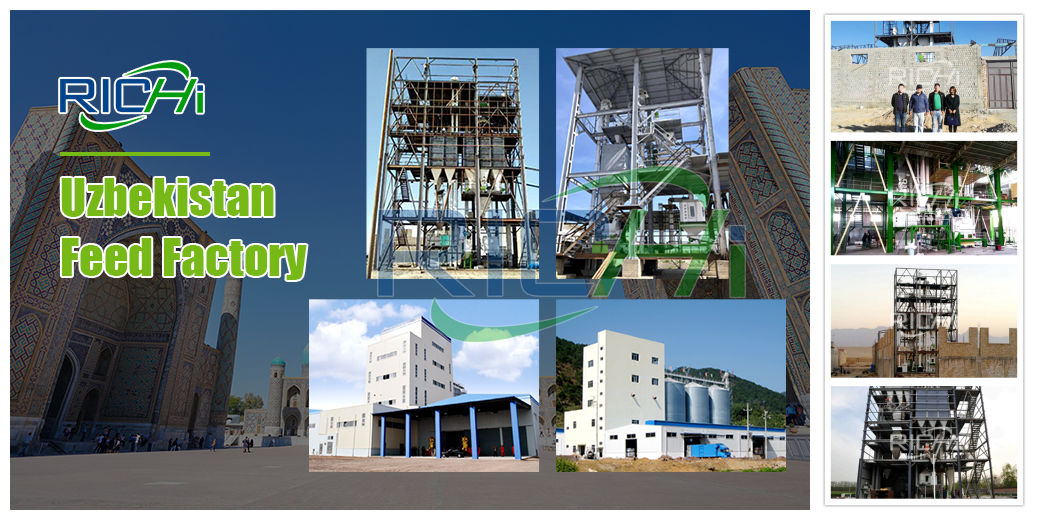 The following is a list of all our current animal feed factory projects in Uzbekistan, all the information is true. (Currently, only some Uzbekistan feed production cases have been updated on the website. Because some cases are ongoing or lack relevant pictures, there is no specific detail page. You can directly contact our sales staff for more case information)