Why start a livestock feed processing plant for making pelleted feed in Somalia?
With the development and progress of the aquaculture industry, feed machinery has also shown a rapid development. Many farmers no longer use a single feed mill machine, but began to purchase batches of complete sets of livestock feed plant machines to improve the economic benefits of the farm.
Somalia has a population of 5.3 million people, a land area of ​​more than 630,000 square kilometers, and natural pastures accounting for 45% of the country's area. It is a developing country dominated by animal husbandry, and animal husbandry is the country's main economic pillar. Its total output value accounts for the country's total output value. About 70% of the total economic income.


According to statistics, Somalia has 5.3 million camels in the country, which is one of the countries with the most camels in the world, with 4.73 million cattle and 24.8 million sheep. 80% of Somalia's population is engaged in animal husbandry. Farming and semi-agricultural and semi-raising.
The commodity rate of livestock products in Somalia is relatively low. Every year, some live livestock and a small amount of leather and wool are exported to the Middle East and Arab countries. Most of the milk (cattle, sheep, camel milk) is for herding, and farmers eat the rest, and the rest is supplied to cities and towns. Meat from slaughtered livestock is for domestic consumption only. (Related post: 15T/H Livestock Feed Mill In Oman)
Most of Somaliland's economic growth is attributable to livestock production, trade and exports. Livestock remains the most important source of foreign income for Somaliland, with international exports to Saudi Arabia, the UAE, Oman and Yemen. It accounts for nearly 65% ​​of the economy.

Feed production is an integral part of improving land use management, which can stabilize livestock production and reduce livestock losses to increase food security. Based on the excellent development momentum of the livestock industry in Somalia, it is obvious that the prospects for the development of livestock and poultry feed processing in Somalia can be seen.
Overview of 5-6 t/h intensive livestock feed production system in Somalia
This complete set of 5-6tph good price livestock feed processing plant is manufactured for one of our old customers in Somalia. This complete production line for livestock feed pellet and powder feed is also designed for making various feed for cud chewer or ruminate animal such as sheep, cattle and camel. His first animal feed production line was also for livestock feed processing, capacity is 1-2t/h.

Somalia livestock feed production lines project customer visit
As his breeding scale and feed sales expanded, he found RICHI again just 1 year later and customized his second livestock feed plant 5-6tph for livestock feed making. This second livestock feed pellet plant and the first livestock feed production plant are not together, and the client chose a new area for this 5-6t/h livestock feed plant project.

Somali customer visits one of our China feed factory project site
This Somali customer was a nomad who has been raising livestock for many years, always searching for pasture and water for his livestock from one place to another. Although he has been raising livestock animals for a long time, he didn't knows nothing about livestock feed production. But in order to better raise the livestock animals, he decided to invest in a livestock feed production line that can not only provide complete feed for his livestock, but also sell it to other nomads.

Somalia livestock feed production plant project customer visit RICHI factory
This best solution 5t/h-6t/h livestock feed plant process is specially designed for meeting the demand from our Somalia client, which can process the livestock feed pellets with the size varying from 2 mm to 12 mm based on the requirement of the Somalia customer. In addition to livestock farms, it can also be used in livestock cattle feed mills, animal livestock feed factories, and for invetors to start livestock feed production business.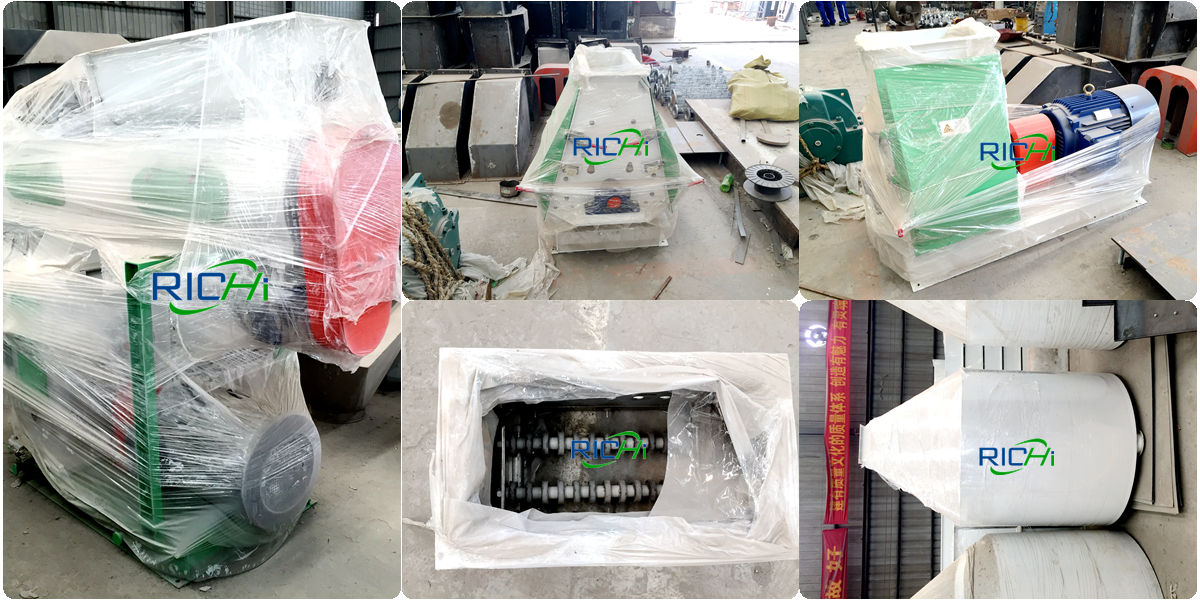 First Somalia livestock feed plant equipment delivery(1-2t/h)
This 5-6t/h new design completely livestock feed production line project occupies an area of ​​9*5*15 m, and the entire livestock pellet feed plant project uses around 130kw/hour of electricity. The 5-6t/h factory sale new design livestock feed mill plant unit includes livestock feed making machines of livestock feed grinding machine, livestock feed mixer, livestock pellet making machine and cooling, screening.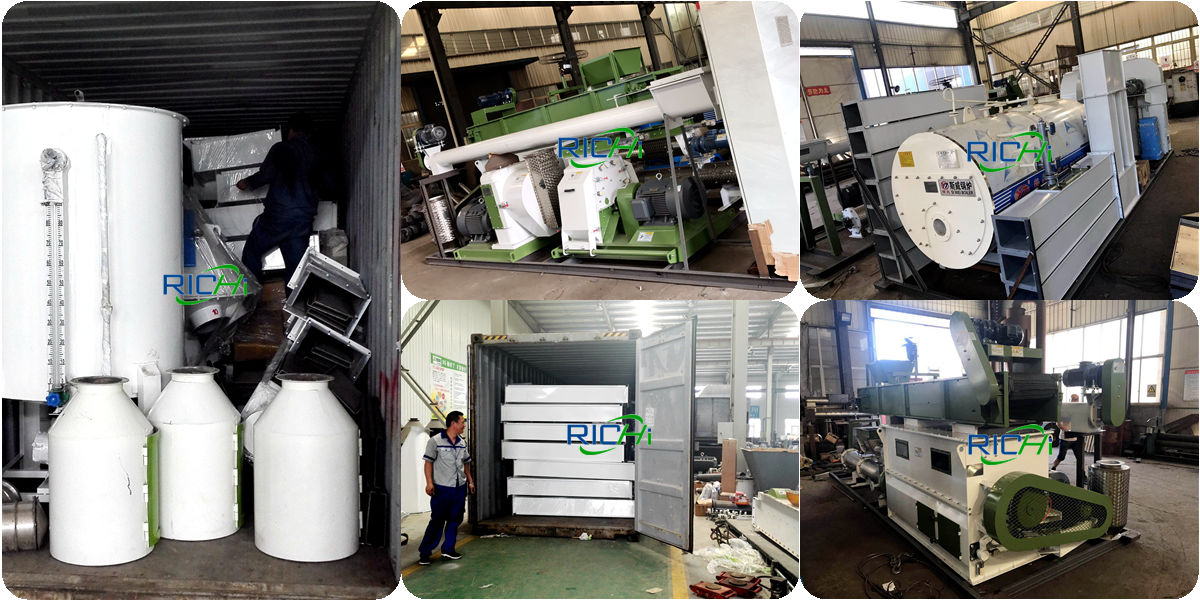 This 5-6t/h livestock feed plant equipment delivery
Since the Somalia customer's feed is also used for sales, this livestock feed production line requires a packing section. However, due to the limited budget of the Somali customer, he chose manual packing. In addition, according to the his choice, we have equipped it with 500kg/hour steam boiler with diesel type.
Due to the low degree of automation of this livestock feed plant, in accordance with customer needs, the 5-6t/h livestock animal feed plant we designed for it requires 5 workers to operate it. Here are the main necessary livestock feed making machines for the Somalia 5-6t/h low cost livestock feed plant production business project.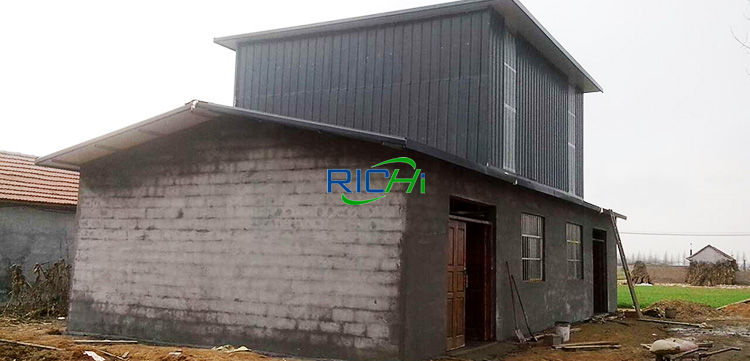 Somali customer's livestock farm
Livestock feed machines
Screw conveyor*TLSS20
Iron removing device*Z-Type
Livestock feed grinding machine*SFSP.56*40
Livestock feed mixing machine
Pulse dust collector*TBLMa.8A
Buffer bin*2m³
Livestock feed pellet making machine*SZLH320
Cooling Machine*SKLN14×14
Bucket Elevator*TDTG36/18
Rotary screener*SFJH800*2C
MCC Control Center ;Mimic control panel
If you are planning to start livestock feed production for herbivore and ruminate animals, you can take this Somalia livestock feed milling plant and machine project for reference. Just send RICHI an inquiry for detailed livestock feed processing machine info and cost of the machinery to make livestock feed!
How to start 5-6t/h best price livestock feed production plant in Somalia
From the process of livestock feed mill plant, it is generally divided into simple livestock feed plant and refined livestock feed plant . From the perspective of manual labor, it can actually be regarded as a set of fully automatic livestock feed processing equipment and a set of semi-automatic livestock feed processing machine. The simple livestock feed plant can be understood as a set of semi-automatic feed processing equipment.
Livestock feed plant is usually selected according to the production scale, production varieties, and production process conditions. Therefore, different livestock feed mills often use different feed equipment. However, some basic equipment for livestock feed processing are the same. According to the process flow, it generally includes raw material receiving and cleaning equipment, conveying equipment, crushing equipment, batching equipment, mixing equipment, livestock feed granulation equipment, liquid spraying equipment, ventilation and dust removal equipment, and packaging equipment. and central control system.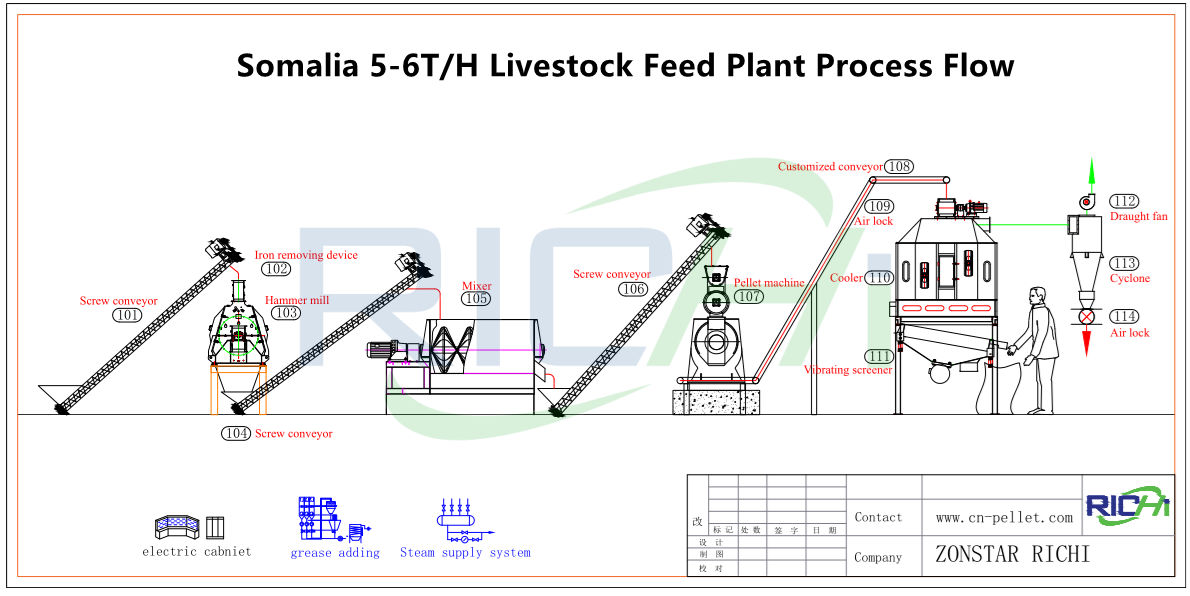 Generally speaking, for family farms, simple livestock feed plants are used more. A set of livestock feed plant equipment will be simpler in structure and more cost-effective than a set of refined feed production lines. And when using this simple livestock feed processing production line, it will not affect the whole batch of feed processing. (Related post: 400,000 Tons Livestock Feed Mill Factory)
So what are the configurations of a simple flivestock feed plant ? Below, Richi Machinery will organize a simple livestock feed production line processing process for you. Generally speaking, this simple feed processing production line is divided into 4 processing processes.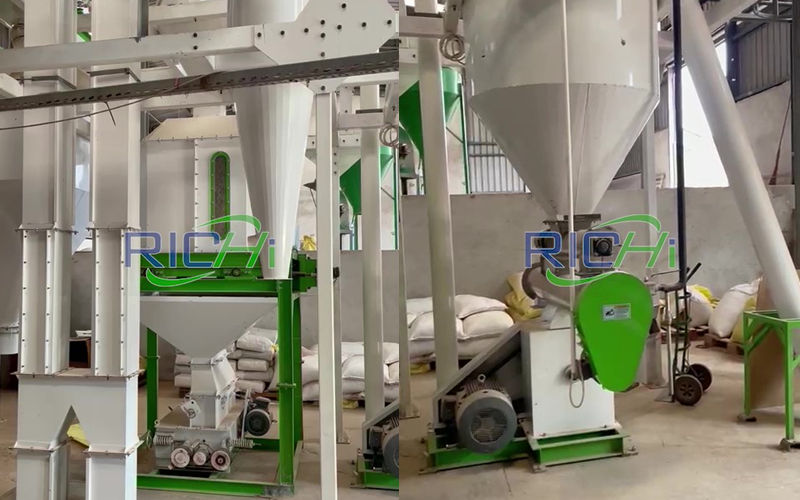 The order is crushing processing - mixing processing - granulation processing - cooling processing. Generally speaking, the common feed pulverizer in the pulverization process is a self-priming pulverizer, which is matched with a vertical mixing tank. Of course, in the mixing process, a horizontal feed mixer can also be selected.
Livestock animals such as cattle, cow and sheep need about 100 grams of concentrated feed pellets per day. Here are the brief on livestock feed manufacturing techniques for pelletize livestock feed. Some of these livestock feed manufacturing processes are optional as the case may be.

01
Collection and Storage of Raw Material
The raw material for livestock feed come in varied sizes and forms and so have different storage requirements. Long raw material like crop straw need pellet line of large capacity and storing grains like maize and wheat require silo storage.

Site of 5-6t/h livestock pellet feed production line project in Somalia
02
Cleaning of Feed Material
The pure raw material for livestock feed plant production is important not only for the quality feed products but also for keeping the livestock feed equipment functional and thus efficient livestock feed production as well as for the safety of the personnel. Large and long impurities (stones, mud blocks, etc.) should be removed by screening equipment and iron impurities should be removed by the magnetic separators.
03
Crushing of Feed Material
Depending upon the required fineness and variety of feed, the crushing process by livestock feed grinder is determined from either one-stage crushing or two-stage crushing. Batching before crushing or crushing before batching is also dependent on the form of the batching. (Related post: South Africa 0.8-4T/H Livestock Feed Mill)
04
Batching of Feed Material
Manual and Volumatic batching are the most common batching processes. Small livestock feed pellet plants and medium livestock pellet feed plants with the capacity of 1-15T/h use manual batching where workers weigh feed material manually and pour into the livestock feed mill mixer. Since the livestock feed plant mixing process is manual it requires less investment and has low production cost. It's a flexible and precise measuring method.
Batch mixing and Continuous mixing are the two ways mixing can be done in two ways. In batch mixing, all components are blended together in the specified proportion as per the formula and then mixed in the batch mixer. The convenience of replacing the feed formula and the lesser batch intermixing makes this method quite common. However, the complex operation of starting and stopping encourages the usage of automatic program control.

At the entry in a continuous livestock feed mill mixer, the feed is mixed continuously at the same time into a uniform flow of material. This process has an advantage of being able to continuously be carried out with comminution and granulation thus, requiring a less frequent operation. However, in the event of formula change, the flow adjustment is complex and leaves more residue in the equipment and so creates more intermixing of batches.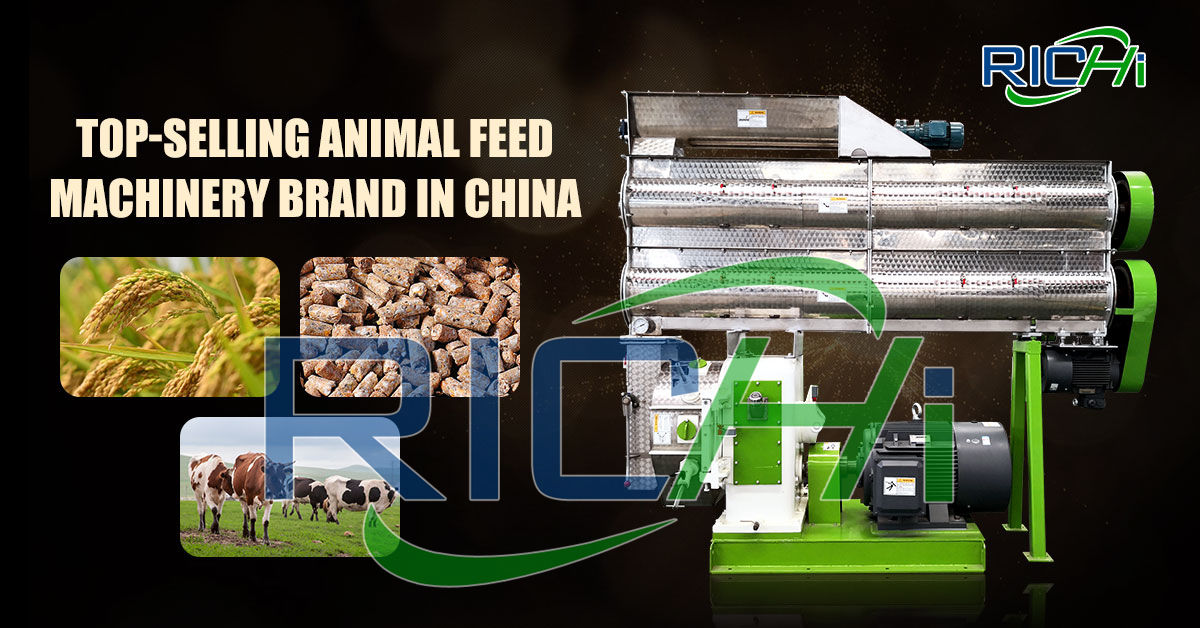 Ring die type pellet maker for livestock is used in medium to large livestock feed plants with the capacity of 1-15T/h. In these livestock feed pellet machine, before the livestock feed material is evenly distributed between roller and ring die(moulds for producing livestock feed blocks), it is conditioned via a livestock pellet mill conditioner placed on the top. Livestock pellet making machine conditioning helps in moisturizing the livestock feed.
In terms of pelleting processing, according to the requirements of farmers for pellet feed, a flat die feed pellet machine or a ring die feed pellet machine can be selected. In contrast, the cost of the flat die feed pellet machine will be cheaper than that of the ring die feed pellet machine. (The flat die pellet machine is only suitable for feed production lines below 1 ton.)
Of course, the output of the flat die feed pellet machine is smaller than that of the ring die pellet machine, and the hardness is large, and the feed return is very low. Therefore, ring die feed pelletizers are mainly used at present. . In terms of cooling, two types of machines, cooling bins or counter-flow coolers, can be considered to achieve the effect of feed cooling.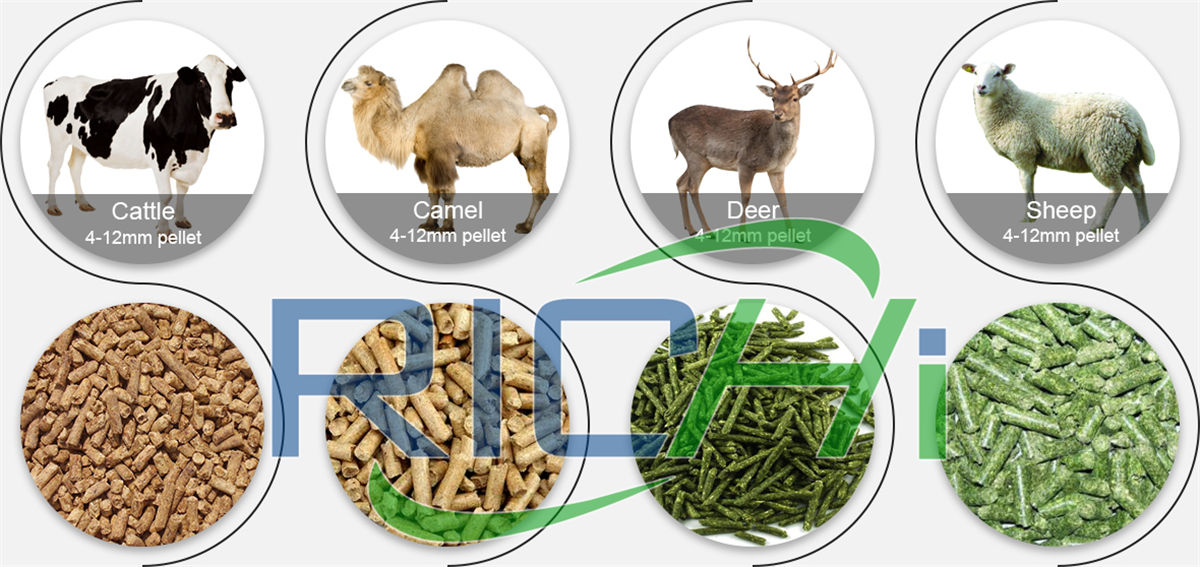 A single pellet mill equipment costs several thousand dollars. If it is a pellet machine production line, it will cost about 10,000 to hundreds of thousands of dollars. The most critical factor affecting the price of the pellet machine is the model (capacity) of the pellet machine and the configuration of the pellet machine.
If you are going to do a small livestock feed processing plant, you can use a small livestock feed pellet production line, so that the production efficiency and degree of automation will be higher. However, if it is a self-employed family farming, the output is generally not high, and a smaller livestock pellet feed machine can be selected.
The pelletizing requires feed with high temperature and humidity. The quizzing adds more heat resulting 16-18% moisture feed with a temperature of 75 – 85℃, such high temperature and moisture make deformed and broken feed which would bond and mildew in storage. Cooling is required to reduce the moisture to 14% and temperature below 8℃.
Livestock feed pellet cooler in small livestock feed plant and crumbler in medium to large feed pellet plant screens the feed. Using crumbler also requires pellet sieving machine to separate powder from feed pellets and to deliver uniform livestock feed pellets for packaging as well as sending powder and ineligible pellets back for reproduction.


The final stage of the 5-6t/h intensive livestock feed production system is the packaging of the livestock feed pellets for distribution. This livestock feed production project uses manual packaging.
Best Livestock Feed Manufacturing Equipment Manufacturer--- RICHI Machinery
Easy Operation: The livestock feed manufacturing company or livestock feed farms only requires a couple of workers to operate it. Adult people who have the basic livestock feed processing knowledge can operate it very well after training. So, it also helps to reduce the running cost of your livestock feed production system.
Wide Application: This animal livestock feed mill production line is also suitable to manufacture pellet feeds for poultry, fish and other animals.
Low Investment Cost: Its compact size takes up less space and the installation and commissioning is relatively easy. Therefore, except the investment for the livestock feed making machines themselves. The extra cost for the livestock feed plants is really small.
The livestock feed plant production process design and livestock feed production machinery provided by RICHI Machinery has many advantages that attract customers from Malaysia, Thailand, Belgium, Algeria, Angola, Uzbekistan, Poland, Australia, New Zealand, Oman, America, Italy, Nigeria , Ghana, South Africa and more countries. Any questions about the animal feed manufacturing process, please contact Richi Machinery freely!