NEWS
RiChi News
Follow Richi Machinery trends, collect industry information, and discuss market focus.
[New order] RICHI Leading Technology Fish Feed Plant for High-end Trout Pellets Thrust into Russian Market
Date: 2021-11-18 10:01:18
From: www.pellet-richi.com
Clicks:
---
On November 16, 2021, Russian customer and Richi Machinery signed a contract for 5-6 tons high-end aquatic fish feed plant supply.
The high level fish feed plant project marks the entry of RICHI leading extruding technology into the Russia market, annual output reaches more than 40,000 tons. The 5-6 tons per hour full automatic fish feed mill plant cost project is nearly 1 million US dollars, and it is expected to ship by the end of 2021.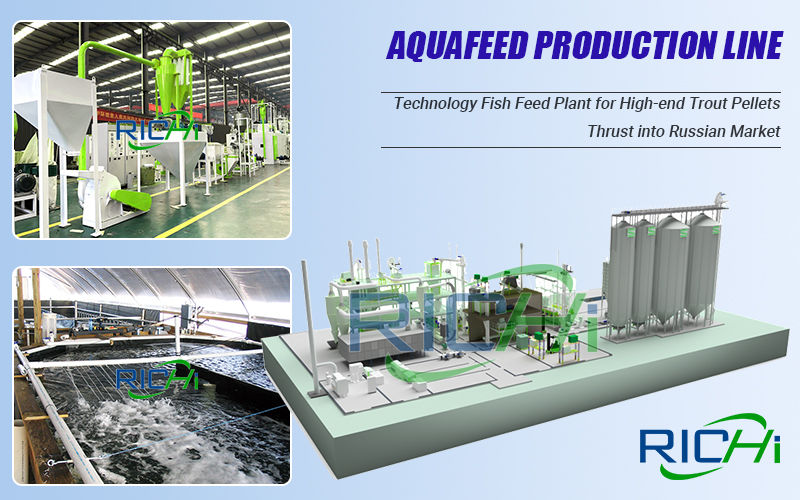 Russia's big challenge——Sourcing quality fish feed
Russia has everything it needs to become one of the world's leaders in aqua sector. They have plenty of water bodies, especially on the south and in the central part of the country. Russia possesses one-fifth of the world's freshwater reserves, more than any other country in the world. In addition, the Russian coastline is calculated to be 37,654 km long, which is more than enough to boost aquaculture production.
But Russia is looking to achieve self-sufficiency in fish feed. Currently, however, the country is strongly dependent on imports and domestic feeds lack quality, which is believed to be the main factor constraining the growth of the Russian fish farming industry.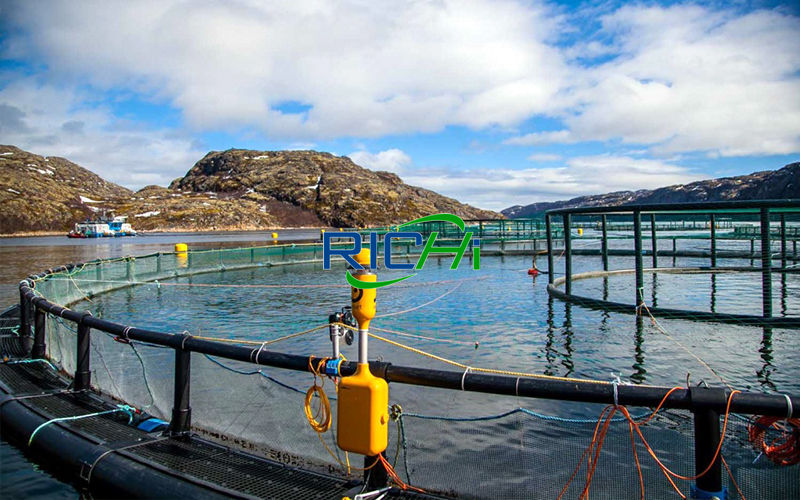 High-quality feed is needed to fuel the anticipated growth in Russian aquaculture. In 2020, the Russian government set the target to boost domestic fish feed production nearly tenfold during the next decade, to 525,000 tonnes. This figure is expected to meet domestic demand and let the country abandon imports, which currently mainly come from China and the European Union (EU).
This target is believed to be entirely realistic since, to some extent, it is based on already rolled out plans. Several new fish feed mills focused on aquafeed are already in the pipeline in Russia.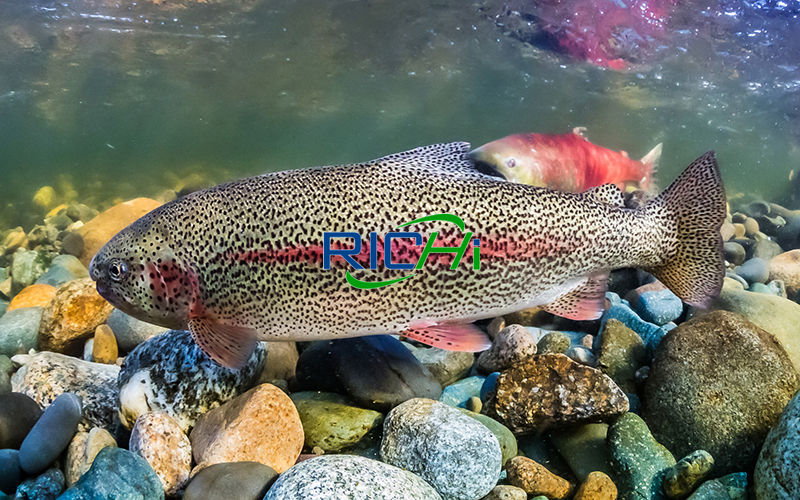 Based on this background, the client of this high-end fish feed plant project also decisively invests in the aquatic feed processing field and contributes to improving the quality of domestic feed in Russia.
RICHI——a provider of high-end fish feed plant solutions
On August 17, 2021, customers consulted with us: "добрый день! меня интересует автоматическая экструзеная линия для кормов форели до 5 т в час". Following several rounds of negotiations and field surveys, after 12 updates of the extruded fish feed mill process plan, Russian customer highly recognized RICHI's capabilities of R&D, manufacturing and quality control, and inked a deal with RICHI.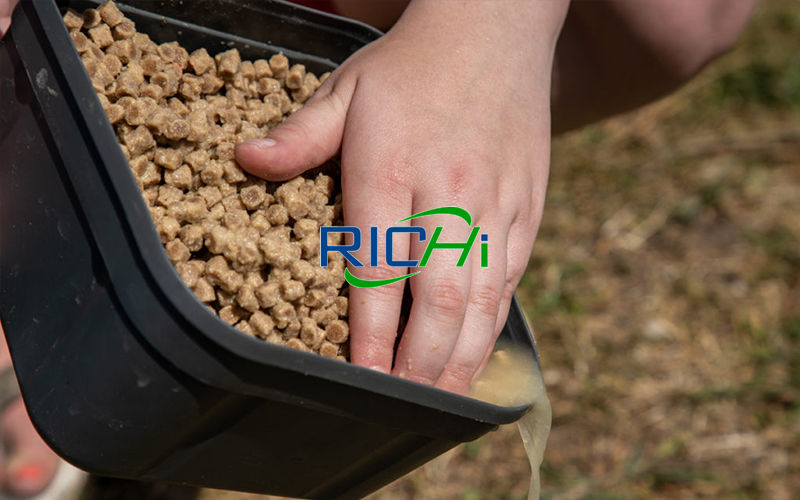 Russia domestic aquaculture currently consumes around 320,000 tonnes of feed per year, mainly extruded feed for salmon, sturgeon, and whitefish and granulated feed for carp species. The extruded feed consumption is about 90,000 tonnes, of which about 20,000 tonnes are produced in Russia; the rest is imported. This balance is likely to change thanks to the Russian scientists, who promise to provide Russian producers with new high-quality formulations shortly.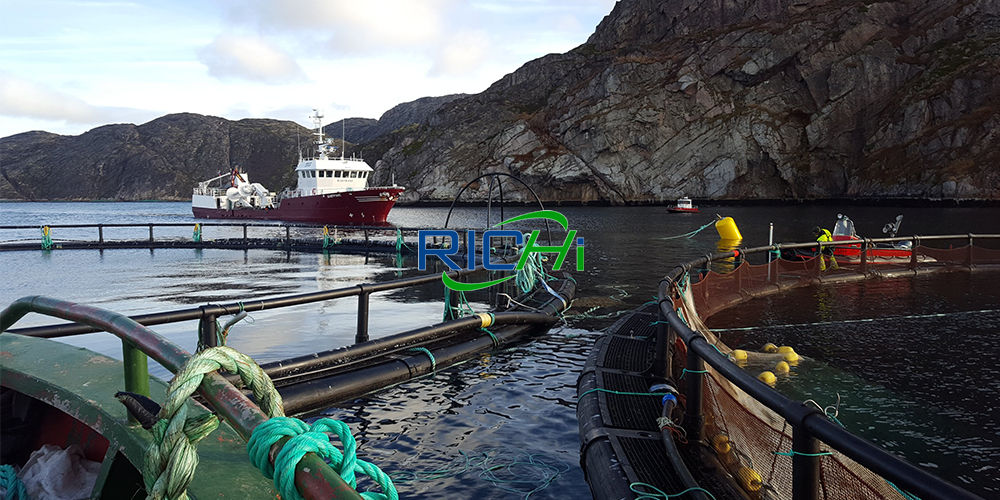 This is not the first time we have exported fish feed machine to Russia. Since the entry of RICHI advanced commercial fish feed making machine into Russia, RICHI has continuously expanded its market share in Russia , thus being praised by customers for its outstanding quality and fast services.
Let us take a look at this automatic 5-6tph advanced fish feed plant for trout pellets designed for Russian customers:
Production process design of 5-6T/H fish feed plant for sale Russia
The trout food pellets production process of this customized 5-6tph fully autonatic fish feed plant project adopts pulverization and then batching, intermittent mixing, (ultra) fine pulverization, secondary batching, extruding, drying, oil injection, cooling (air cooling), sieving into the finished product warehouse and packaging.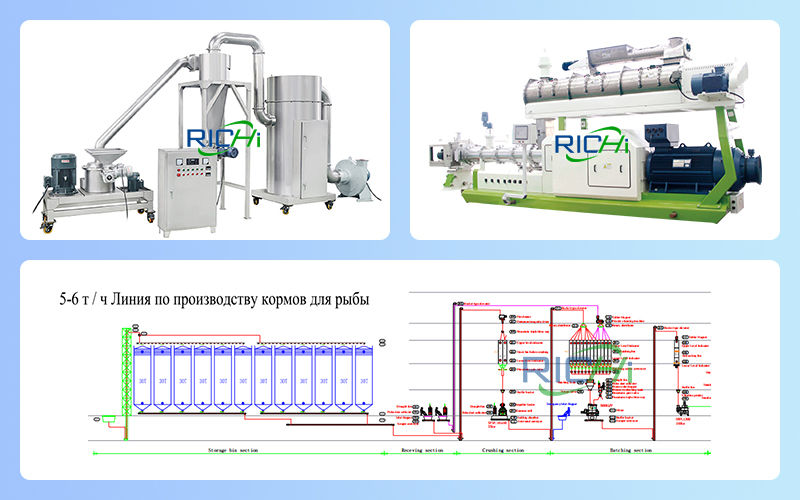 Feeding and cleaning section of 5-6t/h fish feed plant Russia

Designed with two feed ports, the feed port is equipped with a grid screen, which can be used as the first cleaning equipment to remove impurities such as sack line. Each feeding port is equipped with a square pulse dust collector;

The powder and meal are put into the feeding port, and sent to the main workshop by the scraper conveyor and bucket elevator. After cleaning and iron removal, the meal enters the smashing bin, and the powder auxiliary materials enter the batching bin.


The first crushing section of 5-6t/h fish feed plant Russia

It is equipped with a wide-screen hammer-type crusher, and the crushed fish feed making raw metarial enters the batching bin through the screw conveyor, elevator and distributor.

The feeding device of the fish feed grinding machine adopts continuously variable speed to meet the crushing requirements of different materials, realize full-load work, improve crushing efficiency, reduce power consumption, and work stably and reliably.

The crushing system is equipped with cyclone circular pulse dust collector secondary negative pressure dust removal system.


The first batching and mixing section of 5-6t/h fish feed plant Russia

Design a double-scale batching system, each system has 24 batching bins, the bin capacity should be more than 360m³, and the first batch of fish feed mixer machine capacity is 2 tons/batch.

A pulse dust collector is installed on the upper part of the silo slide pipe (distributor) to suck the air from the slide pipe and the silo to prevent dust from escaping.


Second ultra-fine pulverization section of 5-6t/h fish feed plant Russia

A total of 6 ultra-fine pulverizers are used to pulverize the well-adjusted raw materials. After the pulverization, the powder enters the secondary ingredients by means of negative pressure pneumatic conveying. Warehouse;

Ultrafine crushing pneumatic conveying system, equipped with cyclone separator and circular pulse dust collector, two-stage negative pressure conveying dust removal system.

The second batching and mixing section of 5-6t/h fish feed plant Russia

Design a double-scale batching system, divided into two systems, one of which has 5 batching bins with a storage capacity of 100m³, and the other set of batching bins with 7 batching bins with a storage capacity of 140m³ , The second fish feed mixer machine capacity is 2 tons/batch.


Conditoning and extruding of 5-6t/h fish feed plant Russia

The temperature of the raw material (10% water content) is adjusted to 80~85℃ and 13% water content through steam, and then it is puffed through the twin screw fish feed extruder.

Drying of 5-6t/h fish feed plant Russia

The trout pellets just extruded from the fish feed extruder machine have a moisture content of up to 20% and a temperature of about 80°C. The feed in this state is fragile and unsuitable for storage and transportation, so it is heated indirectly by steam Air dries the trout pellets so that the moisture content will reach 13%, making the trout pellets harder and easier to store and transport.


Cooling and packaging system of 5-6t/h fish feed plant Russia

The extruded trout pellets enters the fish feed dryer machine for drying, and then undergoes screening, thermal spraying (using a vacuum spraying machine), cooling (using a fish feed cooler machine), and then screening to obtain qualified products, and then enters the finished trout pellets product warehouse for packaging.
Main fish feed machine of 5-6 tons capacity fish feed mill for sale Russia
SPHS 128x2 twin screw fish feed extruder machine for 5-6t/h fish feed plant extruding section
Innovative patented structure, superb barrel and screw design;
The fish feed extruder can process both sinking and floating materials;
The screw gap is as low as 0.5mm, and the ratio of length to diameter is up to 19.5:1;
Advanced hole-laying technology and die-hole structure, the product trout pellets size is the same, and the cut surface is smooth;
The gearbox life is more than 50,000 hours.
SFSP66.Bx100EII high efficiency fish feed grinding machine for 5-6t/h fish feed plant first crushing section
RICHI's patented multi-grinding chamber combined structure and optimized design of the core assembly of the whole fish feed hammer mill equipment, uniform material distribution and effectively reduce the circulation phenomenon in the grinding process, the grinding particle size is more uniform, and the efficiency and output are improved under the same screen mesh;
High comprehensive production capacity, low energy consumption and less wear;
Strengthen the hard process, further improve the fineness of crushing, and the crushing effect is good;
The crushing hammer pin can be freely switched in thickness, one machine for two purposes.
SWFL128D superfine fish feed crusher for 5-6t/h fish feed plant second crushing section
The fineness of pulverization between 60-120 mesh, the sieving rate of the finished product is more than 99%, and the output is more than 15% higher than that of similar domestic models;
The operation is more stable, the crushing particle size is more uniform, and the efficiency is increased by 30%;
The grading system is optimized in design, with higher crushing capacity and longer service life.
Horizontal circulation fish feed dryer machine for 5-6t/h fish feed plant drying section
Even drying, energy saving and consumption reduction;
Different temperature zone design improves drying quality and reduces energy consumption;
Using PC+ touch screen automatic control system;
European and American environmental protection standards, each conveyor belt is equipped with an automatic cleaning device.
SYPG850 new drum type liquid spraying machine for 5-6t/h fish feed plant coating section
Drum spraying, using a special angle turning plate, air atomizing nozzle, spraying fine particles of liquid, full contact with the surface of the particles, the spray uniformity can reach more than 95%;
The inclination angle of the drum is adjustable, and the inclination angle can be adjusted according to different material flow angles;
The computer automatically controls the addition amount, the metering is more accurate, and the formula function is realized without deviation;
The dual-addition form makes the granular products comprehensive and balanced in nutrition, allowing managers and formulators to worry, rest assured, and peace of mind.
Automatic control system for 5-6t/h fish feed plant automation
One-key operation, intelligent operation, greatly reducing labor costs for fish feed mill;
High degree of automation, which can realize one person and multiple machines, saving labor and cost;
Precise control of various parameters to reduce waste and increase fish feed plant productivity;
Remote service can be carried out to realize remote data sharing.
RICHI leading aqua feed machinery has developed rapidly in the international market in recent years, and has been exported to countries and regions such as Europe, North America, South America, the Middle East, Asia. The signing of the contract will open a new page for the development of RICHI in the Russia high level aqua feed mill machinery market.
The above is the article for you: [New order] RICHI Leading Technology Fish Feed Plant for High-end Trout Pellets Thrust into Russian Market.
If you are interested in our products or project solutions, please contact us. We will give you the best product quality and the best price. Email: enquiry@pellet-richi.com
---