Overview Of Uzbekistan 1T/H Floating Fish Feed Plant And 1-2T/H Poultry Feed Mill Combined Project
This is a customized feed mill plant for poultry and floating fish feed mill project, advanced structure and smooth operation, the Uzbekistan customer's raw materials are corn, soybean meal, oil, premix, used in the production of floating fish feed 1-1.2t/h, poultry chicken feed 1-2t/h, feed pellet size is 1-4mm.

Uzbekistan floating fish and poultry feed feed manufacturing plant project project customer visit
This 1t/h floating fish feed mill and 1-2t/h poultry feed mill combined project started in January 2019, the installation cycle is 60 days, covers an area of 15*9.5*8 meters, and the fish poultry feed mill plant project was put in production in March 2020. The main poultry feed making machine and fish feed making machine of the feed production project includes: fish poultry feed grinder machine, fish poultry feed mixer machine, floating fish feed extruder, poultry feed pellet machine, pellet cooler, vibrating shifter, automatic packing machine, 1t/h steam boiler, etc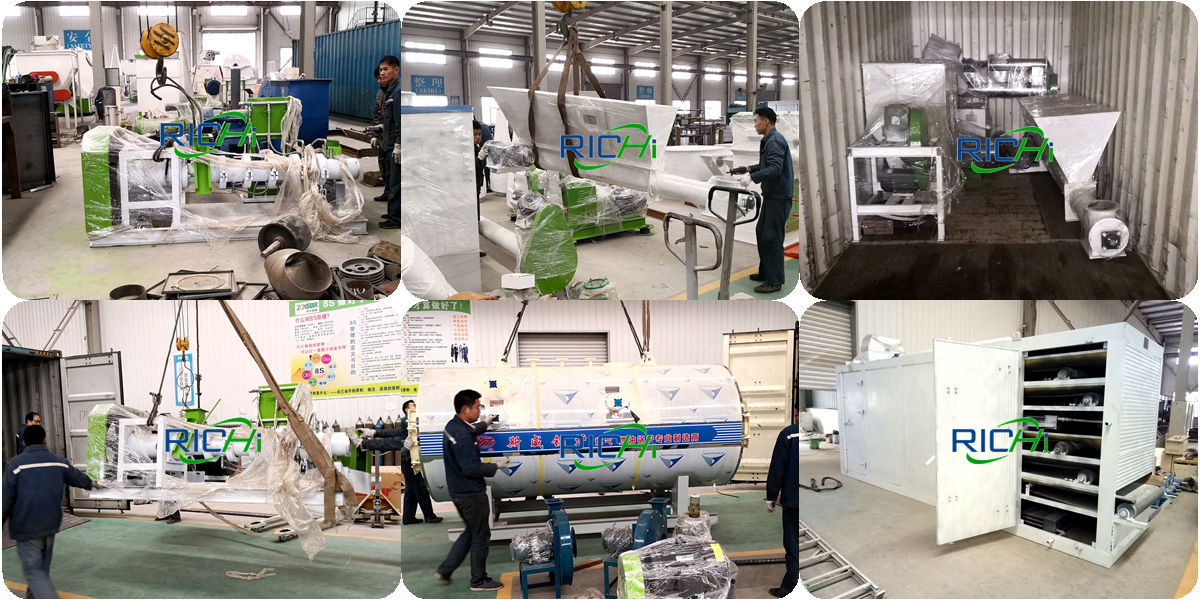 Equipment delivery of 1T/H Floating Fish Feed Making Plant And 1-2T/H Animal Feed Line Combined Project for sale Uzbekistan
01
37KW fish poultry feed grinder
This poultry feed grinder can reach perfect balance between fineness and production. Once crushing mesh≤∅1.8, grease content ≤8%, moisture content ≤10.5%. Transmision : Directly driving type with hammers.
02
90KW aquatic fish feed extruder
The new type conditioner of the fish feed maker machine can soften material fibers, improve gelatinization degree, reduce power consumption and increase production capacity. Intelligent control system, key data on-line monitoring, improve efficiency.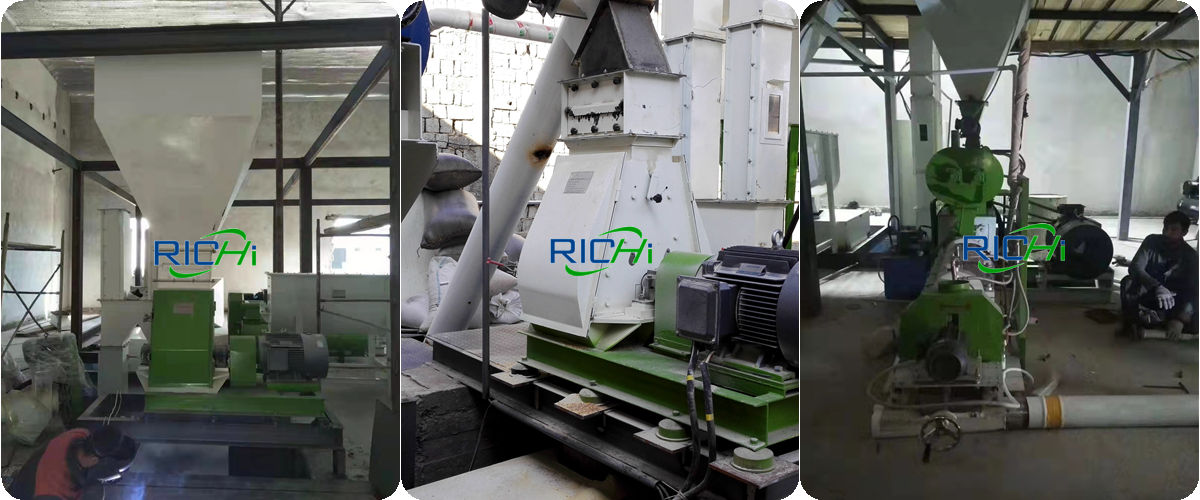 Site of floating fish and poultry feed feed manufacturing plant project in Uzbekistan
03
Double-shaft Efficient Poultry Feed Mixer
Many kinds of liquid and solid can be added at the same time. The spraying is accurate and the control is convenient. Mixing period of the poultry feed mixer: 180s. High uniform,patent the ribbon design enhanced material flow, mixing uniformity very good, CV≦5%. The feed mixer ribbon and chassis, to ensure the retention rate is very low, to prevent cross-contamination of materials; discharge gate fully open, the material instantly emptied, no residue.
04
SZLH250 ring die poultry feed pellet making machine
The poultry feed pelletizer feeding system adopts stepless speed changing motor control, adjust speed conveniently and reliably. This poultry feed pellet milling machine could be equipped with microcomputer automatic control system adjusts feed-in quantity and throttle flow automatically, make poultry feed pellet mill in the best working condition all the time. This model pellet machine for poultry uses one-motor straight gear+belt drive system, with the ideal gear ratio, drive torque, stable transmission, highoutput, low noise, easy operation and maintenance.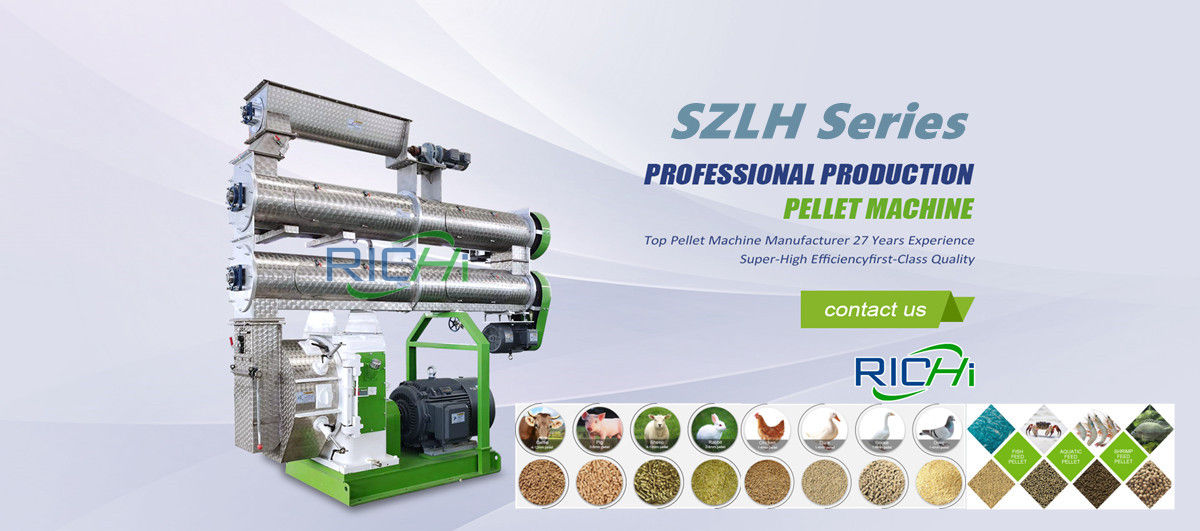 05
SSLG pellet crumbler machine
It uses the differential speed principle of rollers to extrude and shear the materials, which breaks the large pellets into irregular small particles. Roll protection device makes the roll automatically avoid collision when encountering hard foreign bodies, and protects the roll from damage. Double-roller structure contributes to uniformly reduced pellet size and high percentage of quality product. Widely used for crushing poultry and livestock pellets and aquatic pellets.


06
SKLN11*11 Feed Counter-flow Cooler
Use counter-flow cooling principle, full and uniform cooling. Use special slide valve discharging mechanism to discharge. The discharging mechanism runs smoothly and reliably, the discharging is smooth.Use mechanical leveling device, the discharging is accurate and sensitive. Belt driven, low vibration, small noice.


07
Automatic bagging machine
The reasonable feeding structure of the poultry feed bagging machine ensures smooth flowing of materials. All parameters can be input by the panel. Automatic control of fast/slow feeding, bag clamping and loosening. Unique anti-shock device to ensure measusrement accruracy, fast packing. Through the introduction of automated feed equipment, the fish poultry feed making plant project can significantly reduce the labor costs and improve the animal feed mill production efficiency for the customer.
How to start your animal feed plant for making fish and poultry feed?
Nutritionists – the dieticians of the animal food world – formulate animal food to provide animals with the necessary, balanced nutrients for proper growth, development and maintenance. Animal food is designed to compensate for nutrients and supplements that may be absent from an animal's natural diets.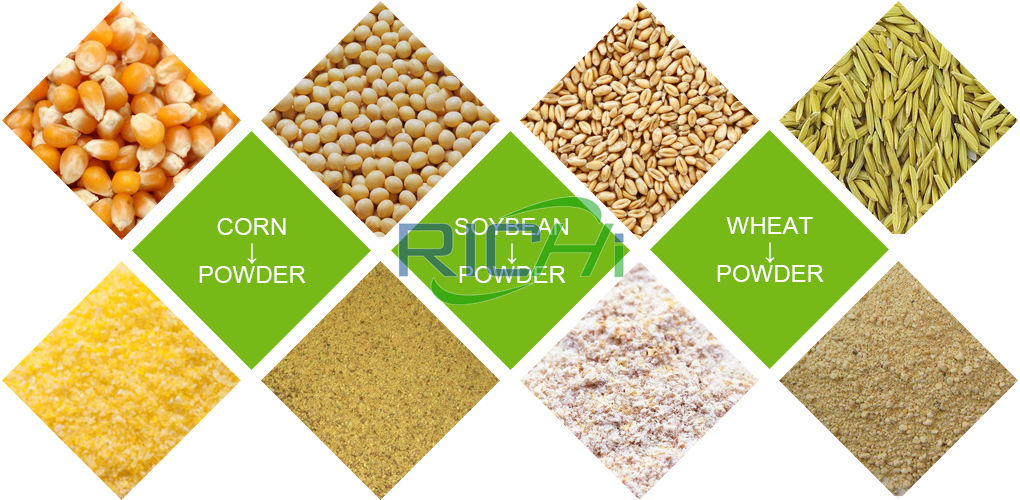 4 basic steps for animal feed manufacturers to producing animal food
Receive raw ingredients
Animal feed mills receive raw ingredients from suppliers. Upon arrival, the ingredients are weighed, tested and analyzed for various nutrients and to ensure their quality and safety.
Create a formula
Nutritionists work side-by-side with scientists to formulate nutritionally sound and balanced diets for poultry. This is a complex animal feed production process, as every species has different nutritional requirements.
Mix ingredients
Once the animal feed formula is determined, the animal feed plant mixes the ingredients to create a finished product.
Package and label
Animal feed manufacturers determine the best way to ship the product. If it is prepared for retail, it will be "bagged and tagged," or placed into a bag with a label that includes the product's purpose, ingredients and instructions. If the product is prepared for commercial use, it will be shipped in bulk.
If you own a breeding farm, and you have medium or big-size commercial feed mills, our feed production line of fish feed machine and poultry feed machine are your best choice because they use super automation controls and are highly efficient. Please feel free to contact us if you have any questions about floating fish feed production and poultry feeds production or interested in getting more details of other animal feed milling machines!
RICHI feed mill plant and feed machine for sale Uzbekistan
As of the end of 2020, we have established 24 feed plant and feed machine projects in Uzbekistan, including 18 complete animal feed production lines and 6 single feed machine projects. The products sold cover chicken feed production line, cattle feed production line, laying hen feed production, broiler feed production, livestock feed plant, fowl feed production, fish feed production, etc.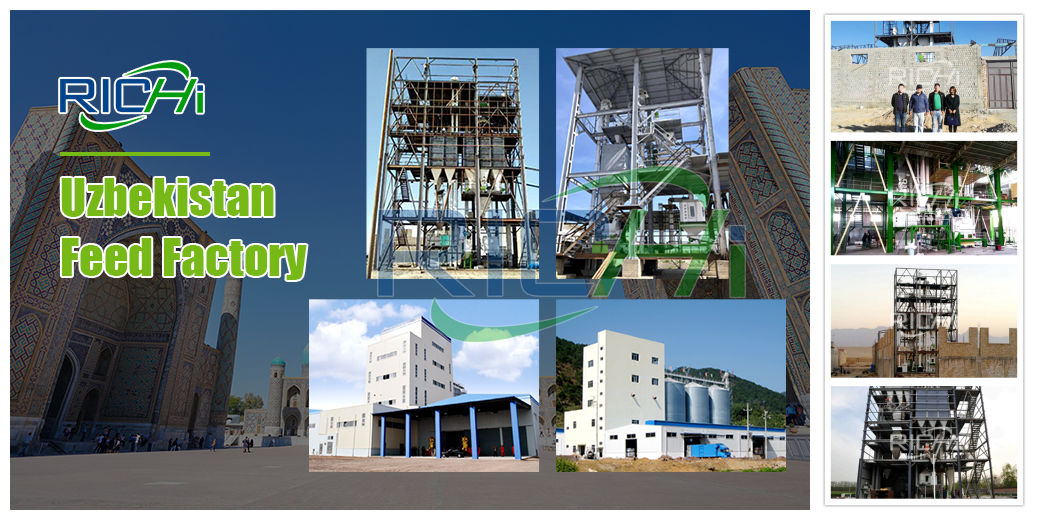 The following is a list of all our current feed production projects in Uzbekistan, all the information is true. (Currently, only some Uzbekistan feed production cases have been updated on the website. Because some cases are ongoing or lack relevant pictures, there is no specific detail page. You can directly contact our sales staff for more case information)