Overview of 100-150 kg/h cheap price fish feed produciton line in Botswana
This is a small scale fish feed production line built in Botswana. The customer is a fish farmer. Due to the high feed price, this Botswana customer chooses to process the feed by himself. This is a standard small floating fish feed production line. Since the processed fish food pellets bulk are all used in its own pond, there is no need to configure a packaging scale in the design of the fish feed production line.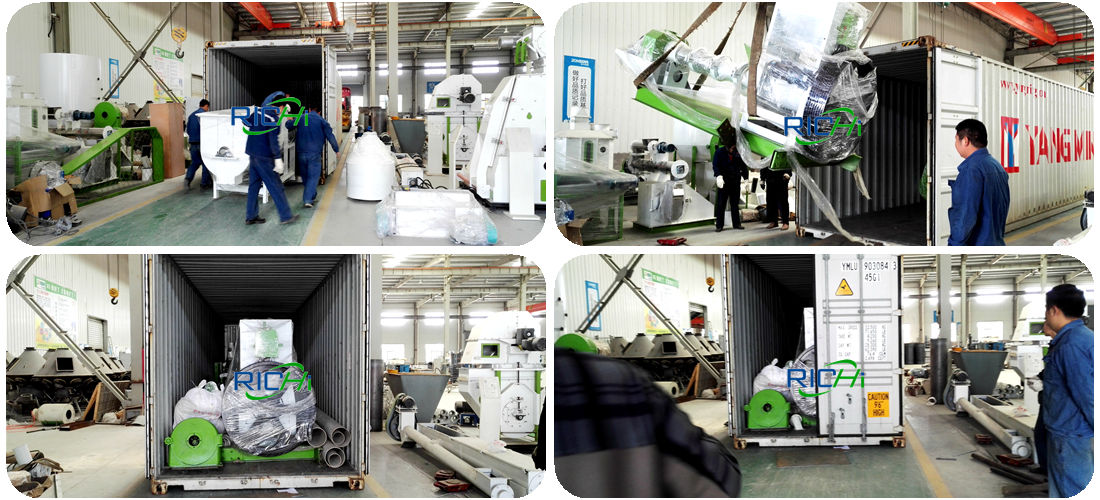 Equipment delivery of small floating fish feed plant for sale Botswana
In addition, because the Botswana customer's budget is small, we are ensuring the efficiency of the fish food process line and on the basis of feed quality, try to reduce costs for customers, so the investment of this 100-150kg/h fish feed processing line is lower than general 100-150kg/h floating fish feed plant cost. Due to the simplicity of the fish floating feed line configuration, the power consumption of the entire floating fish feed pellet processing line is only 50kg/hour.
Complete floating fish feed production process in Botswana aquatic feed pellet line project
Raw materials first are crushed by the fish feed grinding machine. The particle size directly effects the efficiency of fish food pellets making. With the high pressure and rapid-moving of airflow, the smashed raw materials are further reduced into particle size or very small pieces for further fish food pellets processing. Therefore fish feed hammer mill is suitable for fish food pellets grinding in the floating fish feed production line.


Powdery raw materials for fish feed production need to be mixed thoroughly in the fish feed mixer to ensure a high-quality of nutritional feed. We provide fish feed mixer with a single-shaft and twin-ribbon. It reinforces convection, shearing, and mixing effects and is an essential parts of the whole floating fish feed production line.
After mixing, floating fish feed extruder machine will compress feed powder into sized pellets. Dry type fish feed extruder machine is the significant equipment with reliable performance, easy operation and cheap price, which is economic for small and medium scale fish feed production. Therefore dry type fish feed making machine are recommend in the this small capacity low cost fish feed plant in Botswana.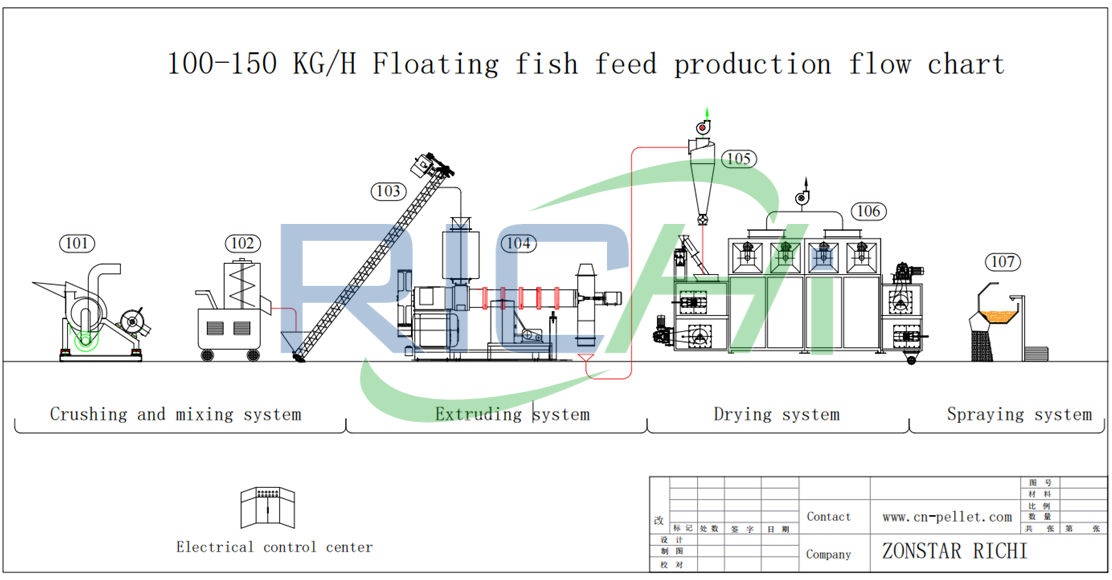 Floating fish feed production process
Fish feed pellets from fish feed pelleting machine need to lower high moisture and temperature. So mesh belt dryershould be equipped in the floating fish feed production line. With simple structure, it is easy to install and maintain, and ideal for floating fish pellets drying.
For acquiring better smell and taste, the oil spraying machine can be used to spraying oil to the surface of fish feed pellets coming out of the dryer. It sprays atomized oil with high speed on the up and down surface of pellets, and the excessive oil can be recycled through filter.
06
Fish feed pellet cooling section
Hot bulk fish feed pellets are soft and easily broken, which can result in a high percentage of fines. By cooling floating pellet fish food can be harden. Counter flow cooler is cooling type that commonly used in pellet production industry currently with the direction of the air and product of pellets in opposing directions.
Fish food making machine needed in the 100-150kg/h easy use fish feed production line for sale Botswana
Fish feed production machine details
Fish Feed Hammer Mill*11kw/h
Fish Feed Mixer*3kw/h
Dry Type Fish Feed Pelletizer*37kw/h
Mesh Belt Dryer*24kw/h
Counterflow pellet cooler*200kg/batch
Oil spraying machine*200kg/batch

RICHI Pellet Plant & Pellet Machine For Sale Botswana
Animal feed production project in Botswana
Project name: 200-300kg/h animal feed production line
Order time: 2019.12.24
Pellet type: For making broiler feed pellets
Pellet size: 3mm
Project area: 6*3*7 meters
Project installation cycle: 15 days
Project electricity: around 50kg/hour
Number of engineers assisting in installation: 2 engineers
Poultry feed production project in Botswana
Project name: Small poultry feed machine
Order time: 2020.10.24
Pellet type: For making chicken feed pellets
Pellet size: 4mm
Model: FDF
Drawings we provided: Installation drawings of equipment