Overview of 2 tons per hour commercial fish feed plant for sale Bolivia
Bolivia has no marine resources, but has extensive freshwater resources with a great diversity of fish species (>400). Fishing occurs nationwide, involving both capture fisheries in rivers and open waterbodies, and aquaculture.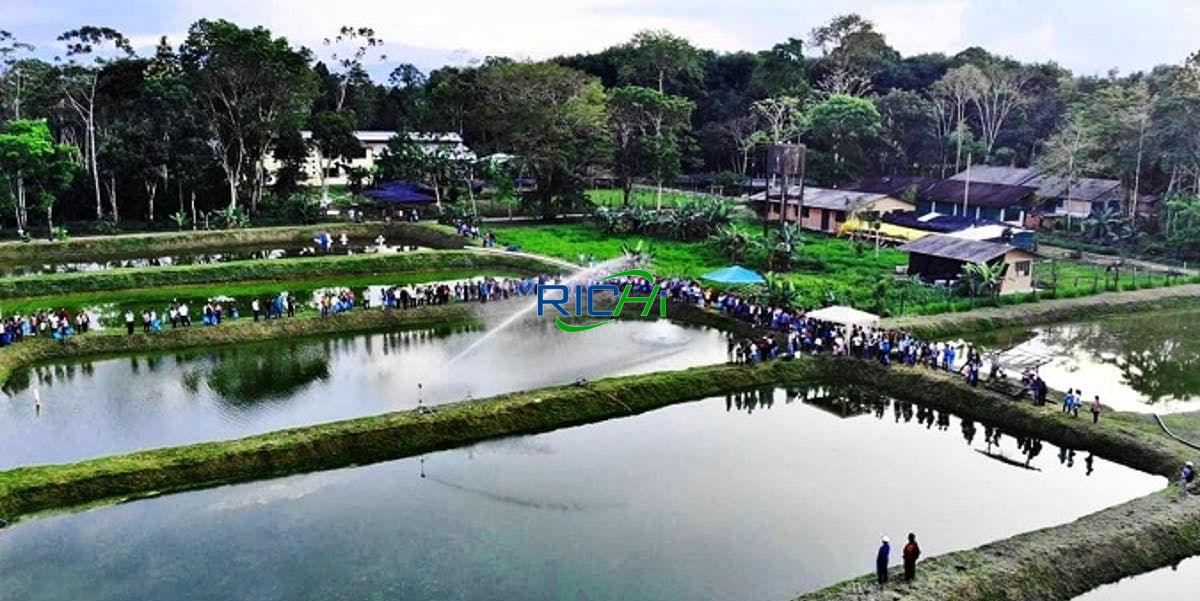 The customer of this 2 ton fish feed production line project is a Bolivia fish feed company that produces tilapia pellets. The fish feed production plant they built has an output of 2t/h, and the fish feed manufacturing unit for freshwater fish food pellets production occupies an area of ​​8M*11M*14M (L*W*H).
It is worth mentioning that this is the first phase of the Bolivia customer's floating fish feed plant project for tilapia pellets. In the tilapia pellets feed plant design we provided for customers, according to customer requirements, the possibility of adding 5 tons of fish feed production capacity has been reserved.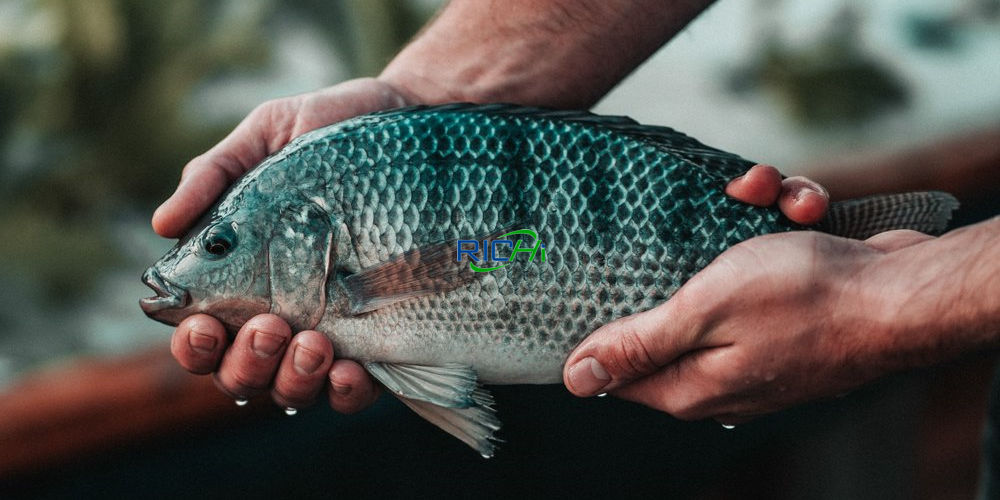 From the very beginning, when the customer planned to build a floating fish feed production line for tilapia pellets, he directly looked for fish feed plant manufacturers in China. Among the 10 competitors, the customer chose us. According to the feedback from the sales staff of this Bolivia 2t.h fish feed mill project, the customer is consulting about the expansion of fish feed plant production capacity.
Design of floating fish feed manufacturing process in Bolivia 2t/h commercial fish feed mill
01
Crushing raw materials for fish feed production
The raw material must be crushed before it is made available for pelleting. The electric fish feed hammer mill is generally used for this purpose. It crush large-sized raw material into fine particles.
02
Mixing to Distribute Raw Material Evenly
A fish feed mixer must be used to make sure that every component of the raw material is mixed efficiently. A horizontal ribbon feed mixer for tilapia pellets is one of the commonly used animal nutrition feed mixing and production equipment in this industry. You can load a large amount of material in it and get it mixed well.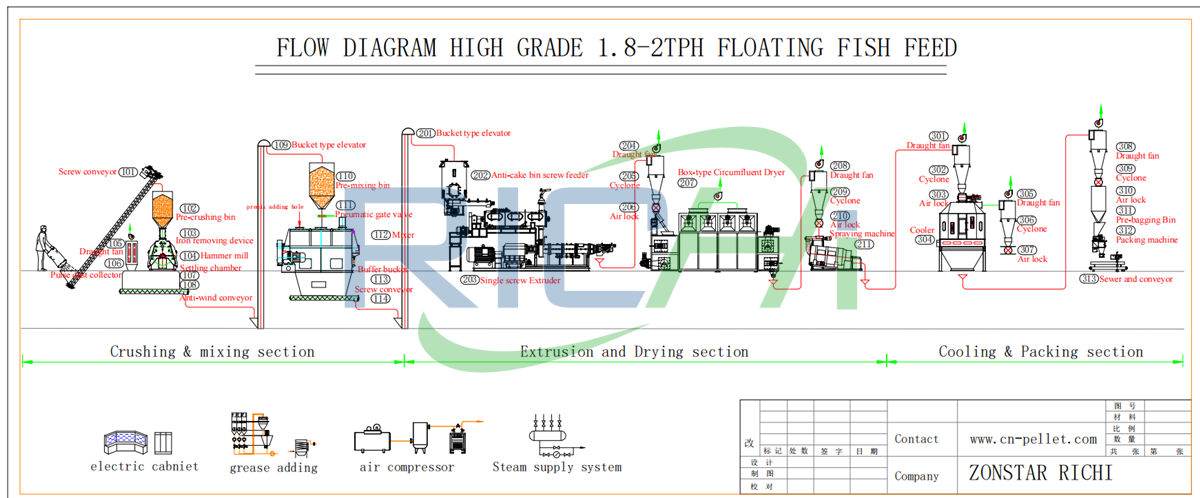 Fish feed manufacturing process flow chart of Bolivia 2t/h commercial fish feed making plant
01
Making Pellets of Different Sizes
The fish feed pellet machine can be typical animal feed pellet mill and fish feed extruder machine. And fish feed pelletizer is for sinking fish feed or fish bait, and extruder machine is for floating fish feed or slow sinking fish feed. Choose which type of fish feed pelleting machine should be based on your actual fish feed mill process design! In this Bolivia fish feed manufacturing plant, the customer chose tilapia pellets extrusion machine.


04
Drying Fish Feed Pellets
A fish feed dryer is used to remove extra water content from the tilapia fish food pellets. Mesh belt pellet dryer is a common dryer in which hot air is used to dry tilapia fish food pellets.
05
Reducing Temperature of Pellets
A fish feed pellet cooler is used to reduce the temperature of tilapia pellets that were initially dried with the help of hot air.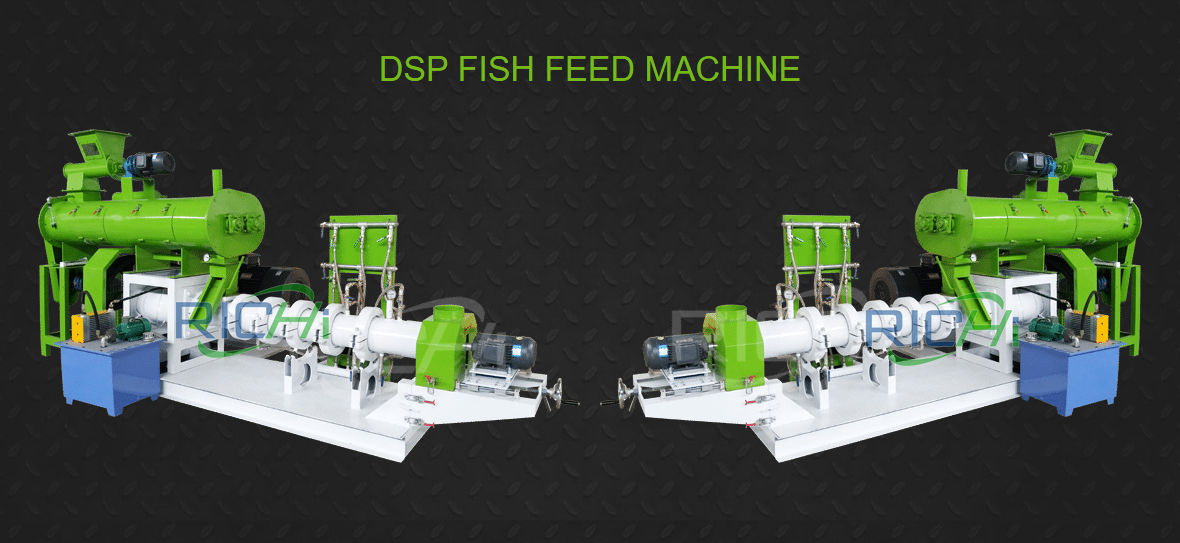 06
Packing and Storing Fish Feed Pellets
The tilapia pellets packing machine weighs the tilapia pellets automatically and sends them into the storage bags of appropriate size.
Fish feed making machine needed in 2 tons per hour fish feed mill for tilapia pellets in Bolivia
Fish feed machine details
Screw conveyor*TLSS20
Bin before crusher*2.5m³
Fish feed grinding machine*SFSP56*40
Draught fan*4-72-4A
Pulse dust collector*TBLMa.18a
Air-locked screw conveyor*TLSS20
Bucket elevator*TDTG36/18
Fish feed mixing machine*SLHY2.5A
Electric fish feed excruder*DSP-160B
Drying machine for fish feed*RH-WH2000
Coating machine*SYPL15C*2
Fish pellet cooling machine SKLN17*17
Auto-packing machine*DCS-50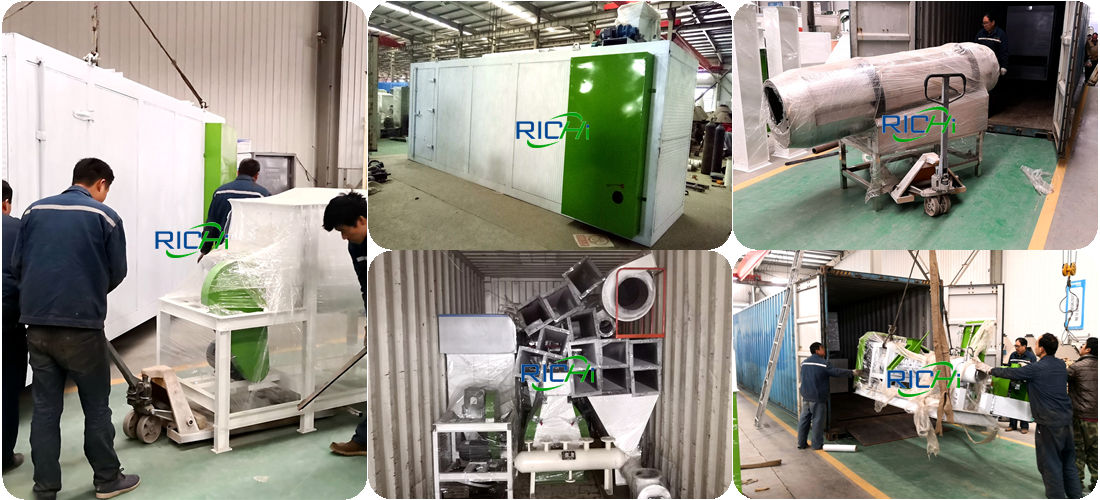 Equipment Delivery Of 2t/h commercial fish feed plant for sale Bolivia
Features of 2 t/h commercial tilapia feed pellet plant for sale Bolivia
After high-temperature and high-pressure treatment in the fish feed extrusion line, the starch is gelatinized and the protein is stratified, thus the nutritional value of the feed is greatly improved. Besides, high temperature and high pressure has good sterilization effect, making the feed good in palatability and easy to digest.

The final manufactured extrusion feed is porous and has a small specific gravity. It can float on the water for a certain period of time without sinking. Water pollution is reduced as well as the feed loss.

Extruded fish feed pellet has low moisture content, generally 6%~9%, featured of good shape retention and can be stored for a long time. According to the experiment, the digestibility of fish can be increased by 10% to 35%.

The 2t/h fish feed extrusion line is also suitavble making pet feed, such as, cat, dog, etc.
What Kind Of Fish Food Pellets Do You Want To Produce?Difference between floating and sinking fish feed
| | | |
| --- | --- | --- |
| Performance | Extruded tilapia feed | Pelleted tilapia food |
| Bonding degree | Strong | Strong |
| Floating and sinking | Beneficial | Just sinking |
| Stability in water | Better | Good |
| Fines in aquafeeds | fewer | Few |
| Nutriment digestibility | Higher | Lower |
| Funding | Bigger | Smaller |
| Processing cost | Higher | Lower |
| Equipment wear | Slower | Quicker |
The table above shows the performance comparison between floating feed and sinking feed,both of them can be processed through our fish feed plant, what you should do is to tell us your requirement, we will offer you the best service. Welcome to contact Pellet-Richi for more "how to produce local floating fish feed","how do you run a fish feed manufacturing plant" information!
RICHI feed pellet machine and feed extruder machine for sale Bolivia
As of this case update, RICHI has done 8 feed production projects in Bolivia. The following is the basic situation of these feed pellet making machine or feed pellet production line projects:
| Project name | Order time | Equipments |
| --- | --- | --- |
| 3-5T/H pig feed plant | 2021.07.27 | Pellet machine+crusher+extruder+cooling system |
| 1T/H Fish Feed Extruder Machine | 2018.02.26 | Single fish feed machine(DSP-120B) |
| 2T/H Fish Feed Extruder Machine | 2017.11.21 | Single fish feed machine(DSP-160B) |
| 70B Fish Feed Extruder | 2019.09.25 | Single fish feed machine |
| 400-500KG/H animal feed pelletizer | 2019.05.08 | Single poultry feed machine(FDF-260) |
| 800KG/H broiler feed machine | 2020.06.28 | Single chicken feed machine |
| 800KG/H feed pellet maker | 2020.12.28 | Single poultry feed machine |