Project location: Xinjiang, China
Project commissioning date: this brewery project put into operation in October 2020.
Labor quota: The hop pellet plant's labor quota is 5 people, the craft beer production line requires 10 people
Staff work system: single-shift system, 8 hours per shift, 260 days of work throughout the year. Among them, the hop production line granulation process, beer production line saccharification, filling and other processes are 8 hours a day, and the annual working hours is 2080 hours; fermentation equipment and cold storage equipment are continuously performed 24 hours a day, and the annual working hours are 6,240 hours.
The total investment of this hops pellet plant and beer production line combined project: 15 million yuan (USD 2.34 million), all of which will be raised by the company itself. Among them, the 2 tons hop pelletizing plant cost (complete set hops pelleting line equipment) is nearly 160,000 US dollars.
Production scale and product plan: After the completion of the hops pellet plant and craft beer production line combined project, the brewery is expected to produce craft beer 2000t/a, including wheat wine 1500t/a and IPA wine 500t/a.
This good quality hop pelletizing plant and craft beer production line combined project is a new build small brewery project, and RICHI undertakes the whole set of hop pellet line machines. The hops pellets that customer want to process are divided into Magnum hops, Saz hops and mosaic hops. This customized good selling new design hop pellet production line has an output of 2 tons per hour and an annual output of 4160 tons.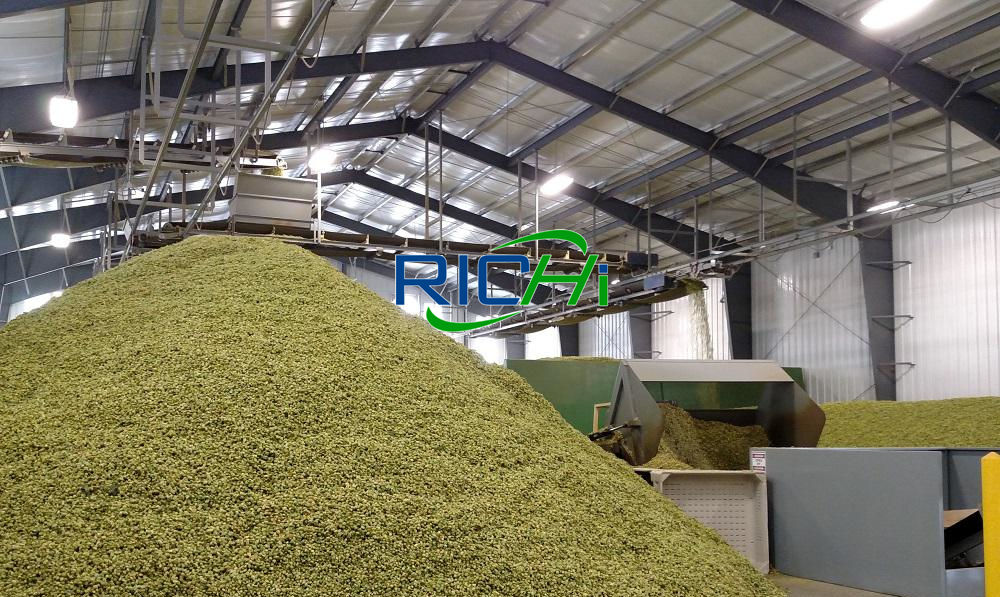 It can be seen that the output of this hops pellet processing line is much higher than that of its own brewery (244 tons), because the customer intends to sell the excess hops.
According to the customer, he has identified several channels, and he is not worried about the future sales of hop pellets. In addition, the customer also purchased a crusher machine from RICHI for the raw material processing process of the beer production line. The malt was weighed and put into a double-roller crusher for crushing. The crushing requires the crushing of the wheat hulls to keep the wheat husks intact.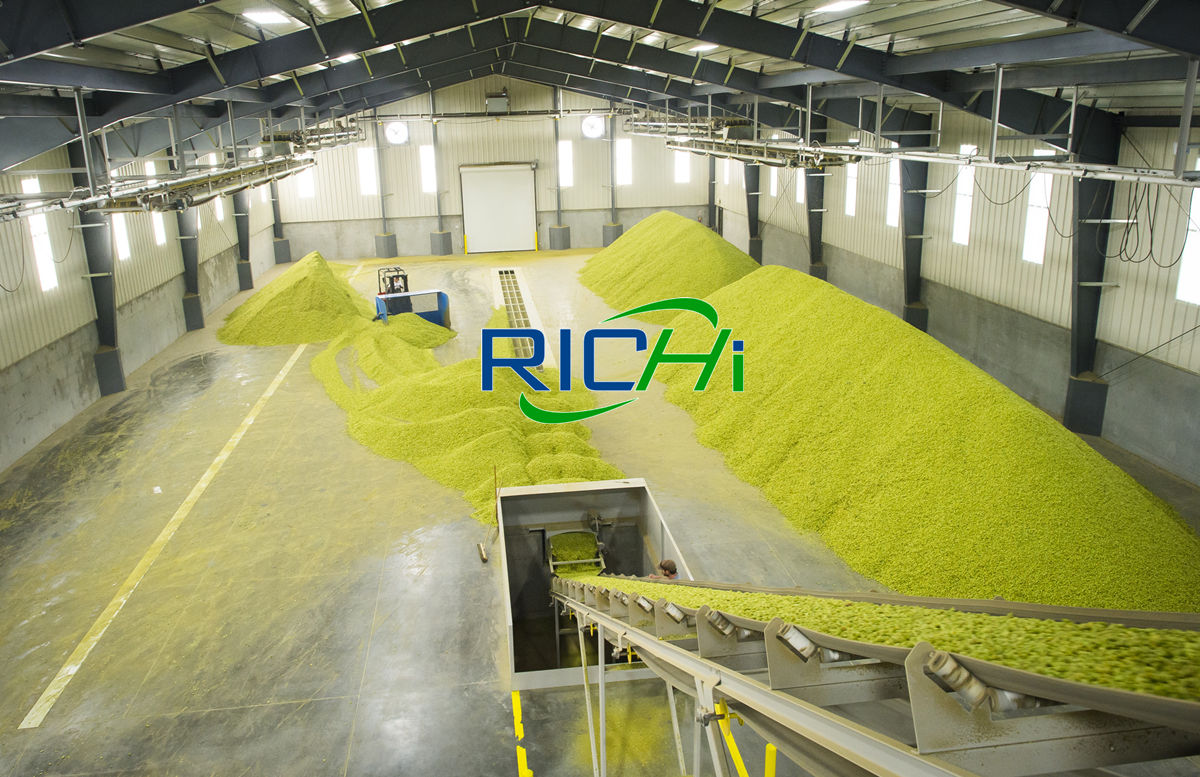 The hop pellets consumption of the 2 t/h hop pelletizing plant and 2000t/a craft beer production line combined project
The main raw materials for beer production are malt, starch, and hops. The raw materials are directly used in the silo; the auxiliary materials are diatomaceous earth, water, electricity, and steam.
| Type of hop pellets | Consumption (t/a) |
| --- | --- |
| Magnum hops | 240 |
| Saz hops | 1.5 |
| Mosaic Hops | 2.5 |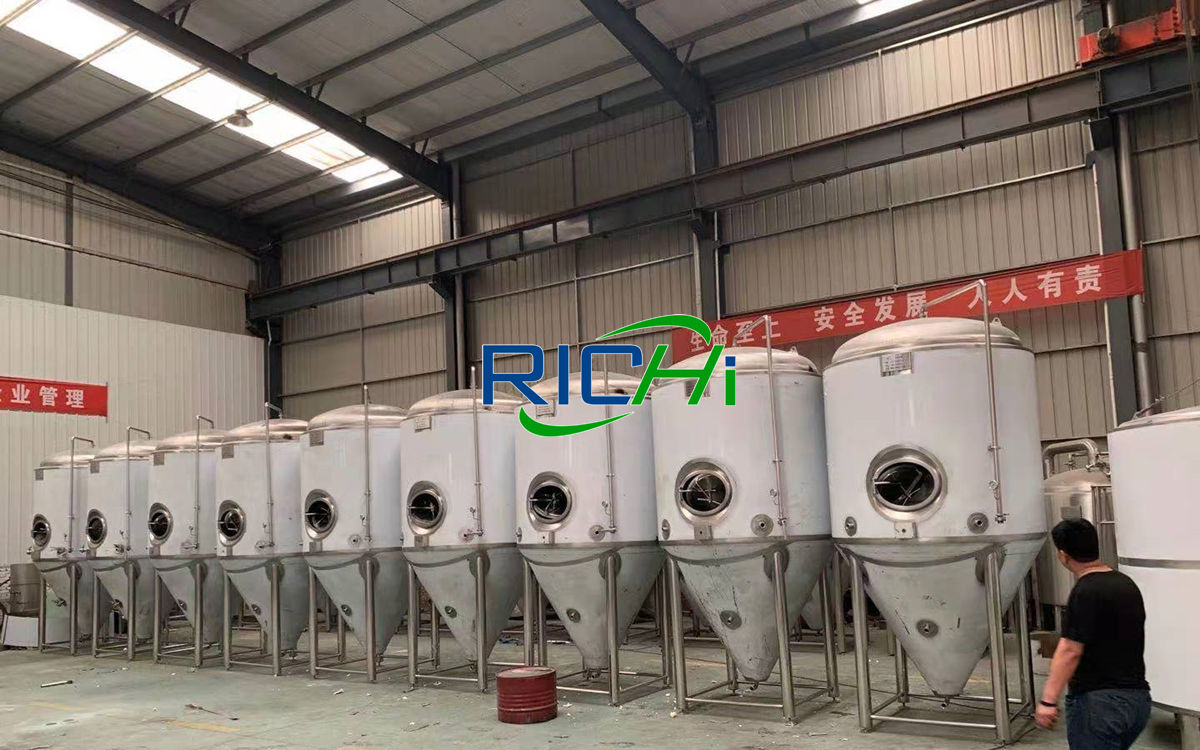 The index of hop pellets for the factory price 2 ton per hour hop pellet plant
Items
Metrics
Color
Light yellow green
Aroma color
There is a clear hop aroma, no foreign odors
Revenness, %
The pellet hops are uniform, and the scattered particles are less than 6
Hardness, kg
6.0
Disintegration time, s
10
Moisture,%
10.0-12.0
α-acid (in dry state), %1)
6.0
α-acid (in dry state), %2)
2.0
(1) The alpha-acid content of pellet hops made from aromatic hops that has been officially named is not subject to this requirement.
(2) β-acid 2.0% is the recommended value.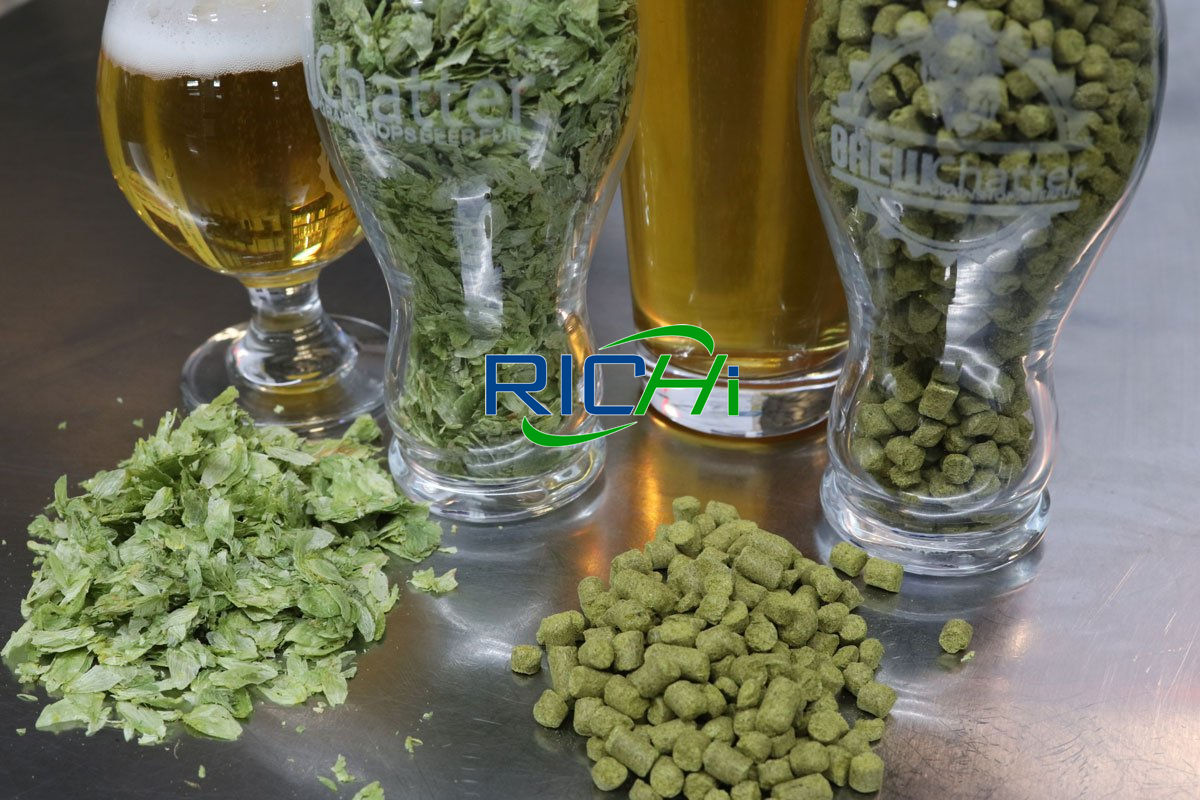 The hops pellet production process in the 2 tons per hour complete hops pellet production line in China
Pellet hops are made by shredding, compressing, and extruding the dried cones. The majority of hops used in the craft brewing industry are pellet hops, especially for those using a glass carboy with a narrow neck, the pellet hops are generally preferred, because getting the whole hops out of the fermentor can be difficult. The following is the detailed processing flow of the 2 ton per hour hop pellet production line of this 2000t/a brewery project.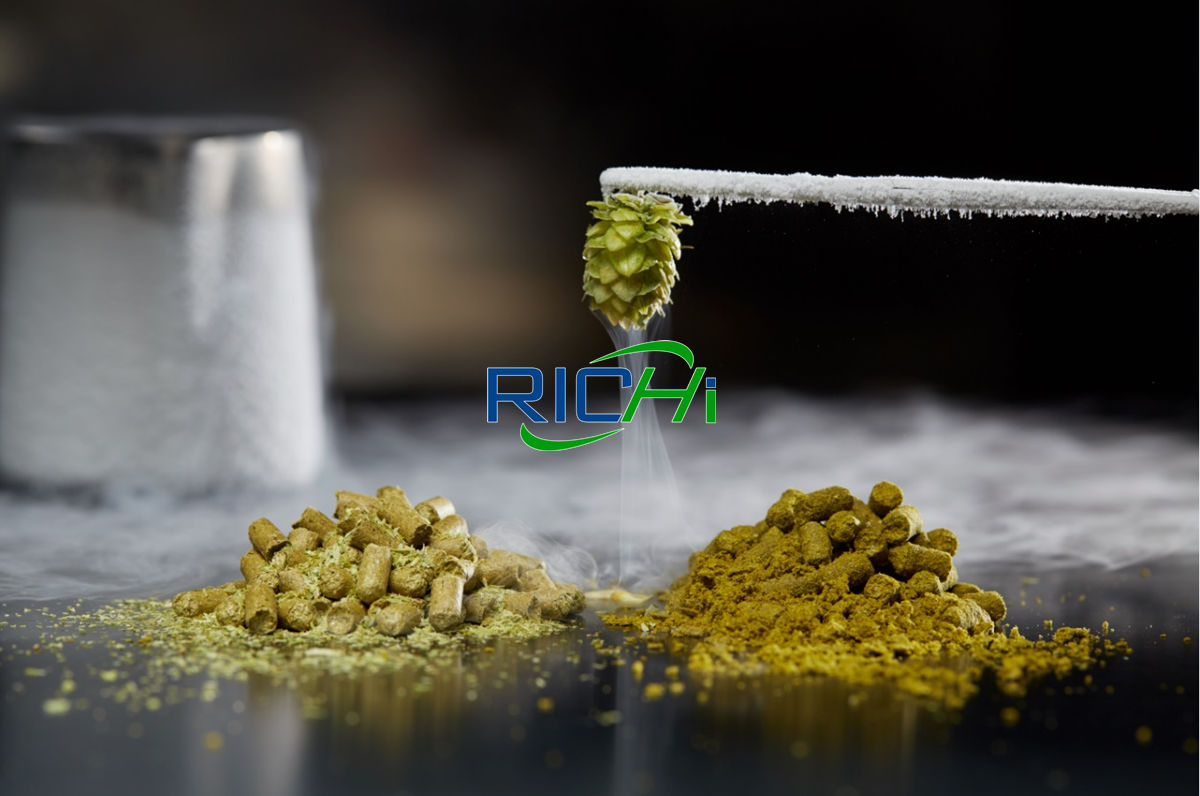 01
Hops drying section of 2 t/h hops pelleting plant
After gathering raw materials, the hops drying section is significant. Drying is to remove the moisture from the leafy parts and preserve the volatile lupulin, which allows you to store hops longer deterring spoilage. The volume of your crop will dictate how you dry, you might need to build an oast to handle larger crops.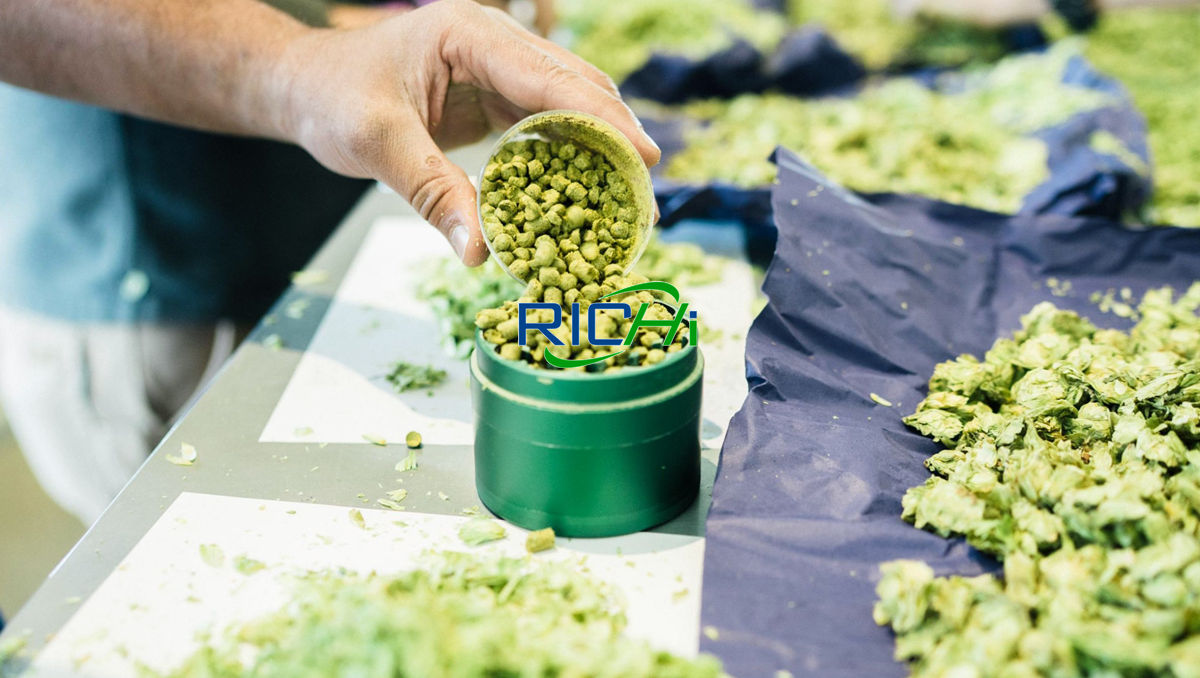 Hops are dried quickly using an even heat source 50 to 60℃ in a hop oast. The drying process requires good airflow through the hop cones to ensure even drying. When hop cone moisture reaches 8-10%, which can usually be achieved within 8-12 hours of drying. They are then cooled to a temperature of 20℃. Please note that 6 to 1 weight ratio from green/wet/fresh hops to dried hops for example one pound(16oz) of green hops=approx 2oz of dried hops.
02
Hops crushing section of 2 t/h hops pellet plant
Use a hammer mill for hops to reduce the size of dried hops even further. Get the pieces as small as possible without turning it into dust. The hops hammer mill consists of feeding hopper, crushing chamber and delivery device. Its key parts are inner roasting rotors fixed with hammers. Hops are swallowed and crushed by rotating hammers in a high speed.

With continuous hitting force from hammers, hops break into small particles until small enough to pass screen holes. Large particles need to be re-crushed for a better grinding. After crushing, hop particles are uniform and with proper moisture content to meet further processing.
03
Hops pelletizing section of 2 tons per hour commercial hop pellet manufacturing plant
Make hop pellets with ce good stability hops pellet mill——a hot selling good quality hop pelletizing machine that includes die and roller. The new designed hop pellets equipment die is a metal plate with holes drilled through it and the roller goes across the die. Dried hops enter the hop pelletizer equipment and are squeezed by the hop pellet mill die and roller. The resulting pressure compresses the material and pelletize it through the holes in the hop pellet mill die.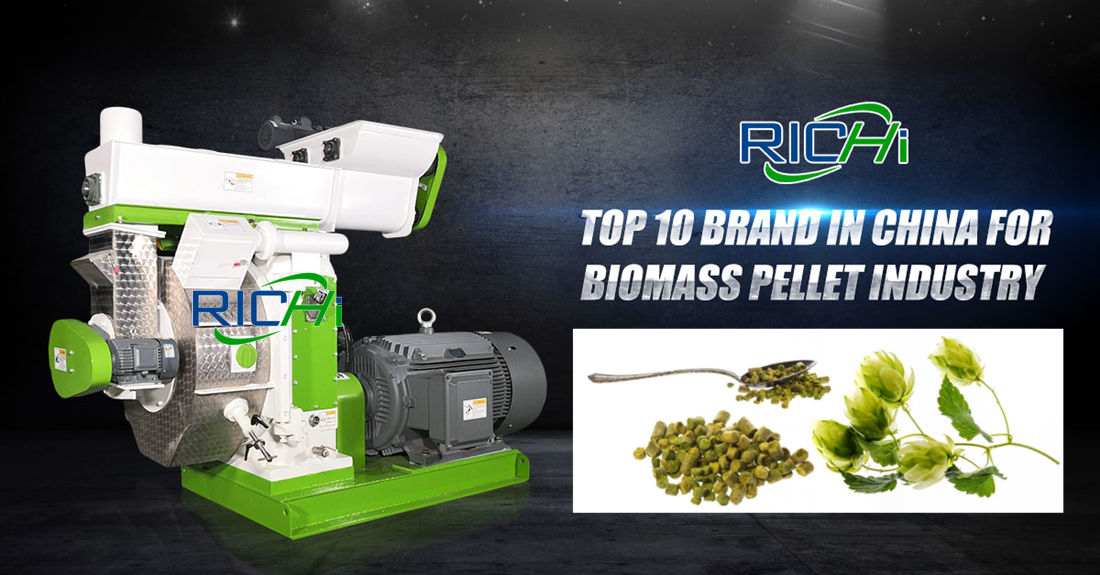 The hops pellets making machine die can be flat die or ring die. either type can be used to make hop pellets. In this 2tph automatic hops pelletizing plant project, the customer adopts MZLH ring die hops pellet mill machine.
There are mainly two kinds of pellet hops produced: Type 90 and Type 45. For Type 90 the hops are simply cleaned and dried and then ground. Type 45 pellet hops undergo a more complicated process. The key concern to remember when pelletizing by hops pellet machine is that heat created during the hop pelletizing process can damage the hops. Take care to process slowly and stop as often as needed to allow the hop pellet machine to cool down. The hops and hop pellets should not reach a temperature higher than around 45℃.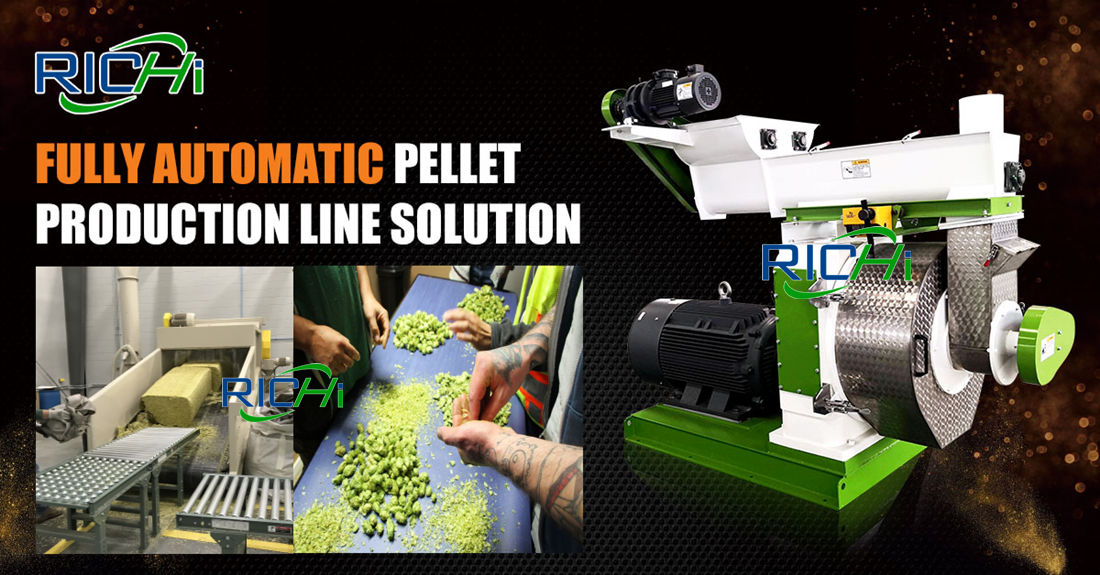 To keep an eye on the temperature you can use an infrared thermometer, which can be found at most hardware stores. You can also alleviate how quickly the pellets heat up by pouring fewer hops in at a time. If you keep the feed slow you can keep the temperature down and process an average of 10 pounds every few minutes.
04
Hops pellet cooling section of 2 tons per hour commercial hop pellet production plant
Cool the pellets thoroughly. When the pellets come out of the hops pellet press, they will be hot and moist. Spread them out and allow them to cool and dry naturally. For large scale production, you can choose a pellet cooler.
05
Hops pellet packaging section
Special packaging is necessary to prevent oxidation and deterioration of the resins and oils. Hops pellet producers should package pellets with nitrogen-flush and vacuum sealing technology to protect hop pellets from both oxidation and light damage. You can choose pellet packing system to do the packaging. Then all packaged hop pellets are kept in cold storage until they are used.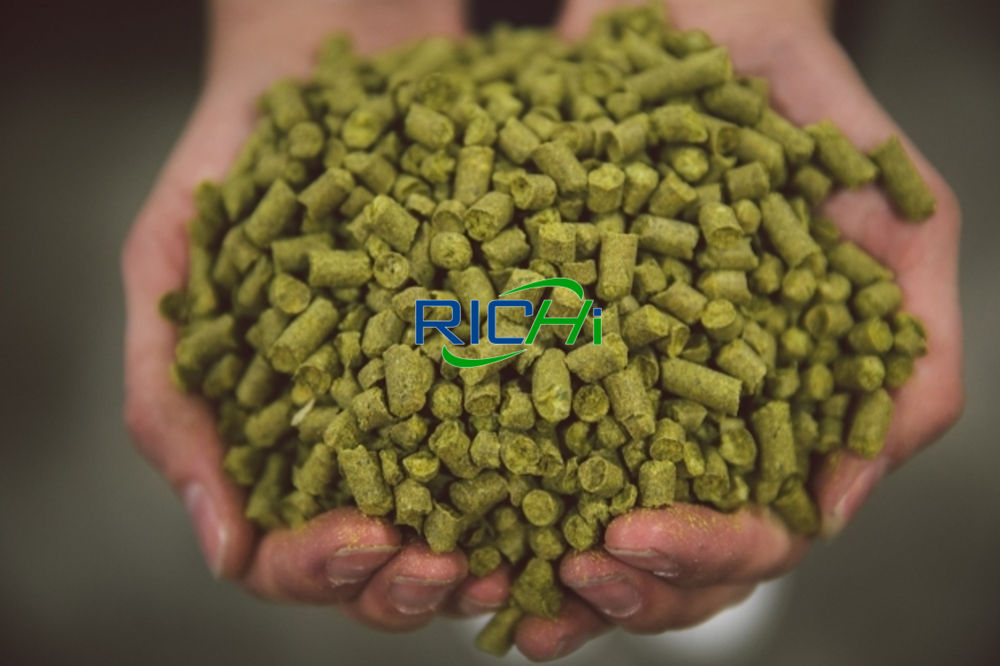 According to the needs of the production process, this brewery is equipped with 2 refrigerators (8P refrigerator, 10P refrigerator), and the temperature of the cold storage of the project is controlled by an electronic controller. Used for storage of finished beer and storage of hop pellets and yeast. For the hop pellets used for beer processing in our factory, it does not need to be packaged, and is directly stored in the cold storage in bulk.
Goodness of using pellet hops in hops pellet plant and craft beer production line combined project
The hops pellet plant shredding process in making pellet hops exposes the lupulin glands and removes a percentage of the vegetative matter, meaning smaller volumes can be used in the brewery.
Pellet hops are pulverized, so they have more surface area contact to them, which increases utilization as well.
Their lighter weight and compressed state makes them easier to store and less susceptible to spoilage compared with other forms.
Pellet hops from the hops pellet plant are condensed into a smaller form, their shelf life is usually longer, because they are not exposed as much to oxygen and heat.
Usually pellet hops from the hops pellet plant need the packing which prevents deterioration brought about by oxidation of the resins and oils of leaf hops.
Their pellet state makes them require less packing and storing spaces, easy to measure quantities for using, convenient to ship, simple to dispose the spent hop debris.
Hops pellet machine improvement and development increase the use scale and effect of this form.
The great contribution of pellet hops in the hop pellet making plant
Pellet hops made by hops pellet mill can cause some foaming when adding, because, much like diet coke and mentos, the pellet have a larger surface area that promotes nucleation of the CO2 left from fermentation.
Within the brewing process, pellet hops made by hops pelletizer machine can increase the utilization of alpha acids. Since the pellet hops are pulverized and crushed up during processing, this also crushes up the lupilin glands in the hops, so the alpha-acids can be isomerized in the hops better and gain a higher extraction rate, and it means that you will get more bitterness out in your hops.
Pellet hops made by hop pellet machine do not soak up the wort that contains sugars that will be fermented to produce alcohol, so it ensures the standard alcohol concentration in beer.
While the brewer can not control the chemical make up of the hops from harvest to harvest, the pellet hops made by hops pellet mill can perform a certain way to reserve the elements required in beer brewing.
These are the important reasons that why pellet hops made by high quality hop pelletiser are often used in commercial brewing and more readily available for home-brew scale.
Global Hops Market Overview
The Global Hops market is estimated to grow at a CAGR of 4.5%, during the forecast period (2020 - 2025).
A transitional shift in the demand for bittering hops from aroma varieties and a positive trajectory in the growth of craft breweries across the world are driving the global hops market. According to a study by Barth-Haas, in Germany, the demand for bittering varieties, such as Polaris and Herkules, grew by almost 30% and 8.8%, respectively, in 2018. The United States, one of the largest hop consuming markets, registered a growth of 8.9% during 2019-2020, with the total number of breweries rising to 8,386 in 2020 from 7,698 in 2018.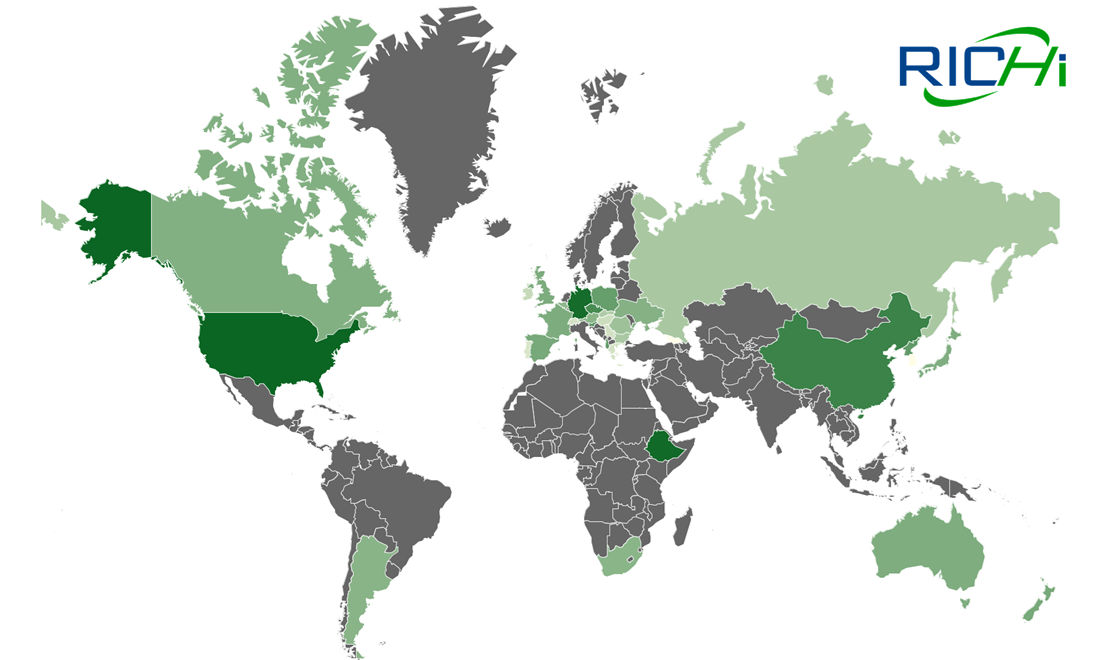 Craft Beer Elevating the Demand for Bittering Hops
The fresh or dried hop market is currently dominated by a major shift in the demand for bittering hops from aromatic varieties, as the craft breweries strengthen globally. In the United States, the retail craft brewery market was valued at USD 29.30 billion in 2020, witnessing a growth of 4% in volume sales and accounting for 13.6% of the total beer market in the United States, in terms of volume. Simultaneously, the number of craft breweries in the United States grew to 8,275 in 2020, a 9.1% increase over 7,594 in 2019.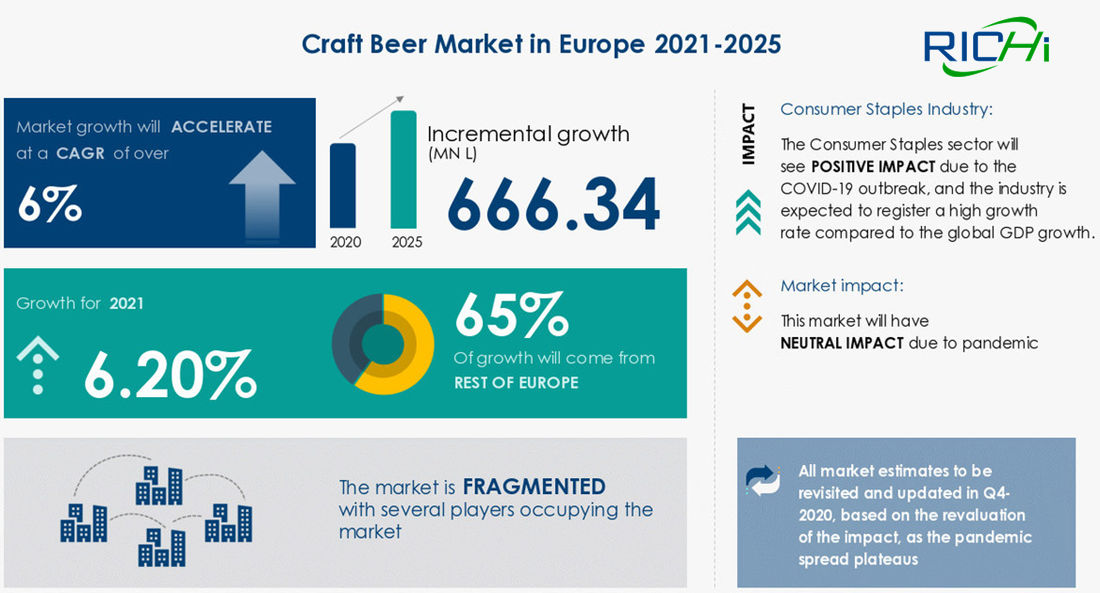 Moreover, according to a study by Barth-Haas, the demand for aromatic hops declined by 10.8% for Hull Melon, 9.8% for Mandarina Bavaria, and 4.9% for Hallertauer Mittelfrüh in Germany in 2018. However, bittering hops such as Polaris and Herkules, witnessed a surge of 30% and 8.8%, respectively, during the same year.
Moreover, the growing inclination of the consumers towards craft beer resulted in a surmounted number of 82 new craft breweries established in 2018 in the country. As a result, the growing demand for craft beer is inflicting a positive impact on the demand for bittering hops, especially in the United States and Germany, thus, driving the overall hop market.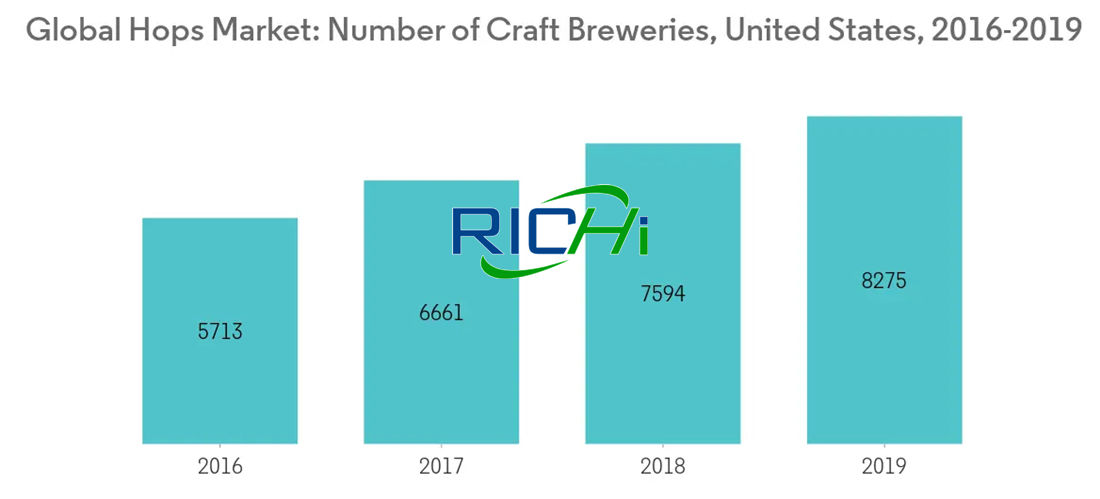 Europe was the fastest-growing market in 2020, with Germany and the United Kingdom leading the regional market. Germany imported a total of 5,952.0 metric tons of hop cones in 2020, followed by the United Kingdom with total imports of 1,226.0 metric tons during the same year. Apart from imported hops, the region has also witnessed a steady revival in the cultivation of hops in Germany, where the prouction stood at 32,527.0 metric ton in 2019, as against 32,053.0 metric ton in 2017.
Countries by hops production
Map of countries colored by their hops production. World's hops stats by total production, production per capita, harvasted area and yield. Ethiopia is the World's leading Hops producer with 40,074 tonnes yearly production.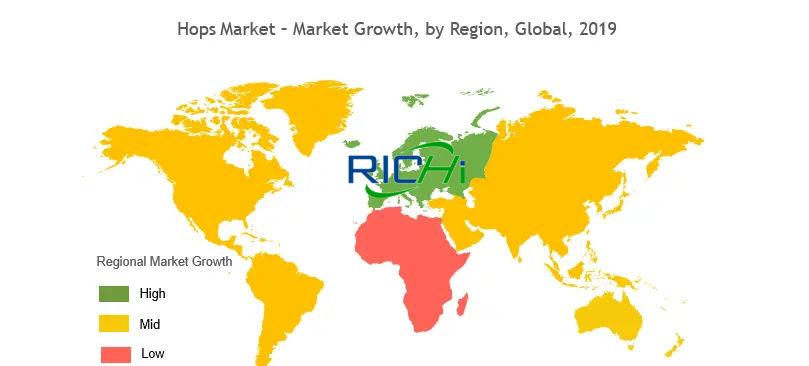 If you want to start hop pellet production business and buy hops pelleting line equipment, if you are looking for hop pellet machine for sale USA, hop pellet machine for sale Australia, hops pelletizer machine for sale canada, hops pelletizer for small farm, hop pelletizing equipment Germany, etc., just comtact Richi Machinery, get the hops pelletizing price. If you are still wondering how to paletize hops, we will want you to provide detailed hops pellet plant and pellet hops productions solutions.
| Country | Production(Tons) | Production per Person(KG) | Acreage(Hectare) | Yield(KG/Hectare) |
| --- | --- | --- | --- | --- |
| Ethiopia | 40,074 | 0.373 | 31,367 | 1,277.6 |
| United States of America | 39,526 | 0.121 | 20,581 | 1,920.5 |
| Germany | 31,968 | 0.386 | 17,210 | 1,857.5 |
| Czech Republic | 7,712 | 0.727 | 4,775 | 1,615.1 |
| Slovenia | 2,478 | 1.199 | 1,485 | 1,668.7 |
| North Korea | 2,005 | 0.078 | 4,578 | 438 |
| Poland | 2,003 | 0.052 | 1,260 | 1,589.7 |
| Albania | 1,979 | 0.689 | 2,616 | 756.6 |
| New Zealand | 865 | 0.176 | 338 | 2,556.1 |
| Spain | 809 | 0.017 | 444 | 1,823.4 |
| Japan | 689 | 0.005 | 331 | 2,079 |
| Ukraine | 640 | 0.015 | 400 | 1,600 |
| France | 636 | 0.009 | 437 | 1,455.4 |
| Canada | 600 | 0.016 | 350 | 1,714.3 |
| Australia | 528 | 0.021 | 225 | 2,345.9 |
| Austria | 482 | 0.055 | 245 | 1,966.2 |
| Argentina | 460 | 0.01 | 376 | 1,223.1 |
| South Africa | 443 | 0.008 | 415 | 1,066.9 |
| United Kingdom | 443 | 0.007 | 325 | 1,359.7 |
| Russian Federation | 345 | 0.002 | 257 | 1,344 |
| Belgium | 327 | 0.029 | 174 | 1,878.3 |
| Romania | 208 | 0.011 | 257 | 809.3 |
| Slovakia | 189 | 0.035 | 141 | 1,340.4 |
| Bulgaria | 151 | 0.021 | 85 | 1,770.1 |
| Ireland | 45 | 0.009 | 43 | 1,037 |
| Serbia | 42 | 0.006 | 31 | 1,356.9 |
| Switzerland | 31 | 0.004 | 17 | 1,823.5 |
| Greece | 26 | 0.002 | 15 | 1,733.3 |
| Portugal | 20 | 0.002 | 12 | 1,655.3 |