NEWS
RiChi News
Follow Richi Machinery trends, collect industry information, and discuss market focus.
Automatic Livestock Feed Mill With An Annual Output Of 200,000 Tons Was Put Into Operation
Date: 2021-11-12 14:45:40
From: www.pellet-richi.com
Clicks:
After more than a year of construction, the fully automatic livestock feed mill factory project of Sichuan Baer Agriculture and Animal Husbandry Group's pellet feed with an annual output of 200,000 tons was officially put into operation on September 25. At the trial operation site, workers unpacked corn, soybeans and other raw materials from the feeding port. After crushing, batching, steam sterilization, pelleting, cooling, and screening, the finished pellet feeds are automatically packaged.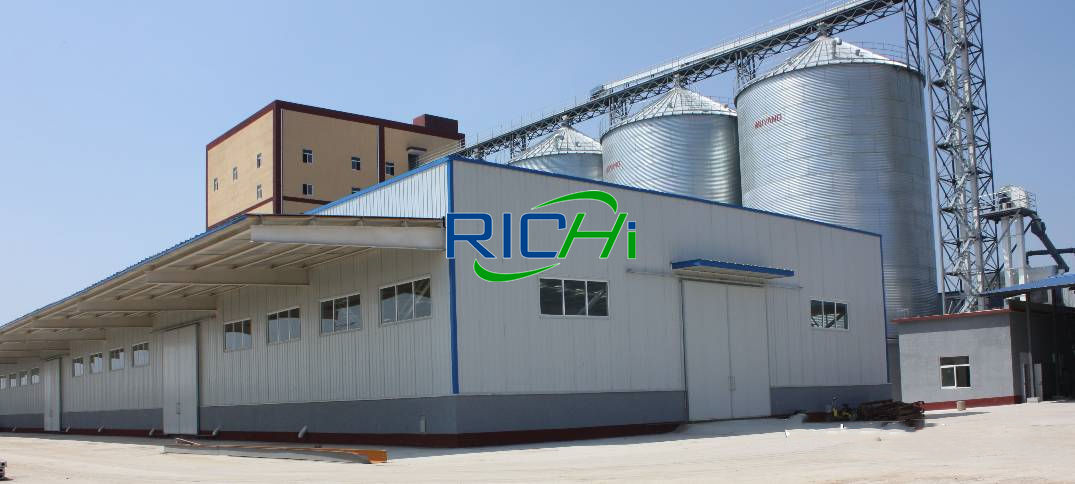 Site of the 200000 tons livestock feed mill project
The entire production process of the large automatic livestock feed milling plant requires only 12 workers, because the core of the stock feed mill is the computer in the central control room. Relying on modern computer program control, no manual operation is required.
The large livestock feed mill plant of Sichuan Barr Agriculture and Animal Husbandry Group settled in Zigong is next to the national highway, about 4 kilometers away from the Changshan exit of Lezi Expressway, and the transportation is convenient. The entire livestock feed pellet plant covers an area of ​​more than 600 acres, and the livestock feed production plant occupies an area of ​​nearly 300 acres.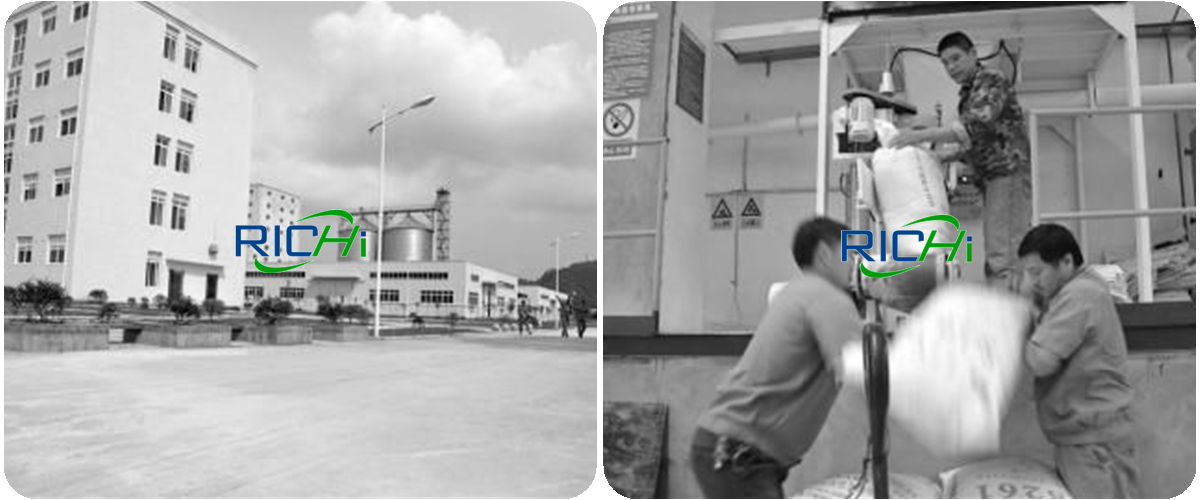 The total investment in this annual output of 200,000 tons fully automated stock feed processing plant construction and equipment is more than 40 million yuan (over 6 million US dollars), and the full-load annual production capacity is 200,000 tons. This livestock feed pland 28 tph project can produce 8 bags*100 catties of pelleted feed every minute, and 4 workers are responsible for packing and handling, and 30 tons of feed per hour.
The livestock feed mill factory mainly produces full-price feeds for suckling pigs, piglets, fattening pigs and other stages. The sales market focuses on the local districts and counties and radiates the surrounding urban areas. From suckling pigs to fat pigs, 350 kilograms of feed are needed. If Rong County has 300,000 live pigs raised by the company to purchase feed, the county can sell 100,000 tons. Currently this livestock feed mill project also produces cattle feed, and the next step will be to produce poultry feed. On the basis of this stock feed pelletizing plant, it will also produce 50,000 tons of premixed feed per year.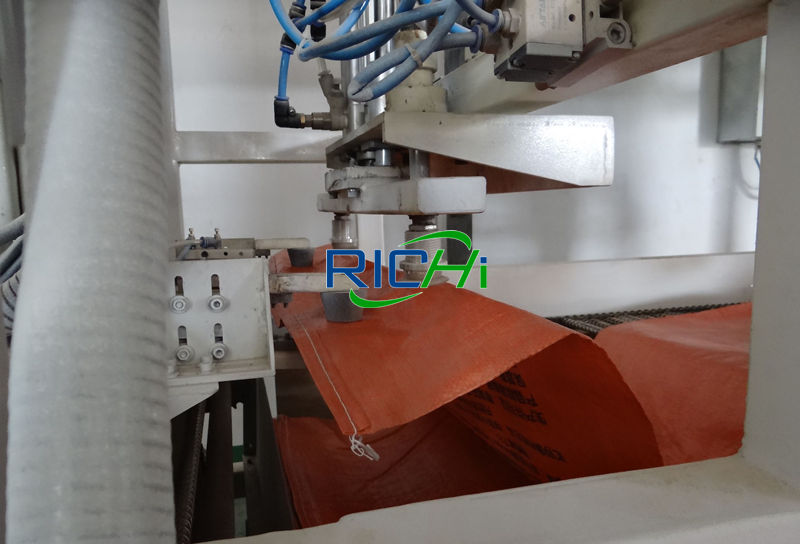 Picture-Suction cup sucks up the feed bag
Barr Agriculture and Animal Husbandry Feed Factory is currently the largest livestock pellet feed production plant in Zigong City, China. If the livestock feed processing is at full capacity, the annual output reaches 200,000 tons, and the output value can be more than 800 million yuan (125,000,000USD).
At present, in this 600 acres of stock feed mill factory area, the Baer Group is also building a veterinary drug production line; and using the newly built livestock feed mill factory building of more than 6000 square meters, in the near future, it will build a 40,000 tons of cured products and ham deep processing plant with an annual output of 40,000 tons. The product will be launched at the end of the year.

The following is the 200,000 tons stock feed mill project proposal for pig and cattle feed production we provide to our customers.
How to start a livestock feed business? In the first step, you need to develop an animal feeds business plan, which is what we have been doing. As the top 15 animal feed mill manufacturer companies in China, custom feed mill equipment manufacturers, commercial feed mill plant manufacturer, if you are looking for feed mill equipment for sale in China, if you want to know how to start animal feed business, please feel free to contact Richi Machinery.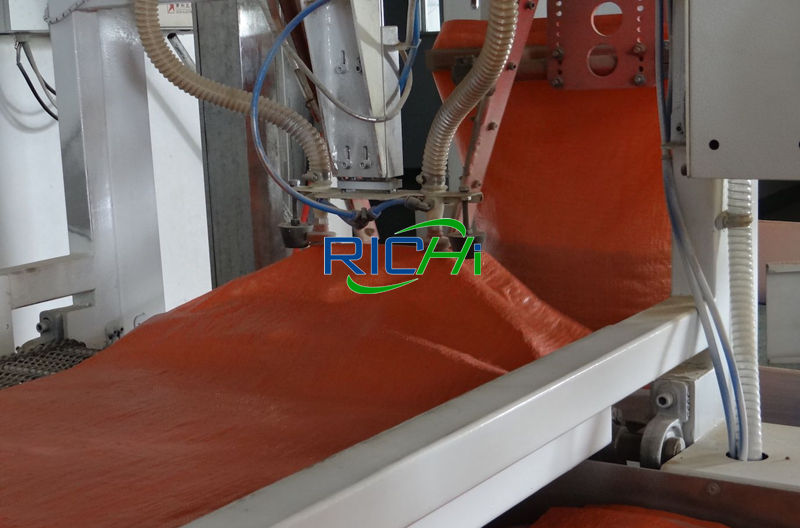 Picture-Two steel bars open the feed bag
Importance and necessity of the 28t/h high level stock feed mill project proposal
With the continuous and healthy development of China's national economy and the continuous improvement of people's living standards, the demand for meat is also increasing. Natural breeding can no longer meet the needs of life. Therefore, we must vigorously develop the breeding industry. The development of aquaculture is inseparable from the development of livestock feed processing industry.
The large livestock feed mill project construction unit shall be undertaken by the owner through investment promotion. In order to improve the level of national feed science and technology, promote the development of local planting and breeding industries, and prosper the regional economy. In line with strengthening economic cooperation and technological exchanges, using advanced and applicable technology and scientific management methods, creating good economic benefits and obtaining satisfactory economic benefits.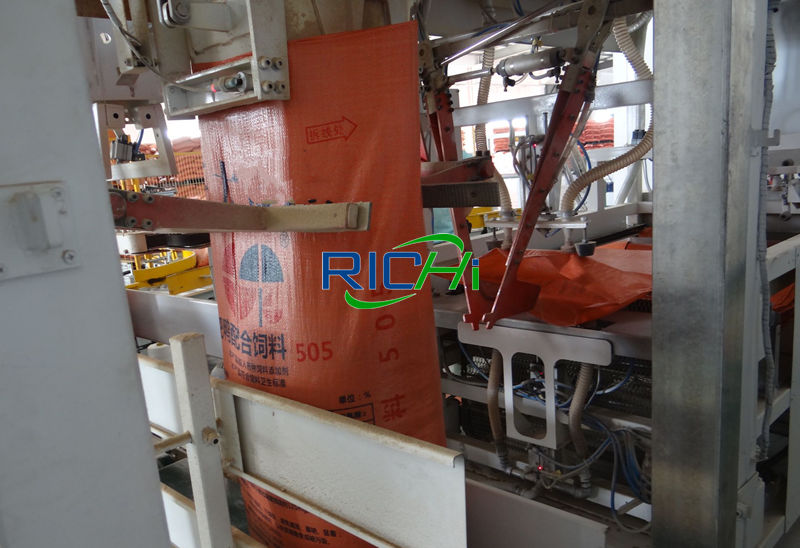 Picture-The steel bar lifts the opened feed bag and fills the feed
Capacity: 200,000 tons/year, 16000 tons per month, 28 tons per hour (operating 300 days a year, 24 hours a day, workers use 3 shifts)
Full automatic 28tph stock feed mill project investment cost: US$6.2 million, cost of equipment needed for feed mill livestock is US$1.8 million.
Location: Zigong City, Sichuan Province, China
Project area: 300 acres
Construction period: The construction period of the 28t/h automatic livestock feed mill plant is 12 months (October 2020 to October 2021)
The 28 tons per hour stock feed mill project implementation progress:

Complete the project approval, construction report, land use procedures, and bidding before May 2020. In order to shorten the construction period, the local government agreed to go through the livestock feed milling plant project procedures and start construction at the same time.
The construction started in October 2020 and was completed in October 2021.
Trial production of the livestock feed mill: October 2021
Acceptance of the livestock feed mill project: November 2021
Background of the large capacity livestock feed mill factory with 2000,000 ton per year capacity
Target market determination——stock feed mill project proposal
Zigong City, Sichuan Province, is roughly within a radius of 200 kilometers. In addition to the city's market, Zigong is also located in the junction of Sichuan, Gansu and Shaanxi. Its products can be radiated to more than 60 counties and cities in the adjacent areas of Sichuan, Gansu and Shaanxi.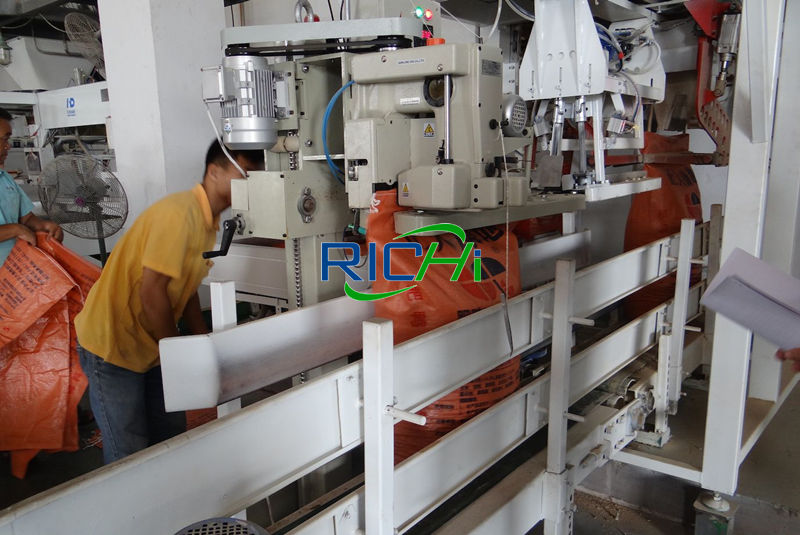 Picture-Feed bag seal
Local breeding resources——stock feed mill project proposal
The core market is rich in breeding resources. The local economy is dominated by agricultural breeding and the raw materials for agricultural and sideline products are abundant. It is an ideal place for the development of aquaculture. The feed for pigs, chickens, ducks, and fish is the most concentrated within 200 kilometers, especially pigs, cattle feed, poultry feed and fur rabbit feed. In 2020, the total capacity of the city was 3 million tons, of which: 2.55 million tons of self-mixed feed accounted for 85%; compound feed was 450,000 tons, which accounted for 15%. 80,000 tons of concentrated material; 73,000 tons of premix. From the perspective of the total annual feed sales structure, pig: poultry: fish = 80:18:2.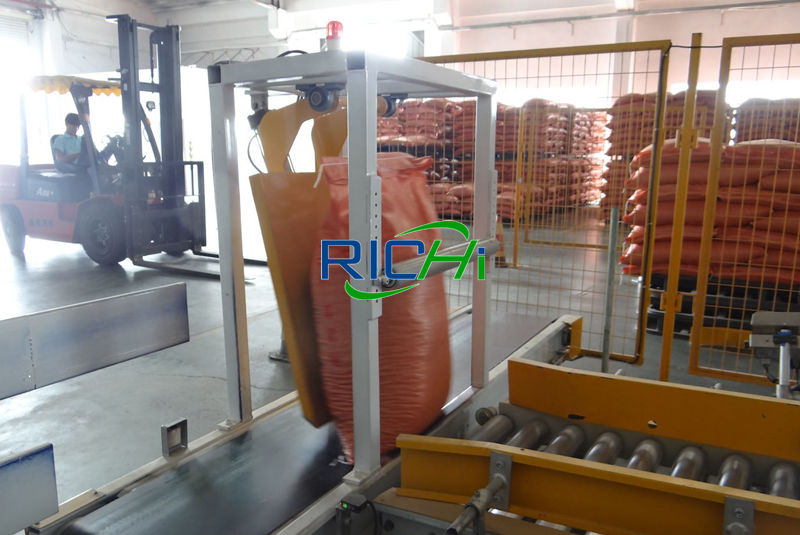 Concentrated feed occupies 35% of pig feed, compound feed occupies 35%, and premix feed occupies 30%; poultry feed occupies 80% of meat and poultry feed and 20% of egg and poultry feed. In 2020, the total capacity of compound feed in Zigong City was more than 300,000 tons (including more than 250,000 tons of mixed feed for pigs); 90,000 tons of pig concentrate and premix, and more than 10,000 tons of feed for pond fish can develop market potential huge.
Market demand——stock feed mill project proposal
The Zigong Municipal Party Committee and the Municipal Government attach great importance to the development of animal husbandry and propose a plan to achieve a leap-forward development of animal husbandry production in the city by the end of the 11th Five-Year Plan. By 2010, the city plans to sell 7 million hogs, 3 million mutton sheep, 50 million cattle, and 10 million rabbits.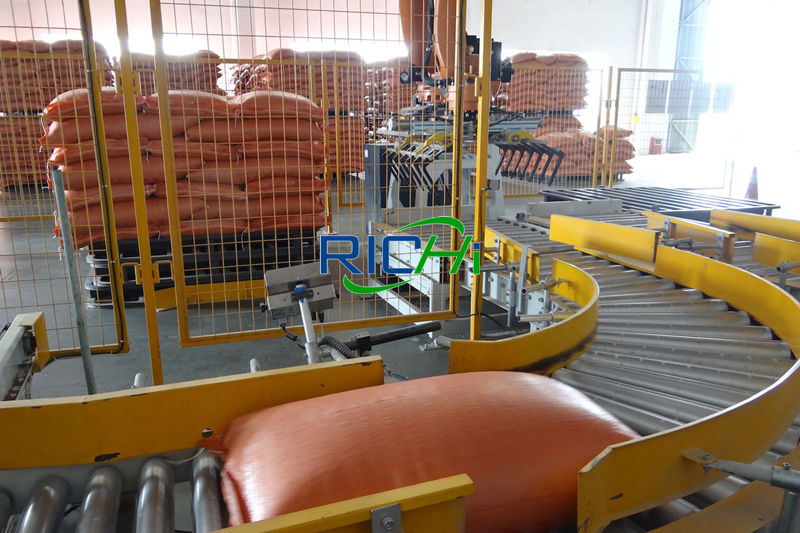 However, the animal feed industry in the city is very weak and backward, and the supply of feed is insufficient, which has become a bottleneck restricting the development of animal husbandry. The current production design capacity of the city's feed industry is only 60,000 tons, and the actual production volume is only about 20,000 tons.
The feed supply mainly depends on the supply of feed from other places. There are mainly foreign feed products such as Hope, Zhengda, Tongwei, and Tiqi Luxi, which are imported all year round. Class compound feed, additive premix, and concentrated feed are over 350,000 tons. By 2010, with the vigorous development of the city's animal husbandry industry, its industrial feed input will increase exponentially.

Introduction of annual output of 200,000 tons livestock feed mill factory project
Livestock feed mill plant project location
This livestock feed manufacturing plant project is a pig and cattle pellet feed production project. The site selection should meet the following requirements: it is close to its raw material supply base, the cost of raw materials and finished products channels is lower than that of competitors, the sanitary conditions around the stock feed mill plant site are good, there are no places that hinder product hygiene, and the traffic at the site should be convenience, sufficient water, electricity and natural gas supply and other conditions. After thorough research, the site was selected in Lizhou District, Zigong City.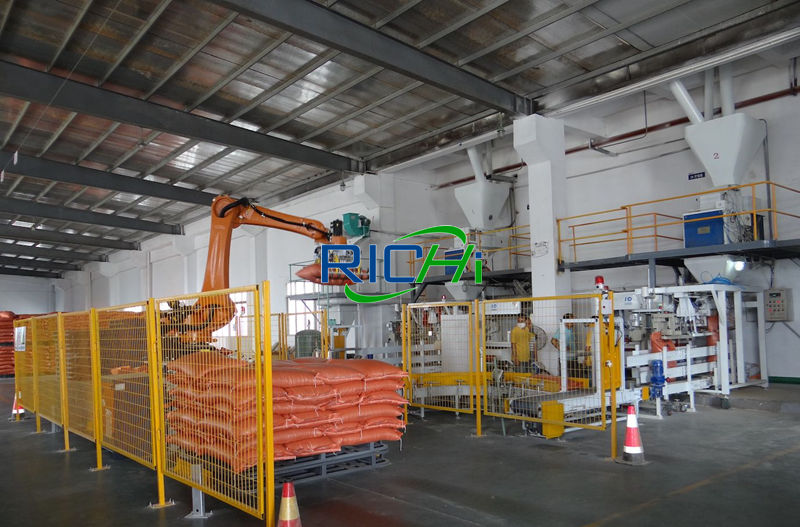 Picture-Robot palletizing
Raw material and public facilities situation of the livestock feed mill factory
Supply of raw materials and auxiliary materials
The main supply channels for the processing materials of the large scale livestock feed production line project are divided into two parts: local and outside the province. The province is the main source. The source of goods (corn) in the province is supplied by Zigong City for more than half a year. Corn is supplied in the northeast, and the goods are inspected and paid by the livestock feed mill company inside and outside the province, and the processing raw materials can be guaranteed.
Fuel and power supply
Sufficient fuel and power supply. State grid power supply, self-built coal-saving boiler for 200,000 ton/year feed production.
Water for production and domestic use
After the project is put into production, its municipal water supply facilities can guarantee the supply.
Engineering technical solutions and livestock feed machine selection of the 28t/h feed mill for livestock
Livestock feed manufacturing process
Feeding-cleaning-crushing-batching-mixing-granulating-cooling-screening-weighing-packaging-into the finished product warehouse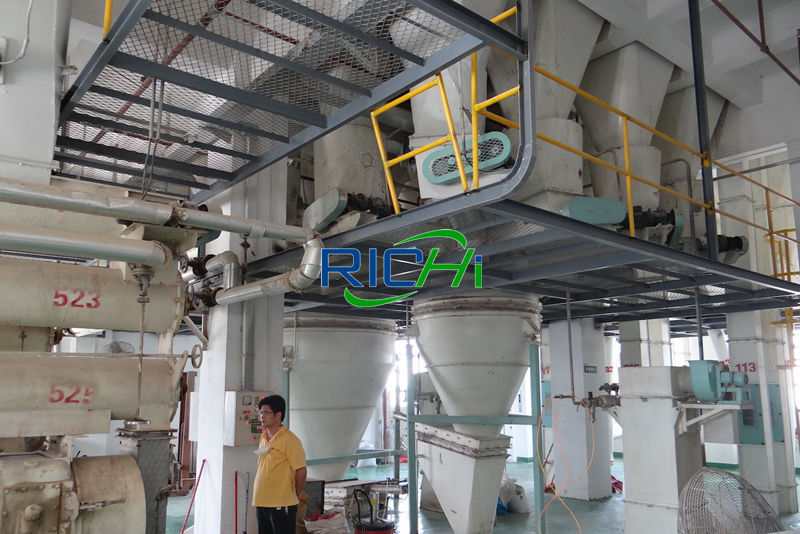 Batching and mixing section of the livestock feed mill
Technical indicators of feed technology
Accuracy of batching: static ≤1‰, dynamic ≤3‰)
Uniform mixing: coefficient of variation CV≤7%
Dust concentration: workshop≤10mg/M3, feeding port and discharge place≤150mg/M3
Workshop noise: ≤8SdB(A)
Main machinery for production lines of livestock poultry aquatic feed 200,000 ton per year
The main livestock feed processing equipment of the 200,000 ton/hour capacity big livestock feed mill plant project includes animal livestock feed grinding machines, automatic mixing machine for animal feed, large sized heavy duty ring die livestock feed pellet press machines, balers, microcomputer batching systems and other equipment. The livestock feed mill project unit has initially selected equipment specifications and models through inspections of different equipment manufacturers at home and abroad.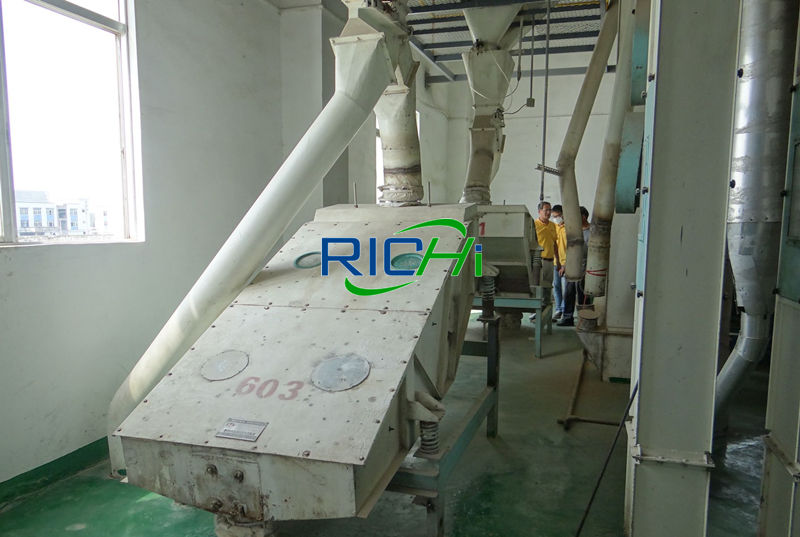 Screening section of the livestock feed mill
| Number | Equipment | Model | Quantity |
| --- | --- | --- | --- |
| 1 | Stock feed maize miller | Crushed corn (Ф3 mesh)>20 tons/hour, 75*2KW | 1 |
| 2 | Livestock feed grinder | Crushed corn (Ф3 mesh)>10 tons/hour, 75KW | 1 |
| 3 | Livestock feed mixer | V=4m horizontal, mixing uniformity <5%, 30KW | 1 |
| 4 | Stock feed pellet machine | 15 tons/hour (Ф4 ring die), 150KW | 2 |
| 5 | Livestock feed mill crumbler machine | 20 tons/hour, three-kun structure, 15KW | 2 |
| 6 | Counter flow pellet cooler | 15-20 tons/hour, (2.2+1.5) KW | 2 |
| 7 | Pellet grading screen | 20 tons/hour, two-layer screen surface, 3KW | 2 |
| 8 | Electronic packaging machine | 25-50Kg/bag, 300-600 bags/hour, error ≤50g | 2 |
| 9 | Air compressor | The displacement is 3 cubic meters per minute, the pressure is 0.7PA, 22KW | 1 |
| 10 | Rotary distributor | Flow rate of 50 tons/hour, automatic positioning and locking structure | 7 |
| 11 | Liquid adding equipment | Adding speed 100L/min, adding accuracy 1% | 2 |
| 12 | Microcomputer batching system | Double scale, single scale, can weigh 12 varieties, dynamic accuracy 0.2% | 1 |
| 13 | Silo | Can hold 3000 tons of corn | 2 |
| 14 | Coal boiler | 4 Ton | 1 |
Main livestock feeds machines sources of the 28t/h production plant for stock feeds
The main livestock feed machines and accessories of the livestock feed mill includes hammer mills for livestock feed, stock feed paddle mixers, stock feed pellet making machines, and stock feed extruder machines. The main stock feed making machine for 28t/h production line for livestock feed pellet are all provided by Richi Machinery.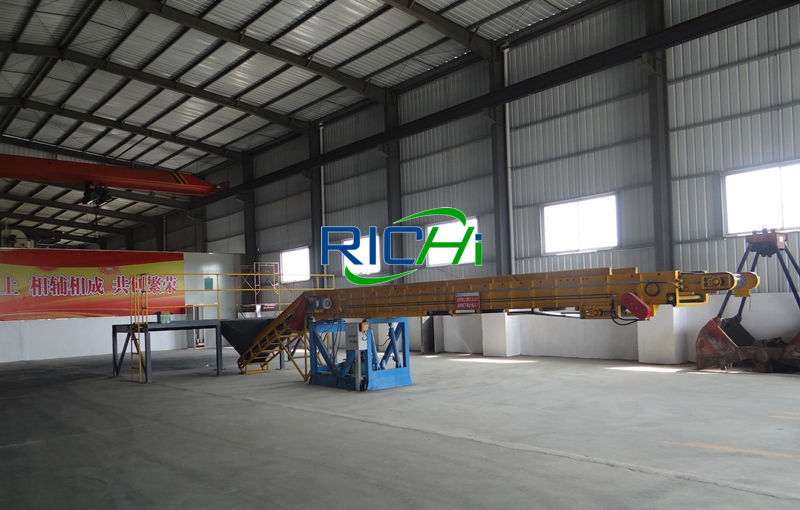 Shipping station
Compared with foreign products, these livestock feed milling equipment have basically the same production performance and quality of the products produced. The complete set of livestock feed manufacturing equipment has high degree of automation and mechanization, low labor intensity of workers, low power consumption, and continuous production.
Estimation of large 200,000 tons per year livestock feed making plant Investment cost
The designed capacity of this big capacity livestock feed mill factory project is 200,000 tons per year, reaching 220,000 tons. Total investment: construction (facilities) + livestock feed equipment + working capital = 2051.4 + 1998.6 + 1950 = 60 million yuan.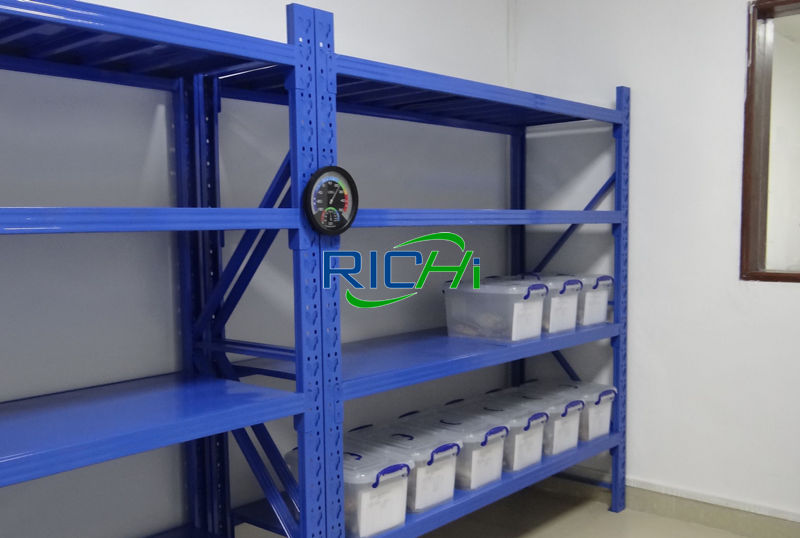 The finished feed samples are stored for three months
Source of the 200 thousand ton per hour livestock feed plant project funds
The livestock feed enterprise self-funded.
The feed production company raises funds through other financing methods such as equity increase.
Strive for loans from the China Development Bank and apply for special funds for the development of national support for industrialization.
Plan of the full automatic feed stock production plant for making complete livestock feeds
Architectural design of the large livestock feed mill
The livestock feed mill design meets the requirements of China's national standards for fire prevention, earthquake prevention, and environmental protection, and meets the needs of production and process. Improve the operating environment of workers. From the shape to the color, the texture of the single building strives to be simple, clear and generous, and is full of the personality of modern industrial architecture. The main workshop and warehouse use color steel. In the whole building design, we strive to adopt new materials and new technologies, and the building is full of art sense.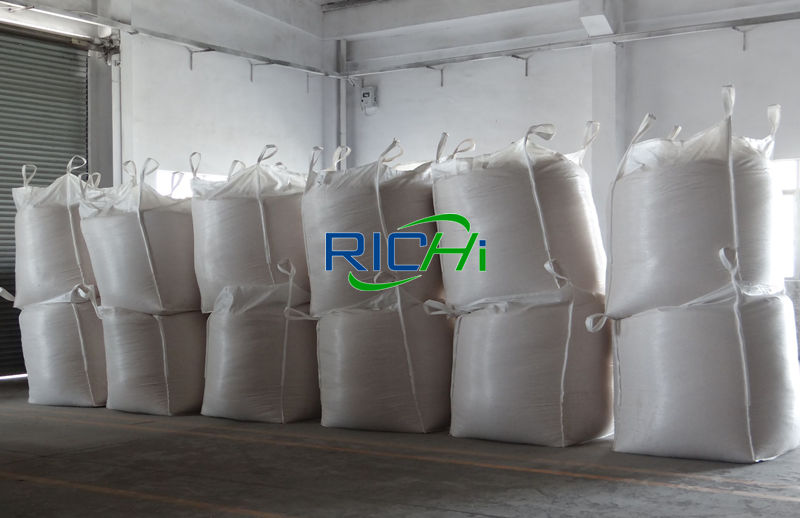 Raw materials warehouse
Roof waterproofing of the large livestock feed mill
In addition to the waterproofing of the warehouse components themselves, the other monomers are all waterproofed with three felts and four oils, and the roof slope is 3%-5%.
Ground of the large livestock feed mill
The ground of the large automatic livestock feed mill plant and the single building are all cement mortar surface.
Foundation of the large livestock feed mill
According to the foundation treatment, the frame part adopts the independent foundation under the column, and the exaggerated part adopts the strip foundation under the wall.
Structural modeling of the large livestock feed mill
There are many holes in the frame part, combined brick columns and load-bearing structure schemes are adopted, and all components are preferably locally available or easy to make on site.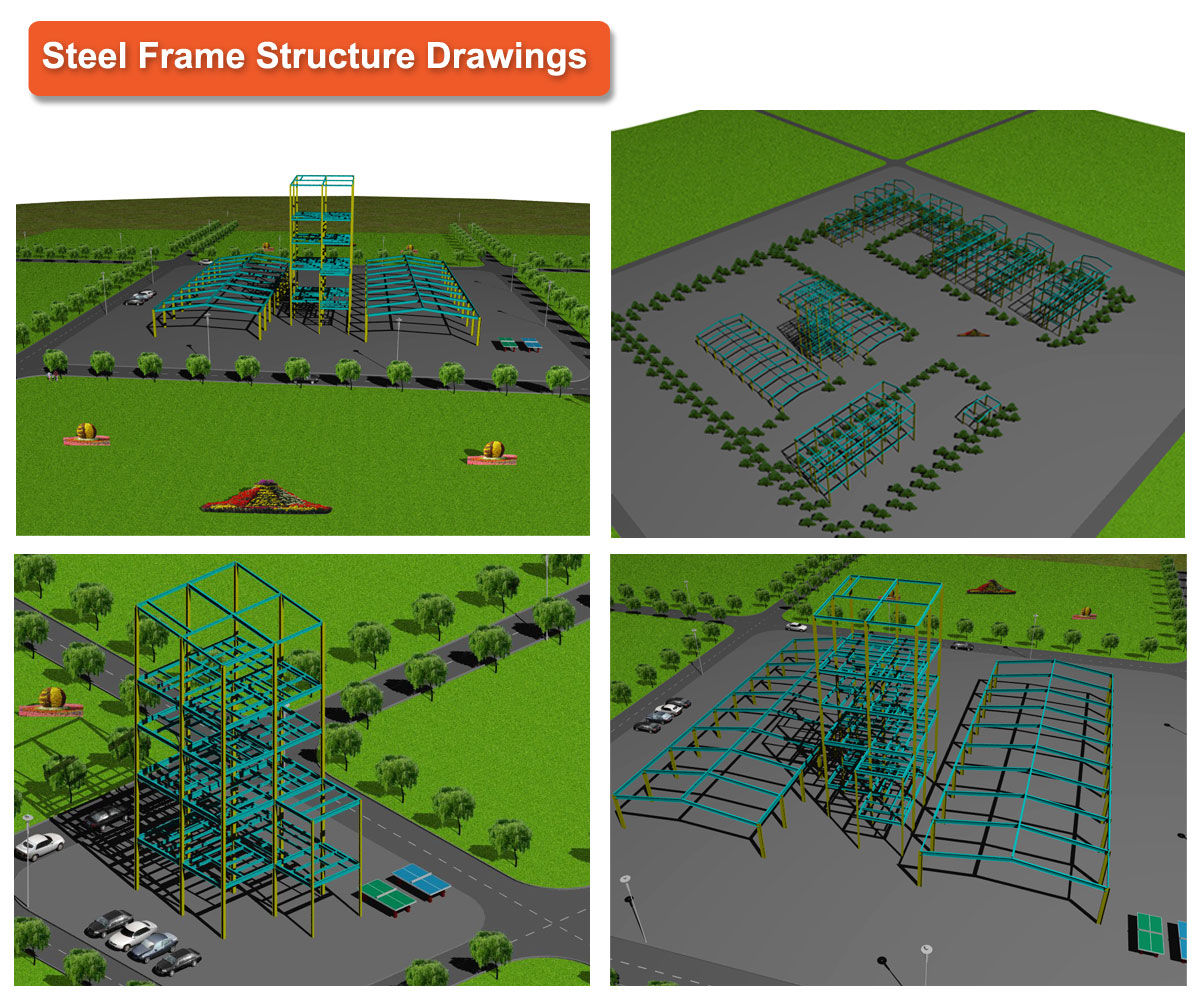 Structural load of the large livestock feed mill
The floor of the main feed mill workshop is considered to be 20KN/square meter, and the steel frame floor of the office building and workshop is 0.5-0.7KN/square meter.
Environmental impact assessment of the 28t/h stock feed pelletizing plant
The impact of this 200000 ton per year stock feeds processing plant project construction on the environment
During the construction of the large automatic livestock feed production plant, construction will produce certain noise.
The impact of the feed mill plant manufacturing process on the environment
During the animal feed production process, there is a small amount of dust and slight noise in the workshop.
Environmental protection basis adopted in this 28t/h livestock feed plant factory project
"Code for Design of Noise Control in Industrial Enterprises" GBJ87—1985
"Standard for Noise at Boundary of Industrial Enterprises" GB12348-1990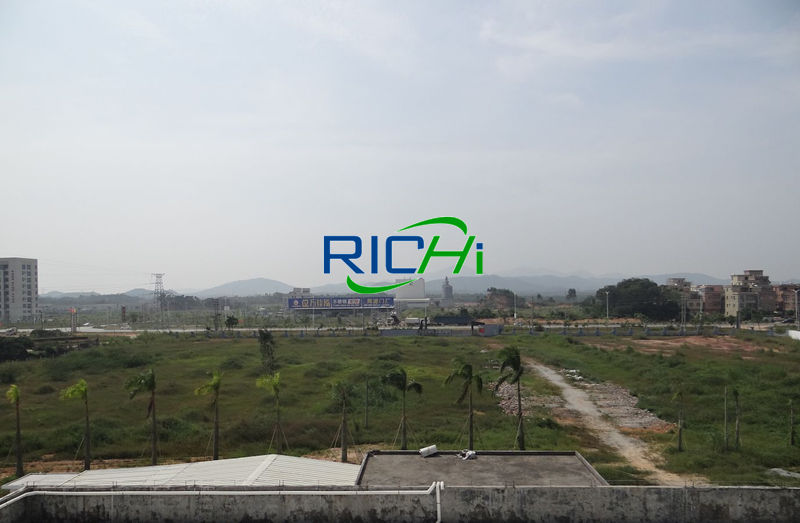 There are still three quarters of the land to be developed
Environmental protection plan of the fully automated stock feed processing plant 28tph
Disposal of dust
The livestock feed mill production workshop adopts equipment with good sealing performance in the selection of equipment. Bag pulse dust removal devices are installed where dust escapes, and dust-containing air is discharged after dust removal treatment reaches the standard. At the same time, fully green the plant area and purify the air.
Sewage treatment
The domestic sewage in the livestock feed pellet plant area is treated and discharged into the unified sewage discharge ditch in the urban area of Zigong City.
Prevention of noise pollution
The fully automated stock feed processing plant machine shall be high-efficiency and low-noise equipment and adopt measures such as sound absorption, sound insulation, shock absorption and shock isolation.
Environmental protection management agency
Set up an environmental protection management agency under the leadership of the supervisor to organize, implement, and supervise the environmental protection work of the 28tph livestock feed plant factory.
The above is only part of the "28t/h livestock feed milling business plan" that we provide to customers. If you want to built one complete pellet production line in your country, pls send the inquiry to us. We will supply customized large scale livestock feed mill layout and design according to your requirement.
The above is the article for you: Automatic Livestock Feed Mill With An Annual Output Of 200,000 Tons Was Put Into Operation.
If you are interested in our products or project solutions, please contact us. We will give you the best product quality and the best price. Email: enquiry@pellet-richi.com