NEWS
RiChi News
Follow Richi Machinery trends, collect industry information, and discuss market focus.
[New order] RICHI 300-500KG/H Small Hop Pelletizer Plant For Sale New Zealand
Date: 2022-09-03 14:55:10
From: www.pellet-richi.com
Clicks:
【New order】RICHI 300-500kg/h small hop pelletizer plant for sale New Zealand
The pellet production project to be introduced today is about "hop pelletizer, hop palletizer nz, hop pelleting machine zealand". In July 2021, a New Zealand customer sent us this inquiry: "Can you please quote me for a Hop Pellet plant that has capacity for 300Kg per hour." He needs machine for making hops pellets. Pellet hops have become the most widely used hop products in the world, and their output has accounted for more than 50% of the total hop output. Based on the continuous growth of global beer consumption, hop pelletizing plant and hops pelleting line equipment are very promising investment areas.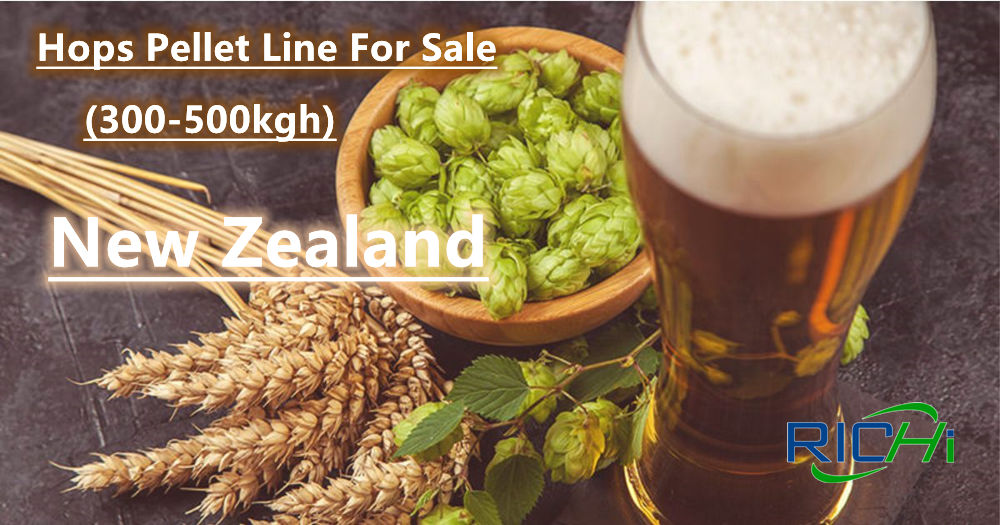 Recently, RICHI signed a 300-500kg/h hop pellet plant project with this New Zealand customer. The 300-500kg/h easy to operate hops pelletizer plant project equipment includes hops mills and pelletiser. This 300-500kg/h easy to use small scale hop pelletizing plant cost is about 120,000 US dollars. According to customer requirements, the equipment has been delivered in January 2022. This is not the first time that we have exported pelletizer machine, animal feed machine and pellet plant to New Zealand. The following are the pellet production line and pelletizing equipment we have exported to New Zealand in the past two years:
RICHI pelletizing machine and pellet plant for sale New Zealand
| Project | Order time |
| --- | --- |
| 3-5T/H animal feed manufacturing plant | 2020.05.21 |
| 300-500 kg/h hop equipment to pelletize hops | 2021.10.09 |
| 2 Tons custom feed dryer for pet feed mill | 2021.05.07 |
| Feed crusher + bucket elevator | 2021.06.10 |
Overview of 300-500kg/h hops pelletizer line equipment and hop pelleting process
How to make pellets from hops in this 300-500kg/h simple design pellet hops productions plant for New Zealand hop pellets? How Are Hops Pellets Made? Hops pellets are produced when the whole hop cones are ground, then pressed into pellets. The processing flow of this small capacity hops pellet production plant for making making hops pellets: first, hops milling before pelleting, after magnetic separation, sieving out metal, stones and other debris, and then entering the hop pelleting equiment (at the same time it can be filled with CO2 or liquid nitrogen ), use a small scale hops pelletizer machine to press hop pellets with a diameter of 2-10mm and a length of about 15mm.


300-500KG/H hops pellet production line process flow
After cooling and screening (the fine powder can be recycled into the professional hop pellitizer), the hop pellets are manually packaged. If the scale of the hops pelleting plant is large, it will usually be vacuumed or filled with inert gas such as nitrogen and carbon dioxide for packaging, and an automatic hops pellet packing machine will be equipped.
Main Equipment Used In The 300-500T/H Hops Pelletizer Plant For Sale New Zealand
Hop Grinders
We have specialist grinders and hammer mills available depending on the application, sizes vary from 37 kw to 280 kw units. Our specially designed hops/hemp screen grinds the material to the perfect size for pelleting without generating heat. The lupulin and oils are spread evenly throughout the feedstock for perfectly even pellets.
Collection Systems
The ground materials are stored in our pre feed stainless steel silo that has an out feed to the hops pellet line.
Hop Pelletizer
Our low temperature hop pelletizers all come with low temp dies and rollers, this allows the dispersal of heat and keeps the essential oils intact. Stainless steel is used in the most sensitive areas.
Integrated Conveyors
We build to suit integrated conveyors and transporting systems for any type of bagging or storage feed application.
We can build hop pelletizing plant systems with production rates starting at 100kg/hour. Our unique quality ring die hop pelletizer is a very cost effective and efficient hops pelletizer machine and is priced well below other competitors.
How Are Hop Pellets Made By Hop Pelletizer Plant?
Hops provide flavour and aroma to the beer, and brewers have many different types from which to choose, Cryo hops, fresh hops and dry hop pellets. We sell hop pellets in 1 lb and 1 oz packages. While fresh hops are preferred, not everyone has access to them year-round, so most brewers use Cryo hops and hop pellets.
Hop pellets begin as leaf hops that have been hammer milled into a powder and then have been subsequently passed through a mould to create the hop pellet. Pellet hops concentrate fresh hops, and 1 pound produces only 10 to 12 ounces of dried pellets.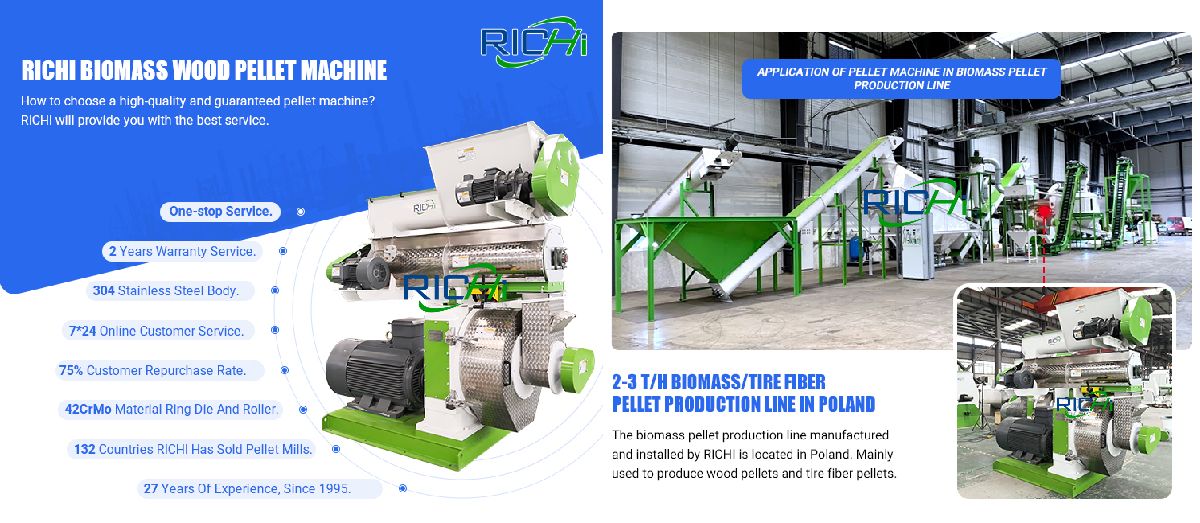 Although dry, they still contain the lupulin material that you will find in fresh hops to provide a slight bitterness to the wort. So how are hop pellets made? This information is useful if you plan on growing hops and you are unsure of what to do with your extra harvest.
The first step in making hop pellets is the drying process. After you harvest the fresh hops, they need to be dried to remove the excess moisture and preserve the lupulin. There are many ways to dry hops, and these include air drying, sun drying or mechanical drying through a dehydrator. When drying the hops, it is vital to have proper air circulation to encourage equal drying.
Once dried, a hop hammer mill is needed to crush the hops. The hop grinder hammer mill swallows the crushed leaves for further processing. The leaves should be broken but not too much such that they turn into powder. Once crushed, they can be turned into hop pellets using a hop pelletizer that includes both a die and roller so that the hops take on uniform sizes.
The hops are then cooled and dried before they are packed. When packing hop pellets, they must be kept in an airtight or vacuum container to avoid oxidation.
Why Hops Pellets Made By Hops Pelletier Are Commonly Used Form of Hops?
Hops have three main ingredients of relevance to brewers: a-acids, b-acids and essential oils. Brewers normally concern themselves with only two of the three ingredients: a-acids and essential oils; alpha acids are responsible for bitterness and essential oils gives beer flavor and aroma. However, all three of these components loss as hops age. The rate of loss depends on the storage temperature, the amount of air present, and the hop variety. The lower the temperature, the less the hops deteriorate. Therefore for optimum preservation of hop's valued qualities, they should be stored as cold as possible and away from air.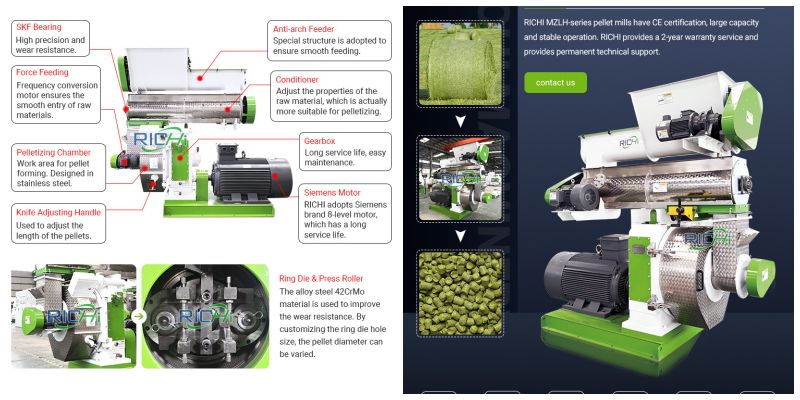 Compared to other three types hops, hops pellets made by pellet machine for hops can not only keep out a lot of oxygen, but also their compact form allows them to be easily vacuum packed to slow the deterioration, so the season hop brokers take all remaining unsold bales of poor-storing hops into pellets; the reason pellets are so prevalent in the home brewing trade is that they deteriorate more slowly than whole hops when stored in less ideal conditions; microbrewers like hops pellets from two additional reasons:
They are easy to remove from the wort if the brewery uses a whirlpool separator, and they take up much less storage space, making it much more practical to keep them cold. Furthermore hops pellets made by hop pellet making machine offer brewers consistency in alpha/beta acid levels and the pellet format is available in volume supply year round.
International Market Supply of Hop Pellets Made By Hops Pelletizer Machine
Hops are grown in relatively few countries throughout the world. Due to hops' latitudinal sensitivity, production is restricted to those countries situated between the 35th and 55th parallel north and south of the equator. The dominant hop producing region are Western Europe, Northwestern USA and China, and the main manufacturing regions of hops pellets are Northwestern USA, EU and Asia.

The international market for hops is characterized by a few large players who own the majority of the world's hops pelletizer machine and extract machine, and a large number of small players. Therefore it has much market share for the people who want to start hops pellets production business.
International Market Demand of Hops Pellets Made By Hops Pelletizing Equipment
Because nowadays the number of craft breweries has rocketed and craft beers are being brewed in ever greater variety and volume around the word, especially in USA which now has nearly three thousand craft breweries (other countries include Japan, the UK, Germany and China), the demand of hops is strong and growing.
Craft beers use far more hops per liter than standard mass-produced lagers- from four to twenty times as much to give their pale ales and other varieties more taste than what is found in traditional mass-market beers and more and more people become craft beer lovers; and due to its unique advantages, such as less exposed surface area, stay fresh much longer than whole hops, less storage volume and so on, hops pellet can enable brewers to use hops more efficiently.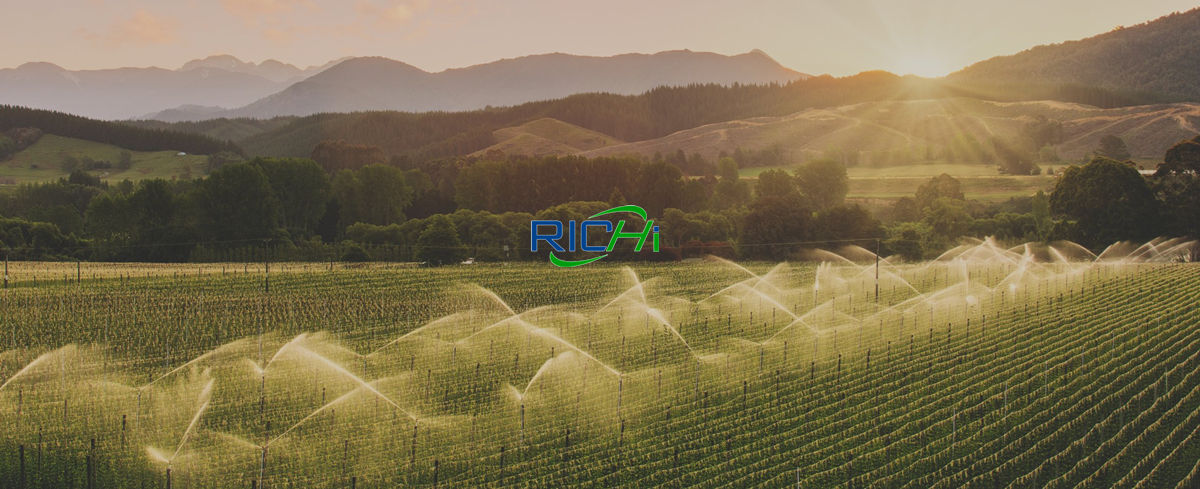 So the hops pellets made by hop pelletizer are the most commonly used hops in the major manufacturing brewers, both large and small. However because there are not enough supply of hops pellets, many craft brewers are willing to pay high prices for the hops. Thus hops pellets have a huge market potential, which means new opportunities for hops pellets companies.
In brief, the unique advantages of hops pellets made by hop pelletiser over other forms of hops in brewing along with the great market demand but not enough supply make the hops pellets have a huge market potential all over the world. On the other hand, with the development of pelletizing technology and the improvement of hop pelletizer, there are a large number of hops pelleting machine for people who want to start hops pellets manufacturing business.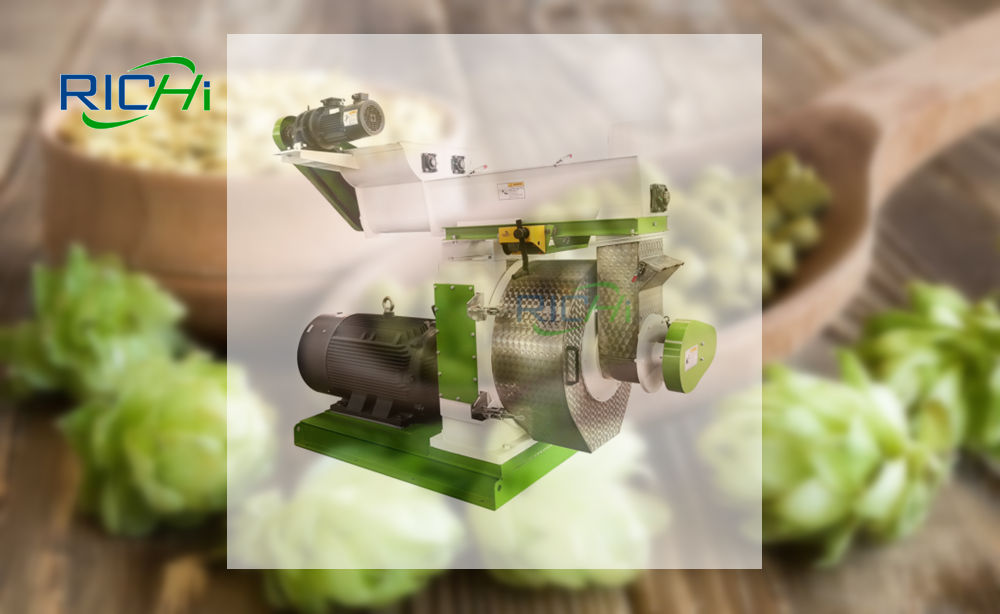 You can choose the cheap and small hop pelletizer for small and medium scale production or the relatively expensive and large capacity ring die hops pellet mill for large scale production. Along with the sufficient price point elasticity, the hops pellets producers will make a profit and get return on the investment in a reasonable short time frame.
What type of pellet machine to use for hops?——the best hop peletizer in the Market
How to turn hops into pellets? How to pelletize hops? How to make pellet hops? In addition to equipment such as hammer mill for hops, hops pellet cooler, hop dryer, etc., hops pelletizer machine is the most important equipment in the hops pellet production system.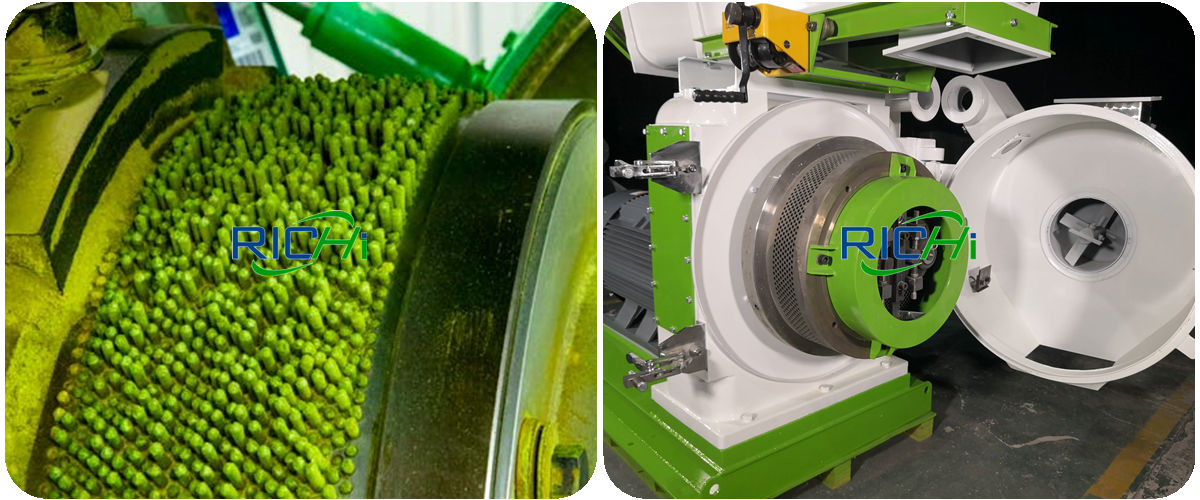 This New Zealand customer bought hop pelletizer for small scale farm, but some hop pelletizing companies need commercial hop pellet mill plant for hops pelletizing. So how to choose the most suitable China hop pellet machine for sale? The following is the hops pelletizer machine for sale recommended by RICHI for different scales.
Model of machines for pressing hops to pellets
MZLH320
MZLH350
MZLH420
MZLH520
MZLH768
MZLH858
Power of pelitizer for hops
37KW
55KW
90KW
132KW
250KW
280KW
Capacity of capacity of hop pelletizing equipment
300-400KG/H
500-700KG/H
1.0-1.2 T/H
2.0-2.5 T/H
2.5-4 T/H
3-4.5 T/H
Size of pelletized hops from the hop pellets machine
2-10mm
Weight(KG) of hop equipment to pelletize hops
2500
3500
4000
4500
5000
5500
Application of hop equipment to pelletize hops
hop pelletizer for small growers for sale
hop pelletizer for small growers for sale
hop pelletizer for hop business & industrial
hop pelletizer for hop business & industrial
hop pelletizer for hop commercial & industrial
hop pelletizer for hop commercial & industrial
Hop pellet machine price
7000-100000USD
Pellet hops types made by hop pelletizing equipment
According to the different processing methods of hop pellets plant and hop pelleting system, granular hops made by hop pelleting machine can be divided into 90 pellet hops, 75 pellet hops, 45 pellet hops and pre-isomerized pellet hops.
Type 90 pellet hops (ordinary pellet hops)
Type 90 pellet hops made by hop pellet making machine are only 90% of the original weight of the hops because they reduce some of the moisture and stalks and leaves. Generally, it is packaged in aluminum letter, skg or 10kg per bag. The amount of a-acid contained in this kind of pellet hops is determined by the variety of hops used. During the hops mills and pelletiser processing, the loss of a acid is small.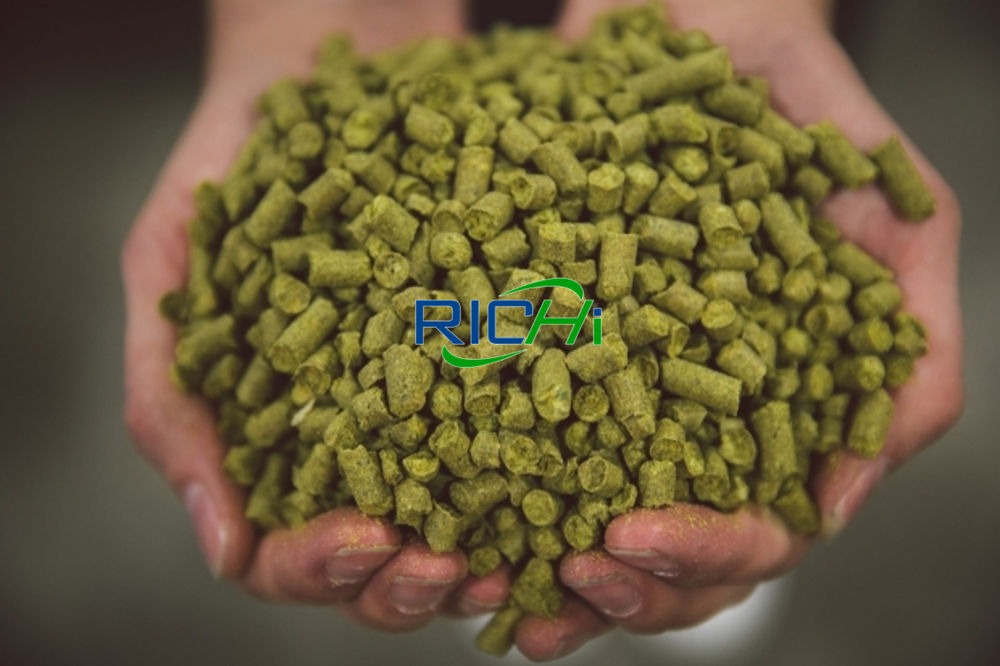 Type 45 pellet hops (concentrated pellet hops)
The quality of type 45 pellet hops made by 2-10mm pellet mill for hop cones is only 45% of the original weight of the hops. The content of a acid and hop oil is higher than that of type 90 pellet hops, and the acid can be as high as 20%. The acid loss during the hop pellets equipment processing is large, so the cost is high, the price is expensive, and need More complicated equipment.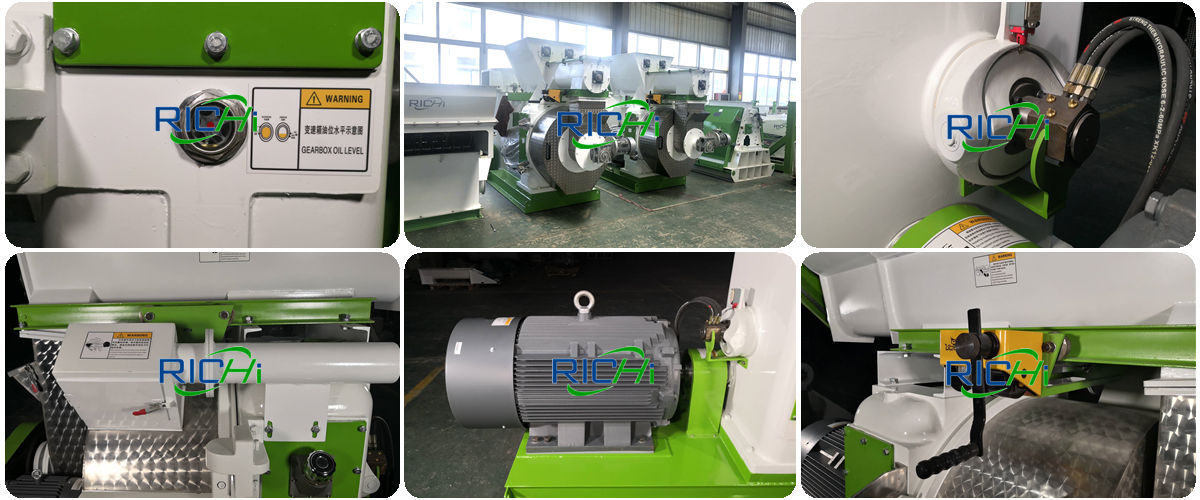 Top isomerized pellet hops
This kind of pellet hop system isomerizes a acid in advance, and then it is made into hops granules made hop pelletizer. That is, the above-mentioned stable pellet hops added with Mg(OH)2 can be easily converted into magnesium salt of iso-α acid within 2 hours under anaerobic heating at no more than 80C. Its conversion rate can reach more than 90%, but it has little effect on other ingredients of hops. The loss of hop oil is about 10%, and the loss of beta acid is 5%~10%.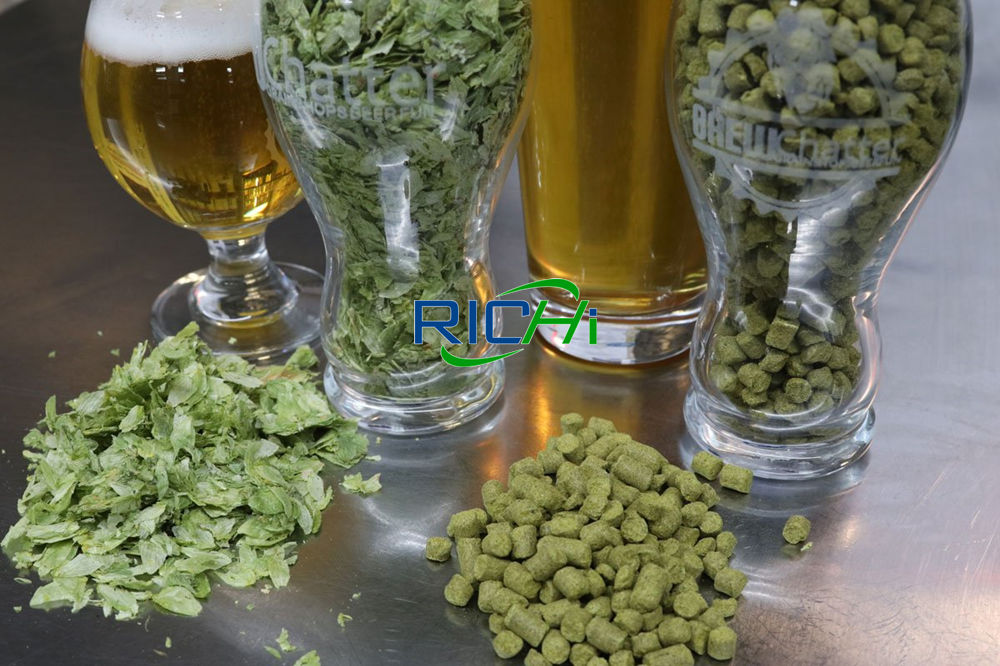 The pre-isomerized magnesium salt of α acid can increase the utilization rate of α acid by up to 60%. The hops pelletizing equipment production process is: after the whole hops are crushed to limit the fraction to remove impurities, 1% food-grade Mg(OH)g. is added to the pellets, then heated and cooled by anaerobic packaging.
Compared to unprocessed hops, pelleted hops give greater utilization over whole hops because they're easier to measure, store, and distribute. That's why both growers and brewers everywhere are turning to Richi Machinery for the best hop pelletizer plant solutions.
Hops pelleting plant is a system that requires careful attention to temperature, moisture, feed rates, and overall system efficiency. RICHI hops crushers, hop pelletizers, feeders, coolers, and automation software work together to create an efficient and highly dependable pelleting system, suitable for both small- and large-scale hops pelleting operations.
The above is the article for you: [New order] RICHI 300-500KG/H Small Hop Pelletizer Plant For Sale New Zealand.
If you are interested in our products or project solutions, please contact us. We will give you the best product quality and the best price. Email: enquiry@pellet-richi.com