The Kangdi Yangjiang (Phase II) high-end livestock and poultry feed factory project undertaken by RICHI was officially completed in September 2019. The large poultry and livestock feed plant will have an annual production capacity of 360,000 tons, with a planned annual production capacity of 500,000 tons (already reserved room for capacity expansion).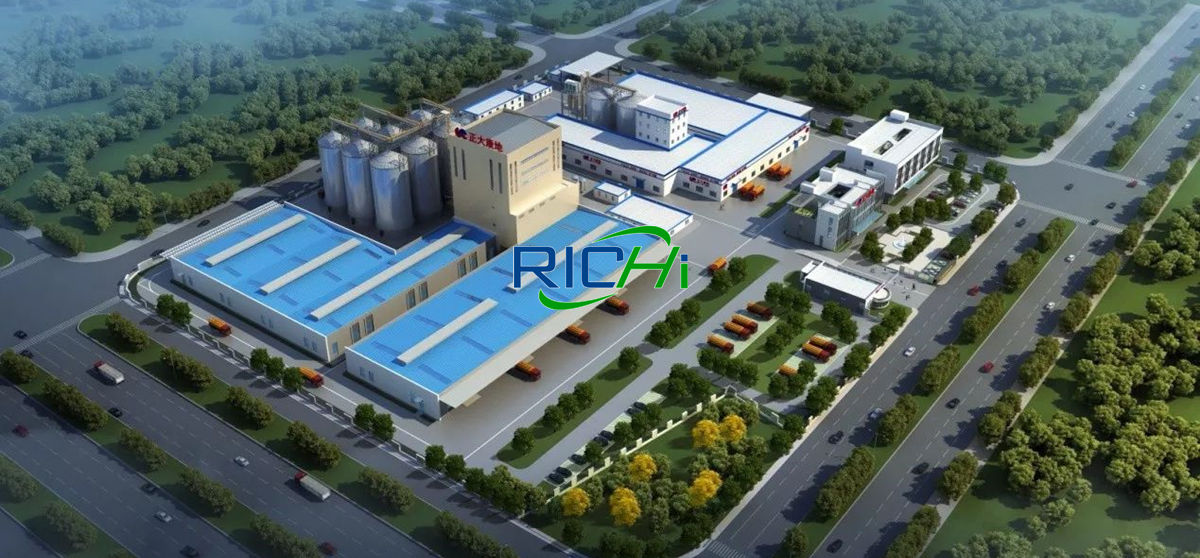 Aerial view of the factory price animal poultry livestock feed mill 50t/h in China
The working system of this large capacity poultry animal livestock feed pellet production line project adopts 24 hours a day, divided into three shifts, and runs for 300 days a year. It can be calculated that the output of this poultry livestock feed production line project is 50t/h, 1200 tons per day, and 30000 tons per month.
Introduction of the customer of the 50 t/h full automatic poultry & livestock feed production plant project
Chia Tai Kangdi Group is a large-scale comprehensive agricultural and animal husbandry enterprise with international advanced level established in China by Thai Chia Tai Group and United States Kangdi Group (Continental Grain Company) in China. As China's first foreign-invested feed enterprise, CP Group was established in Shenzhen in 1981.
The Chia Tai Kangdi Group selected the site in Yangjiang, western Guangdong, to build this large-scale feed production base, which is intended to radiate the rich and developed areas of Maoming, Zhanjiang, Guangxi, Hainan and other aquaculture industries, so as to consolidate its market competitive advantage.


Site of the customer feed company
Of course, this is not easy, because Yangjiang is located on the southwest coast of Guangdong Province, adjacent to Jiangmen Enping and Taishan in the east, Maoming in the west, South China Sea in the south, and Yunfu in the north. It is the direct hinterland of the Pearl River Delta and the frontier of the western Guangdong region facing the Pearl River Delta.

The second phase of the 50-ton feed factory base officially started
There are many well-known feed companies at home and abroad, and the overall market production capacity, product quality and brand effect are all at a high level. This also poses a very high challenge to CP Kangdi Group's commercial poultry livestock feeds equipment plant construction. For this reason, this customer has put forward extremely high requirements on the production output and equipment quality of the 50t/h automatic high level poultry livestock feed plant.
Overview of the customized turnkey 50 tph pig poultry and livestock feed mill in China
At the beginning of establishing poultry and livestock feed processing plant project, the RICHI team invested a large number of first-class installation and construction engineers, and communicated with the customer's team many times. In terms of livestock poultry animal feed mill machines installation and livestock feed mill project layout, the engineers' professionalism and unremitting efforts.
In just 5 and a half months, a large-scale feed high-quality livestock poultry feed pellet plant project with an annual output of 360,000 tons was successfully installed.


On March 22, 2018, the groundbreaking ceremony of the project was held
Features of the large capacity 50 tons per hour livestock feed plant for making complete livestock feeds:
The high quality of this 50 tons per hour fully automatic poultry & livestock feed pellet plant is not only reflected in the exquisite livestock and poultry animal feed plant design layout and installation skills, but also in the high-quality and high-efficiency aspects of RICHI's boutique commercial livestock poultry feed equipment.
01
Advanced process livestock feed mill technology and climate smart livestock feed processing equipment
This large poultry livestock animal feed production line project adopts the first crushing and then mixing process. The crushing section uses 4 livestock feed crushing machine SFSP112*60F, and the batching section host uses 3 SSHJ series double reducer dual-shaft paddle livestock feed mixers. And it is equipped with 48 ingredient warehouses, so that customers can have more choices of ingredients.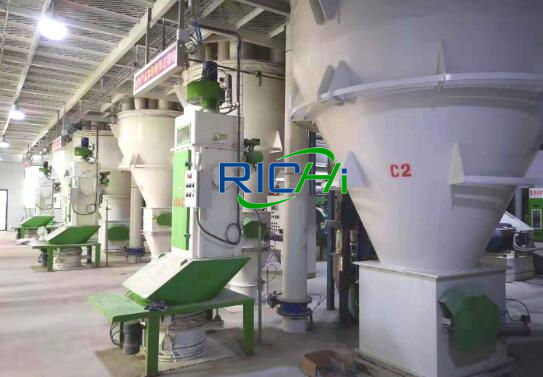 For the premix and additives, it is equipped with a premix silo and batching scale, which can more accurately add premixes and additives, more precise proportioning, reduce unnecessary loss, and greatly increase livestock poultry feed plant production capacity.
02
Multiple feed pelletizing production lines for the 50t/h customized livestock pig poultry feed mill to meet diversified needs
There are a total of 7 feed pelleting production lines, including 5 feed pelleting lines, 1 feed expanding line, 1 corn puffing line. For different feed types, there are 2 poultry feed lines, 4 pig feed production lines, and 1 puffed corn line. Fully meet the diversified production needs and enrich the diversity of feed.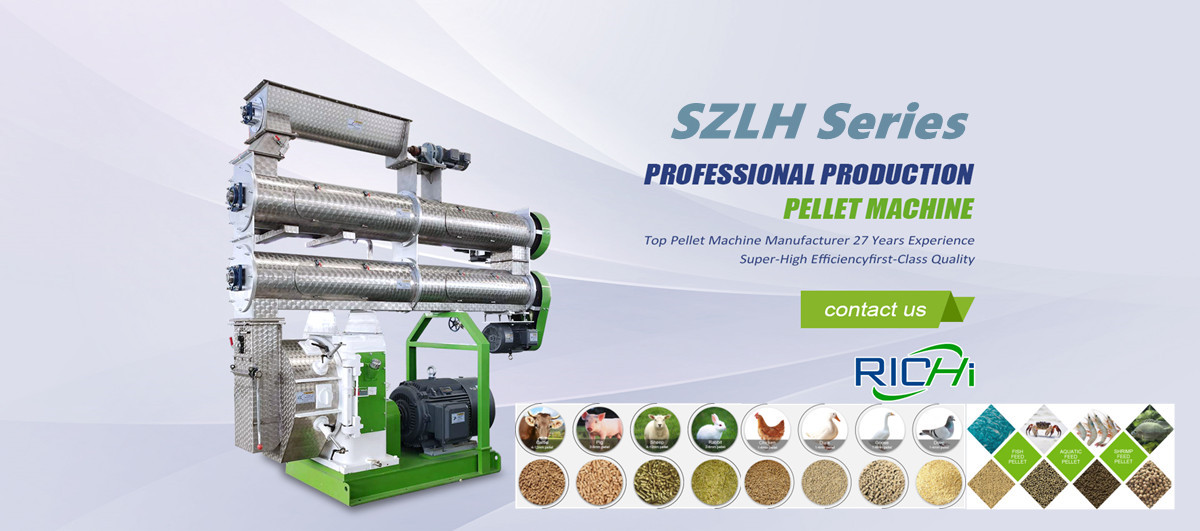 03
With the help of high-quality equipment, the livestock and poultry animal feed plant production capacity increases again and again
All the hosts of SPZL series nutrition comforting machine and SPHG series extruder are operated in a self-control way. The finished product packing section is divided into two ways: packing and bulk packing. The packing scale is RICHI SDBY-P(s) double bucket packing scale. It also includes liquid addition and steam systems, which are all equipped with RICHI's high-quality products to build a high-quality livestock feed manufacturing plant and increase livestock and poultry chicken feed production line production capacity.
01
Intelligent automatic control system for 50t/h animal feed mill plant for producing livestock and poultry feeds
In the design of customer's electric animal livestock poultry feed mill, RICHI adopts fully automatic control mode, adopts full-screen control means, automatic batching, automatic dumping, automatic control of pelleting, automatic packing and coding, and the production has turned the entire livestock and poultry chicken feed factory into a high-tech and fully automated animal feed plant base greatly reduces labor costs.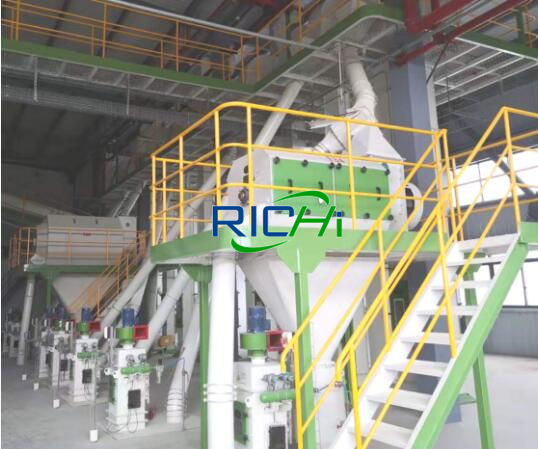 The production data of the 50tph entire poultry livestock feed production plant is clear at a glance, which is very conducive to data management and strategic adjustment. The large animal feed manufacturing plant for producing livestock and poultry feeds was successfully completed. The professionalism, efficient work efficiency, and active communication service attitude of the RICHI team have been unanimously affirmed by the leaders and related personnel of the customer. The praise is rave reviews!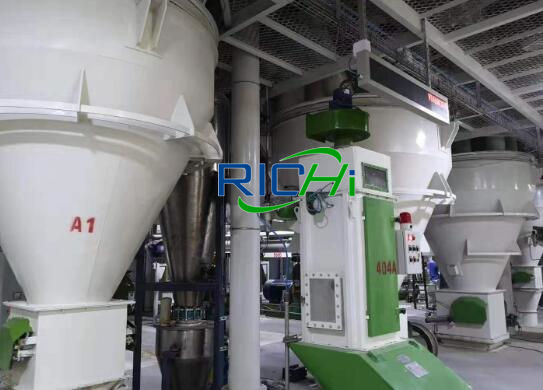 In the later stage, RICHI will continue to do a good job in customer service for life, continue to create more value for customers, and as livestock feed machine manufactuer, livestock pellet equipment manufacturer, livestock feed mill suppliers, make the RICHI brand more resounding.
Complete set of 50 tons per hour large poultry and livestock feed mill equipment
The total poultry livestock feed mill equipment power of this 50t/h poultry livestock feed manufacturing project is approximately: 1650KW; the construction area of ​​the poultry livestock feed plant factory area is approximately: 16.5×33×40.5m; supporting 6T boilers. The entire production line for poultry livestock feed pellet is compact in design, reasonable in structure, meets environmental protection requirements, and can be oriented design of poultry livestock feed plant factory according to customer requirements.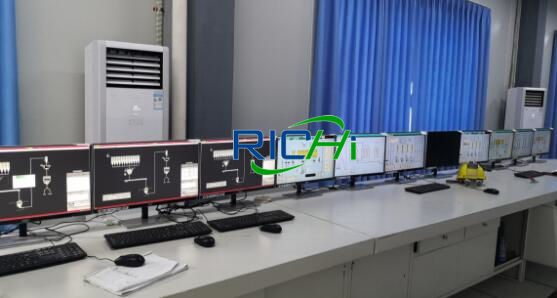 Poultry livestock used feed mill equipment for sale China 50t/h animal feed project
3*2000T corn silo
SCY100 pellet screener, designed to produce 30-50T/H per hour;
The powder sieve SQLZ60×50×100, the powder sieve SQLZ90×80×110, the designed output is 30-50T/H;
Livestock feed grinding machine SFSP668×1000, 160KW, designed to produce 16-20T/H per hour (¢3.0mm mesh)
Batching scale PCS40/PCS20/PCS10, batching accuracy: dynamic ≤3‰, static ≤1‰
Livestock feed mill mixer SHSJ8, (55KW, 4000kg/batch), designed to produce 40-50T/H per hour. Mixing uniformity CV≤5%
3*SZLH508 (160KW), animal feed pellet machine, designed to produce 13-16T/H per hour
SKLN8, designed to produce 15-20T/H per hour
After grease spraying machine: SYPH450 (4kw), the design spraying volume is 0-1000L/ton
Double bucket belt scale (both powder and granular materials), packing range 20-50kg/bag, 10-12 bags/min
The process design plan of 50 t/h pellet plant for livestock feed poultry feed production can be customized
According to the needs of different customers, the 50t/h intensive livestock feed production system solution can also be optimized for configuration:
This livestock feeds manufactiring scheme adopts a single-point dust removal mode, that is, each rotary distributor (powder) and granular material cleaning screen is equipped with a pulse dust collector, which has a good dust removal effect. Single-point dust removal is a humanized design for our company, providing a better working environment, but the cost increases, and customers can consider whether to adopt this configuration according to actual poultry livestock feed mill factory needs;
The number of poultry livestock feed mill factory silos can also be adjusted according to the customer's livestock feed production formula, the characteristics of the livestock feed plant raw materials and other factors to achieve the highest utilization rate and effectively control the livestock feed plant production cost;
In this large capacity livestock & poultry feed plant plan, the livestock pellet making machine adopts both single-layer conditoner and double-layer conditioner to meet the needs of general customers. At the same time, the space for the quality guarantee is reserved. Customers can choose to use the quality guarantee to further improve the maturity of the material and improve the quality of the finished feed;
A poultry livestock feed pellets crumbler can be selected after the cooler, especially when producing poultry feed, the feed crumbler can crumbling the finished large pellets into small pellets, improve livestock poultry feed mill processing plant factory production efficiency and reduce livestock feed production business production costs;
The distribution of finished products can be selected according to actual needs of 50 tons poultry livestock animal feed mill factory.