Overview of good quality 3-5t/h poultry chicken feed plant for sale Uzbekistan
This Urgench 3-5 ton per hour complete chicken feed production line constructed by Richi Machinery has been put into operation smoothly. The Uzbekistan customer of this chicken feed line for poultry feed plant project is mainly engaged in poultry breeding, poultry feed processing, poultry slaughtering, and meat product processing.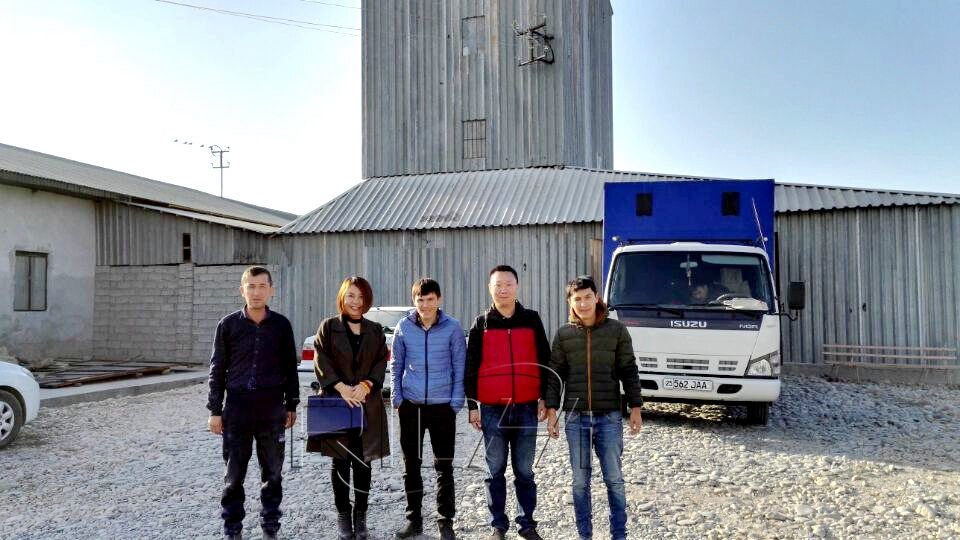 RICHI sales staff and engineers at the Uzbekistan animal feed pelletizing line plant site
For management, the Uzbekistan customer has continuously invested to upgrade his automatic chicken animal feed pellet making plant, introduce advanced poultry feeds production technology, poultry feed equipment and develop new technologies. In the process of implementing the poultry feeds production project, the Urgench customer carried out on-the-spot investigation on the construction sites of many China well-known feed machinery suppliers in the industry.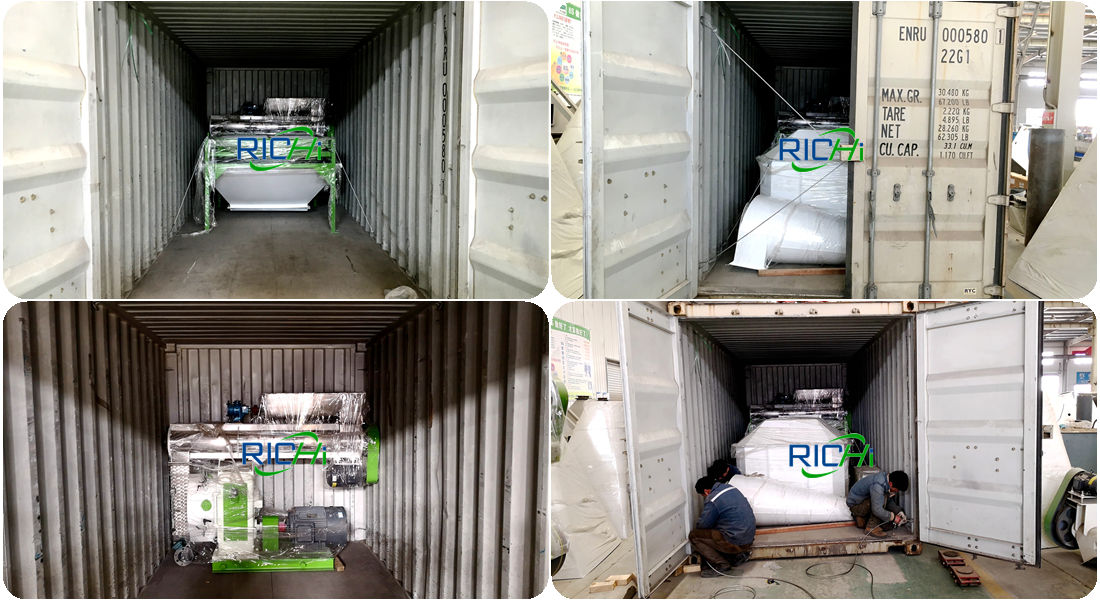 Equipment delivery of 3-5t/h automatic chicken animal feed pellet making plant for sale Uzbekistan
After comparisons, they especially favored the animal feed processing technology of RICHI, and finally chose RICHI as the poultry feed plant supplier and signed the contract of a 3-5t/h chicken feed production line, including corn grinder for chicken feed*37KW, chicken feed mixing machine*500kg/batch, 37KW chicken feed pellet machine,cooling machine*SKLH14*14, chicken pellet crumbler*SSLG15*80, vibrating screen, packing machine, 500KG/H electric heating boiler. On August 24, 2018, the Uzbekistan chicken fodder plant project was officially started.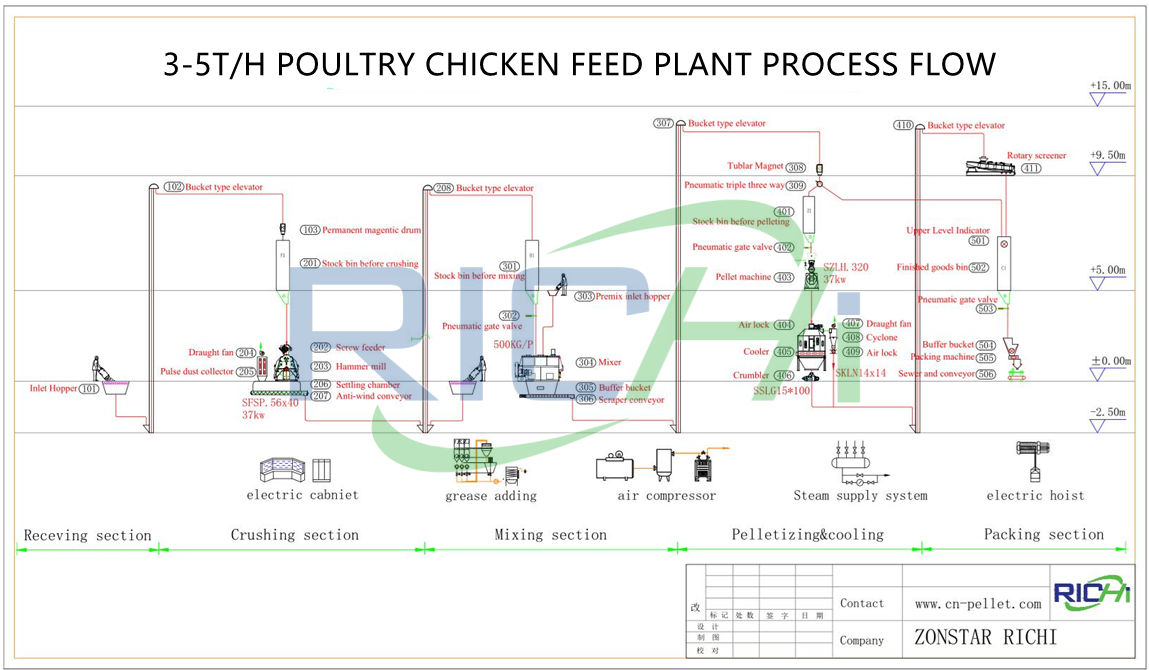 Poultry feed manufacturing process of 3-5t/h automatic chicken animal feed pellet making plant for sale Uzbekistan
On December 10, 2018, the 3-5t/h high quality chicken feed processing plant project successfully passed the acceptance with one-time commissioning. After that, the customers praise RICHI with "RICHI manufacturing is trustworthy", "RICHI animal feed processing technology is good, after-sales service technology is excellent", "RICHI Electronic Control is trustworthy".
Why Uzbekistan customer choose RICHI?Professional chicken feeds production from China
Reasons for choosing Richi Machinery as poultry feed plant manufacturer
1.Intelligent automatic control system, more convenient and more efficient
The 3-5t/h completely poultry feed manufacturing plant project uses automatic control including automatic batching, warehousing, pelleting, packaging, to greatly reduce the labor cost and make the whole poultry feed plant project production data clear, which is beneficial to data management and strategy adjustment.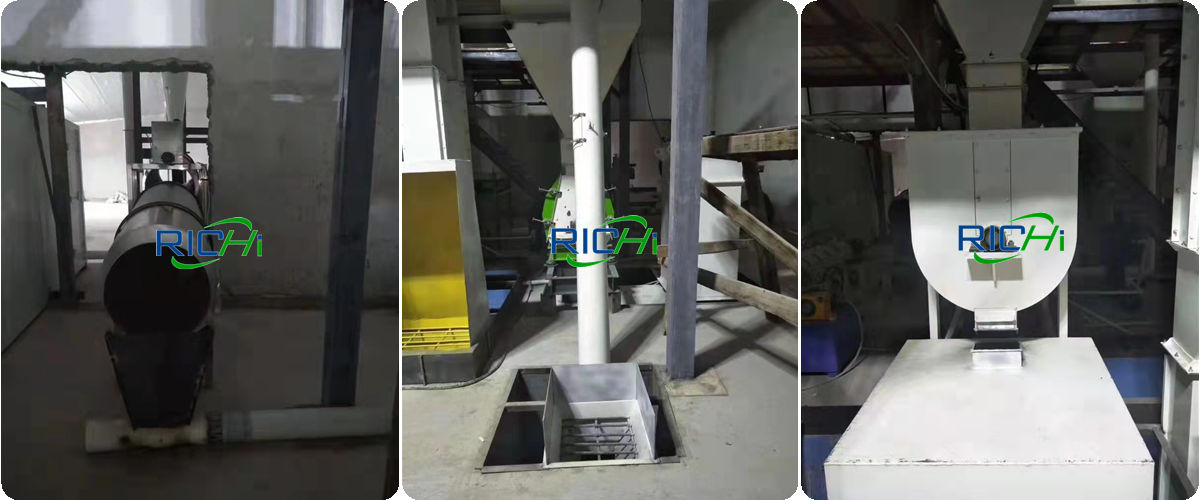 Uzbekistan 3-5 Tons/Hour Poultry Feed Manufacturing Plant Project Site
2.Advanced animal feed processing technology and poultry feed equipment, more choices and greater capacity
It uses crushing-mixing processing technology. The crushing section uses SFSP chicken feed grinder machine, and the main chicken feed machines of the batching section use single-shaft chicken feed mixer machine. Equipped with 8 batching bins so that our customer may have more batching options. In addition, premix bin and batching scale are equipped, which can add premix and additives more accurately, mix them more accurately, reduce unnecessary loss and greatly increase chicken feed plant production capacity.


3.Use high-quality poultry feed equipment to increase the production capacity
All the main chicken feed milling machines use automatic control. The packaging section of finished products uses double-bucket packing scale. It also includes liquid adding and steam system. They are all high-quality products that can ensure the increasing of chicken feed plant production capacity.
RICHI feed mill plant and feed machine for sale Uzbekistan
As of the end of 2020, we have established 24 feed plant and feed machine projects in Uzbekistan, including 18 complete animal feed production lines and 6 single feed machine projects. The products sold cover chicken feed production, cattle feed production, laying hen feed production, broiler feed production, stock feed production, fowl feed production, fish feed production, etc.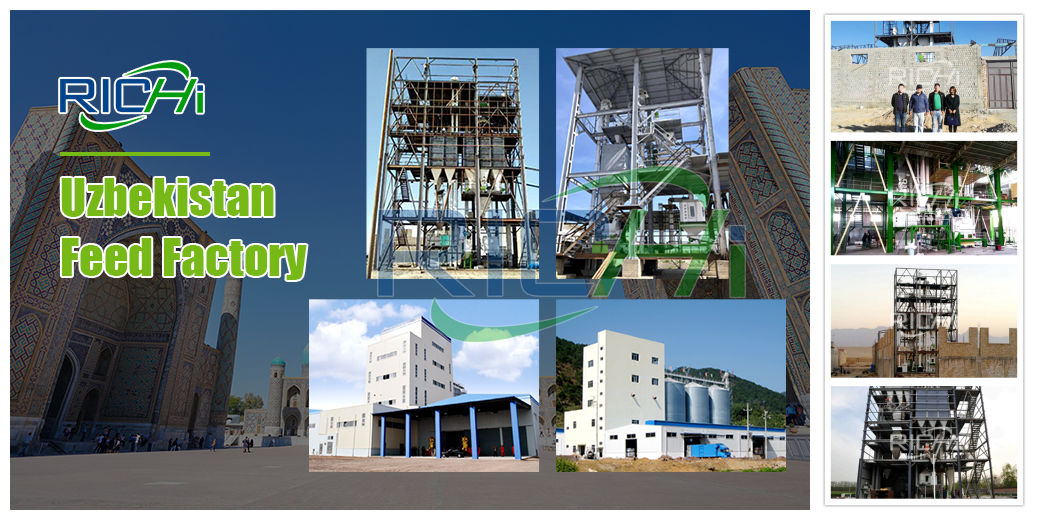 The following is a list of all our current feed production projects in Uzbekistan, all the information is true. (Currently, only some Uzbekistan feed production cases have been updated on the website. Because some cases are ongoing or lack relevant pictures, there is no specific detail page. You can directly contact our sales staff for more case information)