Compound Feed Industry In Qatar
Qatar is a member of the Gulf Cooperation Council (GCC) and heavily dependent on imports for various food and feed related commodities. After Saudi Arabia and UAE, Qatar is the largest importer of meat products in the GCC region, accounting for nearly USD 366.29 million in 2015. Such a huge reliance on imports can be attributed to the fact that only 2.7% of the geographical land in Qatar is arable.
The Qatari farm animal herd consists of camels, sheep, goats, cows, and most importantly poultry. Poultry products that are domestically produced aims to cover about 20% of the entire national need. (Related post: 1-1.2T/H Bird And Camel Feed Plant For Sale Qatar )

The issues surrounding the animal welfare laws would not likely make much impact in Qatar since the implementation of the laws would increase the already existing political turmoil in the country. There are significant numbers of small commercial farmers who breed their farm animals with their own domestically produced feed. The need to reduce the dependence on neighboring county imports is expected to create significant space for livestock production within the country.


Overview of ce high quality animal feed pellet mill 3-4 tph for sale Qatar
The client of this ce 3-4t/h ring die chicken cattle livestock poultry animal feed pellet making machine project is a farmer. In order to reduce the cost of feeding, he decided to formulate his own feed. This is a ring die animal feed pelletizer with model SZLH320. The Qatar customer uses some conventional feed materials to process 2-8mm pellets to feed layers, broilers and cattle respectively. The power of this hot sale livestock and poultry feed ring die pellet mill is 60KW, and the power distribution of the project is 415V, 50HZ, 3 phases.

Delivery site of 3-4t/h animal livestock poultry feed pellet making machine for sale Qatar
This 3-4t cattle chicken feed pellet machine for Qatar farm project was signed in December 2014 and shipped to the customer site in January 2015. The installation time is only 2 days. It should be noted that because the customer needs to process a variety of feed pellets and the formula is different, so he has configured multiple pellet machine ring dies to meet the feed processing needs of his farm.

Testing before delivery of the boiler livestock poultry animal feed pellet making machine for sale Qatar
Advantages of the 3-4t/h electric ring die poultry cattle animal feed pelleting machine for sale Qatar
This ring die type 3-4 tons animal feed cattle poultry feed pellet mill machine is a key equipment for producing pellet feed, with high output, good performance, low energy consumption, low noise and beautiful appearance characters. It is the ideal feed pelletizing equipment for pressing poultry, livestock and fish pellet feed.

Testing of the ring die poultry pellet making machine chicken cattle pellet mill for sale Qatar
The feeding system of the 3-4 ton per hour animal poultry livestock cattle feed pellet machine adopts stepless speed changing motor control, adjust speed conveniently and reliably. Could be equipped with microcomputer automatic control system adjusts feed-in quantity and throttle flow automatically, make chicken cattle feed pellet mill in the best working condition all the time.
Testing video of pellet machine for cattle feed in Qatar
Production process of CE ISO verified animal feed pellet machine for sale Qatar
The pelletized feed formed by compacting and extruding a single raw material or compound mixture through a hot sale animal feed pelleting machine is called pelleting. The purpose of pelleting by compress feed pellet mill is to make finely divided, dust-prone, poorly palatable and difficult-to-ship feed into pellets using the heat, moisture and pressure during the animal feed pellet making machine pelleting process.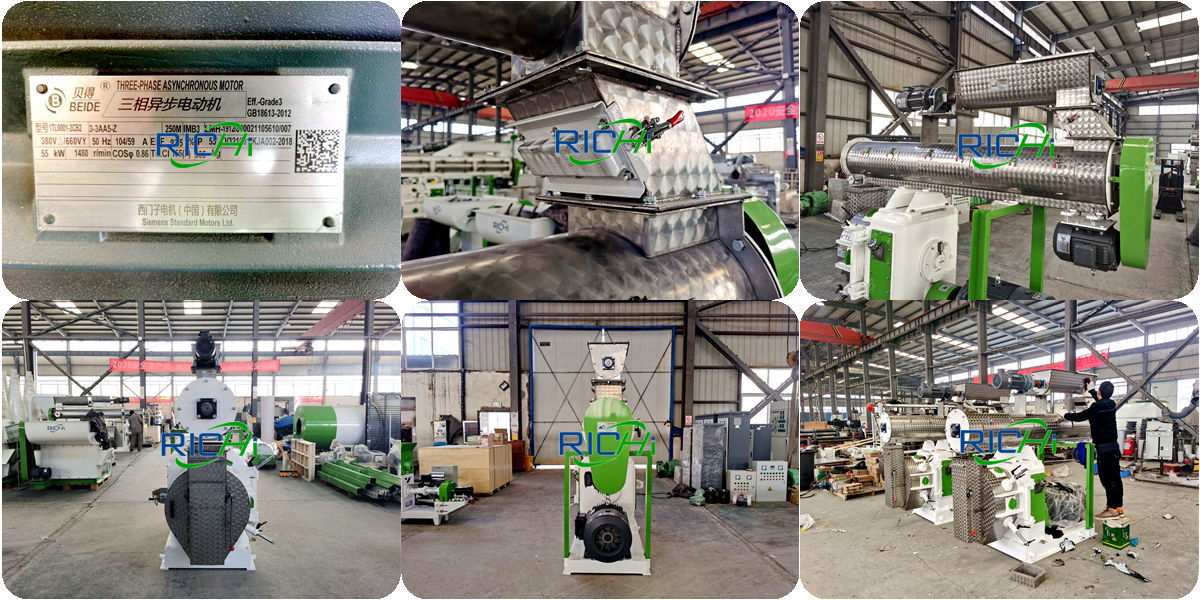 The processing process of the simple operating feed pellet mill machine for sale Qatar is to pulverize different raw materials through an animal feed pulverizer, and then mix the raw materials through an animal feed mixer. The mixed compound feed enters the mechanical conditioner and then is compressed into pellets by the 3-4t/h poultry cattle animal feed pellet machine with manufacturer price.
The diameter depends on the diameter of the animal feed pelleting machine ring die. To make pellets of different sizes, you need to choose ring die with different diameters.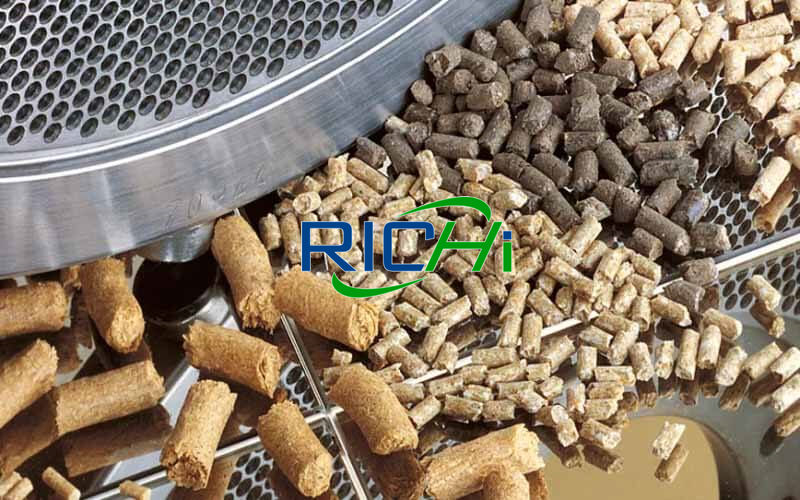 Pelleting by animal feed pellet press is the most complicated process in the feed production process. When making pellets, improper selection of the cooler and supporting fans may cause insufficient pellet cooling time or insufficient air volume, and excessive moisture and temperature of the pellets from the machine. The feed is prone to mildew. A complete feed production process should be selected to prevent feed mildew caused by imperfect process.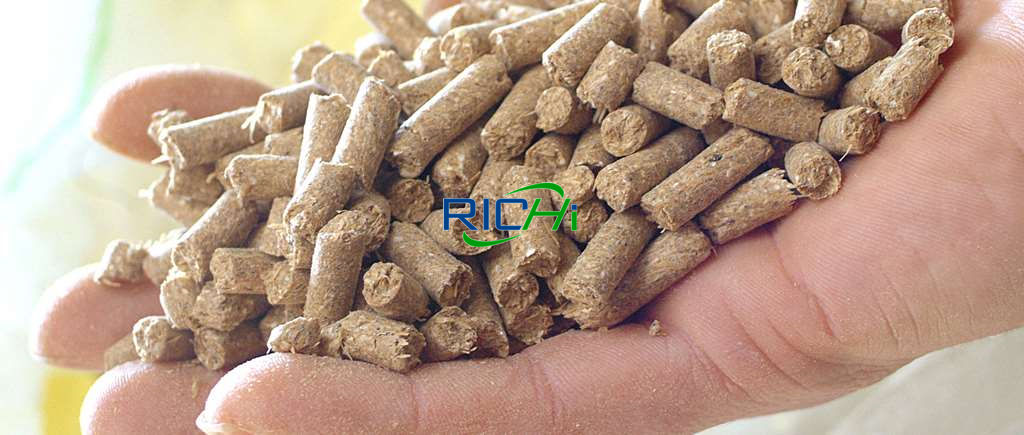 At present, the quality of pellets is mainly controlled by adjusting the room temperature, cooling temperature, moisture increase, crushing rate and particle persistence. Modulation is the most critical step in granulation by brolier chicken cattle livestock poultry animal feed pellet making machine. Adequate modulation can help improve the quality of pellets and reduce the amount of harmful microorganisms.
After pressing the pellets, it should be fully cooled, otherwise the hot water inside the pellets will move to the surface, mold contamination and silo corrosion will occur.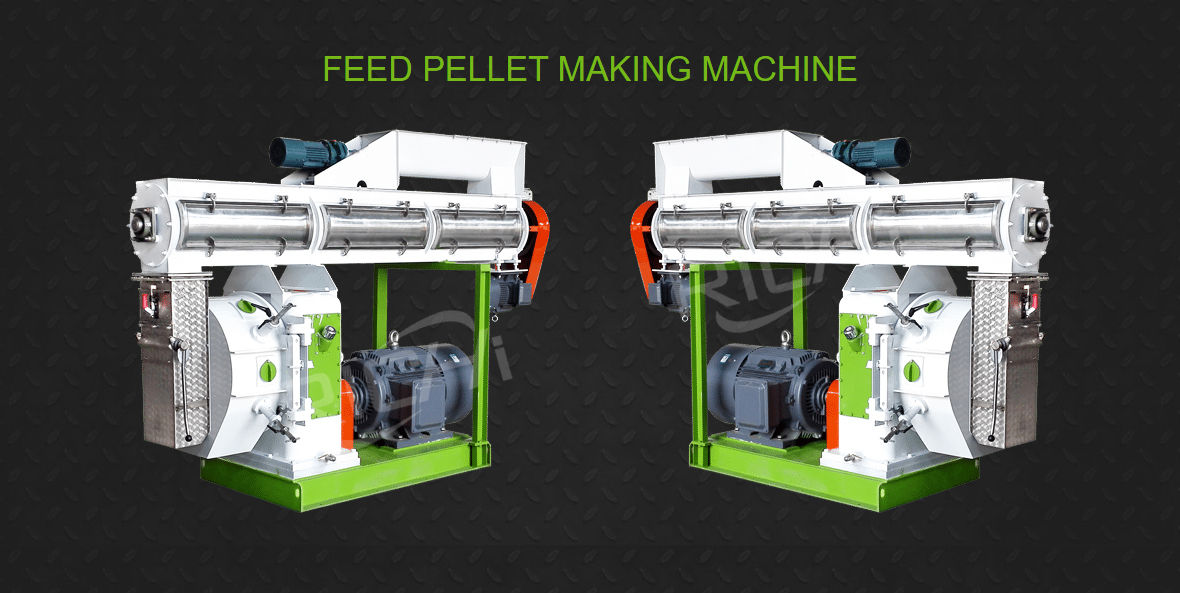 The custody and storage of feed is also very important in ensuring feed safety, mainly the control of storage conditions (such as temperature, humidity, ventilation, etc.) and storage time. When the feed is stored, the temperature may be too high or the protein may deteriorate, or due to If the storage time is too long and the humidity is too high, it can cause bacteria to spoil.
RICHI reminds everyone that pellet feed should be kept dry when stored. If the storage conditions are not properly controlled, it cannot be guaranteed that the feed fed to livestock and poultry is safe.
SZLH series ring die animal feed pelleting machine price and parameters
Model
Capacity(TPH)
Main Motor Power(kw)
Feeder Motor Power(kw)
Conditioner Power(kw)
Dia.of Feed Pellet Mill Die(mm)
Final Pellet(mm)
Feed Pellet Machine Price
SZLH250
1-2
22
0.75
1.5
250
2~12
7000-100000USD
SZLH320
3-4
37
1.5
2.2
320
2~12
SZLH350
5-7
55
1.5
3
350
2~12
SZLH420
8-12
110
1.5
7.5
420
2~12
SZLH508
10-18
160
2.2
11
508
2~12
SZLH558
15-25
180/200
2.2
11
558
2~12
SZLH678
20-30
220/250
2.2
11
678
2~12
SZLH768
25-40
280/315
2.2
11
768
2~12
SLZH858
25-42
280/315
2.2
15
858
2~18
Increasing Meat Consumption and Demand for Dairy Products In Qatar
Poultry is the main meat product imported by the GCC from foreign suppliers. Import of foreign halal beef has been growing steadily. Although the per-capita meat consumption in the region is low when compared to the developed economies in the west, it is expected to increase at a relatively higher rate. Population growth, rising per-capita income, and a booming tourism industry are the main drivers for meat consumption in the Qatar region.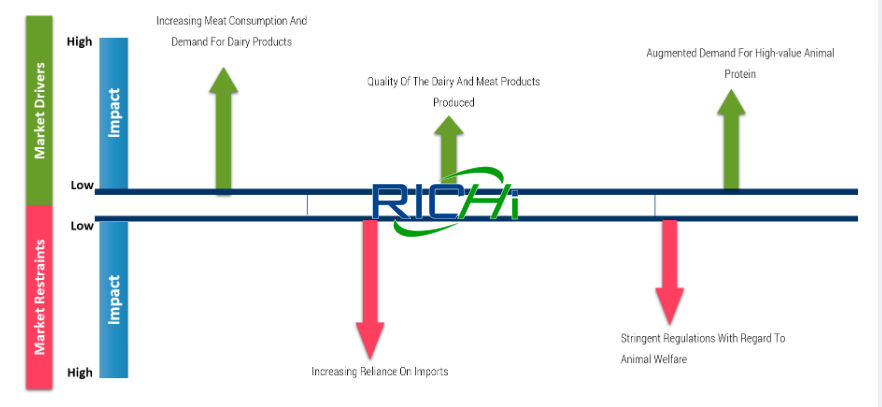 Increasing food consumption is indirectly driving the compound feed market, which provides complete nutrition to animals through quality feed, and is therefore used in food production. Income levels and consumption of animal protein are positively related. Therefore, the high per capita income and consequent urbanization have led to a surge in meat production in the region.
The worldwide economic downturn has had a very limited effect on the Qatar meat industry, which has maintained its positive outlook, owing to the high demand for meat.
Poultry Feed to dominate the Compound Feed Industry In Qatar
Poultry is the largest segment for the compound feed market in the region, currently boosted by increased production of poultry meat. The major reason for the surge in demand and consumption of poultry meat is the increased consumption of processed poultry in Qatar. The total production of poultry meat in Qatar was at 26,175 metric tons in 2016, accounting for an increase of nearly 1.5% from 2015. The growth in consumption has created a pressure on farmers to maintain the production growth rate to retain the demand-supply balance.

Rising health awareness among the consumers is exerting more pressure on farmers to produce high-quality meat at a healthy growth rate, especially in developed countries. The aforementioned reasons have created a platform for the compound feed and feed additive market, since the latter enhances the quality and efficiency of the feed, ensuring increased quality meat production.
Millers and livestock producers are switching to compound feed to maintain uniformity in the feed and meat.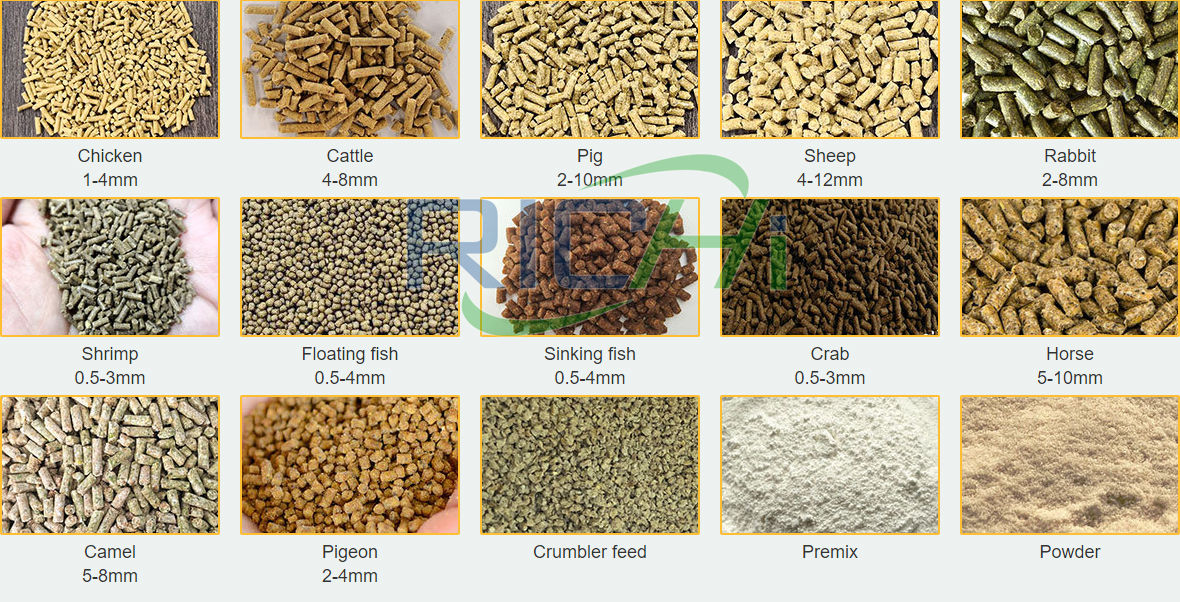 Government support for increasing domestic poultry production, with the aim to reduce import, is offering excellent opportunities for the Qatar compound feed market. The poultry industry in Qatar is also benefiting from lenient feed-related regulations.