Senegal is expanding its food production with great ambition to serve consumers and spur rural development. Products of Senegalese farmers find their way to not only domestic customers but also to export markets in West Africa and the European Union.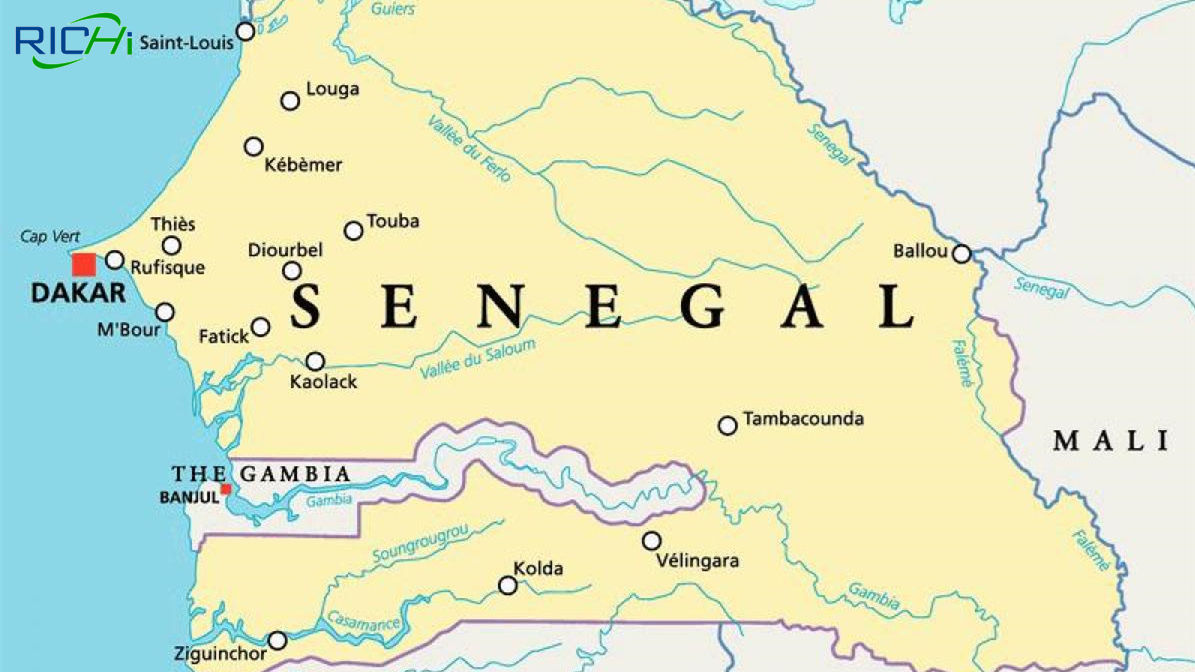 Overview of 3-5t/h poultry feed mill business in Senegal
This is a commercial 3-5t/h poultry feed plant machinery has been exported to Senegal. This high quality low cost animal pellet plant was designed for making feed pellets for chicken which has the capacity of 3~5 ton per hour.
The Senegal 3-5 tons per hour complete poultry mash pellet feed plant project was signed on March 4, 2017. The Senegal customer established this 3-5tph poultry feed plant mainly for sales, so it is a commercial poultry feed plant, mainly processes layer feed (powder) and broiler feed (3-4mm). The 3-5t/h animal feed processing plant also supplies its own small poultry company.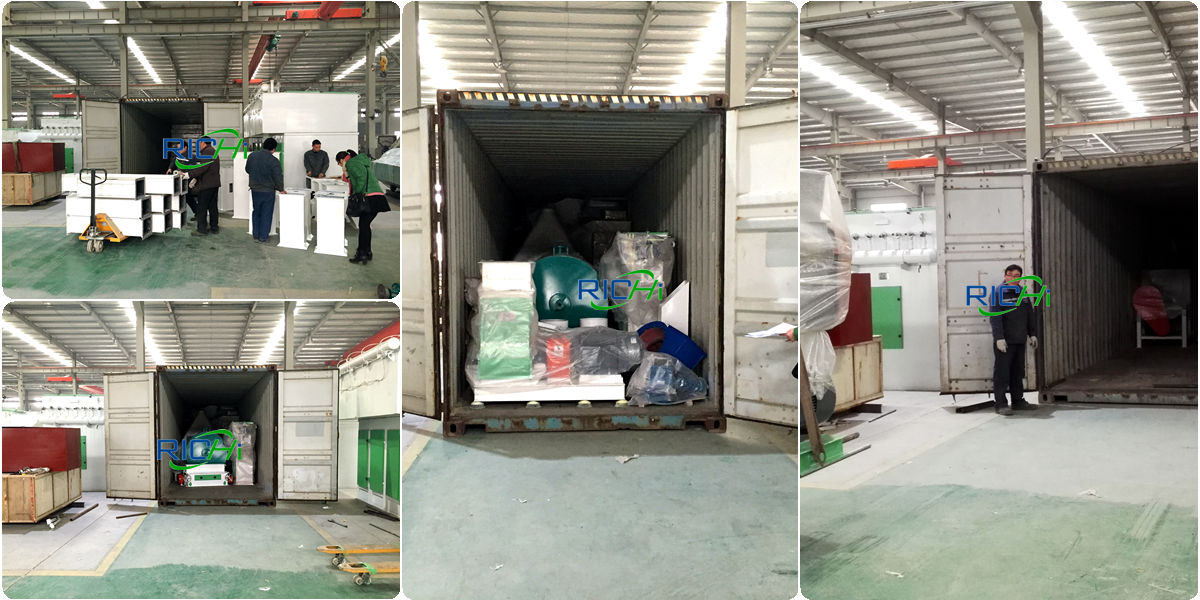 Equipment delivery of 3-5 ton per hour automatic poultry pellet feed plant for sale Senegal
This is a compact feed plant for poultry, the 3-5t/h poultry feed plant machinery covers an area of ​​9m*6m*13m, and the electricity consumption of the Senegal poultry feed production line project is 380V, 50HZ, 3 phases. According to the needs of this Senegal customer, the poultry supply feed line we designed for Senegal customer requires 5-6 people to operate, 2 people at the feeding port, 1 person for the premix, 1 person for the poultry feed pelletizer, and 1-2 people for the packing scale.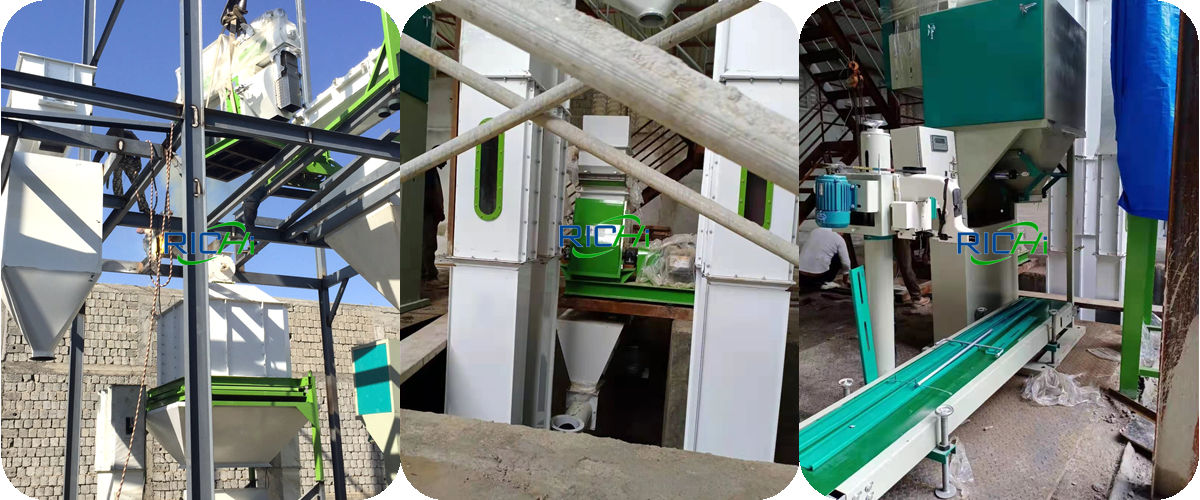 Site of customizable easy to use 3-5t/h poultry feed plant for sale Senegal
Due to budget issues, the Senegal customer chose to install it on their own. In order to allow customers to efficiently complete the installation and commissioning work, while overcoming the problem of time lag, we have deployed two professional service engineers for this 3-5t/h new design poultry feed production plant project to conduct alternate day and night shift guidance, so that Senegal customer can find RICHI at any time. In the end, the good stability 3-5t/h poultry feed and pelleting plant project was put into operation in one month.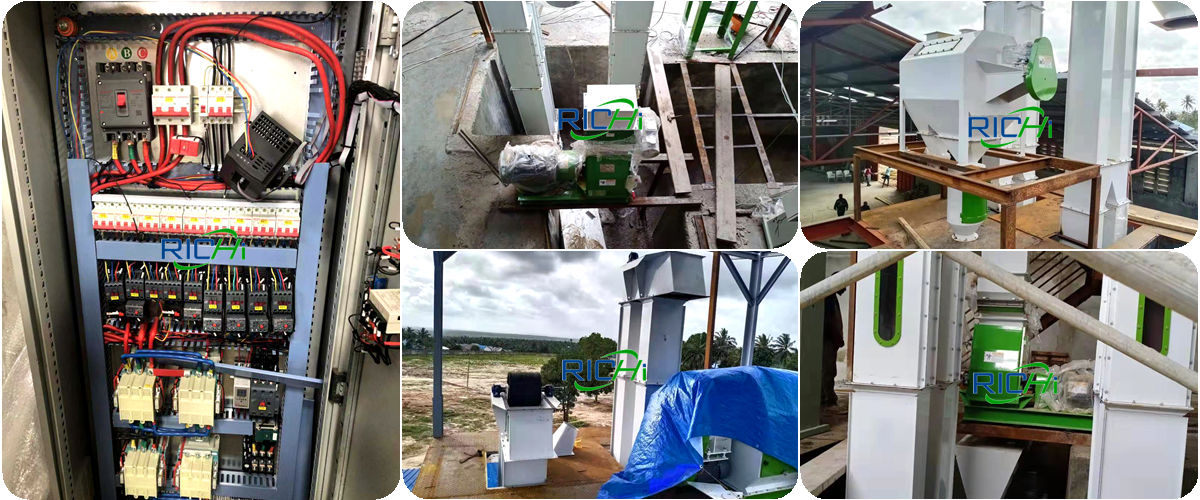 Site of 3-5t/h poultry pellet feed production plant project in Senegal
Since the design of the Senegal good quality 3-5t/h poultry chicken feed production line is relatively simple, we provide installation drawings and pit drawings for customers according to their needs. The quality of the poultry feed production equipments was inspected by experts before the delivery. The formulated feeds produced on this 3-5t/h poultry feed mill plant meet the standards for safe feeding which will ensure the sanitization leading to a better health of the animals.
The 3-5tph commercial animal and poultry feed processing plant in Senegal is based on an easy to use design which can also be customized to fit different and special requirements. The idea was to have a feed pellet line for poultry chicken that could produce 25t of feed per day; 10t per day for poultry and 15t for cattle which will include protein, carbohydrates, vitamins and minerals. This is not the first time that we have exported animal feed mill machine to Senegal. The key projects we have done in Senegal are as follows:
| Project name | Order time |
| --- | --- |
| 3-5T/H Poultry Feed Making Plant | Mar 13th,2017 |
| 500kg/batch poultry feed mixer | July 17th, 2016 |
| 1T/H floating fish feed mill | April 20, 2021 |
| 1-2T/H Broiler Feed Pellet Plant | Nov 4th, 2016 |
Machines needed for poultry feed production for 3-5t/h poultry feed plant in Senegal
The main poultry feed machines of the Senegal 3-5t/h poultry animal feed pellet plant includes: 2 unit of elevator, 1 unit of hammer mill for poultry feed, 1 unit of poultry pellet maker, 1 unit of simple poultry feeds mixer, 2 unit of screw conveyor and 1 unit of poultry pellets cooler, etc. The following are detailed poultry feed commercial machines parameters in this Senegal feed mill project:
| Poultry feed equipment | Power(KW) |
| --- | --- |
| Screw conveyor*TLSS20 | 2.2 |
| Iron removing device*Z-Type | / |
| Poultry feed hammer mill*SFSP.56*40 | 37 |
| Pulse dust collector*TBLMa.8A | / |
| Screw conveyor (Air locked)*TLSS20 | 2.2 |
| Bucket Elevator*TDTG36/18 | 1.5 |
| Buffer bin*1 m³ | / |
| Poultry mill feed mixer machine*SLHY.1 | 7.5 |
| Bucket Elevator*TDTG36/18 | 1.5 |
| Poultry feed pelleting machine*SZLH.320 | 37 |
| Cooling Machine*SKLN14x14 | 1.5 |
| Crumbler*SSLG15x80 | 5.5 |
| Rotary screener*SFJH.80x2C | 1.5 |
| Auto Packing machine*DSC-50 | 3 |
| Sewing+belt conveyor | 2 |
Production process of poultry feed in this Senegal complete high quality poultry feed plant 3-5 ton
Material Receive System
Easy to operate, every inlet has one impulse dust collector, keep environment clean, protect workers healthy.
Crushing System
Pre-cleaner clean raw material, then after magnet separator,storage bin and feeder, poultry feed raw material goes into poultry feed crusher to become powder.
Batching & Mixing System
After crushing, original powder and some premix will be weighed in batching scale according to proportional, then go down to mixer to reach uniformity.
Pelleting&Cooling&Bagging System
After using high temperature steam to make raw material curing, the materials will be made to pellet through steem pellet poultry feed machine. Then the pelletized poultry feed will be cooled down by poultry pellet cooler. And the packed by automatic bagging machine and for sale.
Advantages of making poultry feed pellets by poultry feed plant in Senegal
Agricultural and animal livestock poultry is the foundation of economy and the main source of income for over 80% of the population of Senegal and therefore remains an important sector which cannot be ignored. Feed manufacturing or processing is the process of producing animal feed or "fodder" from raw agricultural products such as hay, straw, silage, compressed and pelleted feeds, oils, sprouted grains and legumes etc.


Fodder produced by poultry feed manufacturing plant is formulated in order to meet the specific animal nutrition required for different species of animals at different life stages depending on their gender, breed and environment.
Poultry feed pellets can provide a whole codensed nutrition to animals.
They are also easier to transport as compared to traditional poultry fodder.
They are also much more healthier as compared to traditional poultry fodder.
It is due to these reasons that poultry feed pellet mill is gradually gaining popularity. It is also due to the same reasons that our poultry feed industry is dedicated to manufacturing quality and durable pellets to suit your needs.
Why Senegal poultry feed producer buy poultry feed machine and poultry feed plant from RICHI?
Why Senegal poultry feed manufacturer buy poultry feed pellets feed line from RICHI? The negotiation of this small scale poultry chicken feed factory project took 3 months. Due to the limited budget of the client, he sought out dozens of manufacturers to negotiate, because he had to buy very cost-effective poultry feed equipment.
In our opinion, this is a very correct approach. Although some customers are well thought out when purchasing products, many animal feed machine manufacturers currently do not have very good integrity, so there are differences between the actual delivered products and the animal feed equipment at the time of negotiation.


In addition, I have to say that the quality of feed equipment from many animal feed processing machine manufacturers is indeed not good. After using for a period of time, the animal feed making equipment is very prone to failure. But according to our experience, the animal feed equipment should be very durable, because the processing of animal feed equipment has strict standards.
For many customers, they buy animal feed processing equipment from another country for better quality and better prices. No one is willing to spend a lot of money on extremely poor products. More importantly, this is also It will delay the progress of the animal feed prodcution project and delay the progress.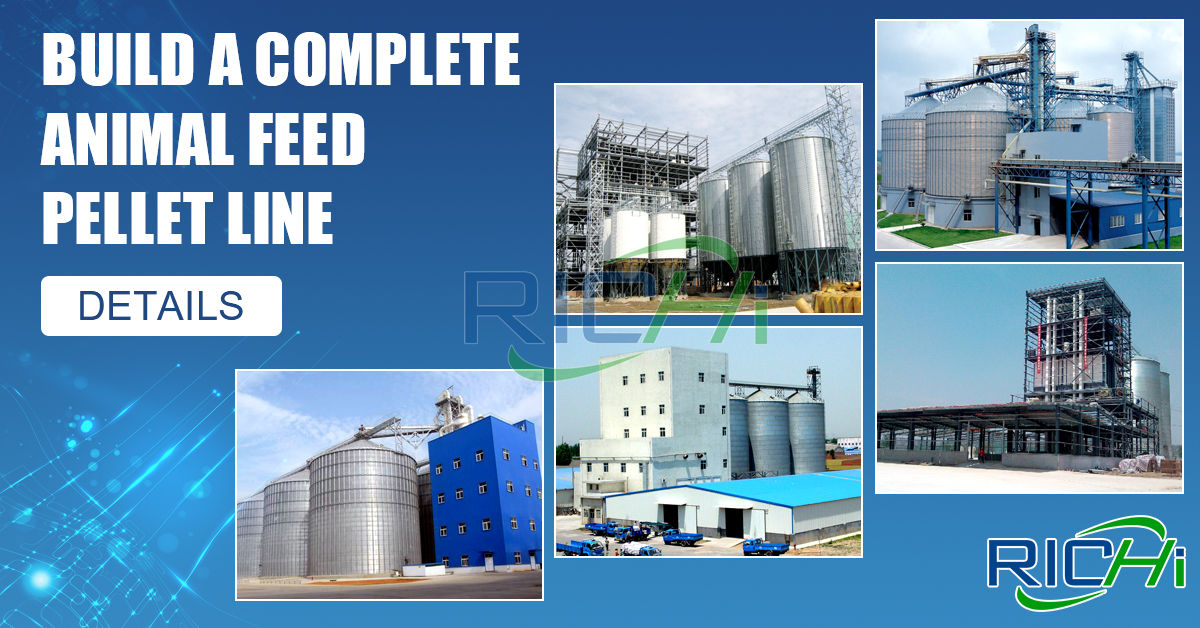 However, many animal feed machine manufacturers simply cannot be responsible for their own quality and just want to sell the animal feed making equipment, because they don't think about how the quality of the animal feed production equipment will affect their customers.
For RICHI, we are very concerned about the quality of the equipment, because we care about the operation of the animal feed manufacturing equipment on the project site, because we must be responsible for each animal feed equipment, we must track the situation of each equipment, because we pursue long-term development, the quality of animal feed processing equipment is also responsibility ourselves.
Small scale commercial poultry enterprises in Senegal
The smaller commercial units produce on average 1000 birds per 45-day cycle. Some produce up to 2000, but this is less common. These birds are stored in open air sheds. At the small end of the production scale these sheds are fairly rudimentary. Though in Senegal this is the least developed commercial producer group, their production system is often more sophisticated than that seen in the rest of Africa.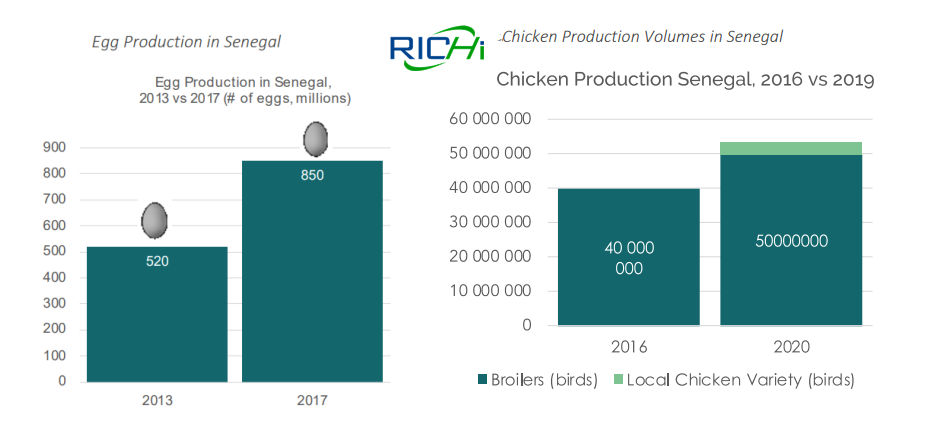 They produce almost exclusively broilers, using imported day-old chicks; invest in vaccination and quality feed using imported ingredients. As a result, they're capable of producing chickens with feed conversion rates very much in line with norms in more developed poultry markets (1.6 kg of feed: 1kg of chicken).
Small scale farmers are particularly affected by the rainy season and the Tabaski period. They don't have the climate-controlled sheds that are needed to manage disease pressure during the rainy season. The heat also affects layer hens, who slow down or stop laying altogether.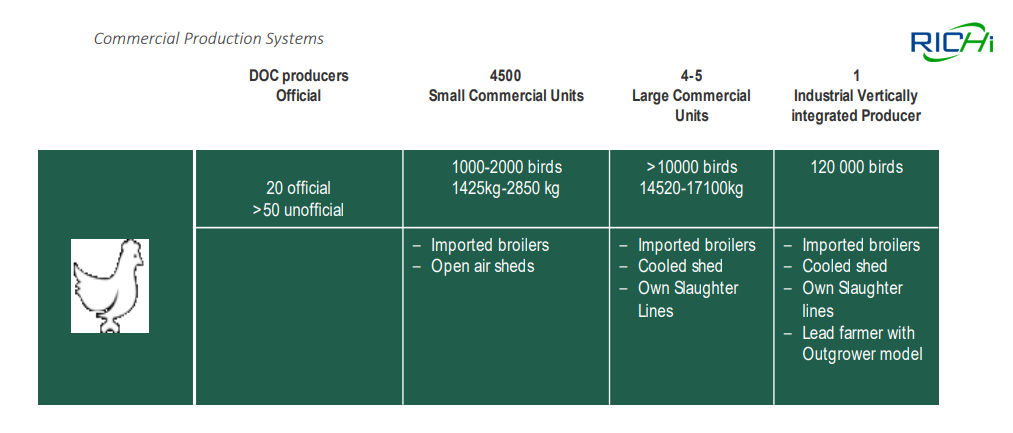 To avoid losses and low return on investment small scale farmers typically stop production and sell off the birds and eggs that they do have. The steep decline in demand during Tabaski period also creates pressure on these farmers. They need to avoid ending their production cycle in this period, or they could be stuck with chickens.