NEWS
Industry News
Follow Richi Machinery trends, collect industry information, and discuss market focus.
Start wood pellet production business for making wood pellets from sawdust
Date: 2021-04-27 15:55:09
From: www.pellet-richi.com
Clicks:
---
Do you want to start wood pellet production business for making wood pellets for profit? Today we will tell you: how wood pellet manufacturing, the complete wood pellet manufacturing process and the detailed wood pellet manufacturing equipment configuration list.
Richi Machinery has developed the wood pellet production line equipment for making wood pellets from sawdust according to market demand, which is also suitable for wood chips, bamboo chips, wooden shavings, shavings, barley straw, oat straw, wheat straw, rye straw, rice straw, sorghum straw, Corn stalks, potato vines, bean stalks, peanut vines and other materials with a moisture content of 35-65% are dried and formed. According to the characteristics of each biomass material, output size, application requirements, cost control, degree of automation, on-site working conditions, etc., optimize the drying and forming process technology.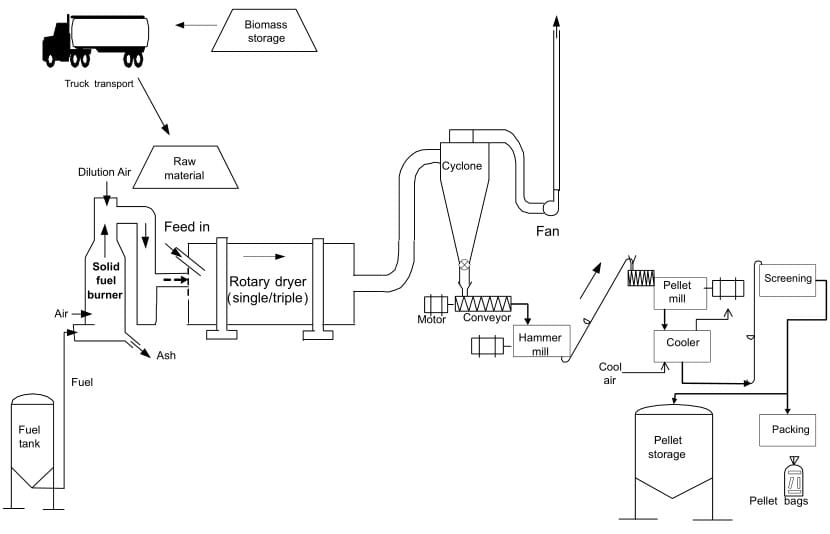 Raw material collection: There are many raw materials for the wood pellet manufacturing machine, such as crop stalks, fruit shells, tree bark, sawdust, etc. Before production, it is necessary to store enough raw material requirements for at least one week to avoid delaying normal production. At the same time, the stored raw materials must do a good job of safety: fire and rain.
Raw material crushing: When the granule is machined, the requirement for the raw material is 3-5MM, so except for the sawdust, all the raw materials we collect need to be crushed. According to the size of the raw materials, we can choose a wood chipper shredder machine or a sawdust hammer milling equipment.
Raw material drying: The wood pellet manufacturing machine is very strict with the water content of the raw material, and the water content is no more than 18%. If the water content is too large or excessive, the wood sawdust pellets will be broken but not formed.
Raw material conveying: In order to save labor, we generally configure a conveying equipment. The processed raw materials are sent to the feed port of the wood pellet granulator through a conveyor.
Raw material granulation: The biomass pellet machine is the most important equipment of the entire production line. According to the output and use, the wood pellet milling machine mainly has two types of ring die and flat die. There are dozens of models and configurations to choose from. However, we usually recommend that customers use ring die pelletizers, because the comprehensive advantages of ring die pelletizers are very high. obvious. Here we focus on introducing the 420 ring die pellet machine. The wood pellet making machine has a power of 90KW and an output of about 1.5 tons per hour. It is an expert in pressing raw materials with poor adhesion. The wood pellet making equipment is stable in operation, strong in pressure, the produced particles are dense, the forming rate is high, and it is resistant to combustion.
Particle cooling: The temperature of freshly produced biomass pellets is as high as 80 or 90 degrees. If bagging at this time will cause a fire, it must be cooled to room temperature by a pellet cooler before bagging and storing.
Granule packaging: The cooled and complete granules are conveyed to the packaging machine by a conveyor, and the packaging machine measures and packs them into bags, and finally sends them to the finished product warehouse. Then it can be sold directly.

What you need is to come up with a complete biomass wood pellet manufacturing plant for effectiveness and efficiency. A biomass wood pellet production line or wood pellet production plant mays comprise of specific items for it to be complete. The composition of wood pellet manufacturing plant may include the following;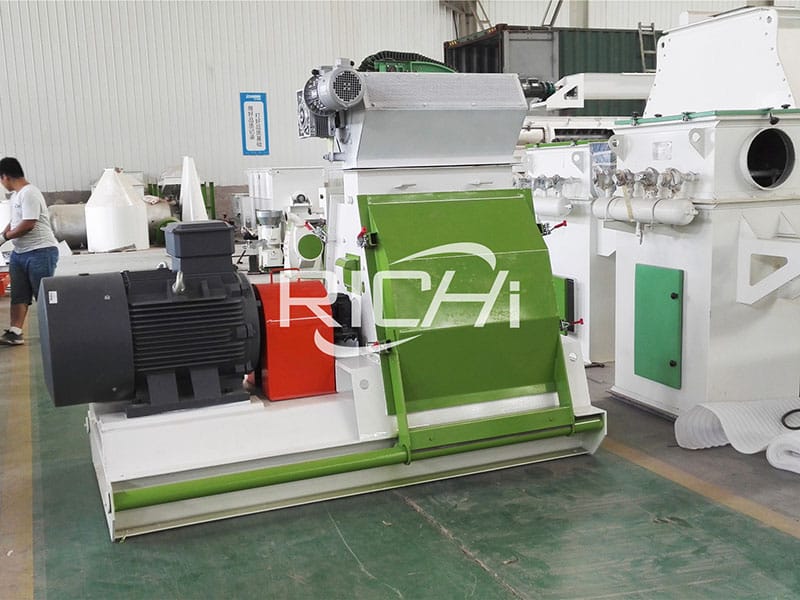 This is one of the most effective and basic component that a biomass wood pellet making plant unit for it to be complete.
If your plant lacks it, then working might be extremely impossible. If the raw material you have for the wood pellet making machines is larger than 5mm diameter sawdust, then there is no doubt that you need a CE good quality biomass hammer mill. The benefit of having a sawdust hammer mill machine is that you will be able to pulverize or crush the raw material or inputs into smaller diameters. There is no specific diameter to crush your material into, because there is a great variation which is brought about by the raw material status.
A high quality industrial sawdust rotary dryer is another component that plays a very important role in the complete biomass wood pellet manufacturing plant. It is evident that a majority of the biomass raw material may contain higher levels of moisture which range from 12% to 50%. This moisture percentage is very unsuitable for pelletizing and hence needs to be reduced to a lower level. For this reason, the pulverized material shall be subiected to high temperatures before feeding into the wood sawdust pelletizing machines.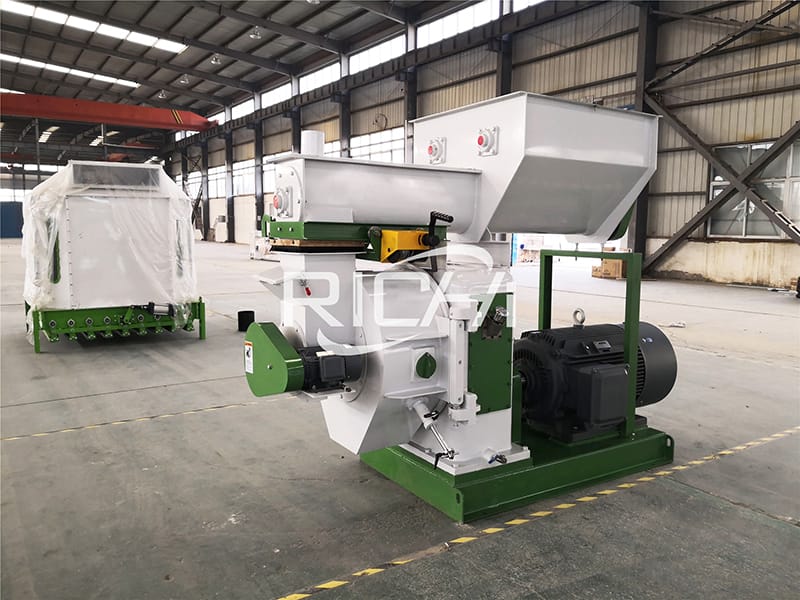 For economic efficiency, a factory directly supply sawdust drum dryer is used with wood waste pellet making equipment which is usually used with ring die wood pellet machines in large wood sawdust pellet production plants. It is also efficient as it dries the material to a required moisture content within the shortest time possible.
A wood pellet making machine is used to produce final solid biomass pellets. This starts with feeding the raw material powder into the machine, then the roller and ring die will press it and extrude it through the die holes to form solid pellets.
When the pellets come out of the wood pellet mill sawdust pellet machine, they always are of very high temperatures, usually 80-100 degrees Celsius. Therefore, they will need to be cooled down before they are packed or used. To save time and labor, a pellet cooler will be of great help to you. But if your pellet production is at a smaller capacity, then you might not need the services of a pellet cooler.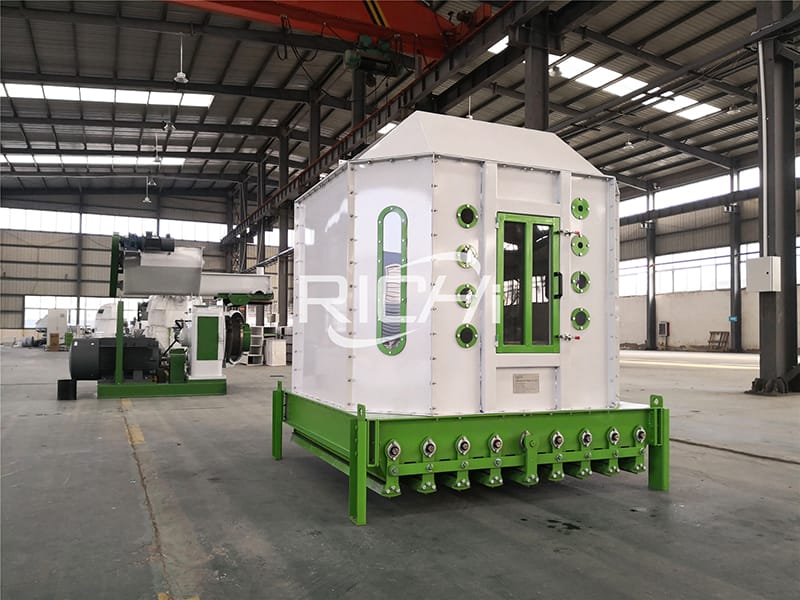 Pellets Packing Machine
If the biomass wood sawdust pellets you produce are for sale, then it will be important that you get an automatic wood pellets packing machine.
RICHI can customize the wood pellet process of a complete set of biomass wood pellet making lines, which are affordable, durable, high-yield, environmentally friendly, low-consumption, high-forming rate, stable performance, pellet fuel resistant to heat, and high calorific value.
The above is the article for you: Start wood pellet production business for making wood pellets from sawdust.
If you are interested in our products or project solutions, please contact us. We will give you the best product quality and the best price. Email: enquiry@pellet-richi.com
---