A 40,000-ton Rice Husk Pellet Plant Builds 8 Molding Biomass Pellet Production Lines
40,000 tons/year rice husk biomass pellet production line project. This project is to use waste resources and process waste resource rice husk into shaped biomass pellets. The shaped biomass pellets are easy to store, transport, easy to use, and have high combustion efficiency. The advantages of clean and environmentally friendly.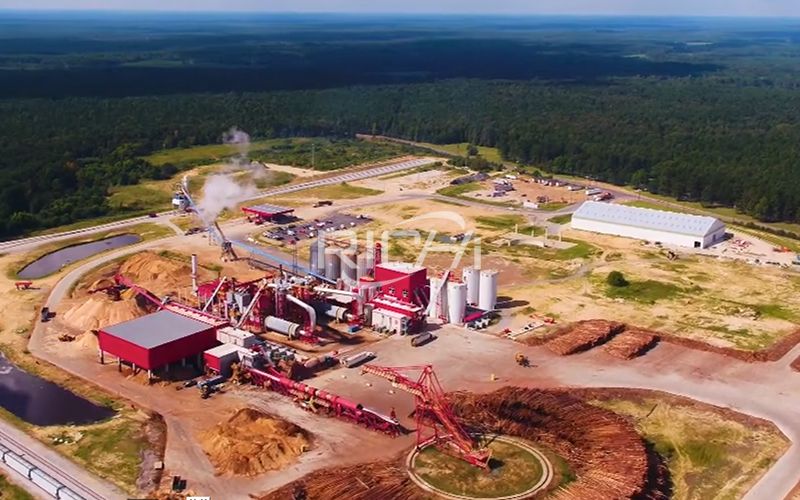 A 40,000-ton Rice Husk Pellet Plant Builds 8 Molding Biomass Pellet Production Lines
1. The Basic Situation of the Construction Project
This project is located in Xinyue Village, Lanxi Town, Heshan District, Yiyang City. It leases existing new workshops to build 8 production lines for forming biomass pellets, with a production scale of 40,000 tons/year. The plant of the project mainly includes a raw material warehouse and a production workshop, with a construction area of ​​1200m2, of which the raw material warehouse is 30m×15m×15m (length, width and height), and the production workshop is 30m×25m×20m (length, width and height). Engineering, storage and transportation engineering, public engineering, environmental protection engineering, supporting engineering, etc. See the table below for details.
Table 1-1 List of Project Composition
Category
Project name
Project content and scale
Main project
Production workshop
One floor, steel frame structure, construction area is about 1200m2 (30m×40m), one side is 15m high, and one side is 20m high, 8 production lines are set up, and the production scale is 40,000 tons/year.



Storage and Transportation Engineering
Raw material library
The building area of ​​the raw material storage yard is about 450m2 (15m×30m), and the height is 15m. The raw material storage yard is used to
stack the collected raw materials.
Raw material hopper
Composed of 5 hoppers and a prismatic steel frame structure, each hopper can branch out 2 outlets,
the maximum storage capacity is about 200t.
Finished hopper
consists of 5 hoppers and 1 prismatic steel frame structure, with a maximum reserve of about 200t.
Finished product library
The area of ​​the finished product warehouse is about 165m2, which is used for stacking the finished products in bags and sealing.
Public works
Water supply
The water used in the plant is partly provided by the municipal pipe network.
Power supply
The electricity used in the plant is supplied uniformly by the local power supply network.






Environmental protection project< /strong>
Noise control
Choose low-noise equipment, take measures such as shock absorption, sound insulation and reasonable layout.


Exhaust gas treatment
The plant area is closed; airtight ducts transport materials; the dust in the materials is processed by a bag filter, and the escaping dust settles by gravity; part of the dust produced by granulation is discharged out of the environment with water vapor, and part is settled by gravity The ground is cleaned and treated; the storage yard dust, air duct dust, bag dust collector dust, granulating dust, and conveyor dust are all settled to the ground by gravity and cleaned


Wastewater treatment
The office and living area relies on the infrastructure of Yiyang Huafeng Rice Industry Co., Ltd. The domestic sewage is recently treated by the existing septic tank and used as agro-fertilizer for comprehensive utilization; I look forward to the life after the sewage pipe network is connected. The sewage is treated in septic tanks to meet the third-level standard of "Comprehensive Discharge Standard" (GB8978-1996), and then enters the Lanxi Town Sewage Treatment Plant for treatment, and reaches the "Urban Sewage Treatment Plant Pollutant Discharge Standard"
(GB18918 -2002) and its amendment to the single-level A standard, and finally to Yahe in Lanxi Town.
Solid waste disposal
The collected dust and household garbage shall be cleaned and transported by the sanitation department.

Relying on the project
Yiyang Municipal Solid Waste Incineration Power Plant
The office and living area includes offices, toilets, floor scales and sewage treatment facilities.
2. Main raw and auxiliary materials and products
According to the information provided by the builder, the annual consumption of raw materials for the project is approximately 43,200 tons. The raw and auxiliary materials of the project are detailed in the table below.
Table 1-2 List of main raw and auxiliary materials
Serial number
Name
Consumption
Notes
1
Rice Husk
About 43,200 tons/a
Market outsourcing, Surrounding rice factory
2
Electricity
About 125,000 kW·h/a
Local power grid
3
Water
110t/a
Municipal Pipe Network
The moisture content of raw materials≦12%
Formed biomass pellet products: The raw material is mainly rice husk. The formed biomass pellets have a diameter of about 8mm, a length of about 8cm, ash content≦8.0%, density≧1.1t/m3, and low calorific value 3200kg/kcal. The moisture content of the finished product is less than 5%.
3. Main Equipment
According to the information provided by the builder, the equipment equipped for the project is shown in the table below.
Table 1-3 List of main equipment list
| | | | |
| --- | --- | --- | --- |
| Serial number | Device name | Quantity | Unit |
| 1 | Pelletizer | 8 | Number of units |
| 2 | Bag dust collector | 1 | Set |
| 3 | Fan | 10 | Number of units |
| 4 | Belt conveyor | 3 | Number of units |
| 5 | Forklift | 1 | Number of units |
| 6 | Air duct | About 20m long | m |
| 7 | Hoist | 3 | Number of units |
4. Labor Quota and Work System
The labor force is 6 people, and the annual working days are 300 days. They do not have food and accommodation in the factory and do not produce at night.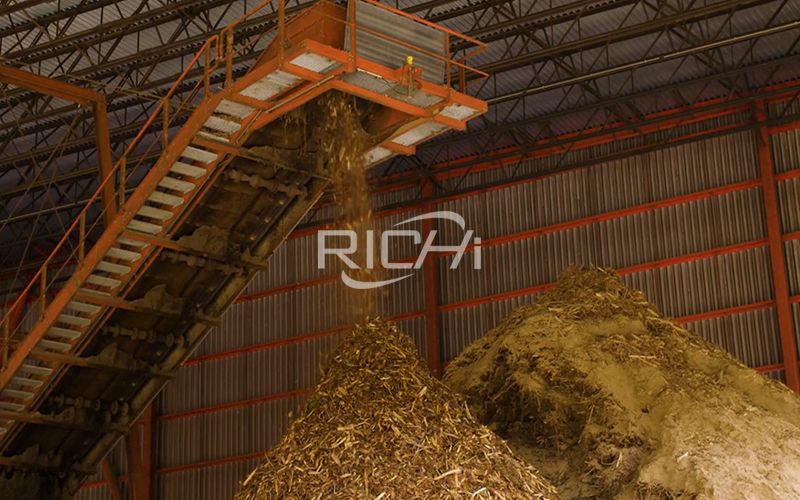 A 40,000-ton Rice Husk Pellet Plant Builds 8 Molding Biomass Pellet Production Lines
5. Construction progress
This project is for renting an already-built factory building. Only equipment installation and commissioning are required. The construction period is relatively short, about 14 days.
Richi Biomass Pellet Production Line Project Case
U.S. 10t/h wood pellet production line
Netherlands 2T/H Wood Pellet Plant
German 2-3 t/h wood pellet production line
Austria 5Ton/Hour Wood pellet Production Line
Iceland 1 t/h wood pellet plant Production Line
Taiwan 1-2 t/h Wood Biomass Pellet Production Line
Indonesia 1-1.5 t/h Wood Pellet Production Line
Congo 1-2 t/h wood pellet plant Production Line
Mexico 10T/H Wood Sawdust Pellet Production Line
Canada 2-3 t/h Full Automatic Biomass Wood Pellet Line
The above is the article for you: A 40,000-ton Rice Husk Pellet Plant Builds 8 Molding Biomass Pellet Production Lines. If you are interested in our products or project solutions, please contact us. We will give you the best product quality and the best price. Email: sales@cnrichi.cn