NEWS
Industry News
Follow Richi Machinery trends, collect industry information, and discuss market focus.
1.5-2 T/h Rice Husk Pellet Production Line Project Plan
Date: 2020-11-19 08:50:43
From: www.pellet-richi.com
Clicks: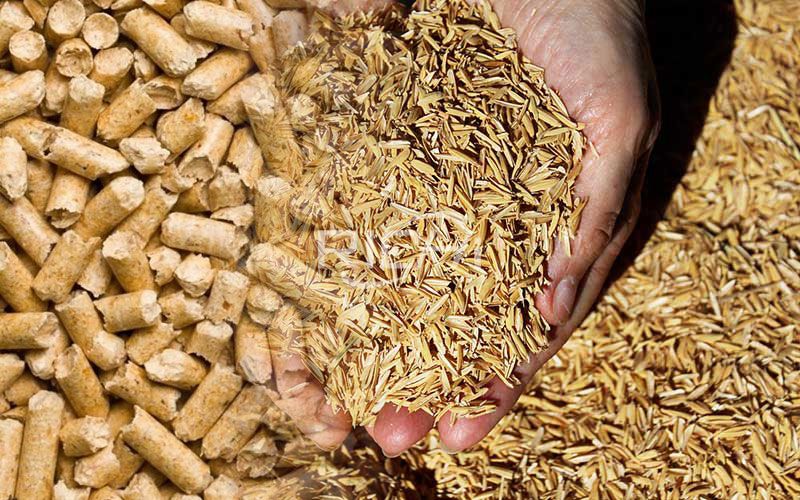 Rice Husk Pellet
This project is located in Hunan, China. The husk produced by rice processing is extruded into a pellet fuel by a rice husk pellet machine. It is easy to store, transport, easy to use, without any harmful additives, high in combustion efficiency, clean and environmentally friendly, and can be used for civilian use, and can replace coal as fuel for industrial boilers. After the project is completed and put into production, it will solve the reuse of waste materials such as chaff waste, increase employment, protect the environment, and promote local economic development. It has good economic and social benefits.
1. Overview of 1.5-2 T/h Rice Husk Pellet Production Line Project
The total investment of the project is 2 million RMB, and the construction scale is to produce 8,000 tons of biomass pellet fuel per year. The construction content of the project mainly includes the construction of production workshops, finished product workshops, and raw material storage yards. The main construction content is shown in Table 1
Project category
Project content
Remarks
Main project
There are 1 production line, equipped with a pelletizer, with an annual output of 8,000 tons of biomass pellet fuel. 1 production workshop, covering an area of ​​2740m2.
The total construction area is 1,637.64m2
Completed
Supporting project
400m2 production workshop, 2 finished product warehouses of 124.69m2, 3 raw material warehouses of 289.59m2, and office buildings of 823.36m2.
Public works
Water supply
The water used in the production process of this project is mainly the staff's domestic water, and the domestic water comes from local well-drilled water.
Completed
Drainage
The drainage system is rain and sewage diversion system.
Completed
Power supply
The power supply for the plant is supplied from the Longguangqiao Town Power Grid.
Completed
Environmental protection project
Wastewater treatment
Grease trap, septic tank
Completed
Exhaust gas treatment
The dust generated in the production process is removed by a bag filter, and the cooking fume in the canteen is installed with a fume purifier.
Completed
Noise control
Take measures such as vibration reduction, absorption, isolation, and strengthening of greening.
Completed
Solid waste disposal
Domestic garbage is handed over to the sanitation department for regular cleanup
Completed
2. Main Raw and Auxiliary Materials
Name
Usage
Material balance
Biomass pellet products
Biomass pellet products
Other losses
Rice Husk
800.1 tons/year
8000
0.08
0.02
3. List of Main Equipment of the Project
| | | |
| --- | --- | --- |
| Name | Unit | Quantity |
| Biomass Pelletizer | Number of units | 4 |
| Bag dust collector | Number of units | 1 |
| Conveyor belt | Article | 2 |
| Forklift | Number of units | 4 |
| Weighbridge | Number of units | 1 |
| Transformer | Number of units | 1 |
4. Product Plan
After the 1.5-2 t/h rice husk pellet production line project is completed, it will produce 8,000 tons of biomass pellet fuel annually.
5. Factory Transportation
The main raw materials of the project are purchased and transported by social vehicles into the raw material warehouse of the factory. The roads in the factory are smooth, people and goods are separated to meet the transportation requirements. The raw materials enter the production line through the conveyor belt, and the products are all sold in the factory area by truck.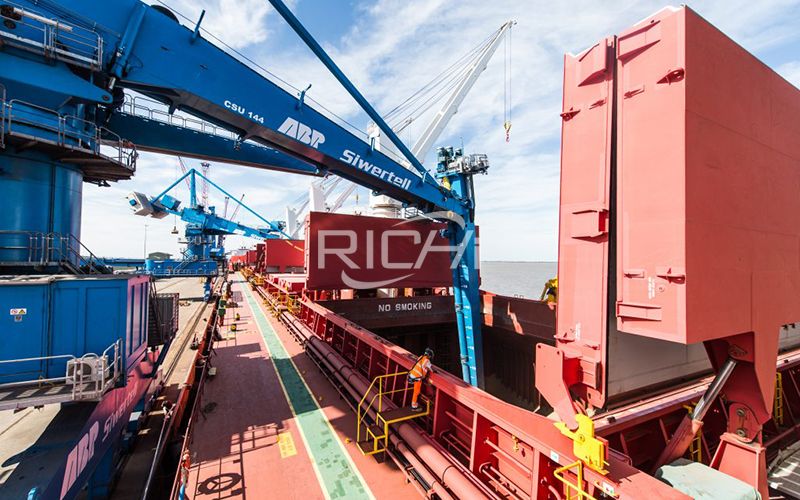 Rice Husk Pellet Production Line Project
6. Public Works
Power supply: The power supply for the project is introduced from the Longguangqiao Town Power Grid in Heshan District, which can meet the power needs of the project for production and living. The annual electricity consumption is 300,000 Kwh.
Water supply: The water supply of the project uses local self-drilling well water.
Drainage: The drainage system of the project plant is divided into rain and sewage, and rainwater is collected by gravity and discharged into the surrounding drainage ditches. Waste water is staff office and domestic wastewater. Waste water discharge is calculated based on 80% of water consumption, and the discharge volume is 96m3/a. The domestic sewage of the project is treated by grease traps and septic tanks to reach the "Farmland Irrigation Water Quality Standard" (GB5084-92) and then used for irrigation and fertilization of surrounding farmland and vegetable fields.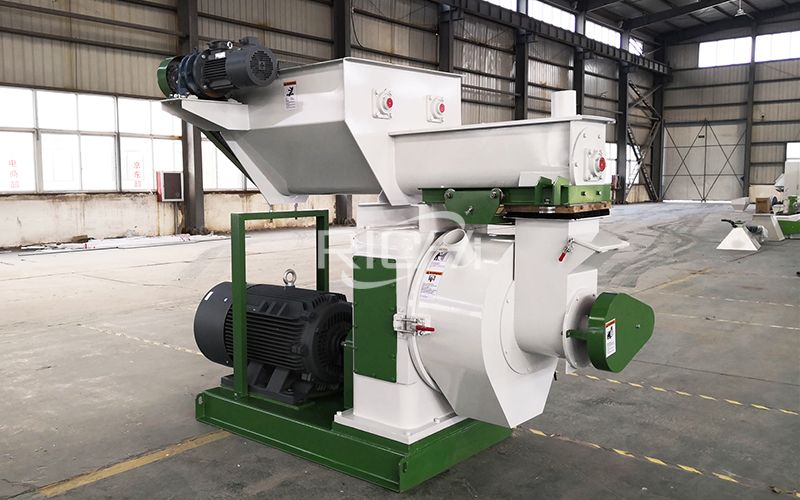 Rice Husk Pellet Machine
7. Labor Quota and Work System
The project has a total labor force of 4, 300 working days throughout the year, and daily working hours are limited to 6:00-22:00.
Richi Machinery Biomass Pellet Production Line Project
Iceland 1 t/h wood pellet plant Production Line
Taiwan 1-2 t/h Wood Biomass Pellet Production Line
Indonesia 1-1.5 t/h Wood Pellet Production Line
Congo 1-2 t/h wood pellet production line
U.S. 10t/h wood pellet production line
Mexico 10T/H Wood Sawdust Pellet Production Line
Canada 2-3 t/h Full Automatic Biomass Wood Pellet Line
Netherlands 2T/H Wood Pellet Plant
German 2-3 t/h wood pellet production line
Austria 5Ton/Hour Wood pellet Production Line

This is the situation of Hunan 8000 tons/year biomass rice husk pellet production line project. If you also want to build a biomass pellet plant or biomass pellet production line project, no matter what your raw materials are, Richi Machinery can customize a suitable solution for you. Program. Looking forward to your contacting us!
The above is the article for you: 1.5-2 T/h Rice Husk Pellet Production Line Project Plan.
If you are interested in our products or project solutions, please contact us. We will give you the best product quality and the best price. Email: enquiry@pellet-richi.com