Overview of 2-3 t/h compeltely wood pellet plant for sale Canada
The raw material of this customized wood pellet plant for sale Canada is 50% moisture wood chips , 50% moisture sawdust, and the final size requirement is 6-12mm. According to customer requirements, the main wood pellet manufacturing tequipment we configure with this wood pellet production line(total power:385kw) includes hot sale wood chipper machine, super quality wood hammer mill for wood sawdust, shifter, wood sawdust rotary dryer, storage bin, industrial wood pellet mill machine, wood pellet cooler, auto wood pellet bagging machine and other auxiliary equipment.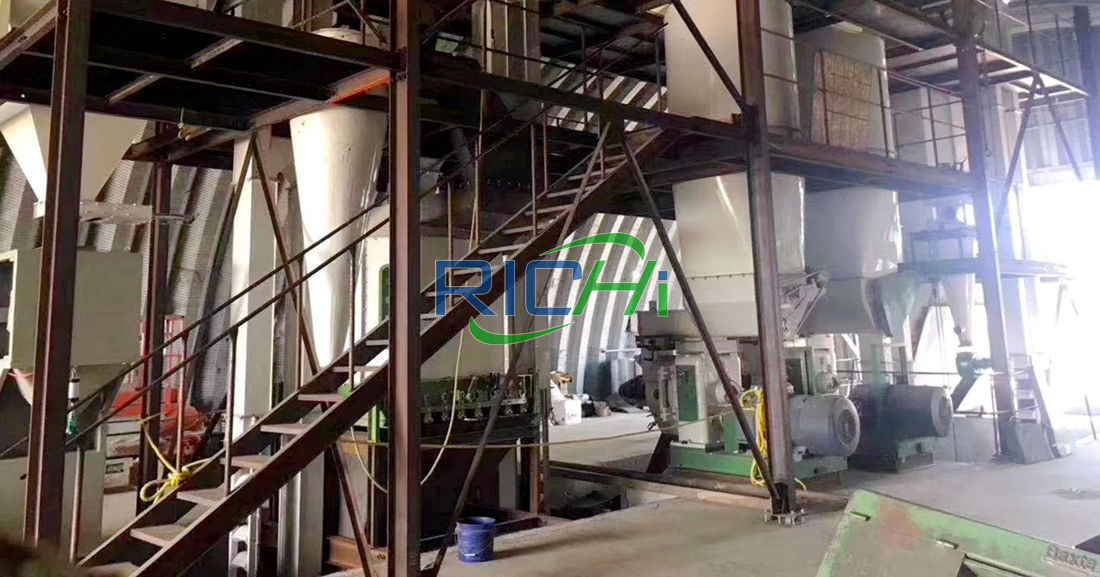 Canada wood pellet plant installation site
Since the final product is used for sales, in order to increase the 2-3t/h Canada wood pellet production line efficiency, we have specially configured an automatic packaging system for our customers. This is a 2-3t/h wood pellet plant with a complicated wood pellet manufacturing process. The installation period is 60 days. In the later operation, it takes about 5 people to ensure the normal operation of the super new wood pellet plant.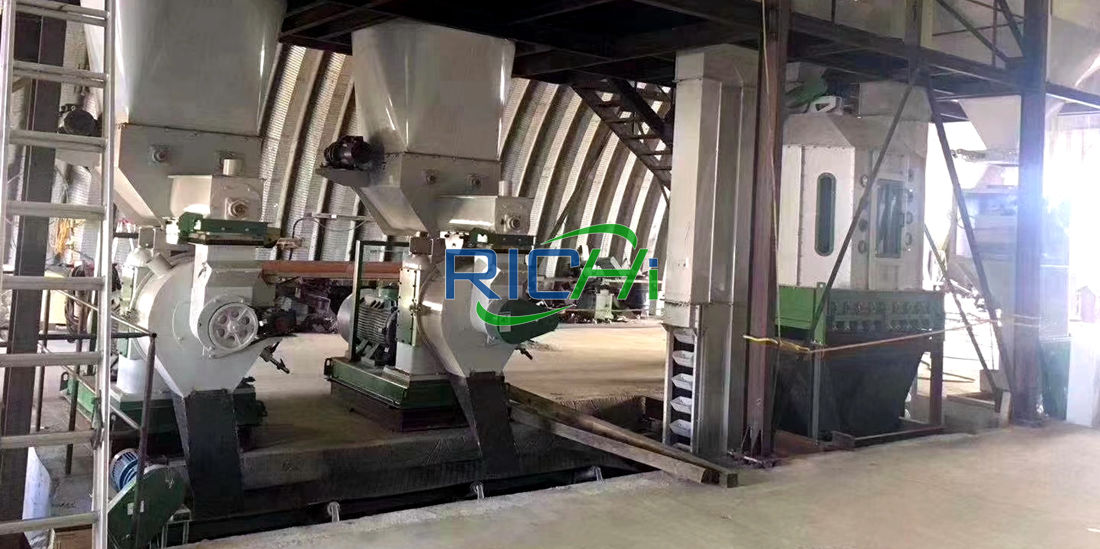 Site of complete line of wood pellet machine for sale Canada
Equipment needed in the 2-3 t/h high quality biomass wood pellet plant for sale Canada
| Canada wood pellet plant equipment | Model | Power(KW) |
| --- | --- | --- |
| Electric wood chippers | JLBX-216 | 55 |
| Wood chipper hammer mill | SFSP 66*80 | 75 |
| Pulse dust collector | TBLMa.36b | / |
| U-Screw conveyor | TLSSU30 | 3 |
| Industrial sawdust rotary dryer | ф1500*150000 | 15 |
| Cyclone | ф800 | / |
| Bucket elevator | TDTG40/23 | 3 |
| Wood pellet making machine | MZLH520 | 132 |
| Cooling machine | SKLN14*14 | 1.5 |
| Vibrating screener | TDZS63 | 0.18 |
| Packing machine | DCS-50 | 1.5 |
| Belt and sewing machine | DCS-50 | 0.55 |
For this new 2-3t/h wood pellet plant for sale Canada project, biggest problem is the workshop part. Customer have a very very special type workshop, and very small,workshop size is 26m*20m*12m(L*W*H), so it is very difficult to build a 2-3 tons per hour full automatic wood pellet production line in a factory building that already has a height limit.,so we need to customize the wood biomass pellet plant to fit this workshop.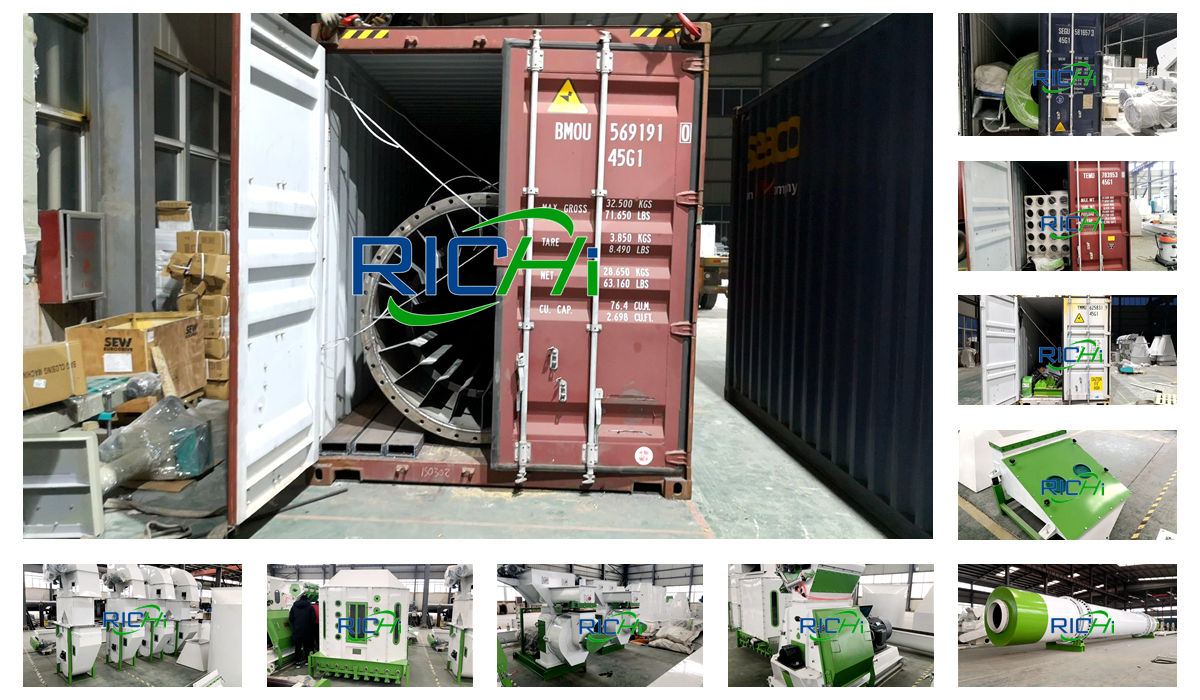 Canada wood pellet plant machines delivery site
In this 2-3 tons per hour good completely biomass wood pellet machine Canada project cooperation, exquisite wood pellet manufacturing process design and strong production team are very critical factors to impress customers. The final biomass pellets of this Canada wood pellet plant project are mainly used for export, and have high quality requirements. Environmental protection and energy saving are integrated into the design of the wood pellet mill plant business plan.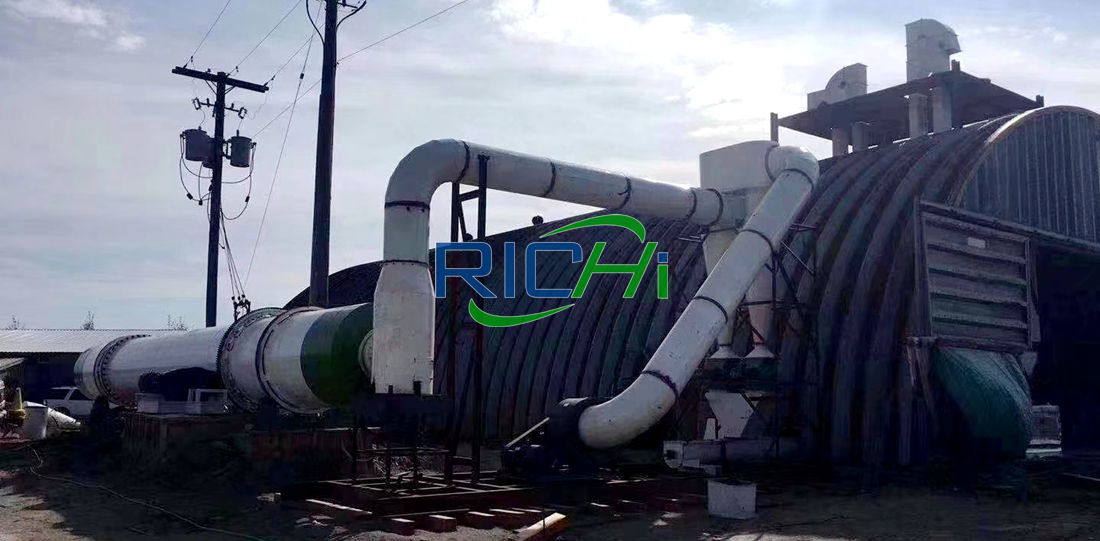 Site of wood pellet fuel production machine for sale Canada
The dust removal system runs through the entire wood pellet production link, so as to achieve zero pollution and zero emissions, and meet the local regulations of customers. Environmental protection requirements, the tailored wood pellet production plant design and beautiful wood pellet plant installation not only meet the customer's requirements, improve the customer's return on investment, but also demonstrate the professionalism of Richi Machinery in the turn-key wood pellet plant for sale Canada project above the level of the same industry.

2-3T/H Canada wood pellet plant process design
The 2-3t/h Canada wood pellet plant project is the facility that manufactured wood pellets and packed and sold them in bags for both commercial purpose and personal use. Typically, based on the scale of production, there are two kinds of pellet plant, the large pellet plant and the small pellet plant. This projects belongs to a small capacity. The question of how to make wood pellet is literally the complete manufacture process of the 2-3tph wood pellet plant for sale Canada.
01
Raw material preparation
To prepare the raw materials is the first thing when we make wood pellet. For this 2-3t/h Canada wood pellet plant, the raw materials quantity is not much. If the wood pellet is for personal use, the raw materials are normally the crop waste in the farmland. If the small wood pellet mill plant produce wood pellet for commercial purpose, the raw materials are normally the wood shavings collected from saw mill nearby.


But for large wood pellet plant for sale Canada, the preparation of raw material become a serious problem which impact the pellet plant capacity directly. As the demand of raw materials for a large wood pellet plant is massive, the wood shaving quantity of a saw mill is not enough for a large pellet plant. Therefore, a large pellet plant for sale Canada usually use wood logs and branches as raw materials, or to find some saw mills and sign a long term wood shavings supply contract with them.
Initial size reduction
For the Large wood pellet plant, when the raw materials are ready, the first thing to do is raw material size reduction. The raw materials to produce wood pellet must be under the diameter of 5mm, so the logs and branches must be processed into small pieces. In this stage, the wood pellet machine plant usually uses the wood chipper, which is a common size reduction equipment that can cut the wood logs and branches into small wood chips with a diameter no mor than 40mm in order to be further processed.
On the contrary, this is not a necessary step for this 2-3t/h Canada wood biomass pellet mill plant. If the pellet plant use wood shavings as a raw material, that means the raw materials has already been processed into small pieces in the saw mills, so there is no need to use the wood chippers to cut the raw materials again.
Drying system
For large wood pellet plants in Canada, after the initial size reduction step, the raw materials must be dried. In order to produce high quality wood pellets, the raw material must maintains a moisture content of 8% – 12%, so the raw material must be put into a wood sawdust dryer to reduce its moisture content. The most common dryer for large wood pellet plant is the rotary drum dryer, which is the most cost effective choice for large wood pellet mill plant. The drying process is also a necessary step for the this 2-3t/h wood pellet plant Canada project to produce commercial wood pellet.


For large wood pellet mill plants in Canada, after the drying process, the raw material will be sieved to separate the contaminants such as stone and metal particles away from the wood raw materials. These contaminants may cause the mechanical failure of the pellet mills, so if the raw materials of wood pellet plant has the potential to be contaminated by these solid particles, it is necessary for you to sieve the raw materials before fed them into the wood pellet press machine.
The machines for the initial sieving process is normally a de-stoner or magnetic separator. Fo this small scale 2-3t/h wood pellet plant for sale Canada, due to its limited capital, this is not a necessary step.
Grinding is also a size reduction step to make wood pellet, it is a necessary step for both large and small wood pellet plants in Canada. During the grinding process, the raw materials will be fed into a wood pellet hammer mill which will grind the raw materials into smaller pieces with a diameter under 5mm.


But the wood sawdust hammer mill can only process the wood raw materials with a diameter no mor than 50mm, therefore, the wood logs and branches can not be fed directly into the hammer mill for wood, they must be processed by the wood chipper first.
After the grinding process, the wood raw materials are reached the size and moisture requirements for wood pellet manufacture. Therefore, the following step is to pelletize the raw materials into wood pellet. The machine used to pelletize the raw materials into wood pellet is called wood pelletizer machine. There are two kinds of wood pelletizing machine, ring die sawdust pellet press and flat die pellet mill. Ring die pellet mill has a capacity 0.3 - 5 ton per hour, it is used for all kinds of wood pellet plant.
After the pelletizing process, the wood pellet is very vulnerable. It has been press over and over in the wood pellet mill Canada project, which makes it hot and easy to be deformed. To make the wood pellet regain its proper rigidity and temperature, the wood pellet will be fed into a pellet cooler right after the pelletizing process.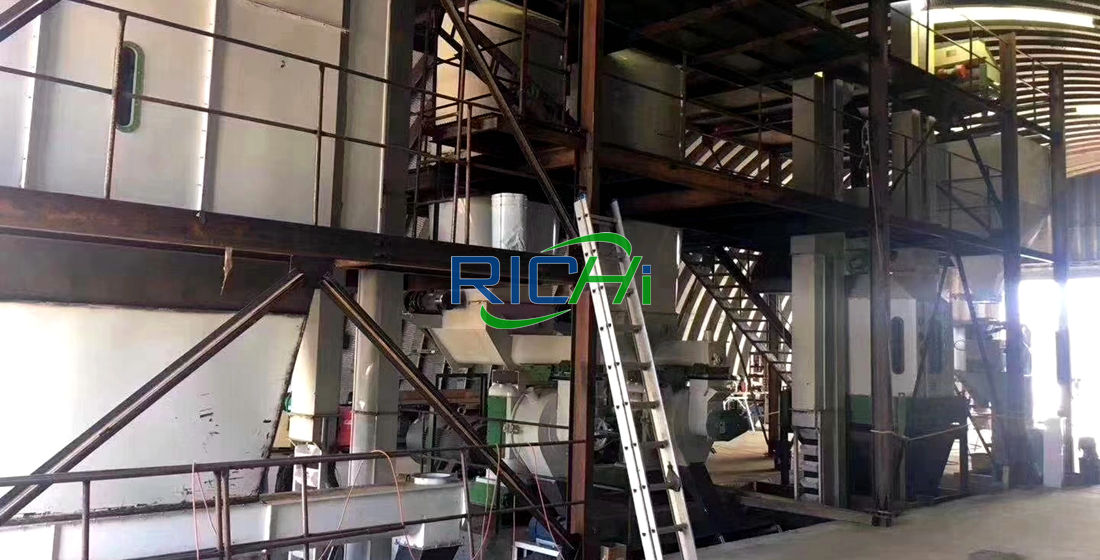 The types of wood pellet cooler can be divided into three types, the horizontal cooler, the vertical cooler and the counter flow cooler. All of them can be used to cool the wood pellet, but the counter flow cooler is my recommendation, as it is the most advanced pellet cooler in the market.
At this stage, the wood pellet sieving purpose is different from the initial sieving. This step only exist in the commercial wood pellet plant for sale Canada. As the commercial wood pellet has a strict limit on fine content, therefore, after the wood fuel pellet cooling process, the wood pellet products will be sieved in order to separate the fine particles from the well made wood pellet. For the final sieving process, the vibrating screen is a common equipment for 2-3t/h Canada wood pellet plant.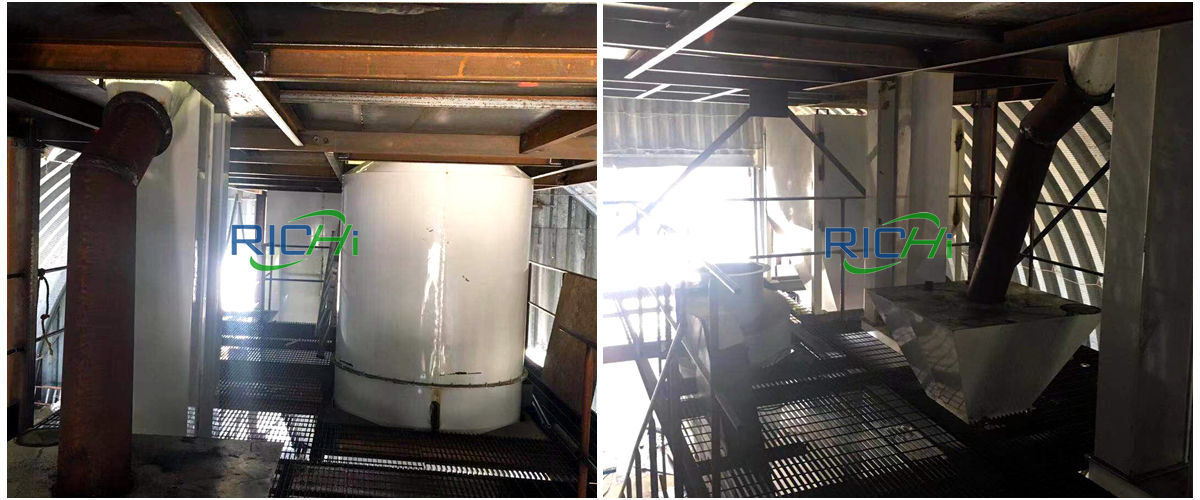 Once the pellets are formed and cooled, they are packaged in bags or stored in bulk. Most residential pellet users buy pellets by the ton, which consists of 50 40-pound bags packed on a pallet. The pellets may also be placed in small silos outside of the user's home by a delivery truck. Pellets can be stored indefinitely but they must be kept dry to prevent deterioration.
Above is the manufacturing processes of the 2-3 tons perhour automatic biomass fuel wood pellet plant for sale Canada. Due to its different utilization, the wood pellet manufacturing processes may be a little bit different in real wood pellet machine plants. For example, if the wood pellet is made for personal usage, there are several steps are not necessary. There may be no need to use the wood chipper machine as the materials size can be put directly into the wood pellet hammer mill.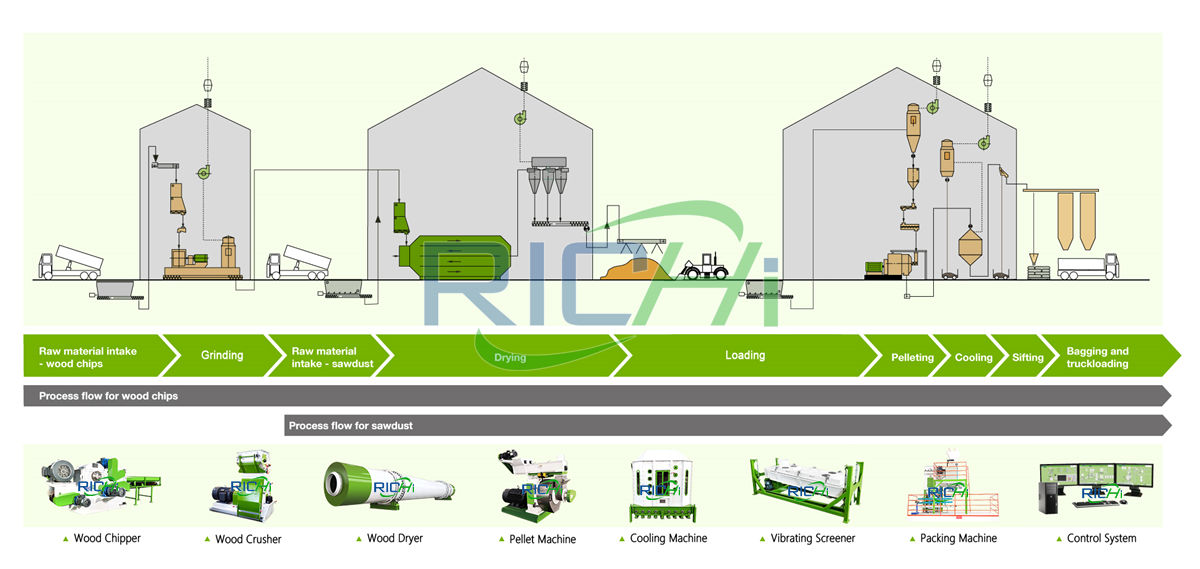 Also the cooling and final sieving processes are not necessary, because the wood pellet will be piled in the barn. But if the wood pellet is made for commercial purpose, the commercial wood pellet also need a proper package, so the Canada commercial wood pellet plant also need a package machine to pack the wood pellet into bulk bags or retail bags.
Drawing details of the 2-3 t/h Canada wood pellet machine plant project
Layout of wood pellet plant in workshop;
foundation drawing of whole wood pellet plant;
installation drawing of steel structure;
installation drawing of wood pellet plant equipment;
drawing of control cabinet.
What's Canada Biomass Wood Pellet Plant Cost During Production?
In order to understand the cost of Canada biomass wood pellet plant pelletization, you should know about where it should cost much during the Canada wood pellet mill plant pelletization process. Let's have a look at the a typical biomass wood pellet plant layout.


From the layout flow chart of the complete Canada wood pellet plant for biomass fuel making pellet, we can see that building a professional complete wood pellet machine plant needs a series of machines, instead of needing a wood sawdust pellet mill machine only. And in this process of best design Canada wood pellet plant for energy pellets, the cost of biomass wood pellet plant pelletizing is affected by many factors.
Factors of Affecting the Cost Of 2-3T/H Canada Wood Pellet Plant Production
The local raw material costs (including transportation costs);
Production energy costs;
Biomass wood pellet plant machine wear and maintenance costs;
Other fixed assets depreciation cost;
Labor costs;
Business management costs (including tax, sales, transportation, etc.).
These costs vary from place to place. What we can offer is energy consumption cost. Generally, the energy consumption cost of the biomass wood pellet plant is 110-190kWh/t. It might be slightly different depending on different biofuel raw materials and biomass fuel wood pellet plant productivity. Expanding the wood biomass pellet production line production scale can further reduce the cost.
Status of starting wood pellet production business in Canada
Canada is currently the second largest exporter of wood pellets in the world. With such a strong development background, our Canadian customer's decision to invest in a wood pellet plant is obviously very sensible.


Major countries such as Canadian wood pellet producers who are rich in woody biomass from forestry also do not remain silent and try to seize and lead the world wood pellet market. Even Canada has targeted Europe and Asia as its wood pellet market, namely wood pellet production from western Canada for Japanese and Korean markets and from the eastern part for the European market.
Meanwhile, domestic policy also requires wood pellets because pan-Canadian climate deal is targeting coal-free power plants by 2030. Europe is still the most important market destination for export wood pellets from Canada, accounting for 80% of its export volume.
Wood pellet standard for wood pellet plants in Canada
Two pellet quality certification programs: ENplus and CANplus. ENplus certification began in 2010 and now accounts for about 80 per cent of pellets sold in the European heating sector. The European Pellet Council (EPC) governs the ENplus program and issues licenses to national pellet associations that manage the program in their own countries.
CANplus certification is essentially identical to ENplus, with the only difference being that CANplus is governed in Canada by WPAC. Since CANplus is Canada's national pellet quality certification program, it must be governed in Canada and not in Europe.
In Canada, some provincial government(notably Ontario) have developed, or are developing new rules for wood heating requiring the use of CANplus certified wood pellets in pellet boilers.
Canadian wood pellet plant production complies with international technical standards, including ISO/CEN.
The Canadian Standards Association created the CAN CSA ISO standard that follows ISO Technical Committee 238. CANPlus is borrowed from ENPlus and accepted by the US Environmental Protection Agency.
Click to learn about the wood pellet standard:
Prospects for wood pellet production in Canada
Canada is a vast forest nation with a professional forest sector and ready infrastructure, positioning it to be a global wood pellet supplier. The industry got its start using sawmill residues, and they still meet the bulk of its needs. But it also uses such low-value wood supplies as harvest residues, unmerchantable species, and salvage logs from areas hard hit by insects, disease or fire.

As a Crown treasure, Canada's forests are managed for a multitude of values. But don't take our word for it. Canada is home to 42% of the world's certified forest area, far more than any other nation.The vast majority of Canadian wood pellets are made from sawmill residuals - sawdust. The rest are made from the residuals from harvesting operations for sawmills and pulp mills, or low-grade timber from forest industry harvest sites that has no other economic value.
Richi Machinery is a professional wood pellet plant and wood pellet machine manufacturer. Our suppliy complete wood pellet plant and equipments that involves milling, drying, and pelletizing wood in a specialty press. During the extrusion process, the wood is pushed through a press at high pressure that causes lignin, the natural adhesive in the wood, to form a crisp sheath that holds each pellet together.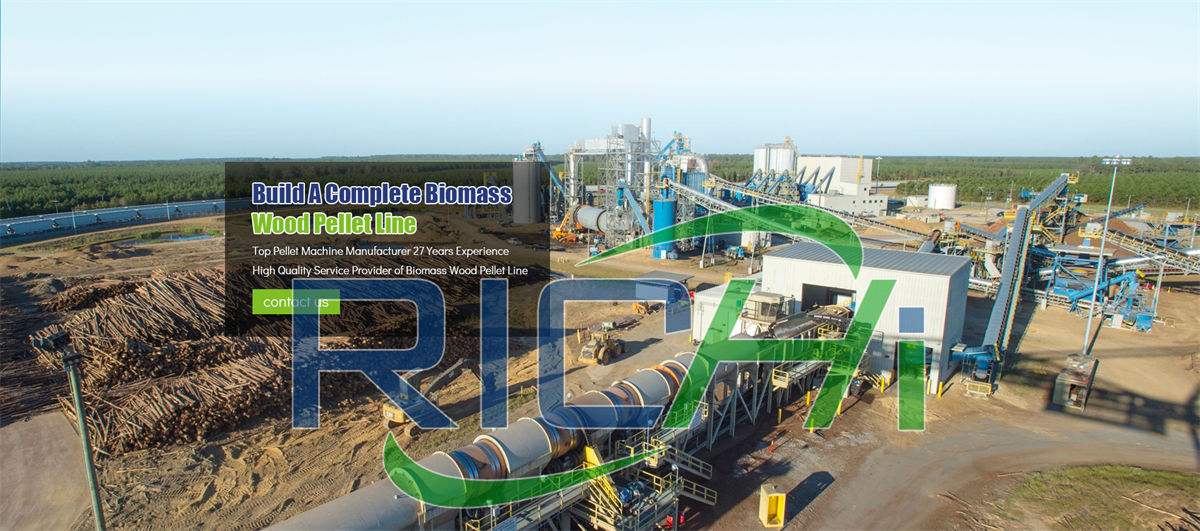 If you want produce energy-dense, low-moisture, and uniformly-sized wood fuel that provides efficient, reliable combustion, then choose Richi Machinery.