NEWS
Industry News
Follow Richi Machinery trends, collect industry information, and discuss market focus.
4 Million Chickens Build a Feed Pellet Production Line
Date: 2020-10-30 08:28:19
From: www.pellet-richi.com
Clicks:
We know that small chicken farms generally buy feed pellets, but the price of feed pellets is relatively high. Therefore, some poultry farms with budgets will purchase feed pellet machines to produce feed.The investment return period of small-volume feed pellet equipment is generally one or two years. For large-scale poultry farms, because of the great demand for feed, they generally invest in chicken feed pellet production line, which can greatly reduce the cost of feeding in the long run. What we are introducing today is a feed pellet production line built for 4 million chickens, producing 12,000 tons of chicken feed pellets a year.
In 2012 the owner of the Swedish chicken farm Rösäng, Ulrik Helgstrand, invested in a feed mill and silo in order to optimize the annual production of feed for approximately 4 million chicken. Mr Helgstrand produces the feed centrally in one location and distributes the feed to three additional chicken farms within 50 km from Rösäng in Sweden. The annual production of finished feed is 12,000 tonnes (2019) which are used exclusively for the feeding of the chickens bred by Rösäng Lantbruk.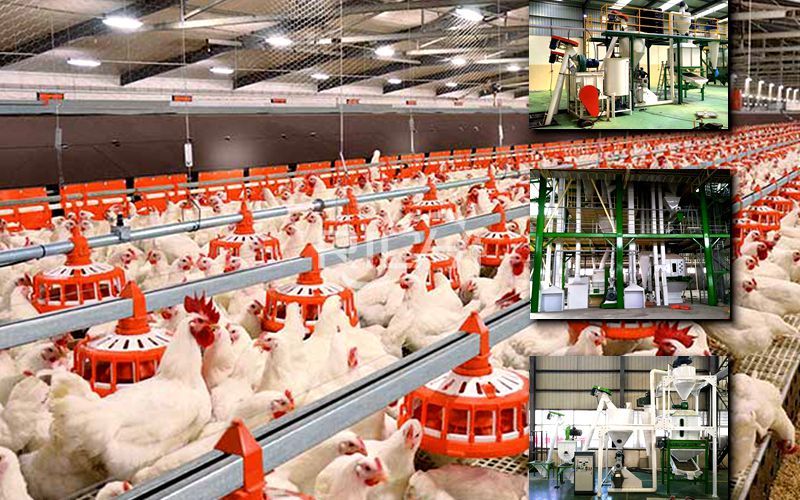 4 Million Chickens Build a Feed Pellet Production Line
The feed plant setup
The plant is made up of several raw materials silos, the content of which is milled in a disc mill, and 16 pre-mixers that feed premix and calcium into two-step horizontal mixers. Liquid fat is added to the feed mix from separate silos with heat coils that keep the fat in a liquid form. After mixing has been completed, the finished feed is pelleted and led to and stored in silos with a capacity of 100 tonnes each and to containers for further distribution.
Why produce own feed?
Mr Helgstrand's primary reasons for investing in his own feed production is the significant reduction of feed costs and better control of feed quality which can be changed very accurately to benefit the growth of the chicken. Also, he can produce many types of feed at once and change the recipe quickly. Finally, he is able to buy cereals and other raw materials when prices are low, allowing him to cut costs even further. At Rösang they produce six types of feed at once and changes the recipes of feed every fifth day. This would be very difficult to do if he bought feed from an external feed supplier.
Besides the chicken feed, approx. 40 hectares of cloves, Timothy and other grass seeds totalling approx. 16,000 sqm is produced. Timothy is first and foremost grown for seed production.
Richi Machinery Poultry Feed Pellet Line Project Case
Rwanda 1-2T/H Poultry Feed Pellet Line
Tanzania 1-2T/H Chicken Feed Pellet Production Line
Gambia 1-2T/H Poultry Feed Pellet Plant
Cape Verde 1-2T/H Poultry Feed Pellet Plant
Colombia 3-4T/H Poultry Feed Pellet Production Line
Uzbekistan 3-5T/H chicken Feed Pelleting System
Algeria Two Sets 3-5T/H poultry Feed Pellet Lines
Kenya 5T/H Computer Batching Powder Chicken Feed Line
Uzbekistan 10T/H Poultry Feed Pellet Line+5T/H Permix Feed Line
Afghanistan 10-15T/H Chicken Feed Pellet Line
Uzbekistan 10-15T/H Poultry Feed Pellet Plant
Richi Machinery produces feed pellet production line equipment of various output. We can design and quote for you free of charge in the early stage. We also sincerely hope that users will compare equipment and prices. After all, equipment is a big investment, so we must carefully select manufacturers and products.
The above is the article for you: 4 Million Chickens Build a Feed Pellet Production Line.
If you are interested in our products or project solutions, please contact us. We will give you the best product quality and the best price. Email: enquiry@pellet-richi.com