NEWS
Industry News
Follow Richi Machinery trends, collect industry information, and discuss market focus.
20,000 Tons/year Wood Pellet Production Line Project Investment Cost
Date: 2020-11-02 08:43:41
From: www.pellet-richi.com
Clicks:
China's 20,000 tons/year wood pellet production line was launched in June 2012 and has been in operation for nearly 10 years. Now the quality of each equipment is not bad after testing. What is the investment cost of the 20,000 tons/year wood pellet production line project? At that time, the investment in this equipment was about RMB 200,000,000-300,000,000, which was a large project in the biomass wood pellet production line.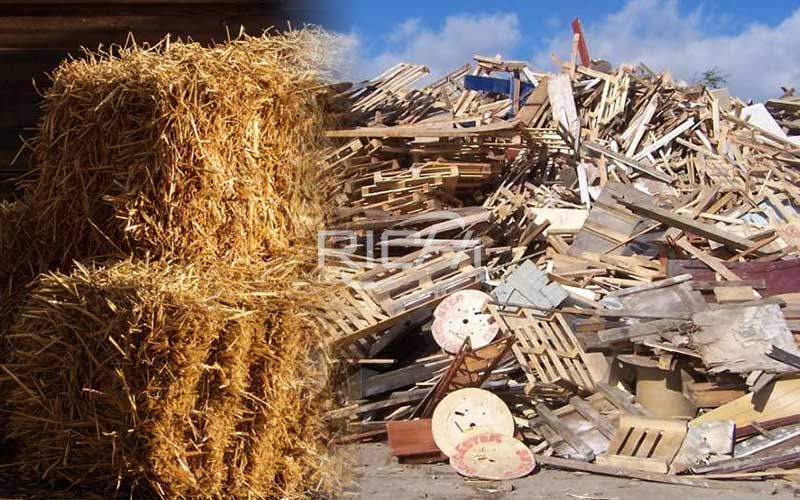 Raw materials are waste wood and straw
China 20,000 Tons/year Biomass Wood Pellet Plant Project
The project is built in two stages. The first-stage project is invested RMB 85,000,000 and can produce 50,000 tons wood pellets annually. The second stage is built for producing 200,000 tons every year. After two stages fully finish their capacity, gross annual value can reach RMB 360,000,000. Total benefits are RMB 187,000,000 and total revenue is RMB 52,000,000. The project makes full use of waste woods, straw and other flammable biomass materials to produce wood pellets. Pellets can replace coals as fuels. In addition, they can also be used to solve the problems of safety and pollution caused by burning straw.
The first-stage wood pellet production line produces 20,000 tons annually. Its operation fill in gaps in wood pellets production in China. Wood pellets are biomass forming fuels. They are energy conservation and environment protection with nearly zero sulfur dioxide emission. So they are up to the emission reduction of our country. Wood pellets production can make full use of straw. We can go to countries and barter wood pellets for their straw.
Equipment for Wood Pellet Production Line
The annual capacity of Hebei biomass pellet production is 20,000t. Equipment needed in production involves drum chippers, three rotors hammer flakers, hot-blast furnaces, dryers, conveyors, silos, dust removal equipment, pellet mills, coolers, screeners and packing machines.
The wood pellet production line is adapted from old artificial board production line. Its operation can not only make full use of waste woods produced by making artificial boards but also crop wastes. Therefore, the behaviors of burning straws can be reduced, which is helpful to protect local environment.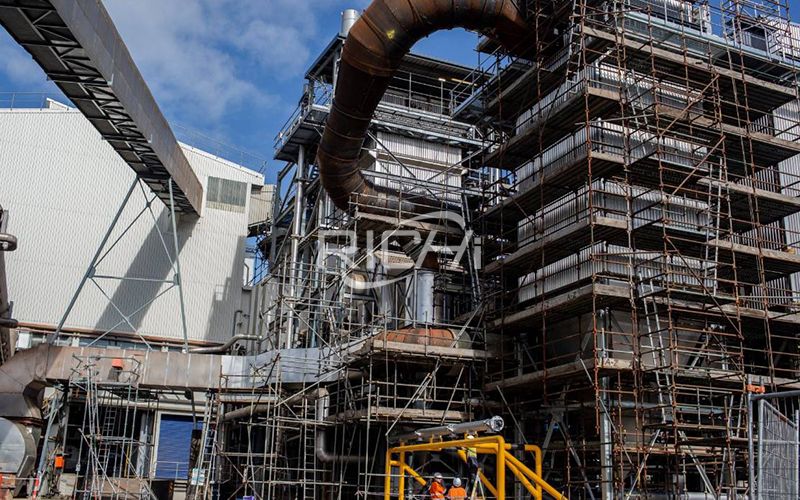 Large Wood Pellet Production Line
Production Process of Wood Pellet Production Line
Coarse Shredding. Brush wood, straw, and other raw materials are crushed by shredders.
Fine Shredding. Chips are transported to three rotors hammer flakers by conveyors and are shredded to qualified sizes. The stone remover and the de-ironing separator can be used to firstly get rid of the impurities in the materials.
Drying. Materials are conveyed to the drying roller by using fans for drying. After drying, the moisture content of the materials is about 12%. Materials are needed to eliminate dust for the second time so that they can reach the indicators of national dust concentration.
Pelleting. Materials after being dried are transported to the stirrer for proper moisture and steam. Then, materials are conveyed to the pellet mills. By high temperature extrusion, the materials come out of circular mould in the form of pellets. After being cooled and screened, pellets in qualified sizes fall into conveyers while unqualified pellets need to be pelletized.
Packing. Pellets passing screening are conveyed to packing machines by belt conveyors.
Technical Parameters Wood Pellet Production Line
| | |
| --- | --- |
| Specifications of Biomass Pellets | 6 mm, 8 mm |
| Annual Capacity (t) | 20,000 |
| Raw Materials | brush woods, chips, shavings, straw |
| Required Area of Equipment Installation | 1200㎡ |
| Required Height of Equipment Installation | 8m |
Iceland 1 t/h wood pellet plant Production Line
Indonesia 1-1.5 t/h Wood Pellet Production Line
Taiwan 1-2 t/h Wood Biomass Pellet Production Line
Germany 2-2.5 t/h Full Automatic Biomass Wood Pellet Line
Canada 2-3 t/h Full Automatic Biomass Wood Pellet Line
Austria 5Ton/Hour Wood pellet Production Line
American 10t/h wood pellet production line
If you also want to invest in the wood pellet production line project, please contact us. We will give you super product quality and service in the same industry, as well as the most favorable price.
The above is the article for you: 20,000 Tons/year Wood Pellet Production Line Project Investment Cost.
If you are interested in our products or project solutions, please contact us. We will give you the best product quality and the best price. Email: enquiry@pellet-richi.com