Poultry feed poduction in Kenya
Feeding is still the biggest cost in poultry farming. It accounts for up to 65% of the production cost. While there are ways to cut down on costs by for example, milling your own feeds with the right ingredients, majority of farmers will be buying their feeds from the established poultry feed mills in Kenya. When investing in poultry feeds production, do not cut corners and buy from poultry feed manufacturers with a dodgy reputation.

The best poultry feed millers in Kenya employee ethical poultry feed formulation to give your chickens the right feeds with the right mix of nutrients. The more reputable poultry animal feed manufacturers are also members of AKEFEMA or the Association of Kenya Feed Manufacturers. And our Kenya customer in this feed mill case is one of the members.
Overview of 5 t/h automatic poultry feed manufacturing plant in Kenya
This 5 tons per hour poultry feed plant project of Kenya is mainly used for the production of powder feed. The raw material for poultry feed production in this 5t/h poultry feed manufacturing plant adopts conventional raw materials, such as corn, bran, etc.


Kenya 5t/h poultry mash feed plant project customer visit
After knowing the needs of customers, Richi customized a turnkey scheme for this 9m*5m*13m poultry feed milling plant-a complete set of mash feed system independently developed and designed by Richi is adopted, and the relevant installation and commissioning work is completed by RICHI technical service team.
In terms of poultry feed milling technology, the Kenya 5tph commercial poultry chicken feed factory project is in line with the international animal feed technology, and it attaches great importance to the safety and health of poultry feed processing. The poultry feed mill powder crushing system adopts the most popular poultry feed grinding machine model of RICHI. The output of maize coarse powder crushing is increased by more than 30%, which greatly improves the powder crushing efficiency.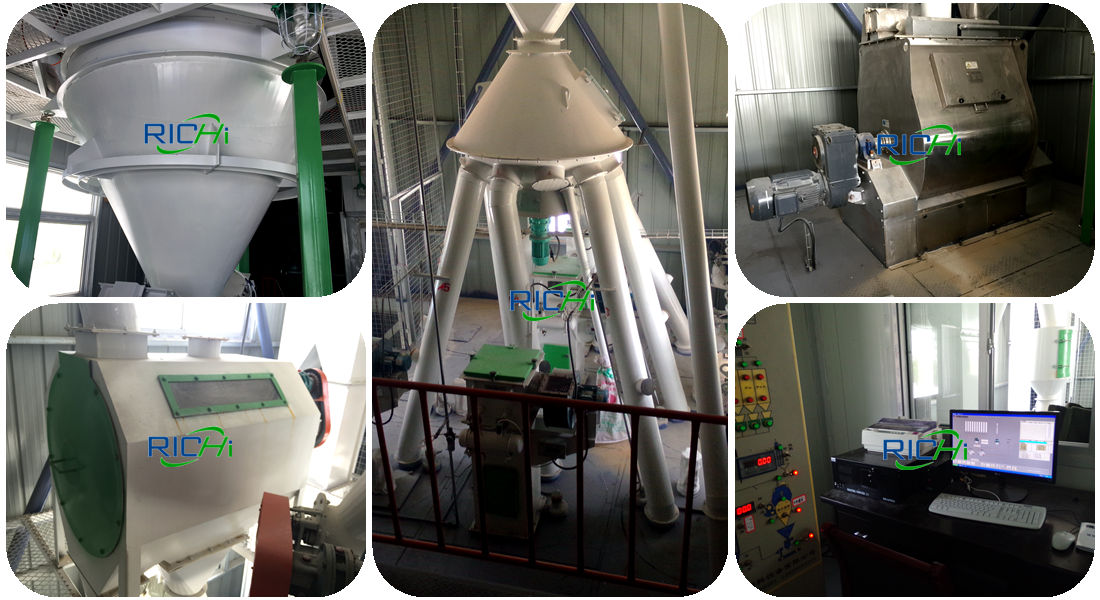 Kenya 5t/h mash poultry feed production line project site
The Kenya 5tph poultry feed mill project adopts an advanced full computer control system, which is accurate and safe, intuitive in operation, monitors production, and can reduce labor costs; electrical control cabinets use imported components and imported programmable controllers, which work stably.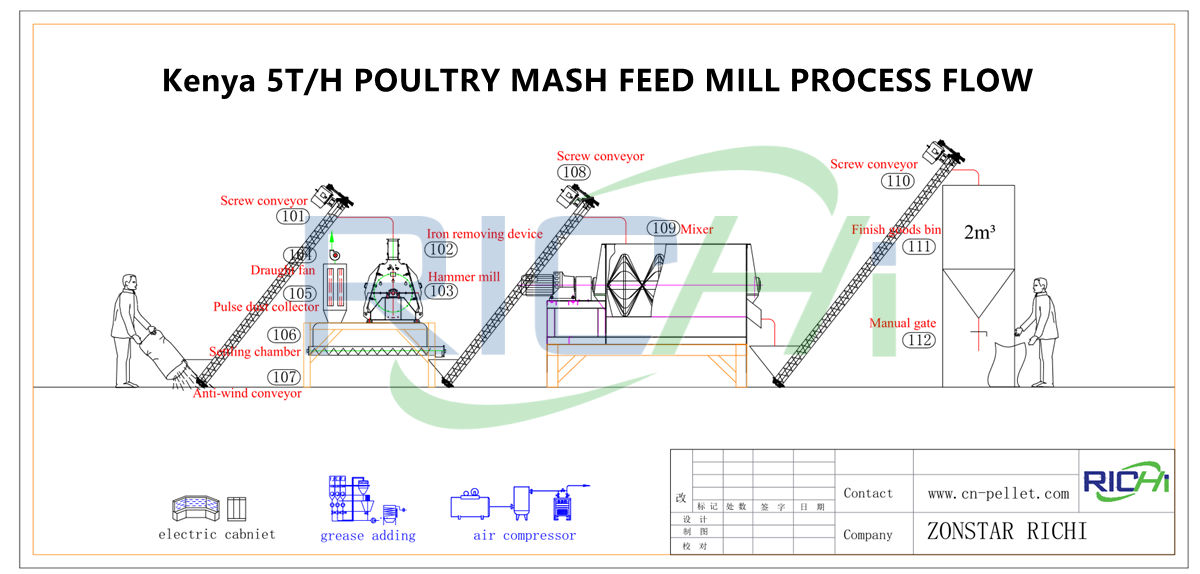 Kenya 5t/h poultry feed mill process flow
In terms of the whole 5t/h poultry feed mill equipment configuration, the main poultry feed plant machinery in the 5 tons mash feed plant for poultry includes poultry feed grinder and mixer, poultry pellet cooling machine, auto packing machine and other subsidiary equipment.
Poultry feed mill machine in this 5t/h mash feed line project
Screw conveyor*TLSS20
Iron removing device*Z-Type
Poultry feed grinder machine*SFSP.56*40
Poultry feed mixer machine*SLHY.2.5L
Buffer bin*2m³
Manual gate*TZMS25
MCC Control Center ;Mimic control panel (power range from 22 kw for star triangle start, main electric components are delixi brand)
Cooling Machine*SKLN14x14
Auto Packing machine*DSC-50
Sewing+belt conveyor
Customer feedback of the Kenya 5 t/h mash feed production line for poultry
After many investigations and comparisons, we have selected Richi's 5t/h mash feed production line. Not only because of the excellent performance of Richi animal feed mill machine won our trust, but also because the engineers' unremitting efforts and sincere heart moved us, because of Richi, our future cooperation will have more possibilities!