Poultry feed industry in Algeria
The Algerian poultry industry produces annually on average 340,000 tons of white meat and more than 4.8 billion eggs. The industry consists of 20,000 farmers employing about 500,000 people. Most feed and other inputs are imported and correspond to 80% of 2,500,000 tons of feed (which is typically based on corn and soybean meal), three million breeder birds, veterinary products and equipment. The current structure of the Algerian poultry industry is derived from government development policies initiated in the 1980's.


Currently the high dependence on external markets for feed materials remains the main limiting factor in the development of the Algerian poultry, especially for corn and soybean meal which represent over 75% of the content of poultry feed.
Overview of 6-10 t/h poultry feed mill project in Algeria
In May 2015, the customer of this two poultry feed line project sent us a message:
"Please may your good company give my feed company a quotation for a complete feed production plant- poultry feed production plant. My company is willing to negotiate with your company."
Later, the customer visited in June, negotiated with RICHI, and signed a contract for the 6-10 tons per hour poultry feed production line project on the day of the visit. This 6-10t/h full aotomatiic poultry feed mill project includes two poultry feed production lines, both of the output is 3-5 tons per hour.

Customer visit of Algeria 6-10 ton per hour poultry animal feed processing plant project
This is a customized poultry chicken feed factory. The size of the customer's factory building is 9m*6m*13m. According to the limitations of the existing plant, we use the space scientifically to design a compact and reasonable feed factory for our customers. This poultry chicken feed mill mainly produces broiler feed and layer feed, using common poultry feed ingredients.
Algeria 6-10 tons per hour whole set poultry feed mill design
01
Raw Material Receiving System Of 6-10T/H Poultry Feed Mill In Algeria
The 6-10tph automatic poultry feed plant has a raw material receiving state that deals with the processes such as removal of impurities, conveying of raw materials and categorizing them on the basis of shape and size etc. This poultry feed mill process is very important in the pelletizing effect of the feed hence it is given utmost importance and is done with great expertise.
Pulse dust collector that collects the dust, Screw conveyor that moves the raw materials and the distributor which distributes raw materials to the respective chambers are the three basic parts of raw material receiving system in the poultry chicken feed mill.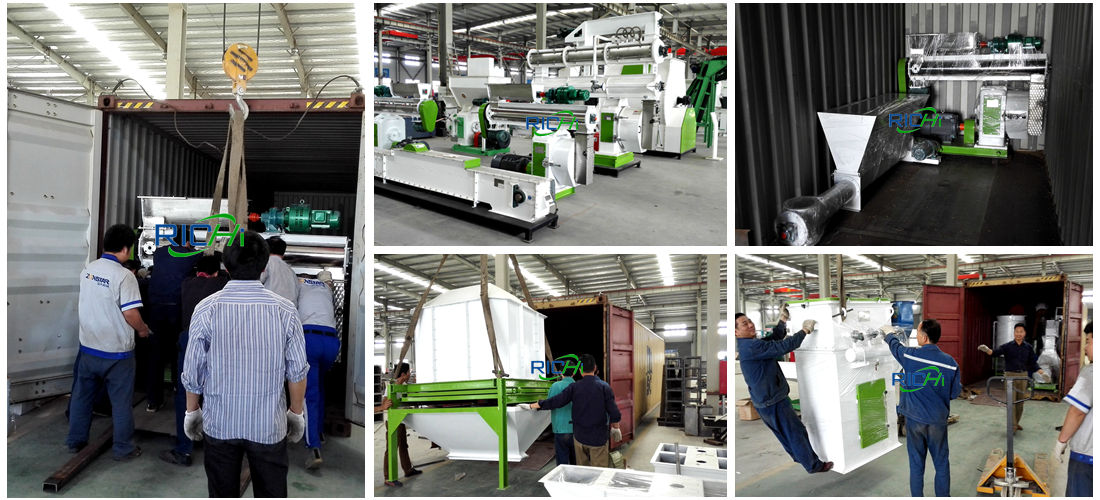 Algeria poultry feed mill machinery delivery
02
Crushing System Of 6-10T/H Poultry Feed Mill In Algeria
The raw materials are then sent to the crushing system of poultry feed making plant. This system reduces the size of the particles as per the consumption size of poultry animals. The raw material is at first uneven in size and is mostly big that makes it unfindable to small poultry animals.
This is why the raw materials are first subjected to the crushing system that crushes the raw material into small bits which can then be turned into proper feed pellets. This helps poultry achieve greater nutrition hence making them more capable and healthy.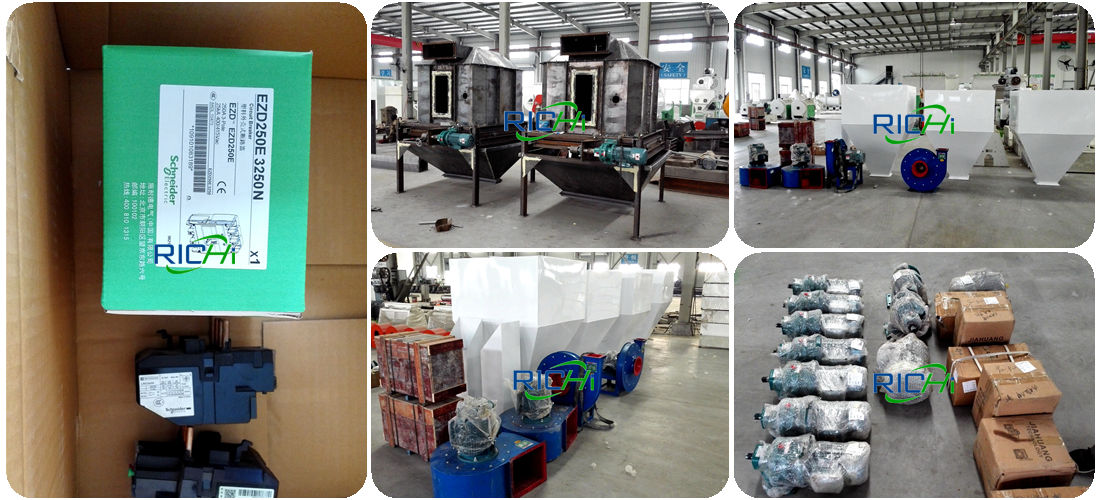 Customer inspection (before painting) of customized feed mill plant project in Algeria
03
Feed Batching System Of 6-10T/H Poultry Feed Mill In Algeria
After crushing the feedstocks in poultry feed crushing machine, they will be sent to the batching system. This system as the name suggests batches or segregates raw materials as per the requirement of the consumption size of poultry. This poultry feed mill process often comes after grinding and just before mixing of the raw materials with the feed.
This system consists of 3 basic parts such as vertical spout magnet that remove metallic ingredients from the pellets, bucket elevator that removes heavy particles and the poultry feed mixer which is the most important of them all mix the poultry pellets properly together.

04
Pelletizing System Of 6-10T/H Poultry Feed Plant In Algeria
After Batching the soft feed is then sent for the final process which is called feed pelletizing or poultry pellets making process. In poultry feed formulation machine, the soft feed is turned into compact pellets that are easy to store and transport. These feed pellets are formed by forcing the soft pellets through metal holes and cutting them into small pieces as per the consumption of poultry.
This poultry feed plant process is very important as it's responsible for the proper nutrition of poultry that eat them. This regulates a number of calories they get through the pellets.


05
Bagging System Of 6-10T/H Poultry Feed Mill Plant In Algeria
The final process of the 6-10tph complete poultry feed plant is called the bagging or packing system and is self-explanatory. This poultry feed mill process ensures that the feed pellets produced by the poultry feed machines are properly stored for long term use.
Poultry feed making machine needed in the high quality 6-10t/h poultry feed manufacturing plant in Algeria
Poultry feed mill equipment
Poultry feed grinder machine*37KW
Poultry feed mixer machine*500kg/batch
Pellet making machine for poultry feed*37KW
Poultry feed pellet cooling machine*SKLH14*14
Poultry feed crumbles machine*SSLG15*80
Feed mill bagging machine*DSC-50
Vibrating Screen*SFJH800*2C
MCC Control Center ;Mimic Control Panel
Cables & Cable Bridge Tube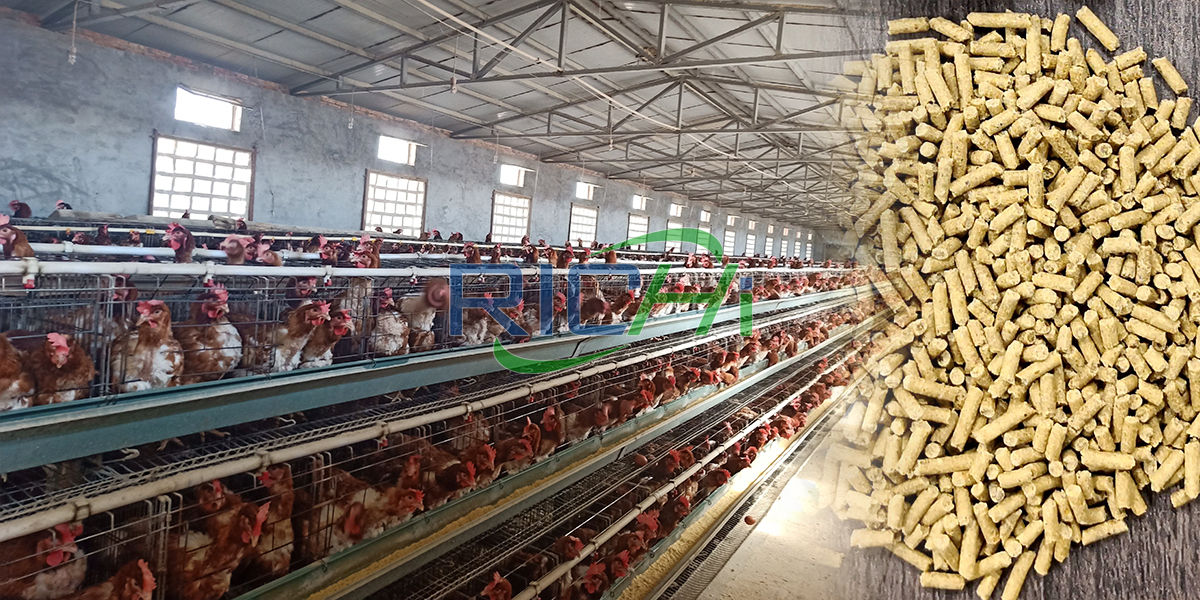 The 6-10t/h complete poultry feed mill drawings we provide to Algeria customers
RICHI feed mill for sale Algeria
As of the end of 2020, Pellet Richi has exported 4 complete animal feed production line projects to Algeria. The following is a list of these feed plant projects: