What are the main steps of wood pellet production line with 3-3.5 tons per hour?
Q: What are the main steps of wood pellet production line with 3-3.5t/h capacity?
The 3-3.5t/h high quality wood pellet production line mainly has the following 4 steps.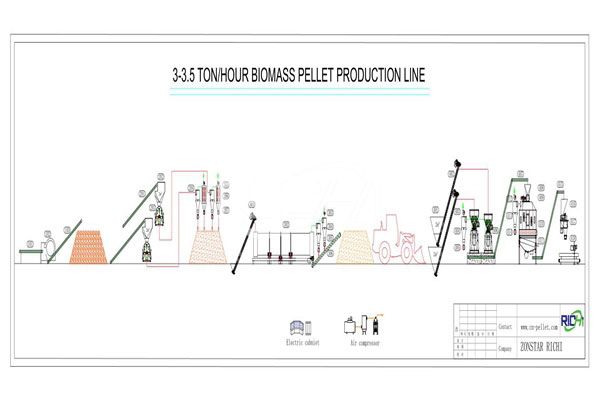 3-3.5t/h wood pellet production line
Step 1: the chipping phase.
If the wood is too large, there is no way to directly crush it. At this time, there cannot be one wood chippers equipment on the 3-3.5tph wood pellet production line. Wood chipper has different power for each model according to the different raw materials. When purchasing, be sure to state with the wood chipper manufacturer how much power is needed. If the raw materials are already semi-finished, you can ignore this processing.
Step 2: the crushing stage.
The crushing of raw materials is a very critical step in the production of granules. If the crushing is not good, the size of the crushing of the raw materials will vary, which will affect the molding of the wood pellet machine in the later stage. Therefore, we must choose a good wood pellet hammer mill manufacturer, otherwise the quality of the finished product is not good and it is difficult to sell.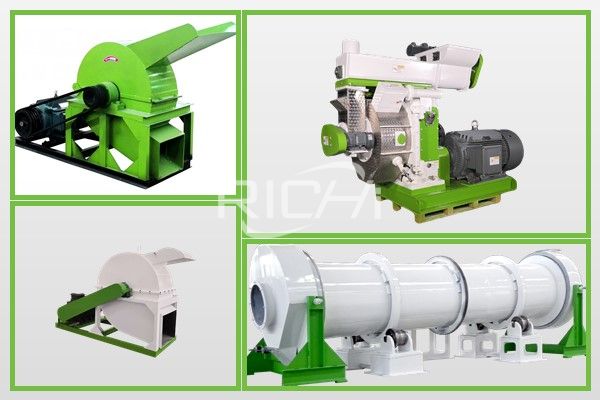 What equipment is needed for wood pellet production line
Step 3: The drying phase.
Regardless of whether wood chips or straws are used as raw materials, there will be moisture. A complete wood pellet production line and a dryer are also necessary. The sawdust dryer machine, as its name implies, can control the moisture content in the raw material, and its role is to make it more perfect Particles.
Step 4: Granulation stage.
There are different models of ring die wood pellet machine. Due to different customer needs, the recommended wood pellet machinery for the scheme is also different. Through the above three steps, perfect pellets can be produced. Don't worry about the wood pellets size. The RICHI biomass wood pellet making machine can accurately granulate according to demand.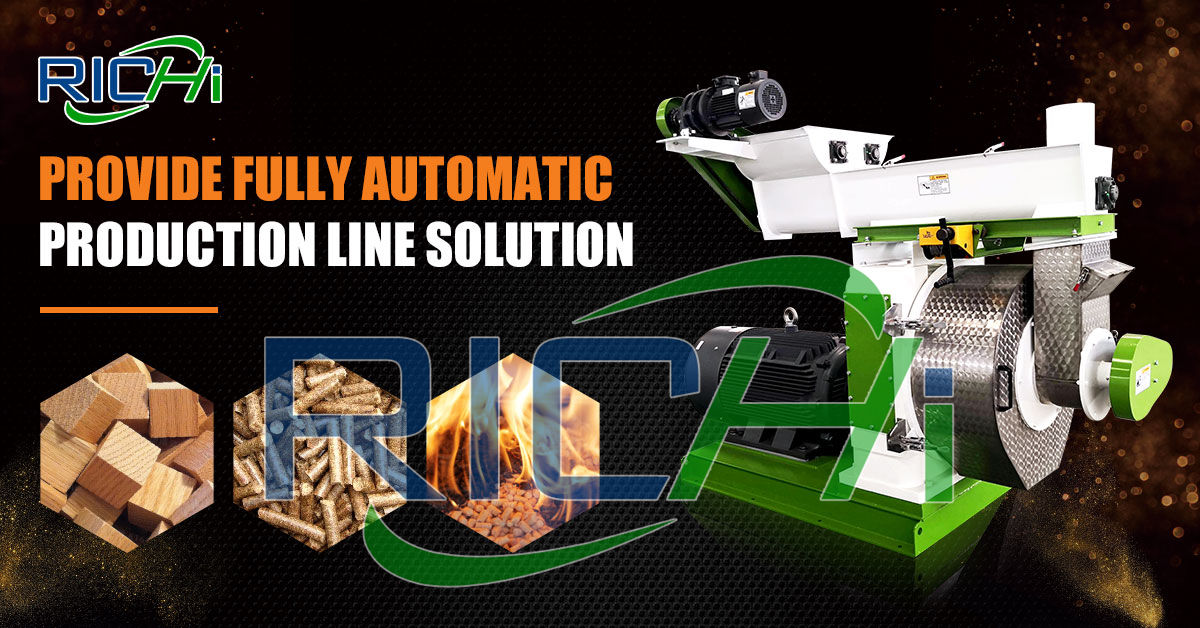 Latest Customer Inquiries For 3-3.5T/H Wood Pellet Production Line
The following are some of our customers' inquiries regarding the 3-3.5t/h biomass wood pellet production line. Do you want to see if it is the same as yours? (Click here for visiting RICHI wood pellet production line cases)
I am interested in both a 3T/H Palm Leaves Wood Pellet Line and a 5000 ton per month wood pellet line. We have abundance of rice husk and other biomass waste products which I'd like to convert to pellets. Thank you for a quick response.

---- From Surinam

I am interest in this 3t/h best solution biomass wood pellet line for pine waste. I would like to have more information about it as prices and where the factory is located. I am from Ecuador and I need yo know the shipping expenses. Thank you very much for your soon answer.

----From Ecuador

We have a lot of wood waste here in Belize and have been wishing to convert it to fuel. Would be interested in your wood pellet production line wood pellet machines and the use for the pellets. We were looking primarily at cooking (barbecue type).

---- From Belize


Tenemos una fabrica dedicada a la producción de sillas, mesas y taburetes de madera. Estamos estudiando instalar una maquína de producción de pellets debajo de nuestro silo de viruta y polvo. Nos gustaría que nos facilitaran información y precios de los productos que ustedes fabrican.

--- From Spain

Hi there, I am very interested in your products, could i please have a price and specification list for each of your 3t/h pellet mills.

---- From England

I'm interested about a wood pellet plant. Do you have for 3T/h capacities? How much would the shipping? The CIF Port will be Manzanillo. Do you have counseling for installation and equipment start? The machine supports any type of biomass like wastes from sawmilling or coffee husk?

-- From Mexico

I want to buy one of your 3 tons complete biomass pine wood pellet line, please send me price, and your advice.

-- From Guyana

I'm going to make a pellet plant in Veracruz, Mexico, and I need a cotization for a 3T/H wood pellet production line for soft wood, with 40% of humity and from chipper of 5cm of large and 2 cm of wide. Thank you.

-- From Maxico

We are looking for a wood pellet production line complete from starting with one inch chip of hardwood at approximately 25 moisture content. we want it complete all the way to bagging system delivered to northern New York state one hour from the port of montreal Canada.

Price needs to be in American dollars and list of your machinesand capabilitys. we would like to be a minamum of atleast 3 ton per hour or alittle more . If need be we can get at montreal port. list of warranty's you include, and I am interested in a used plant also if you have thank you.

-- From America

Hello, I am interested in purchasing a full pellet line of production of wood pellets with a capacity of 3-4t / h and 500-700kg / h . Please inform me the purchase price for each of the two versions shipped in Romania and payment agreed upon by you. thank you.

-- From Romania

I am interssting in one complete wood pellet production line machine for wood pellet, for Biomass. I produce suficient scrap from tobaco and serrim. I speak spanish. I need speak with a person speak spanish for explication my necesity. Iam in Dominican Republic. Thanks.

-- From Dominican Republic

Hi,I am interesting about a wood pellet line COMPLETE for commercial purpose with maximum electric consumption 300 kw. Please advise about prise. I am from GREECE. THANK YOU.

-- From Greece
The above is the article for you: What are the main steps of wood pellet production line with 3-3.5 tons per hour?. If you are interested in our products or project solutions, please contact us. We will give you the best product quality and the best price. Email: sales@cnrichi.cn